So in the past two entries, I wrote about my cooking lesson from my aunt. We made a total of 3 Indonesian/Nyonya dishes – Ongol-ongol, Kaya Spread and in this entry, I will be posting for the recipe for Singkong.
Ingredients for cooking the tapioca:
1 kg of tapioca
100 ml water
200 g sugar
2-3 pandan leaves
a pinch of salt
non sticky frying pan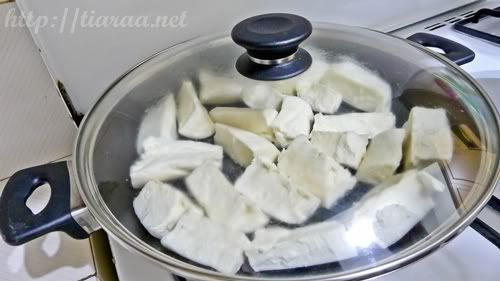 1) First, you have to use a  dry non-sticky pan to cook the tapioca for 20 minutes. As you can see from above, the tapioca has to be peeled, washed and cut into tiny pieces.
2) Pour 100 ml of water into the pan and cover it with a lid.
3) When it has started to boil and the tapioca has become soft, add in a pinch of salt.
4) Chop 2-3 pandan leaves into tiny pieces and add it into the pan.
5) Also, remember to pour 200 g of sugar evenly amongst the tapioca. Again, leave it to boil for another 10 minutes for the tapioca to absorb the sugar.
6) When it is finally cooked, placed the tapioca onto a plate and you will be able to see tapioca coated partially with sugar.
As for the singkong sauce, here are the ingredients for it:
1 tablespoon of rice powder
50 ml of water
2-3 pandan leaves
200 ml of coconut milk
boiling pan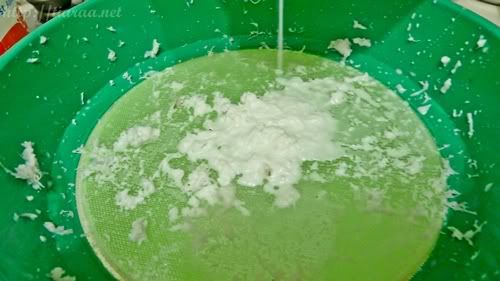 In order to make the Singkong sauce:
1) Firstly, you have to mix 1 tablespoon of rice powder with 50 ml of water thoroughly until the rice powder dissolves.
2) Stir in 200 ml of coconut milk and 2-3 sliced pandan leaves to the rice powder and water mixture.
3) Bring the entire mixture to boil until it has become thick as shown above.
TA-DAH – We made two bowls of steamed tapioca and with coconut sauce at the side. To consume it, topped your tapioca with the coconut sauce and enjoy your food!
Our last picture shows the 3 delicacies my aunt and I made together. There will be more to come !
swisscheese*