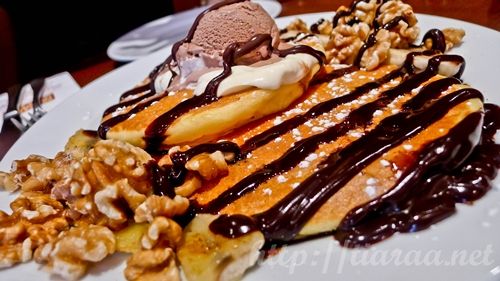 Since our first day at Sydney, Pancakes On the Rocks caught our eyes when we walked past Harbourside Shopping Centre so my sisters and I have already made our minds to have breakfast at that place the very next day.
Pancakes On The Rocks
229/230 Harbourside Shopping Centre
Darling Harbour NSW 02000
02 9280 3791

FIRST VISIT: 18th March 2013
The restaurant is quite accessible and easily spotted so it should be no issue getting here. We had to wait to be seated when we came into the restaurant. This male server got us seated, gave his pancakes recommendations and took our orders. There were not many customers at 9-10am so we had all the attention we wanted. However, when the clock started hitting 11am, more people came to have breakfast so it was quite slow when we wanted to pay the bill. We sat at the couch area so the dining area was quite spacious for us. Please note that Pancakes On The Rocks does not provide separate bills though.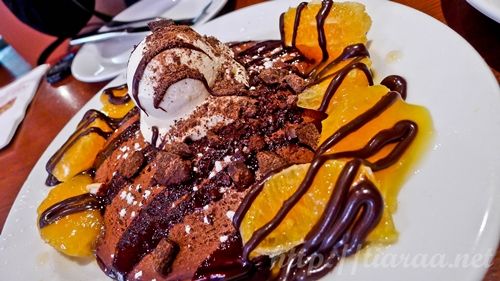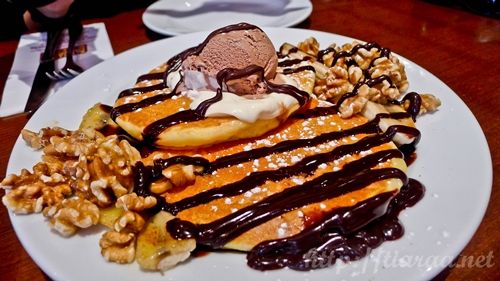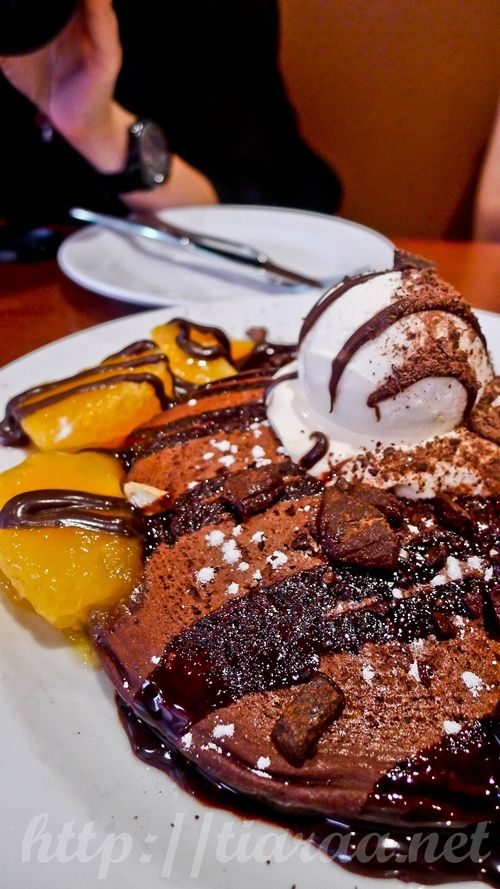 Since the portion of the pancakes is HUGE, three of us decided to get just two different types of pancakes to share. The third and forth depict one of the pancakes we got called the Hot 'N' Troppo pancake. That pancake set consists of buttermilk pancakes topped with chocolate ice-cream homemade chocolate sauce and icing sugar. The taste of the pancakes is further enhanced with walnuts and grilled banana for the crunchiness and mushiness respectively. This pancake costs AUD$11.95 (USD$10.67 / CAD$11.69 / SGD$13.51), which is almost the same price as specialized pancakes served in Jethro's Fine Grub at Vancouver. Although it is slightly more expensive than pancakes served in Strictly Pancakes in Sinagpore, the portion is way bigger. As for the Jaffa Orange depicted in second and fifth pictures, it costs a dollar more and we regretted ordering it. Jaffa Orange comprises of chocolate pancakes topped with oranges, grand marnier sauce, cream, chocolate sauce, a scoop of vanilla ice-cream and chocolate chips. This pancake is so rich that it was really hard for us to swallow, what more finishing it? We also found that the orange does not go well with the chocolate pancakes and toppings.
SECOND VISIT: 23rd March 2013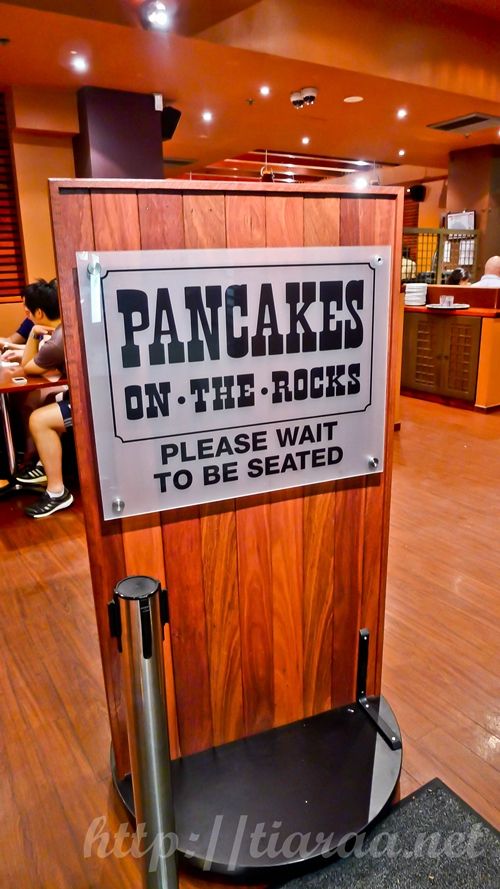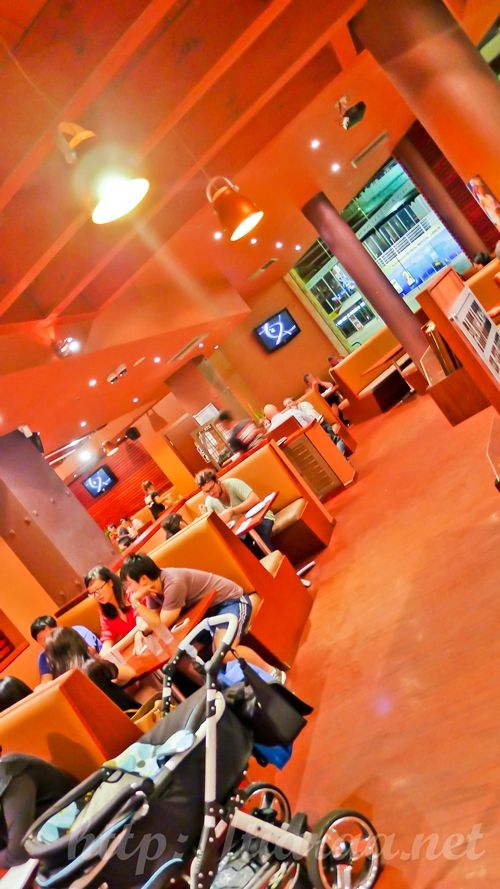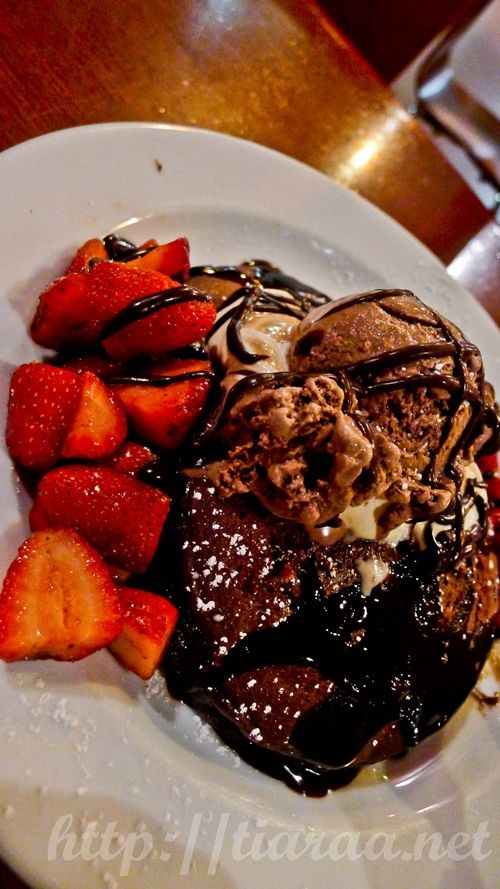 I went to Pancakes On The Rocks for the second time with my sister (Bella) and cousin (Mandy) after dinner for desserts. This time, we found that the lights at the restaurant was quite dim for snapping shots and the restaurant was a lot more crowded. The servers were so busy due to the never-ending demands of the customers. It took us awhile to get someone to take our order and when they did, we got our Devils Delight for AUD$13.95 (USD$12.45 / CAD$13.65 / SGD$15.77) after 10 minutes. It is basically chocolate pancakes topped with chocolate ice-cream, chocolate sauce, icing sugar and strawberries. This pancake is the chocolate bombshell and chocoholics will definitely love this. Since I am quite neutral to chocolate, I found this pancake too saturated with chocolate and could not continue consuming this after a few bites.
PAYMENT METHODS: CREDIT/CASH
OPENING HOURS:
SUN-THURS – 7AM-10:30PM
FRI & SAT – 7AM-12AM
Nearest Station: Pyrmont Bay Light Rail via tram / Town Hall Station via train / Pyrmont Bay Wharf via Sydney Ferry

Ambiance: 6.5/10
Service: 7/10
Food (Taste & Appearance): 5.8/10
Value: 6/10
Total: 76.33/10★
Even though this restaurant is highly known for their pancakes, I found some of the sweet pancakes too rich for my liking. I may come back to try their savoury pancakes if I ever head to Sydney again.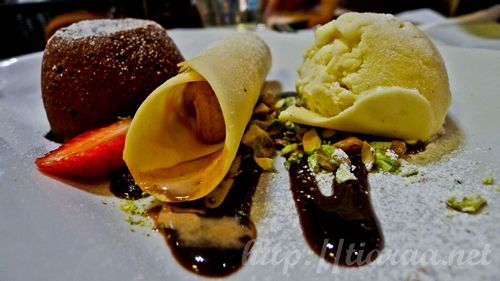 After a not so great dinner at Kura Japanese Casual Dining, my sisters and I went back to Darling Harbour again but this time to catch the beautiful night view of the harbour. We kept snapping pictures and walked all the way to Cockle Bay Wharf and decided to find a restaurant to have desserts since all three of us are such sweet tooth. We were looking at the menus of each restaurant and decided to try the following…
Adria Rybar & Grill
Cockle Bay Wharf, 108 The Prom,
Darling Harbour, NSW 2000, 2000, Australia
+61 1300 989 989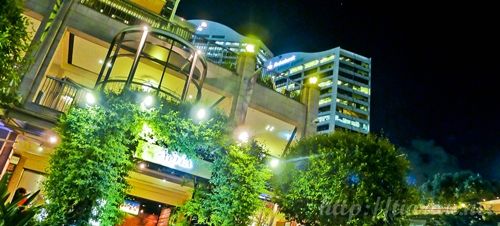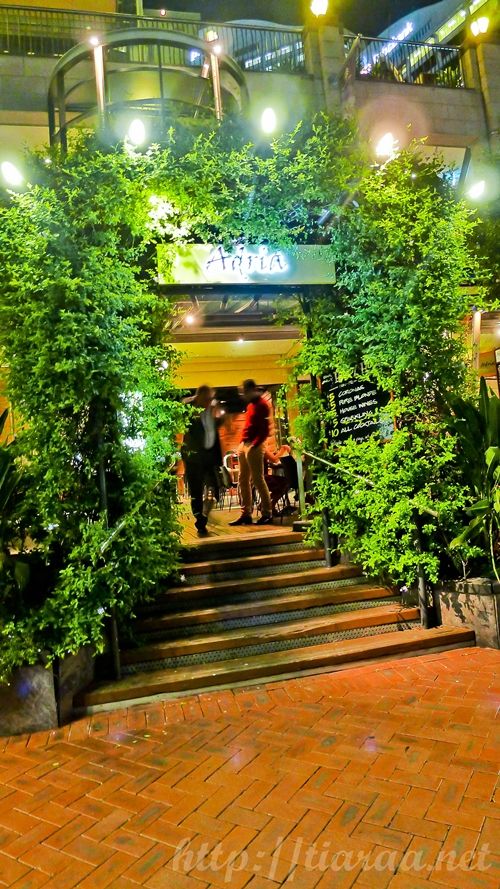 Adria Bar Restaurant has a beautiful welcoming exterior that looks so enchanting. You can either choose the outdoor dining area or the indoor seating. It is so obvious that most people would prefer dining outside as we can admire the beautiful Cockle Bay Wharf as they eat and have their never-ending conversations. The bar is also quite noisy to hold any conversations so sitting outside will be better. The server was very professional in his work and took time to explain all the desserts to us and even recommended us his favorites.
FIRST VISIT: 17th March 2013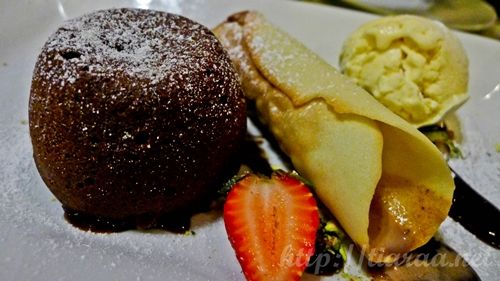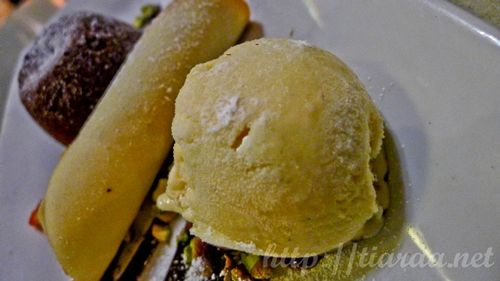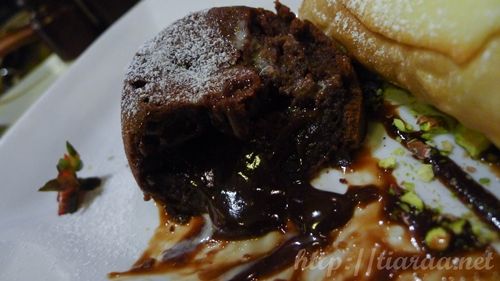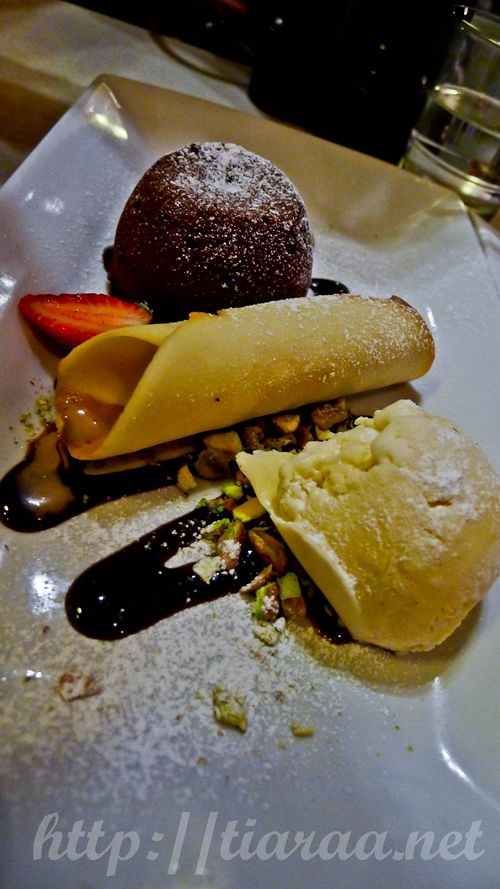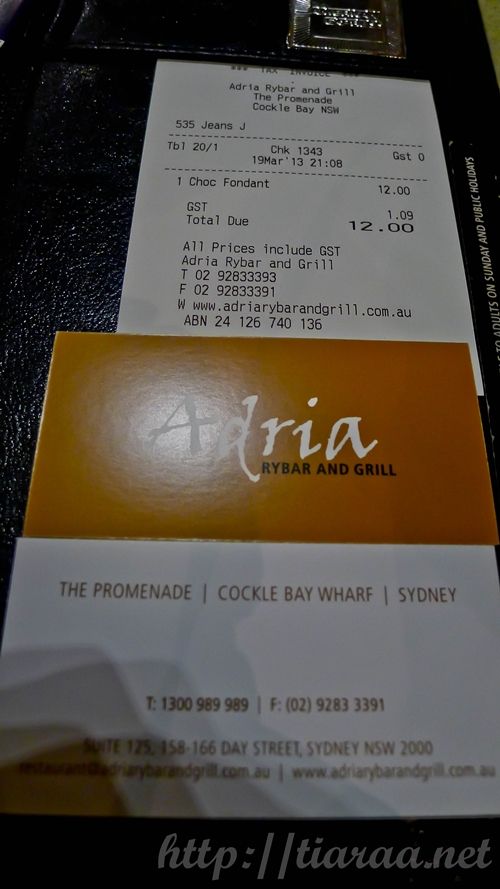 Since we were quite full from our dinner, three of us just shared a plate of Chocolate Fondant that costs us AUD$12 (USD$10.71 / CAD$11.74 / SGD$13.57). The dessert comprises of a molten chocolate lava  cake, zabaione cannoli and a scoop of ice-cream topped with icing powder, chocolate sauce, strawberries and pistachio nuts. As you put the lava cake into your mouth, the chocolate oozes out and it literally melts. It is gratifying consuming the hot chocolate and ice-cream at the same time. Zabaione is basically light custard filled in the well cooked pastry dough called cannoli.
SECOND VISIT: 21st March 2013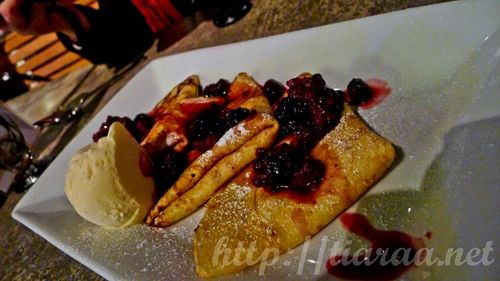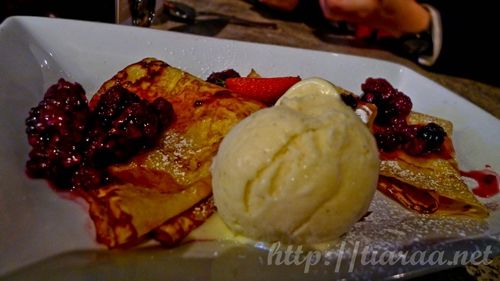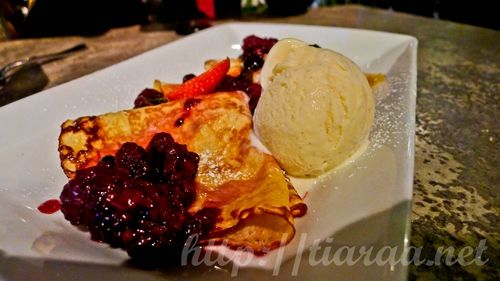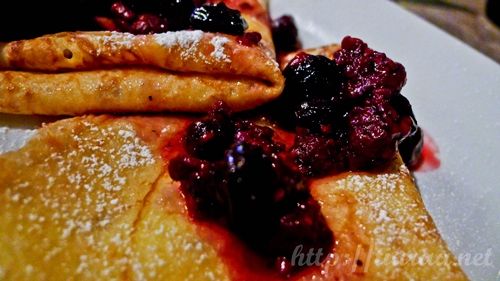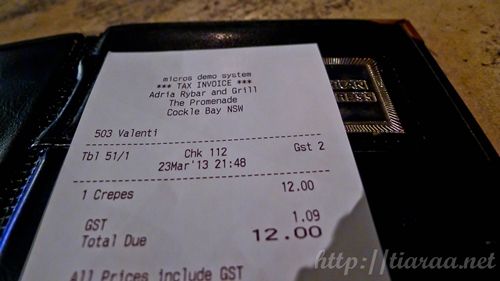 The second time I went to Adria Bar Restaurant was with Sam only. Bella needed her quiet time so Sam and I left our hotel and had dinner at Zaaffran before heading to Adria once again. This time, we decided to have the fresh crepes instead. Since crepes with hazelnut chocolate is usually the norm, we chose crepes topped with mixed berries instead. The set is also served with a scoop of ice-cream and the total for that was AUD$12 (USD$10.71 / CAD$11.74 / SGD$13.57). The crepes were done relatively well but I have tasted better ones. I preferred the Chocolate Fondant over this but both are still as delicious as can be.
PAYMENT METHODS: CREDIT/CASH
OPENING HOURS:
SUN-THURS – 8AM-11PM
FRI & SAT – 8AM-12AM
Nearest Station: Pyrmont Light Rail via tram / Town Hall Station via train / Sydney Aquarium via Sydney Ferry

Ambiance: 8/10
Service: 8.5/10
Food (Taste & Appearance): 7.5/10
Value: 7/10
Total: 7.75/10★
I must admit that for sweet tooth lovers, this is one of the better restaurants at Cockle Bay Wharf!