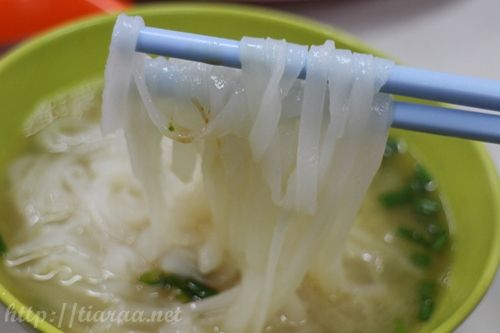 Everyone that goes to Ipoh should know that they are famous for their "ngah choi gai", otherwise known as beansprouts chicken. There are a lot of stalls such as Lou Wang and Restoran Onn Kee in the same vicinity serving this dish so it is difficult to choose which one to try. My friend from Ipoh actually recommended me to go to Cowan Street Ayam Tauge & Koitiau / 高温街芽菜鸡 to try the dish prior to my trip. However, when we arrived at Ipoh, Crystal mentioned that she would like to try Onn Kee since her friend has eaten there before and enjoyed it. Thus, we headed there from our Airbnb, which is a ten minutes walk.
安記芽菜雞沙河粉 Rest. Onn Kee Tauge Ayam
No. 48 Jalan Yau Tet Shin
30300 Ipoh, Perak
+60 12-556 6669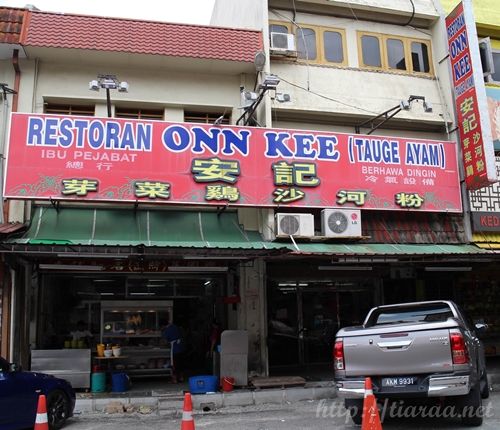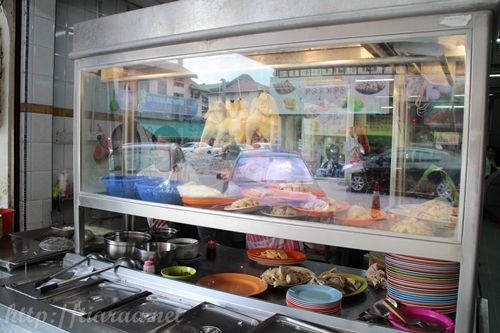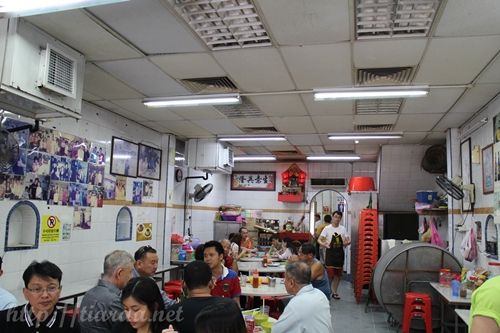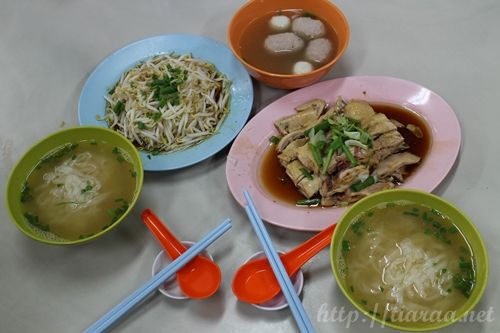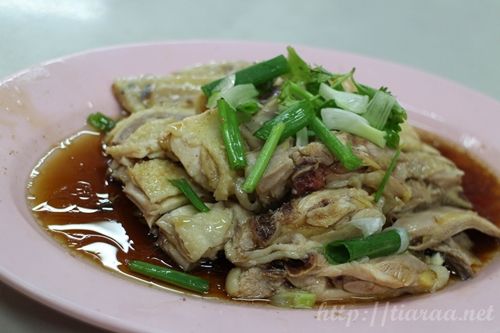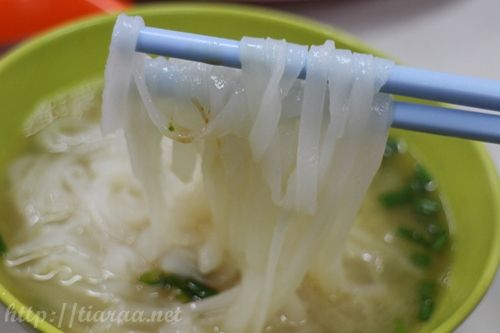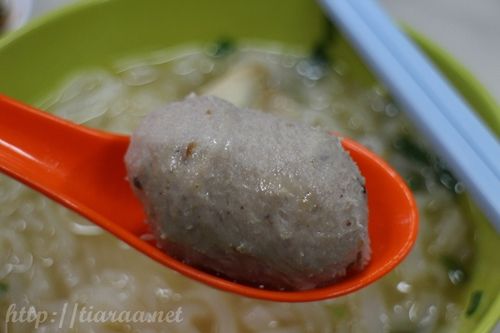 Upon taking a seat in the stall, a younger server approached us and took our order. As we were unable to speak in Cantonese, we conversed in Mandarin. We had beansprouts, chicken with soya sauce and a bowl of meatball and fishball to share and we also had a bowl of kway teow each. As shown in the fifth picture, the beansporuts at Ipoh are fat and juicy. This is because the way the beansprouts are grown in Ipoh is by germinating the mung beansprouts in water for four hours during the day when there is light and leaving it in the dark the rest of the time. The method used to grow beansprouts is hydroponic, thus the water solvent plays a crucial role in it's growth. Thankfully, the water in Ipoh has a high alkaline content due to minerals from the limestone hills surrounding Ipoh. This makes the beansprouts plumper and thus, with just a mild sauce, you are able to enjoy the taste of the beansprouts and we definitely did! Since the name of the dish is ngah choi kai, the locals cannot have the beansprouts without chicken depicted in the sixth picture. When Crystal and I ate the chicken though, we were extremely disappointed at how difficult the meat detaches from the bone and it was such a pain consuming this dish that we did not end up finishing it. Due to this reason, we tried another highly raved store that also serves ngah choi kai, which will be revealed later. I have to admit that the kway teow seen in the seventh picture is so delicious due to it's silky smooth texture and mildly sweet broth that was cooked with the chicken and its parts. The fishballs portrayed in the eighth picture is just average but what stood out was the huge meatball in the ninth picture. If you think that the meatballs served at Restoran Kin Kin is great, the meatball served at Restoran Onn Kee will make you think again. The total bill with two glasses of beverages came up to RM 34.45, which is equivalent to SGD$11.03/ CAD$10.15 / USD$7.76. Very value for money considering how much we have ordered though we were upset with one of their main dish, the chicken!
Rating of the beansprouts: 4.5/5★
Ratings of the chicken: 1/5★
Ratings of the kway teow: 4/5★
Ratings of the fishballs: 2.5/5★
Ratings of the meatballs: 3.5/5★
Opens daily from 12pm to 2am
Payment Methods: Cash Only!
Ambiance: 6/10
Service: 5/10
Food (taste & appearance): 6.2/10
Value: 7/10
Total: 6.05/10★
Our first meal in Ipoh turned out to be fine although we did not fancy the chicken but still, we decided to give ngah choi kai another chance by trying it at a different restaurant the next time we went there.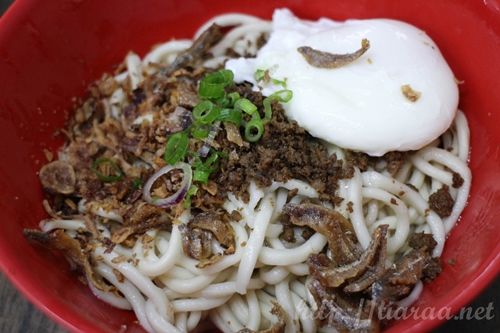 I have been hearing a lot about the dry pan mee that Kuala Lumpur serves in instagram. Coincidentally during my business trip last January, my ex-colleague Kevin brought my other colleague and I to have chili pan mee. During my recent February 2016 KL/Genting trip, I brought my sister to have this dish as well and she loves it!
 Restoran Kin Kin / 建记辣椒板面
40, Jalan Dewan Sultan Sulaiman, Kampung Baru,
Wilayah Persekutuan Kuala Lumpur, Malaysia
+60 16-372 8069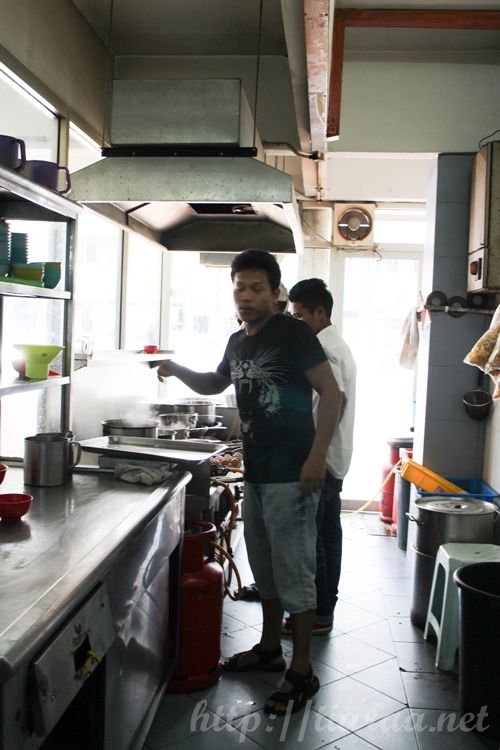 What I love about coffee shops in Malaysia is the old school ambiance it provides. We hardly have these kinds of coffee shops in Singapore these days since many old hawker centers and coffee shops are wiped out and revamped to franchised food courts. Anyway, do not be surprised by the workers serving you food at Kin Kin Pan Mee & Soong Kee Beef Noodles as the servers are able to speak Cantonese although they are not Chinese. So last year, Kevin helped me to order the food in Cantonese. Since I was with my sister this year, this middle aged Chinese man approached us to take our orders. Since I could not speak in Cantonese, I thought that I should order in Mandarin. However, he told me he is not fluent in Mandarin and could only converse in English or Cantonese. Thus, we spoke in English instead. He is relatively nice and friendly and engaged a bit in the conversation although there were plenty of customers last Saturday afternoon at around 1pm.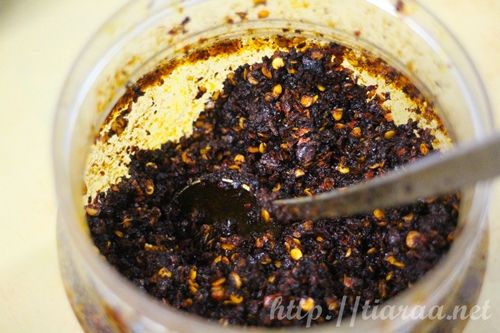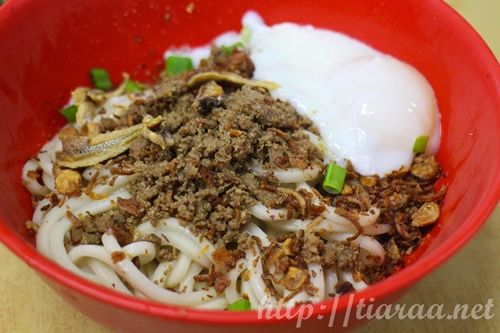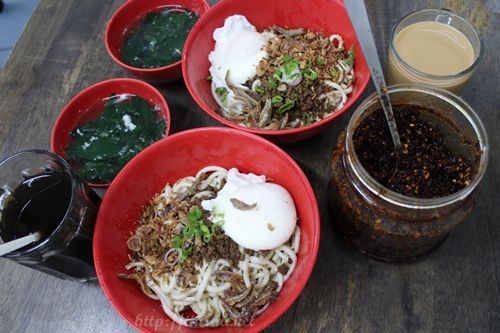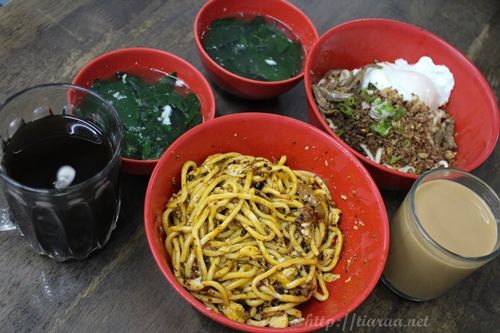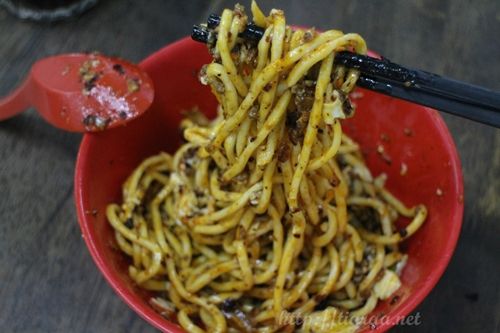 If you are wondering what is so special about this pan mee in comparison to the one in Singapore, the noodles are smoother to the palate, chewier and rounder. It is served in either dried or soup version but many would go for the dried noodles because when the entire bowl of noodles topped with minced pork, anchovies, onions and poached egg are mixed together, you get  bowl of gastronomic goodness. I do not usually like breaking up my poached egg as I love bursting the egg yolk in my mouth but I made an exception for this case because it makes the dish so much more tastier. The chili flakes shown in the first and second pictures adds more flavour to the dish and this creates the extra oomph in the meal, in addition to the broken yolk that is already mixed in. Look at the sixth picture and you will understand what I am saying when you see the difference between the mixed and non-mixed noodles. Although the meatballs and fishballs depicted in the last two pictures are highly recommended at this stall, my sister found them ordinary and prefers the beancurd skin instead. As for me, I love consuming the meatballs with the mixed noodle dish and the fishballs are just "nice-to-have" but not too essential for me. During this recent trip, my sister and I got two bowls of dried pan mee, one bowl of assorted meatball, fishball and beancurd skin soup, one glass of warm homemade luo han guo and one glass of teh peng cost RM 28.50. This is very cheap as compared to what we are charged in Singapore for the same quantity. I will write more about the difference between the KL and Singapore branch in my next entry.
Opens daily from 6:30am-6:30pm
Nearest train Station: Medan Tuanku via Monorail
Payment Methods: CASH ONLY!

Ambiance: 6.5/10
Service: 7.5/10
Food (taste & appearance): 9/10
Value: 8/10
Total: 7.75/10★
Kin Kin Pan Mee was another food stall that made me swallow my words that KL only serves commercialized food as I ended up consuming it many times in Singapore when it opened in Singapore. Of course, the original stall at KL fared better!