Jialing, Ling Ling, Calista and I went for the Bag of Hope III volunteer briefing on Friday and after the briefing, we managed to place the last order for desserts before they close the counter at 9:30pm.
On The Table
118 Pasir Panjang Rd,
Singapore 118541
9780 8094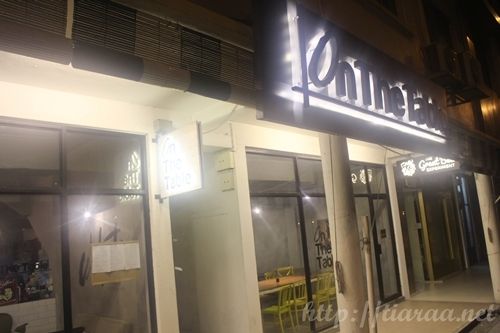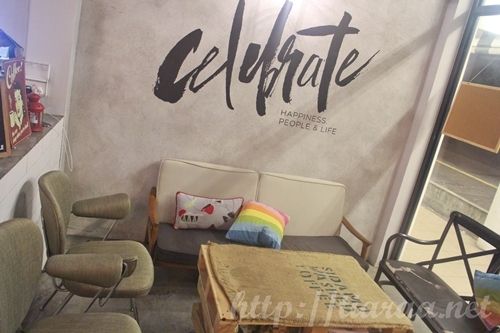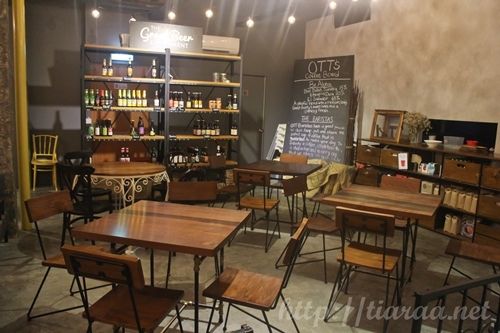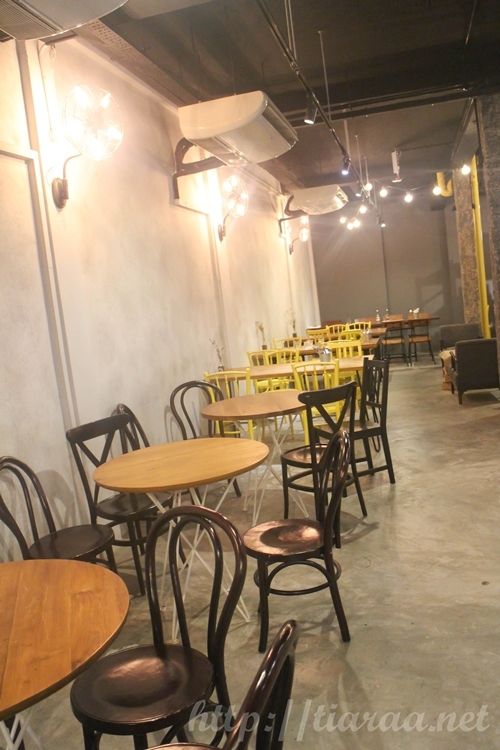 The owners of On The Table is none other than the folks behind the highly raved Lola's Cafe. I have never been to Lola's Cafe as it is out of reach from my home, workplace and where my friends and I will usually hang out at so I was excited to see what On The Table had to offer. This cafe is so big and spacious because two units were joined as one. Thus, we have dining seats in all sorts – couch with pillows (3rd picture), square tables with beach like chairs (4th picture) and round tables with the usual cafe casual chairs (5th picture). The service was not spectacular as the person serving us took a quick shot of us before rushing to do other work. Also, it felt like they were reluctant when we wanted to try a few ice-cream flavours before we ordered our desserts. Overall, there were not much interior design of the cafe but it is decent and neat.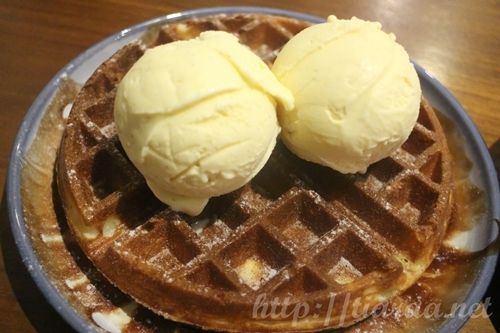 Four of us shared 2 waffles with 4 scoops of ice-cream (1st picture), which costs SGD$20 altogether. One waffle had a scoop of Strawberry and one scoop of Thai Milk Tea ice-cream (2nd picture), while the other waffle had one scoop of Vanilla Bean ice-cream and another scoop of Peanut and Caramel ice-cream (3rd picture). We love how the waffles are crispy and not too airy complementing the softness of the ice-cream. Jialing stated that the waffles were previously rectangular in shape but it is currently served like the regular circular waffles you see in most cafes that serve waffles. The taste of the Thai Milk Tea ice-cream is mehhh and the Vanilla Bean ice-cream is mediocre. We found the Strawberry and Peanut and Caramel flavours outstanding though! The taste is so intensified you would not even believe it! Well, at least we have a saving grace for this cafe that will bring us back here to try their savory delights.
Opening Hours:
Tue-Thu: 11am-4pm (Brunch),6-9pm (Dinner), 11am-9:30pm (Drinks/Waffles)
Fri: 11am-4pm (Brunch),6-9pm (Dinner), 11am-9:45pm (Drinks/Waffles)
Sat: 10am-4pm (Brunch),6-9pm (Dinner), 10am-9:45pm (Drinks/Waffles)
Sun: 10am-4pm (Brunch),6-9pm (Dinner), 10am-9:30pm (Drinks/Waffles)
Nearest MRT Station: Pasir Panjang via circle line
Payment Methods: Cash/NETS

Ambiance: 6/10
Service: 5/10
Food (taste & appearance): 7/10
Value: 6.5/10
Total: 6.13/10★
I would not recommend anyone to go the extra mile to On The Table cafe unless you live or have a meeting nearby.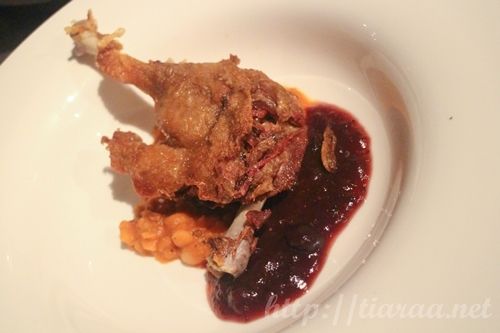 I remember being so enthusiastic about Singapore Restaurant Week last year as I miss the Vancouver Dine Out very much. As much as I love having cheap authentic local food in each country/city that I visit, I also love having 3 course fine dining meals at discounted prices. When I was still studying at Vancouver, Vancouver Dine Out is a huge treat for all of us and we often pick 2-3 restaurants to head to during that time. You can have 3 course meals either for CAD$18, CAD$28 and CAD$38 excluding tax and tips. So when I got to know about Singapore Restaurant Week last year, I booked 3 restaurants named Tatsu Sushi, The Landing Point at Fullerton Hotel and the highly raved Alkaff Mansion Ristorante to go with different people. This year, I have missed the first Restaurant Week but thankfully for Crystal, we did not miss the second Restaurant Week. We took awhile to decide on where to dine at because when the slots were out to be booked, many of the popular restaurants such as Stellar and Alkaff Mansion were fully booked already. After doing some research on the remaining restaurants, we decided on Burlamacco Ristorante and made our reservations at the end of September for the 30th of October for three pax.
Burlamacco Ristorante
77 Amoy St,
Singapore 069896
6220 1763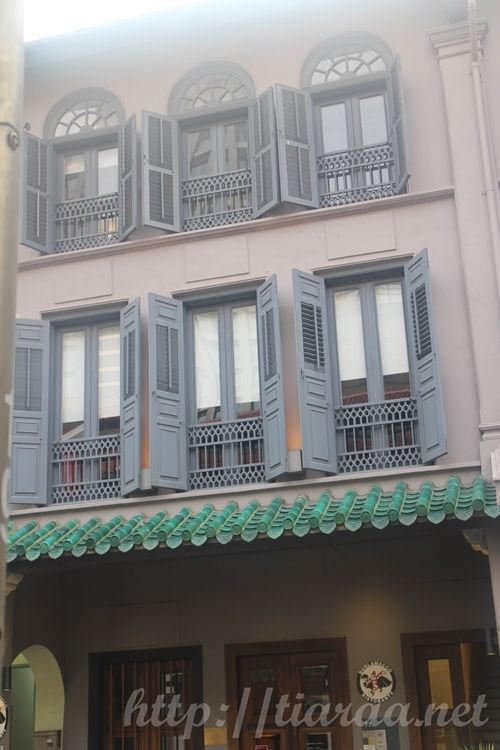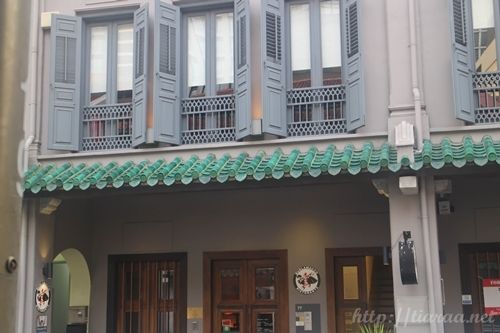 I took an uber down to the restaurant from my office and arrived at Amoy Street. I would have never noticed this restaurant in the streets if I have never seen it in the Restaurant Week listing! From the pictures above, you will notice that this restaurant is located at the ground floor of the shophouses. What I love about places like Amoy Street, Joo Chiat, Kandahar Street and Keong Saik Road are that the cultural heritage is still being retained. I dislike many traditional places being torn down and skyscrapers and commercialized buildings replacing it so I enjoy going to restaurants, which is located at the base of shophouses. When I enter the restaurant, I was welcome by the host and a server with open arms. They were smiling and being so friendly as they showed me to my seat. Actually, one of the server from Burlamacco Ristorante messaged me the day before reminding me of my reservation and asking me to acknowledge the test. I did mentioned to them via text that my friend, who is the birthday girl will be coming and asked if they can decorate the dessert she chose from her 3 course meal so that we can surprise her on her birthday. They assured me that they were able to so while the server was showing me to my seat, I reminded the him about it and told him the hair color of Vivian and that the birthday girl will be sitting at the center. When Vivian came before Crystal, the server was very attentive and gave me the thumbs up from afar to let me know that he knew who the birthday girl was. Throughout our dining session, there were three servers who impressed us a lot by engaging conversations with us, being very attentive to our table and surprised us with an complimentary birthday dessert.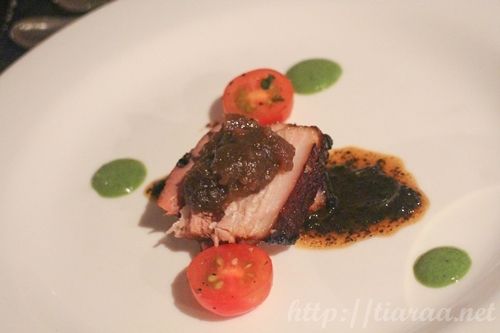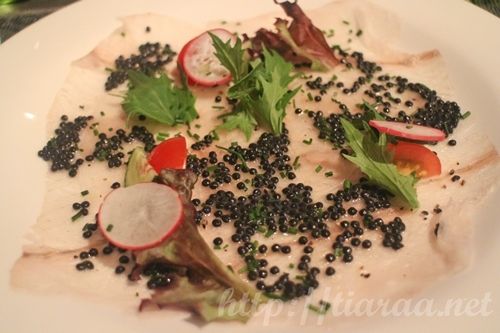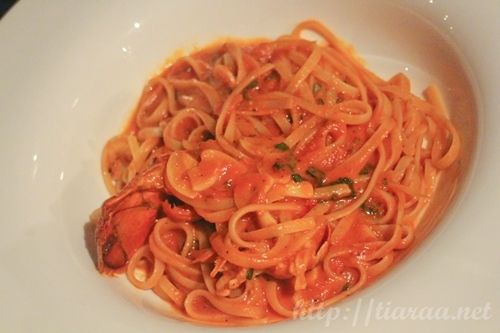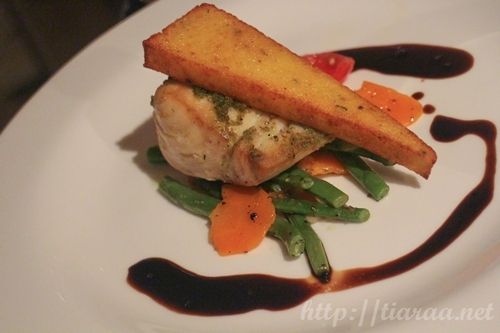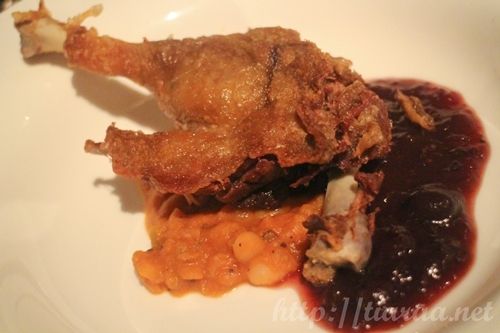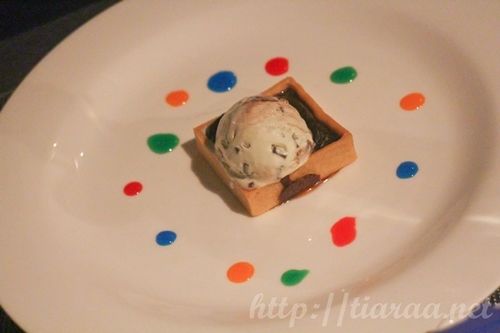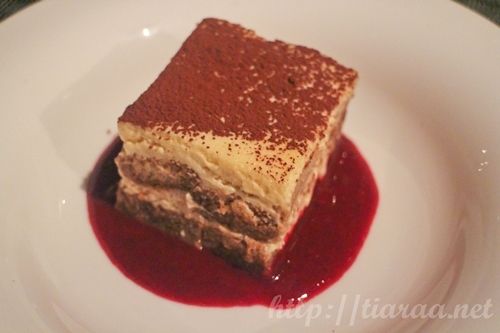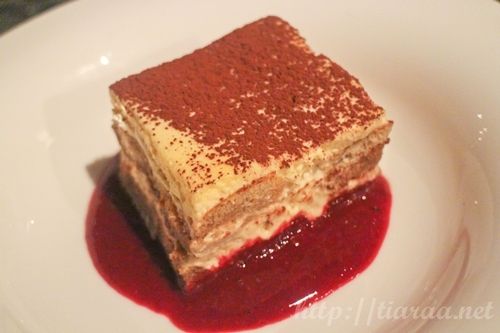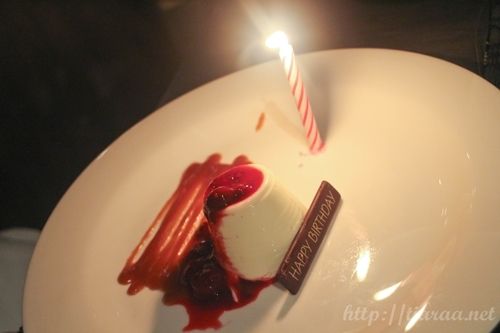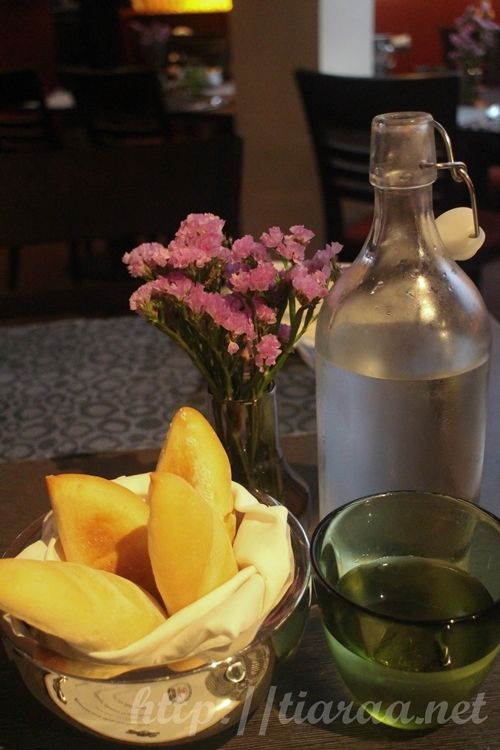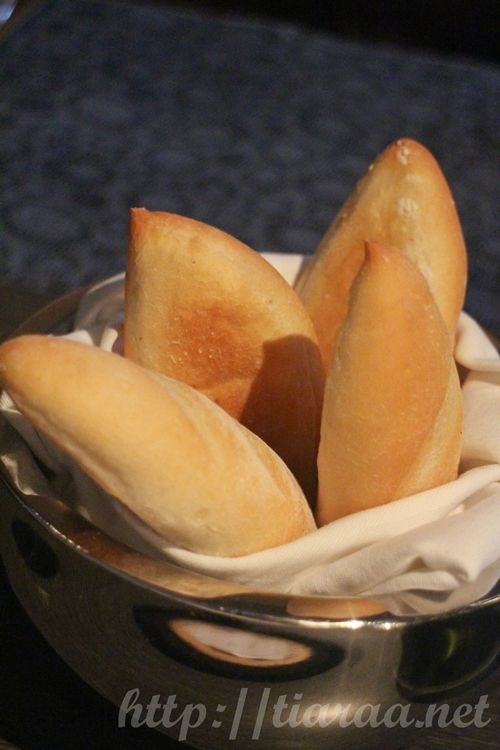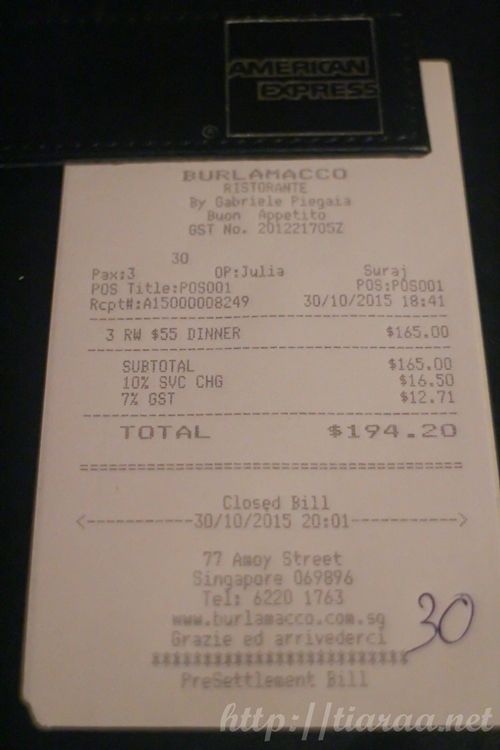 For the three course meal, we could choose between Pork Belly (1st picture) and Seabass Carpaccio (2nd picture) for our appetizer so Vivian chose the Pork Belly while Crystal and I had the Seabass Carpaccio. Vivian's Pork Belly was so tender and tastes extremely good with the sweet pea and black truffle sauces. Vivian kept distributing her pork belly to us, which made both Crystal and I to conclude that Vivian's dish was much better than ours complemented with lemon dressing and black caviar. Moving on to our main course, three of us ordered different main course. Crystal chose the Spicy Lobster Linguine (3rd picture), Vivian got the Herb Crusted Roasted Butter Fish (4th picture) while I have decided on my favourite Duck Leg Confit (5th picture) even before the reservation is made. I found Crystal's dish very appetizing, especially with the Arrbbiata sauce that created a spicy edge for the linguine and Boston lobster tail. Vivian's dish was decent but she found the taste of the toasted bread above her fish a little weird. Other than that, she found the roasted butter fish with aged balsamic sauce quite alright. In any restaurant that Duck Leg Confit can be found, I would always want to try this dish. Both Crystal and I enjoyed my dish as it tastes especially delectable with stew beans and cranberry sauce. For our desserts, Crystal was so lucky to choose the right dessert called Chocolate Crostata (6th picture), which was oven baked to the right crust and topped with mint ice cream and both the topping and base complemented each other very well! On the other hand, Vivian and I made the wrong decision to choose the Tiramisu (7th & 8th pictures) as it was so moist and too sweet for our liking. The tiramisu did not have the right consistency and the berry coulis made it even more wet. Thankfully, Vivian's complimentary birthday dessert (9th picture) appeared right when she thought her sweet endings was ruined by the tiramisu. The server sure knew how to surprise all three of us as Crystal and I thought that the Happy Birthday decoration will be on the tiramisu she ordered but never did we imagine to have a complimentary birthday dessert as well! Vivian preferred her panna cotta over the tiramisu and thankfully, it ended up right this time! Crystal and I had tea for the last serving while Vivian opted out as she was too full. It was SGD$55 per pax without tax and service charges and we ended up paying SGD$194.20 for 3 pax. Crystal and I treated Vivian since this is her birthday dinner arranged months ago!
OPENING HOURS:
MON-FRI: 11:30AM-2:30PM, 6PM-10:30PM
SAT: 6PM-10:30PM
SUN: 11:30AM-2:30PM, 6:30PM-10:30PM
NEAREST MRT STATION: TELOK AYER STATION
PAYMENT METHODS: CASH/NETS/CREDIT CARDS

Ambiance: 7/10
Service: 9.5/10
Food (taste & appearance): 7.5/10
Value: 7/10
Total: 7.75/10★
I was amazed by the impeccable service but the appetizers and desserts were only mediocre. The linguine and duck leg confit stood out for me though! We will see if we will be back as there are plenty of hawker centers, restaurants and cafes to conquer in Singapore.