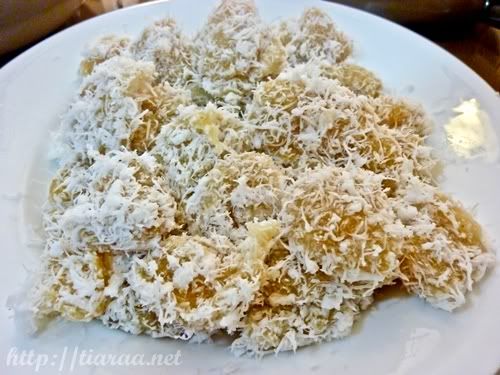 Things have been really hectic with the Lunar New Year celebrations and such. Thus, the lack of updates. Speaking of Lunar New Year, I went back to Indonesia during this festive season to visit my relatives. During the 3rd day of Lunar New Year, I visited one of my aunt and she thought me how to make a few Indonesian/Nyonya desserts. We made a total of 3 delicacies but today, I will show you how to make the first delicacy
- Ongol-ongol, which is also known as Odeh Odeh -
These are the ingredients for all 3 delicacies we made – kaya spread, singkong and ongol-ongol.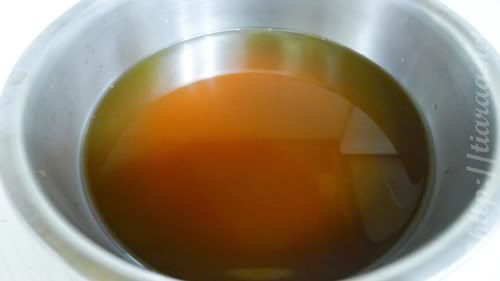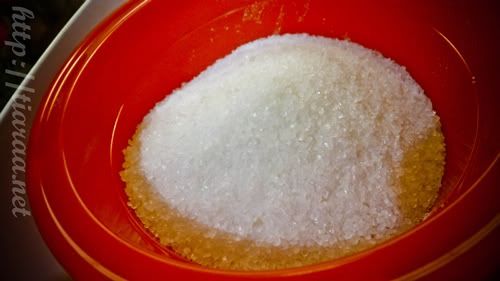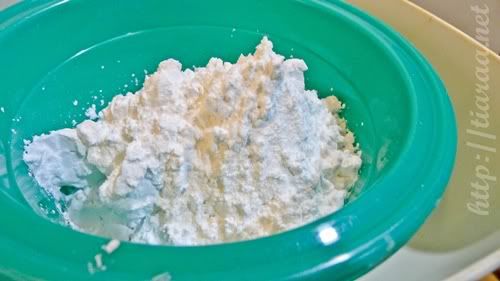 The ingredients for the thick content of the Ongol-Ongol is as follows:
- 375 ml of water (air)
- 100-120 g of  caster sugar (gula)
- 30-50 g / 1.5 round solid palm sugar (gula malaka)
- 100 g of starch flour (tepung)
- 2-3 pandan leaves (duan pandan)
- non-sticky frying pan (anti lengket)
The ingredients for the coating of the Ongol-Ongol is as follows:
- 1/2 coconut (kelapa)
- 1/2 teaspoon of salt (garam)
- steamer (mangkok kukusan)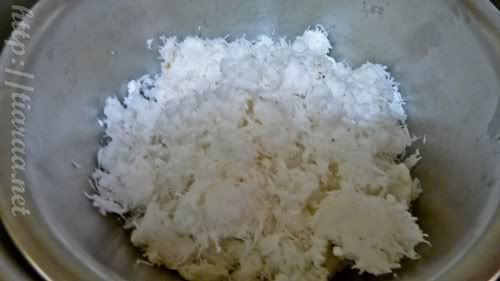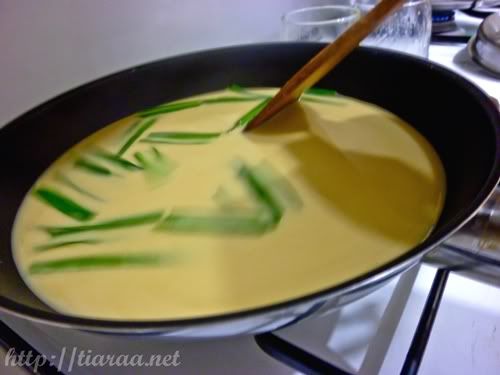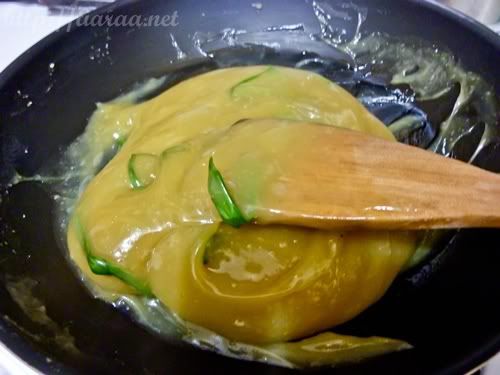 Recipe of thick content of Ongol-ongol:
1) Boil 375 ml of water with 100-120 g of caster sugar and 30-50g of palm sugar. The total volume for the mixture has to be 400 ml altogether. When the sugar has dissolved, set the mixture aside to cool it.
2) When the mixture has cool down, add 100 g of starch flour to the sugar and water mixture and stir it.
3) Pour the entire mixture to a non-sticky frying pan and heat the mixture using small fire.
4) Throw in 2-3 pandan leaves so that the Ongol-ongol will be fragrant. (Picture 2)
5) After which, stir the mixture continuously until it is very  thick like how picture 3 depicts it.
Recipe of coating of the Ongol-ongol:
1) Put 1/2 shredded coconut into a bowl and place the bowl in the steamer. It is better to use young coconut for freshness. (Picture 1)
2) Steam the shredded coconut until the water at the bottom of the steamer has boiled.
3) After the water has boiled, leave it to steam for another 5-7 minutes.
4) Next, take the bowl out of the steamer and add 1/2 teaspoon of salt into the shredded coconut bowl and mix it.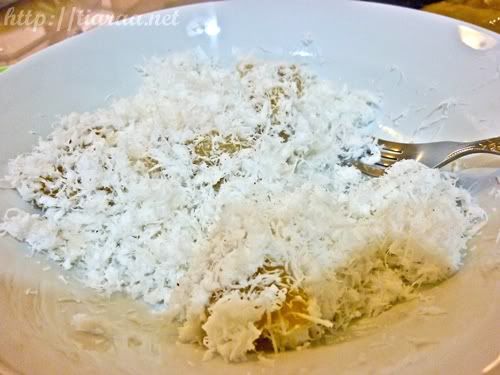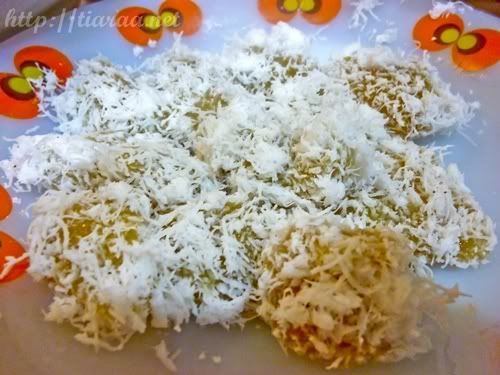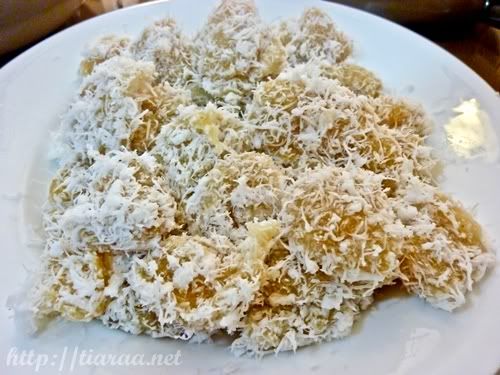 When both the content and coating has been done for the Ongol-Ongol:
1) Pour the shredded coconut onto a plate.
2) Cut the thick brown content/mixture in small round pieces as above. Do remember to remove the pandan leaves from the mixture.
3) Mix the thick brown mixture with the shredded coconut in order to coat it as shown above.
TA-DAH – you succeed in making Ongol-ongol ! Not too difficult, right ?
Will be writing the other two recipes soon, till then !
swisscheese*