Back in 2013, Any and I had a weekend trip to Macau while we were at Hong Kong. She researched on the good food at Macau but due to the lack of time, we did not conquer every single place on the to-eat-list. We managed to try the pork chop bun and the egg tarts that I will be writing about in this entry.
澳門安德魯餅店官方 / Lord Stow Bakery & Cafe
3/F, Shop 2119a,
The Grand Canal Shoppes,
Venetian Macao
+853 2886 6889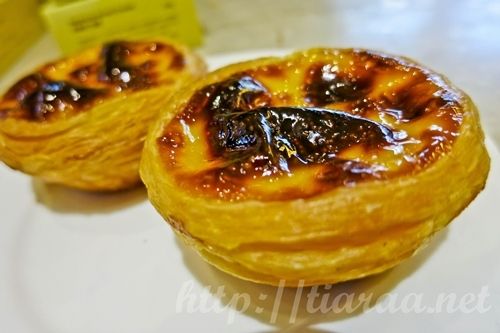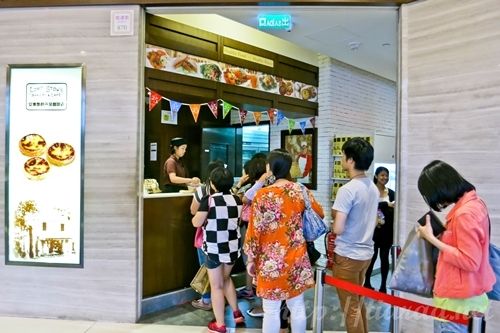 We were rushing back to the ferry terminal so that we could reach Hong Kong International Airport on time to catch our flights to Nanjing & Jakarta so I went to buy the pork chop bun at 澳門大利來記豬扒包, while Any went to look for Lord Stow and bought 2-3 Portuguese egg tarts so that we could consume it on board. After the crazy rush and changing my clothes in the ferry's washroom to more comfortable clothes for my flight, I finally settled down to have the delicious Portuguese egg tarts. I found it delicious  as the crust is so flaky and crispy and the egg filling has the right consistency, not too milky or anything like that. I came back again last August with Ricky & Andy just for the egg tarts but perhaps I have been traveling so much that I found the egg tarts just average. Ricky was even asking me, "how can you be so enthusiastic with wanting to dine here yet you only found this okay?" I decided to get 3 boxes of almond cookies for my colleagues and one of my buddies (Andy) at work loves it! He stated that there is something so addictive about the soft and "melts-in-your-mouth" almond cookies that he practically finish the entire box. The total cost for 2 egg tarts & 3 boxes of almond cookies is 123HKD (CAD$19.49 / SGD$21.20 / USD$15.87)
OPENING HOURS:
SAT-WED: 10:00AM-11:00PM
THURS-FRI: 10:00AM-12:00AM
LANDMARK: VENETIAN
PAYMENT METHODS: CASH/MASTER CARD ACCEPTED

Ambiance: 7/10
Service: 4/10
Food (taste & appearance): 6.5/10
Value: 6/10
Total: 5.88/10★
I will try going to Macau during the weekdays in the future to try out the highly raved Margaret's Cafe e Nata / 玛嘉烈蛋挞 and compare it with Lord Stow. Until then, I will see you again Portuguese Egg tarts!
Highlights
Network
swiss@tiaraa.net
Swiss Tiara Sumarli
Create Your Badge
Food & Travels
Meta