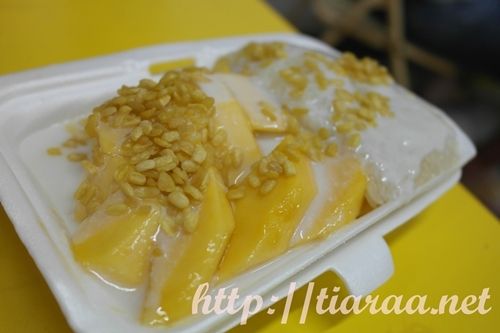 One of the most common desserts at Thailand is none other than mango sticky rice. People could be bloated from all the delicious Thai delicacies but they would still love to end the night sweetly with a plate of mango sticky rice. In Bangkok itself, many vendors claimed to serve the best mango sticky rice. Since Mae Varee was highly raved, I knew I had to try it on my second visit there last year.
แม่วารี / Mae Varee
1 สุขุมวิท แขวง คลองตันเหนือ เขต วัฒนา / 1 Soi Thong Lor Road, Sukhumvit Soi 55, Klongtunnua Wattana, 
Bangkok 10110, Thailand
+66 2 392 4804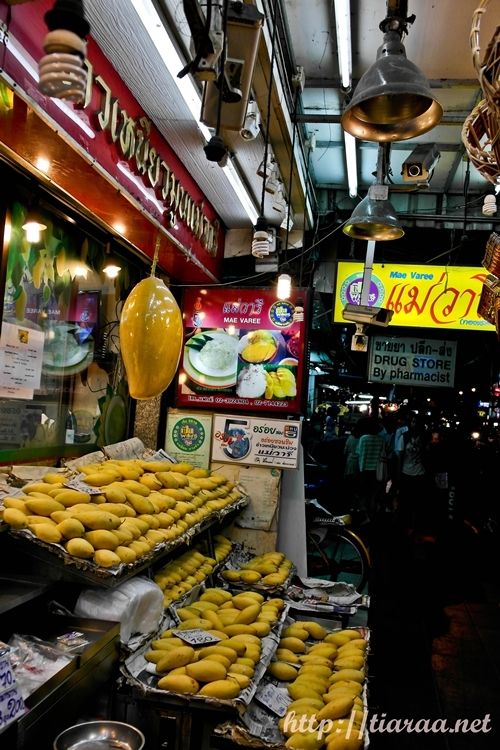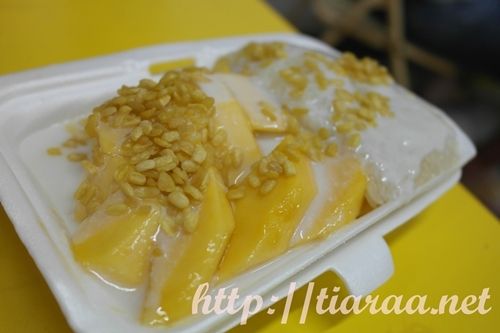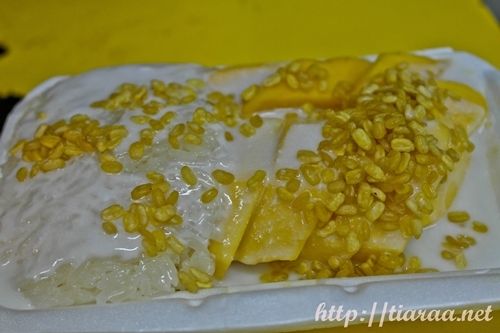 Mae Varee is located right next to Thong Lo station if you take exit 3. If you read my previous entry regarding my mango sticky rice experience at ศูนย์อาหาร สุขุมวิท38 / Sukhumvit Soi 38, the stall is located at the street leading from exit 4. It was funny how Laurie and I bought the mango sticky rice at Mae Varee and ate it at Sukhumvit Soi 38 though! Compared to the mango sticky rice I had at Sukhumvit Soi 38, Mae Varee fared much better! The mango is fresh since the store is selling fruits. The coconut milk is not too milky and sweet yet provides just the right oomph to the dessert and the mung bean gives the right crunch to the delicacy! It costs 120 baht (CAD$4.49 / SGD$473 / USD$3.42), which is 50 baht more expensive than the mango sticky rice at Sukhumvit Soi 38 but you pay for what it's worth, yes? A pity Mae Varee does not have tables available for customers to dine so there is only a take away option.
PAYMENT METHODS: CASH ONLY!
OPENS 24/7 BUT MANGO STICK RICE ONLY SERVED 5AM-11PM
NEAREST STATION: THONG LOR BTS, EXIT 3.

Ambiance: 7.5/10 (Clean fruit stall)
Service: 7/10
Food (Taste & Appearance): 9.5/10
Value: 8.5/10
Total: 8.13/10★
I am still searching for the perfect mango sticky rice but Mae Varee will do for now. Till the impeccable mango sticky rice!