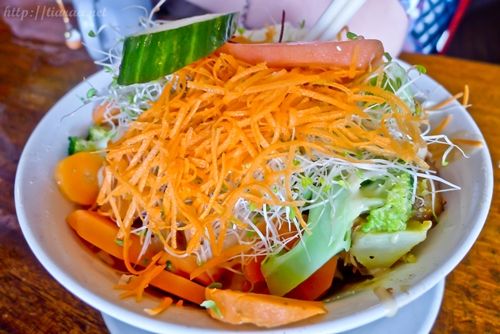 Greetings from Seoul! I have not updated this food blog for a long time because I was at Vancouver for only 5 days after my 10 days trip to LA before I left for Korea. I am actually here for a 5 days vacation but I extended to 2 weeks and am contemplating of extending it to a month to do something productive like volunteering and taking Korean classes. So anyway, this entry is long overdue. Today, I will be writing about my experience at Naam that Fine and I went to at the end of October last year. Initially, we wanted to go to Cafe Regalade or Oakwood Canadian Bistro but we did not realize that they are only open for brunch on weekends and we went there on Friday so it was closed. Since Fine was there earlier, she decided to look around the vicinity and came across Naam. This was how we decided to dine at Naam…
The Naam Restaurant
2724 West 4th Avenue
Vancouver, BC V6K 1R1
(604) 738-7151

View Larger Map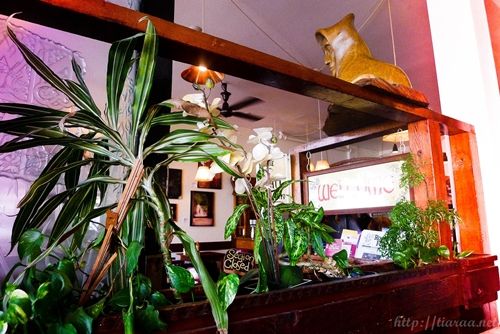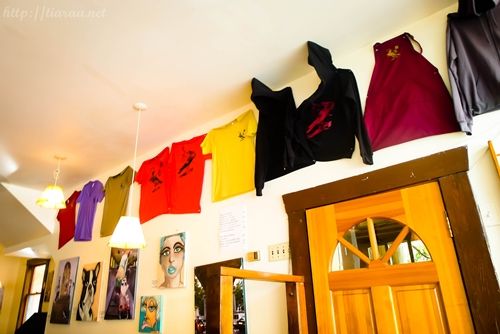 Once you enter Naam, you will be greeted by plants and animal figurines as depicted by the first picture. According to Wikipedia, Naam means name and it is the spiritual tool of meditation. From my analysis, I think it is because the restaurant uses natural wooden tables for furnishing and natural vegetarian food to serve. Natural food maybe a tool to cleanse the soul for meditation. The server was very unfriendly and she did not have much patience to recommend good dishes for us. Also, she seems to be in a rush and do not have much customer service etiquette. We had a hard time calling her for orders and getting the bill.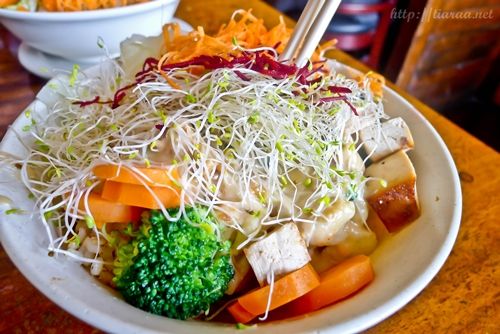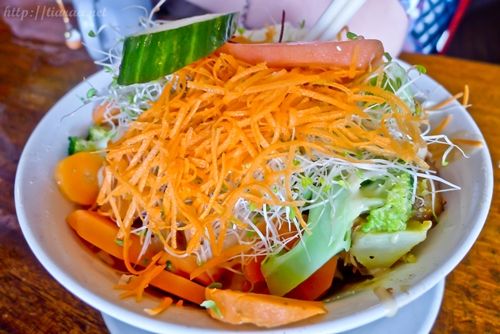 I ordered the Naam Dragon Bowl (1st picture), which costs CAD$10.25 for such a huge serving. The dragon bowl consists of organic brown rice at the base of the bowl filled with lots of sauce such as the peanut sauce and miso gravy. The bowl is also topped with tofu, organic alfalfa sprouts, wakame and steamed veggies. I felt like a cow consuming so much raw vegetables that day that I could not even finish the entire bowl. Many people have the assumption that vegetarian food is healthy but with so much peanut sauce and miso gravy put in the dish, it is definitely not. I really do not enjoy the meal as firstly, I do not even eat salad because I prefer cooked vegetables and secondly, it became quite boring after consuming part of the dish. I took the remaining home but did not touch it after. I usually finish my remaining take-outs, mind you.
Ratings: 2/5★
As for Fine, she got the Gold Dragon Bowl, which is depicted in the 2nd picture. Her bowl comprises of Naam fries topped with cheese, miso gravy, steamed veggies, sprouts, carrots and deep fried tofu. Fine prefers my meal to hers but both of us do not appreciate these kind of cuisine. I am totally fine with vegetarian food but not with so much raw vegetables and sauce in it.
CASH/CREDIT/DEBIT
NEAREST TRAIN STATION: BROADWAY AT CANADA LINE
OPENING HOURS:
OPENS 24/7
Ambiance: 7/10
Service: 3/10
Food (taste & appearance): 4/10
Value: 5/10
Total: 4.75/10★
Naam may not be catered to my taste bud but I am sure a lot of people will appreciate it since there are so many ravings about it.
swisscheese*