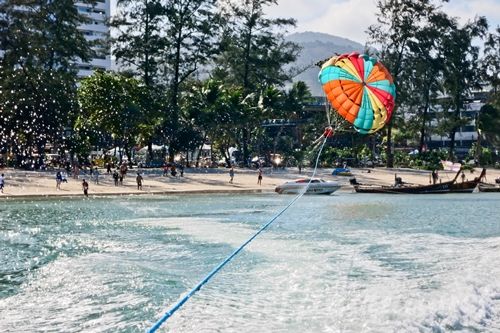 I was looking forward to talk about my recent Phuket trip with Crystal that occurred almost two weeks back. Although Phuket is a highly commercialized island filled with gazillion tourists, I enjoyed it a lot. Let me introduce the closest beach to our resort…
หาดป่าตอง จ.ภูเก๊ต / Patong Beach
Patong, Kathu, Phuket, Thailand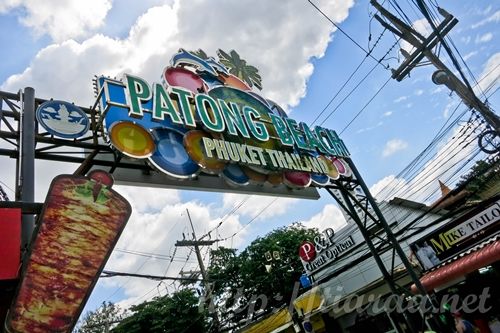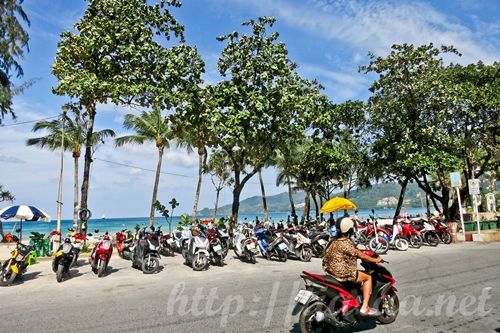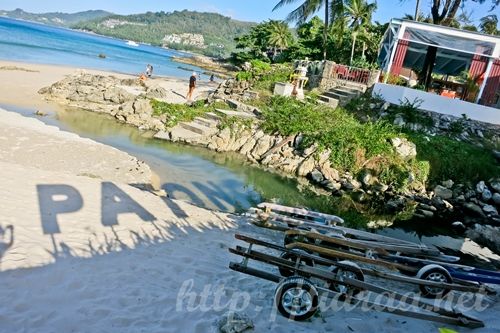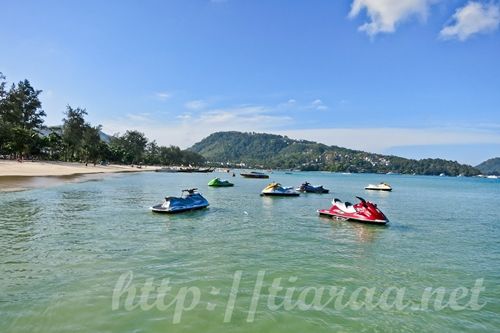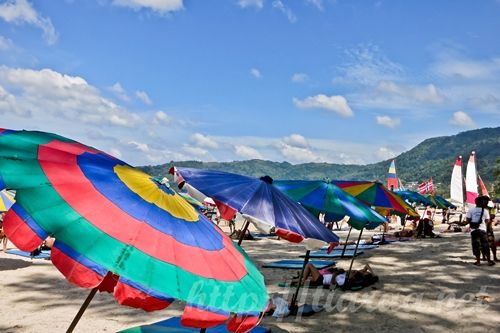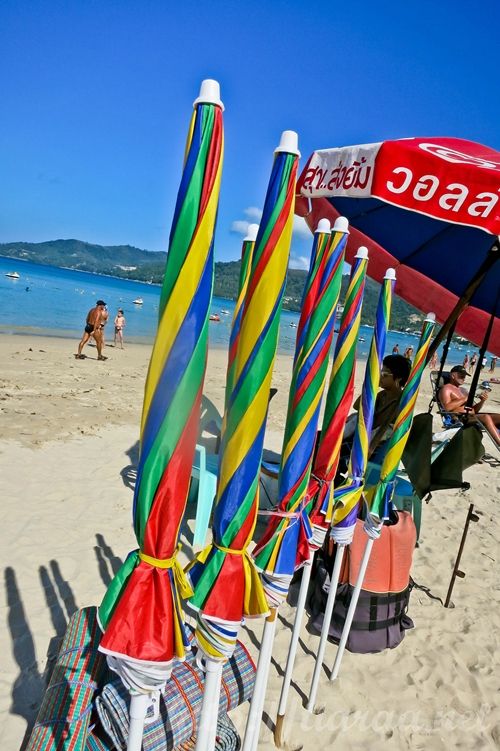 We took the shuttle bus from our resort at 10:30am and arrived at Patong Beach shortly after. We browsed through some stores before deciding to soak our legs on the sand and look around at the prices of the parasailing. Seems like every single person providing this service charge us 1,500 baht (CAD$55.64 / USD$46.02 / SGD$61.41) and 1,200 baht (CAD$44.52 / USD$36.83 / SGD$49.14) for a huge parachute and small parachute respectively. One man named "Egg" decided to charge us 2,700 baht (CAD$100.08 / USD$82.83 / SGD$110.56) if both of us were to try out the activity. However, since it was 11am when we were there, we felt really warm from the scorching sun. We decided to try parasailing the next day. We then proceeded to make our way to Jungceylon.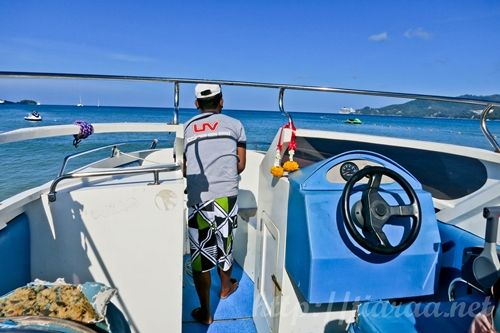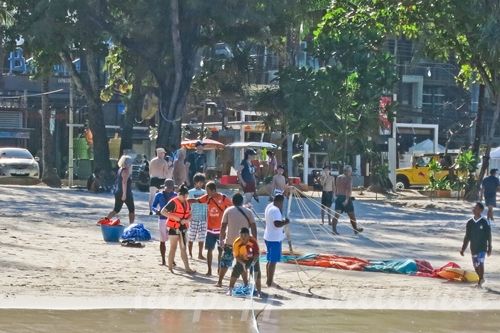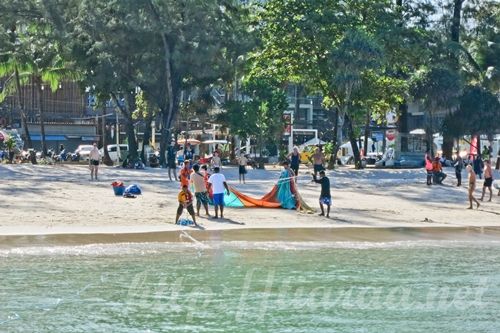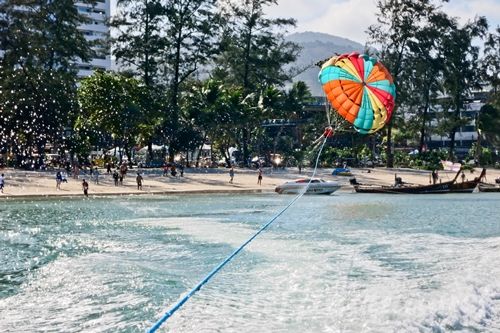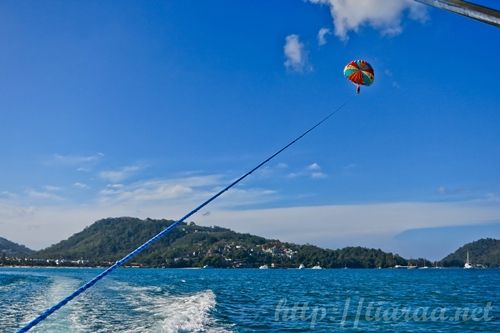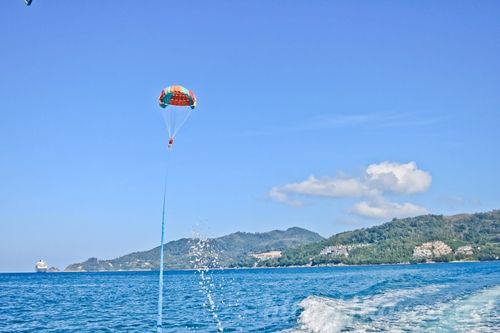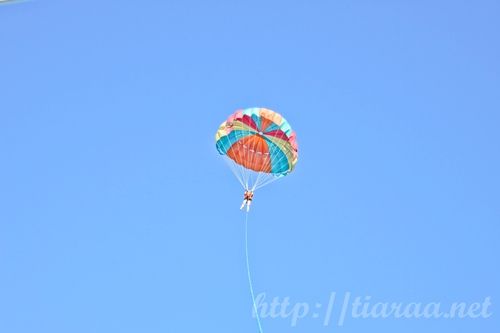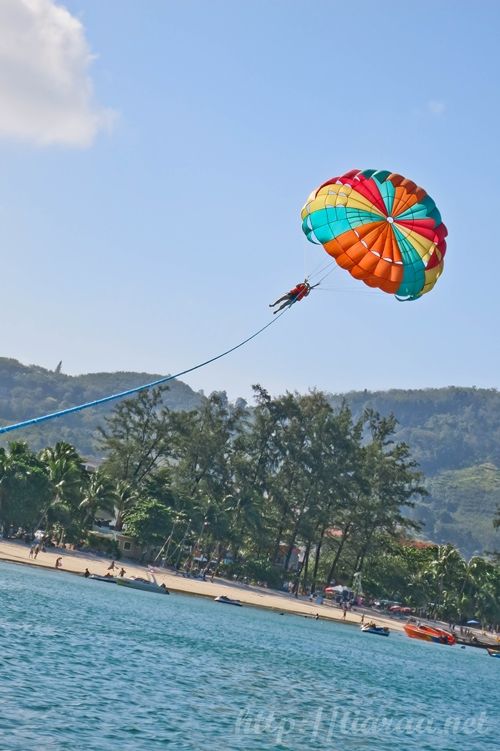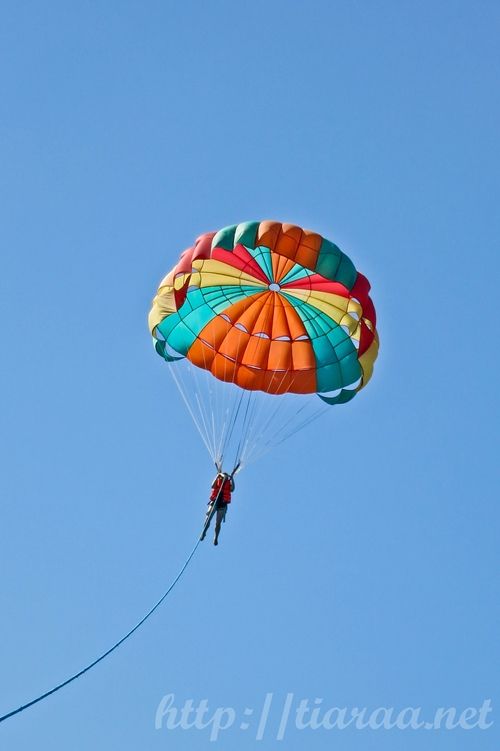 The next day, we walked from one corner of the beach to the other end of it. After which, we walked on the sand to look for people who are recommending water sports activities to us. We could not find "Egg" as he should be the other side of the beach. We managed to make friends with "Joey" though. He went from 3,000 baht (CAD$111.13 / USD$92.09 / SGD$123) for two to 2,200 baht (CAD$81.61 / USD$67.53 / SGD$90.07) for two. We wanted to negotiate further but decided to just go with it. Unlike the parasailing in Borneo, where people can parasail in pairs, parasailing in Phuket has to be done individually.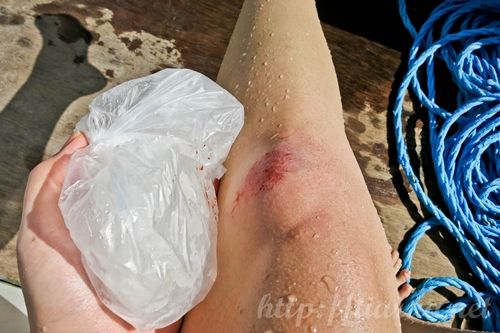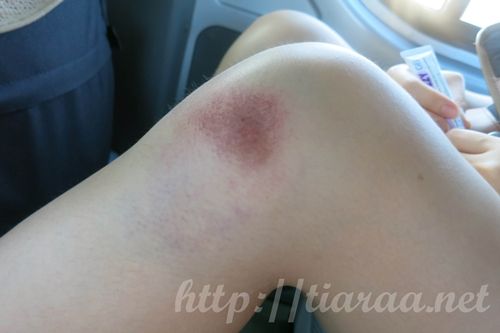 As I was a little afraid initially, Crystal decided to go first. However, she did not run prior to taking off. Thus, it resulted in an abrasion. The second last picture and last picture depict how the injury resulted on the day itself and the day after respectively. When I met her 2 days after our trip, almost one quarter of her leg from her knee onwards is bruising as a result from the abrasion. So kids, remember to RUN before the boat speed for you to take flight.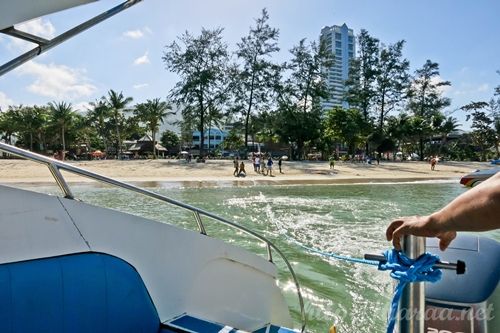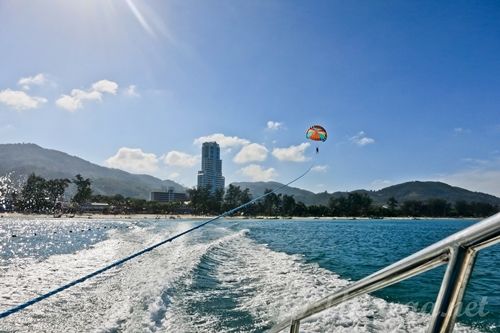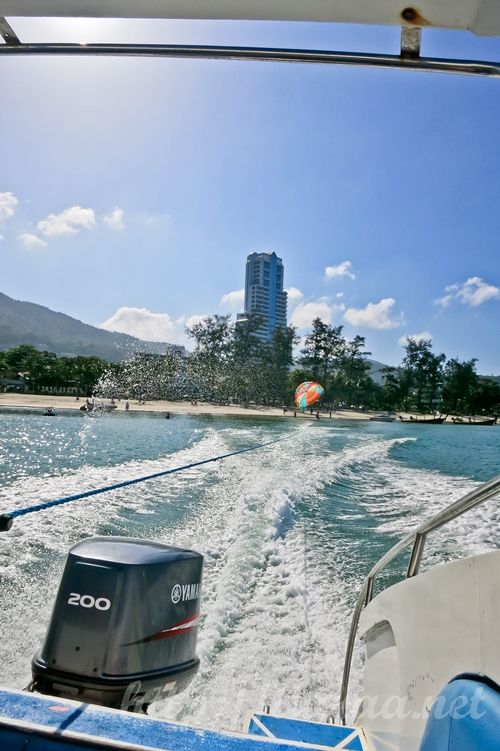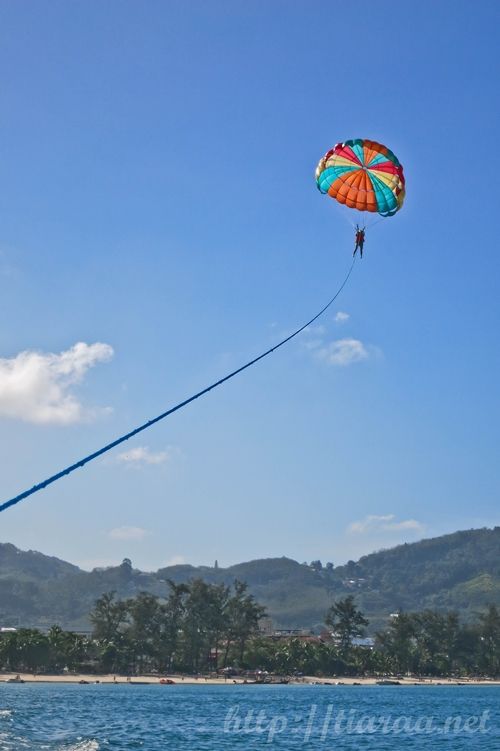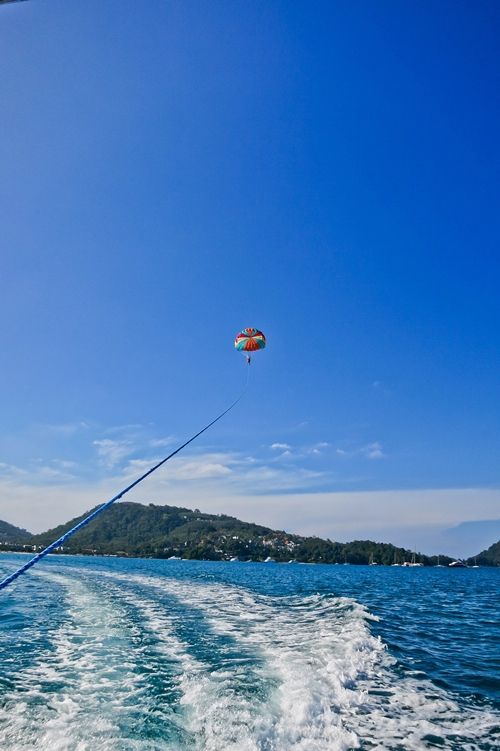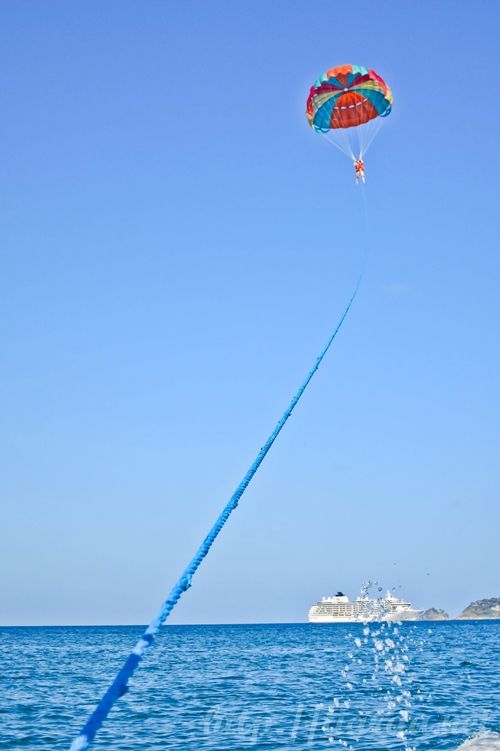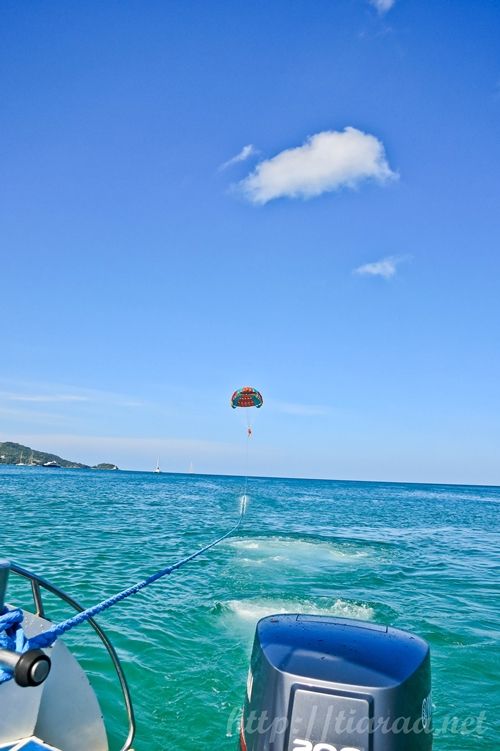 Next, it was my turn to fly! I was excited yet a little scared at the same time. However, when I was up in the air, I did not feel fearful at all. I felt free and was screaming for joy! While parasailing, I managed to view the beauty of Phuket and was mesmerized by it. It was quite a long ride in the sky and I thoroughly enjoyed it.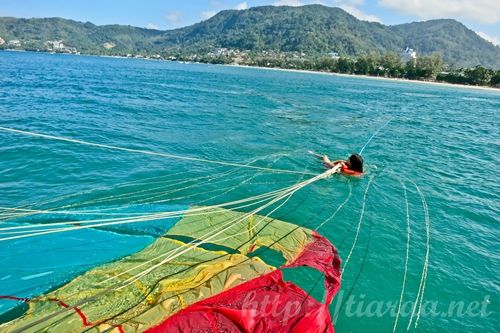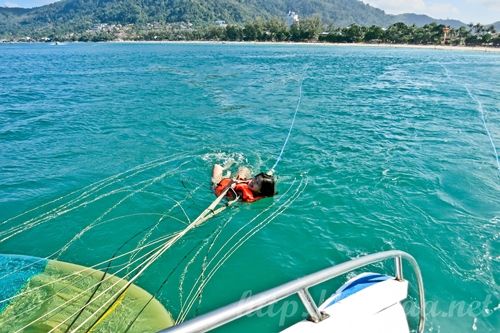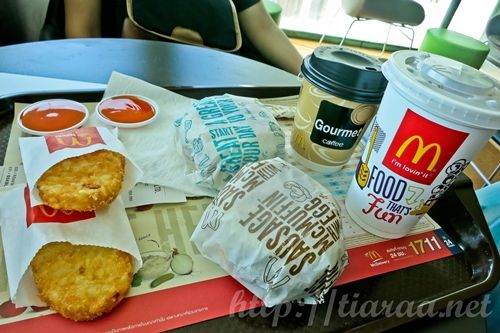 When I was about to land on the water, I went "Oh man! Why do all good things come to an end?" No doubt, I am a spontaneous risk taker, albeit a worried one. After parasailing, Joey was so nice to helped us lay out our mat so that we can rest by the beach and he even offered to snap a shot of us. He was also very hospitable to give us directions on certain places that we were thinking of going and even helped us to keep our mat when we were leaving. I guess this is what people in the Land of Smiles are like? We were starving right after our beach activity and went to the McDonald's nearby to have breakfast. I was surprised when McDonald's at Phuket were selling the adorable Hello Kitty soft toys at 209 baht (CAD$7.75 / USD$6.42 / SGD$8.55) so I got one for my aunt as she was missing that from her complete set.
PAYMENT METHODS: CASH ONLY!
PARASAILING OPERATING HOURS: 8AM-7PM
I am so glad that I managed to not only venture out Phuket from my world map, but I also got to strike something off my bucket list, which is none other than parasailing! I hope to try more high element activities in the future.