Happy Easter everyone! Unlike other Easter weekends, I squeezed two strenuous activities in one day at Banyuwangi. One of which is a night hike till the sun rises in a volcano at East Java known as Kawah Ijen. I will save the other objective for another entry. Since it was the Easter weekend, Charlene, Eugene and I flew from Singapore to Surabaya via Garuda Airlines on Thursday night and stayed over at a hotel for a night. We booked a Gaurda flight from Surabaya to Banyuwangi on Friday morning at 11:45am. However, when we were ready for boarding at 11:25am, three flights were shown to be delayed due to operational issues. Unfortunately, one of it was our flight, which was delayed until 3:30pm. We decided to get out of the terminal gate to have lunch and do our own things.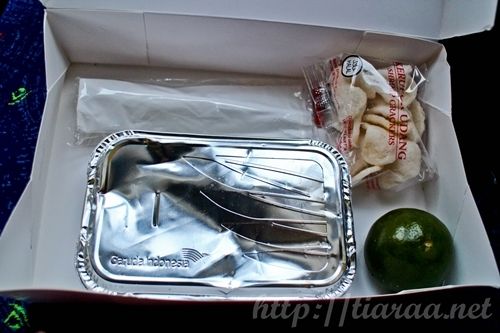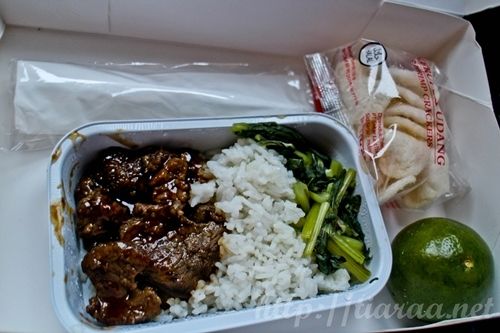 We were furious to know that the flight was cancelled when we wanted to board once again at 3:15pm. It is atrocious how it was neither announced, nor was it updated on screen. We were a little hot-headed and asked the staff how will we get compensated because we also booked Kendi Villas & Spa for our first night at Banyuwangi. He then brought us to collect our luggages and to the Kalisari bus to Banyuwangi. Eugene also approached customer service regarding this and all they could do was to give us an allowance of 300,000 Rp per pax. Since there was also language barrier between us and the staffs, there was a miscommunication. The staff stated that the bus will be heading to Banyuwangi airport in about 5-6 hours but guess what? We arrived at Ketapang Bus Terminal close to 11pm. We were lost and did not know how to head to the hotel that Jeroen booked for us since Kendi is far away from Kawah Ijen. Thankfully, three nice Indonesian Chinese ladies were so nice to ask their husbands to send us to the hotel. This is definitely God's timing – finding angels when we are brought to darkness! By the time we reached our hotel, it was already 11:20pm and we had an hour to sleep before the driver that Bangsring arranged for us came over to pick us up and send us to Kawah Ijen. At around 12:20am, the driver came and brought us to a mini mart to get snacks & necessary items for the hike before driving us to Kawah Ijen for 1.5 hours.
Kawah Ijen
Banyuwangi, Jawa Timur, Indonesia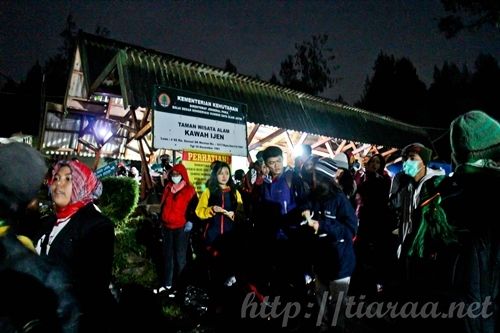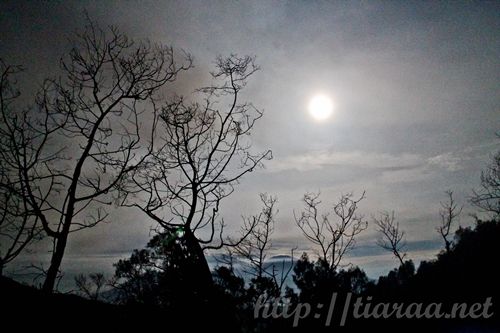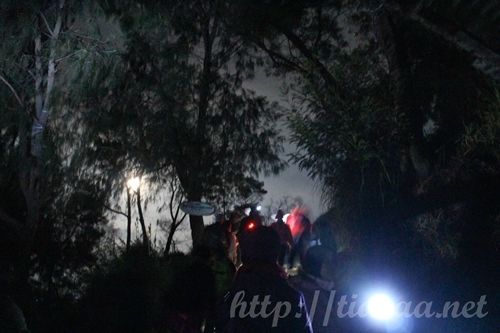 We arrived at Kawah Ijen close to 2am and was greeted by our English local guide called Jarot Erdiyanto. He works for the culture and tourism sector of the Banyuwangi government. His aim is to promote the natural attractions of Banyuwangi to the world. He was rather patient with us when we were asking questions. It took us a long time to purchase the tickets because there was so many people hiking that Saturday morning. Moreover, there is no queue system at Indonesia. You have to be aggressive to get the tickets at a faster rate. It was 2:45am when we started our hike. As Jarot had to guide both an Indonesian family and us at the same time, we went ahead without our guide because we wanted to go at a faster rate to catch the sunrise and blue flames. Although the distance shown above is 3km, this is not your typical hike with clear pavement and path for you to step and walk smoothly. There were many steep rocks and sandy paths that may cause you to slide down. Sometimes, we even had to use our hands to feel as it is very dark hiking during the wee hours. The torchlight given to me by the driver did not shine brightly and it does not help with my hike at all! Sometimes, we had to touch and go with the flow. It was cold at the base of the hike but as I was perspiring while walking through the steep slopes, I took out all my outer layers of jacket and was just walking with my tank top and tights. This is one of the second toughest hike I have ever done. The first crazy hike was at Stawamus Chief at Vancouver. However, we did it during the day so it was not as bad as Kawah Ijen. We were blessed to catch the full moon throughout our hike though!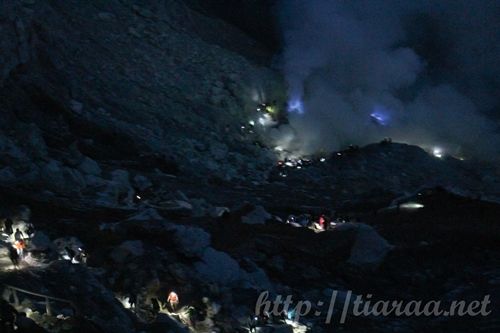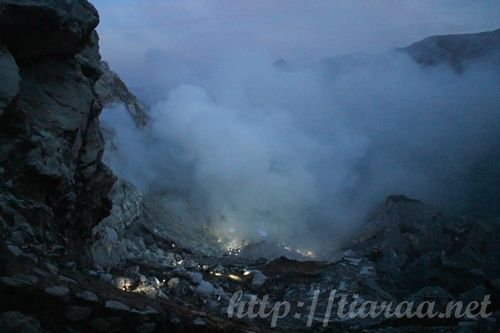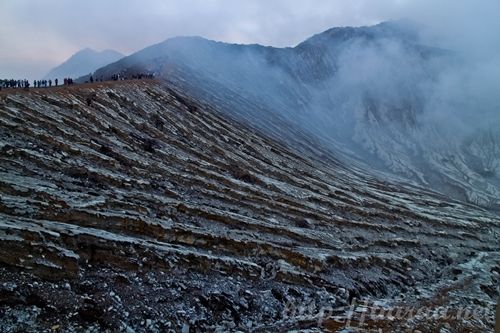 We finally reached the peak of the volcano close to 5am. Eugene and Charlene were way ahead of me so I just tried going down to the crater at my own pace but Charlene suddenly shouted out for us to head back up as it will take 1.5 hours to get down to the crater and we will miss the blue flames by then. Eugene did not want us to slow him down so he went ahead and jump throughout the steep rocks and he managed to get down to the crater in half an hour to catch the blue flames on time. He stated that it is not worth the hike down though. The sulphur smoke can really irritate your eyes, making you tear. Even the N95 mask I brought did not help him to stop coughing. He advised us to use the Chemist mask and goggles in the future. From the peak, I managed to catch the blue flames and yellow smoke produced by the volcano.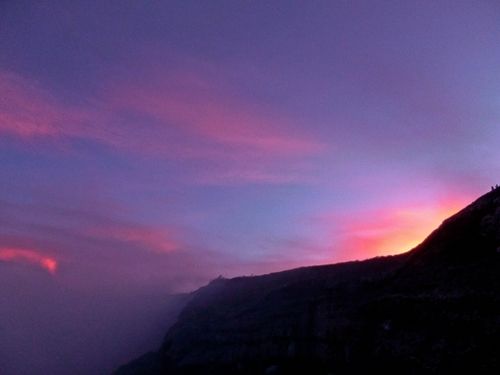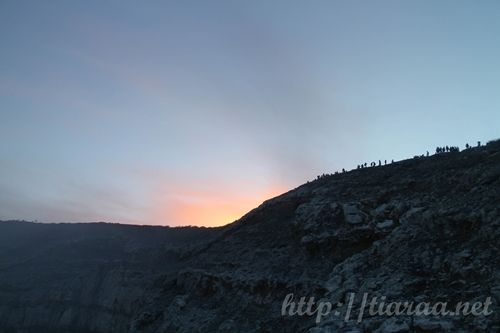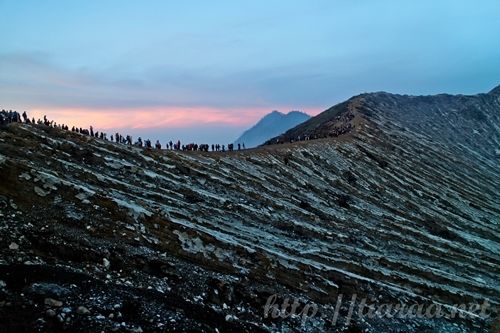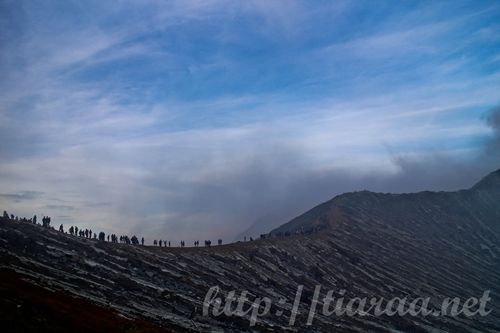 Since I live to catch sunrise and sunset, I was happy to be able to catch the sunrise as well! What a beautiful sight, really! The first picture is taken by Charlene/Eugene though.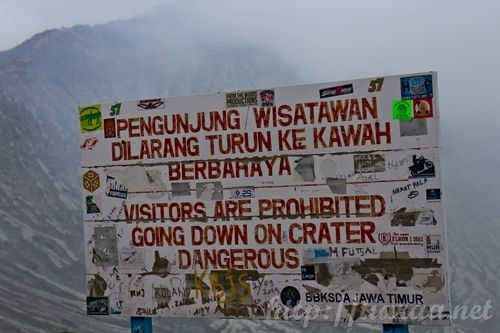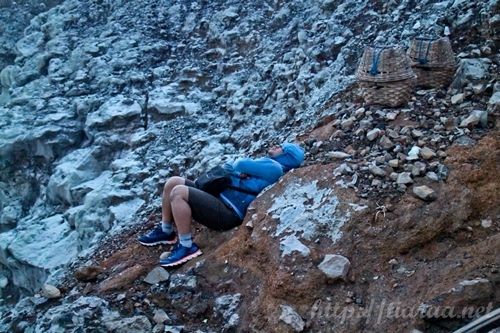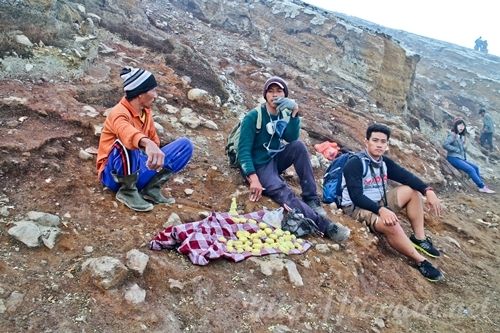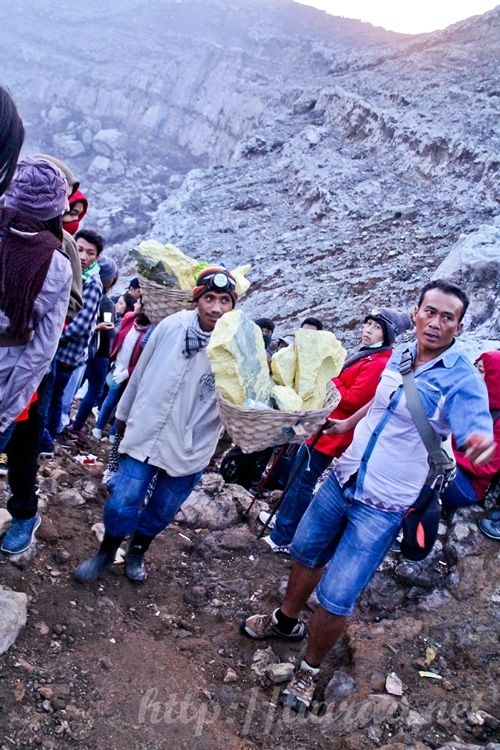 While Charlene was waiting for Eugene during the breaking dawn, I went around snapping shots of a tired hiker sleeping and the miners carrying and selling the heavy sulphur stones and souvenirs. Do you know that the sulphur miners earn only 1,000 Rp (CAD$0.10 / SGD$0.11 / USD$0.08) for every kg of sulphur stone they bring back to the sulphur collection base?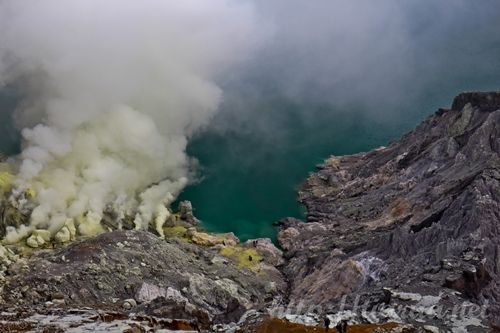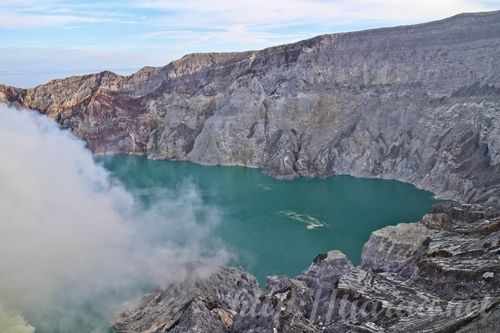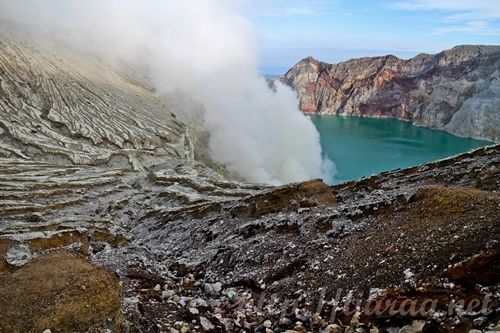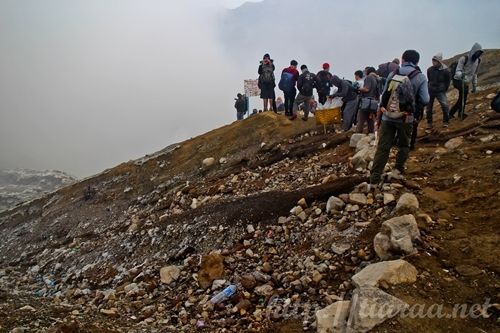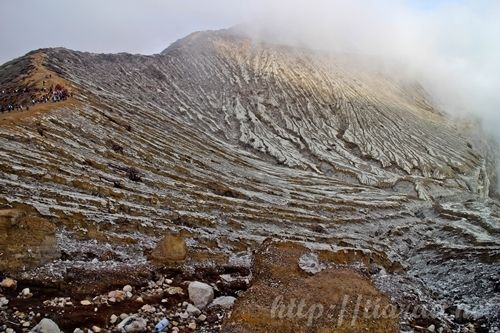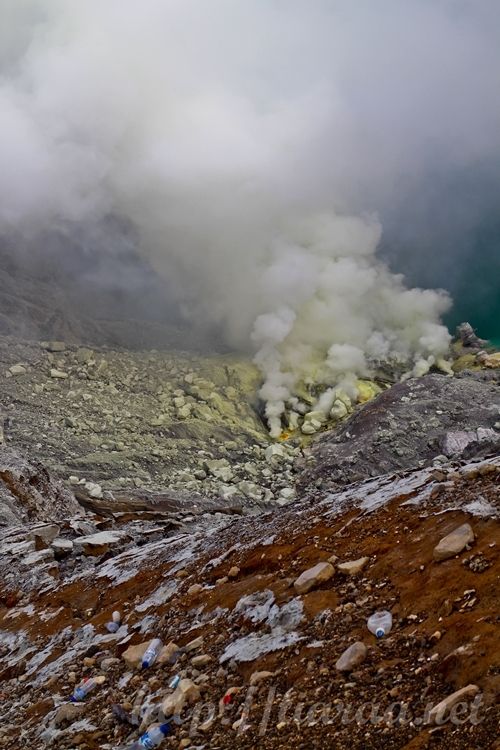 The ultimate prize of this hike is the magnificent sight of the turquoise crater lake, which is 722m in diameter and 200m deep. It is rich in sulphur deposits, causing it to be highly acidic. Kawah Ijen is an active stratovolcano but there are many people taking the long and difficult hike to see it's beauty. I even noticed a small handful of Singaporeans in the crowd although most are Indonesians or French.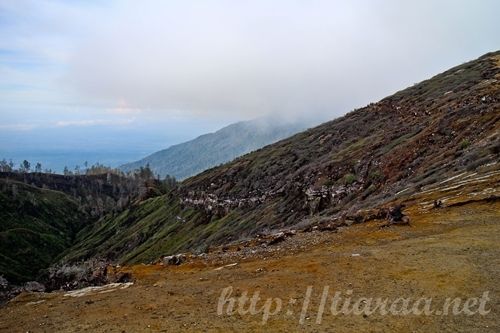 At the peak, we managed to locate our guide once again. He folded a piece of paper into a plane for it to "fly back to Singapore" as he stated that we have three Singaporean successors of Kawah Ijen. He walked with us when we wanted to go back down to the base of the mountain at 7am.




Just look at the scenic view of this volcano and ask yourself how can you not go through the hike for this?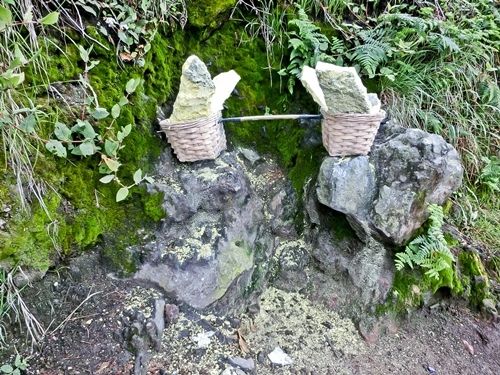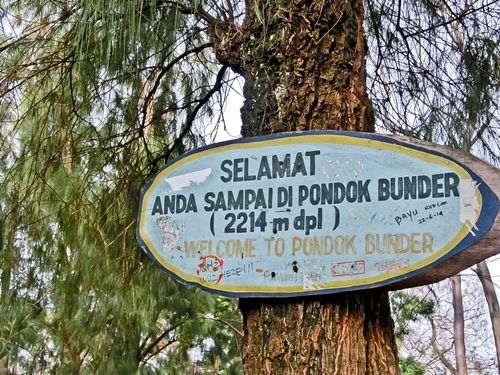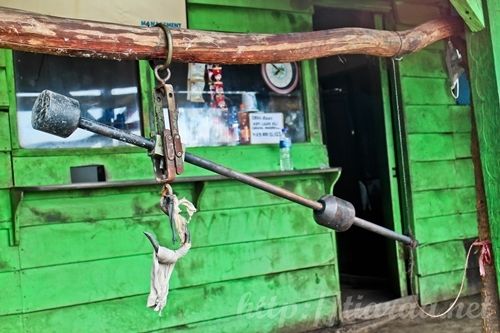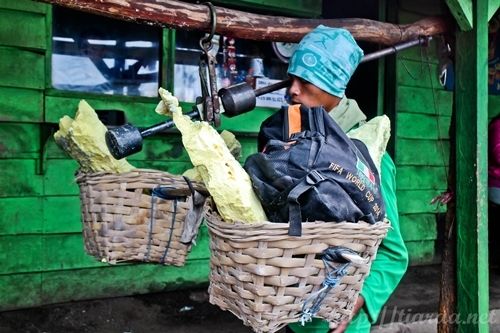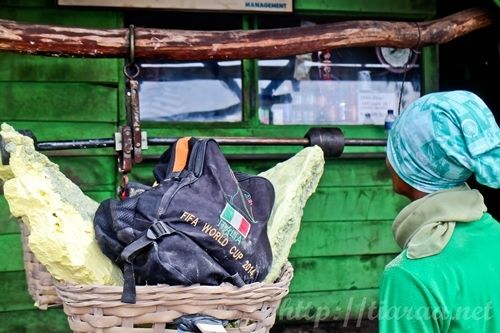 Along the way, we also saw quite a couple of interesting scenarios. At the rest area 2214m above the ground, we saw sulphur miners after miners weighing their creaking bamboo baskets loaded with broken chunks of sulphur. The sulphur stones weigh about 50kg at least. It is such a pity how the miners are exposed to such poisonous fumes without any protection and how they are carrying such heavy items with merely a metal rod and their own strength. I tried carrying the pseudo sample and could not even lift up a single bit. We should be thankful at how blessed we are.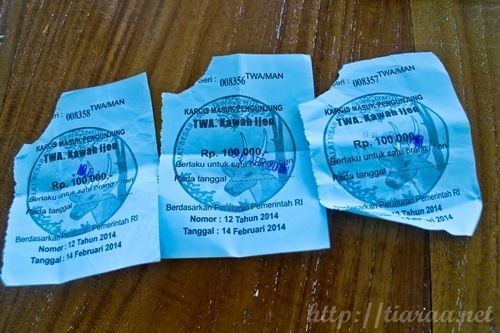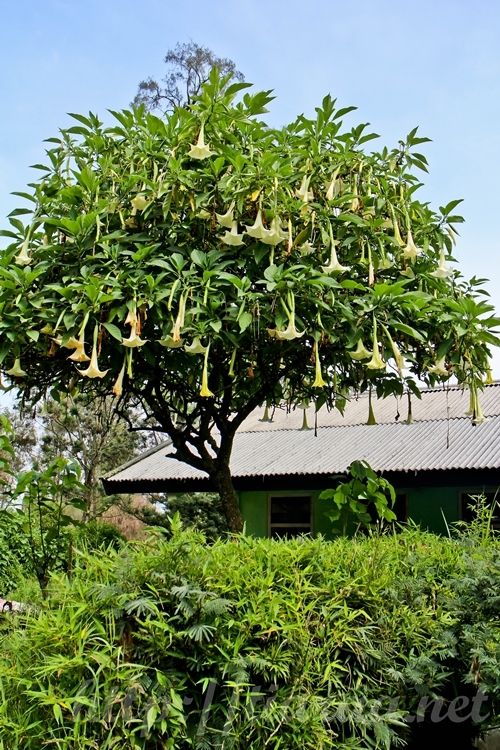 We finally reached the ground at around 9am and was so thankful to Jarot for all that he had done so we gave him 100,000 Rp for tips. He gave us his name card so that we can contact him if we want to see the turtles laying eggs in the future. There are so many things to do in Banyuwangi I don't even know when to start and go for it!!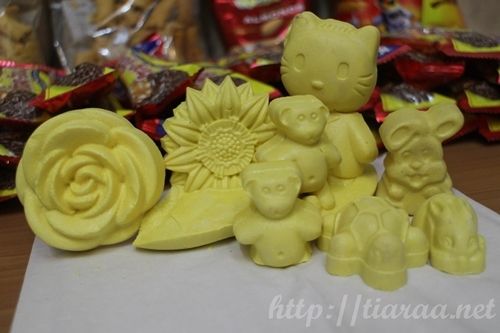 Anyway, I got a few items from the sulphur miners. Jarot helped them to sell these sulphur souvenirs. Actually, I got a huge sulphur souvenir but it was broken into pieces due to the hike and flight. It costs only 20,000 Rp for a huge piece. Small sulphur pieces such as the rabbits and turtles only cost 10,000 Rp each. It is really adorable, don't you think?
COST FOR ENGLISH LOCAL GUIDE: 200,000 Rp; Give tips based on your own comfort level
PRICE OF KAWAH IJEN TICKET: 100,000 Rp (Weekday) / 150,000 Rp (Weekend)
PRICE OF JEEP TO GO TO KAWAH IJEN & BACK TO BANGSRING: 650,000 Rp
I believe that if I have the time in the future, I will try hiking at Kawah Ijen again to catch the blue flames. In addition, I will definitely head back to Banyuwangi to catch the turtle lay eggs at night.