Although I did not feel well, my father, sister Bella, her boyfriend Edmund & I went to support my brother and head over to my future sister-in-law's hometown early yesterday morning for the weekend. We took the bus from Jalan Sultan at 8:30am but only arrived at Yong Peng close to 12pm due to the jam. I was so tired so I slept the entire journey there. When we finally reached, I was starving while waiting for my family members to buy the goodies from the store. When we finally met my future sister-in-law's family, they welcomed us with open arms and brought us to Sunroast to have lunch.
Sunroast 宏达烧腊
No 2, Batu 1/4, Jalan Air Hitam,
Yong Peng, Johor, Malaysia
+607 467 3630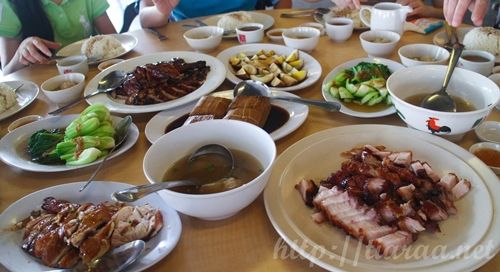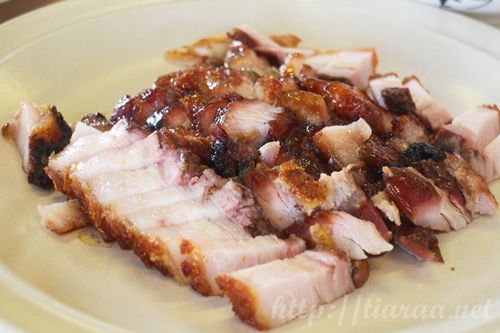 Although this is my third time to Yong Peng, it is my first visit to Sunroast. My father came here with my sister last year and fell in love with the meat dishes here due to the freshness that he bagged it home. The first dish served the rice topped with sauce, which is very fragrant. The dishes that complemented the rice is roast pork and char siew (second picture), roast chicken (third picture), roasted duck (forth picture), tofu (fifth picture), xiao bai cai, egg and not forgetting the wanton soup to wash down the roasted taste of the meats. The meat with well-roasted and I love how crispy the roast pork is. I am not a fan of char siew but I enjoyed the sweet savory taste of it.  Both the roast duck and roast chicken were so tender and juicy but I preferred the duck over the chicken. Since the food is this good, we are so excited to take the roast pork and tofu back to Singapore later.
OPENS DAILY EXCEPT ON TUESDAY: 7:30AM-4:30PM;
PAYMENT METHODS: CASH ONLY!

Ambiance: 7/10 (Clean coffeeshop)
Service: 7/10 (Busy yet helpful servers)
Food (taste & appearance): 9/10
Value: Nil (Shiling's father paid for the meal)
Total: 7.67/10★
There are many places that sell roast meats in Singapore but most of them are done in the factory and sent over to the store to sell. The ones served at Sunroast is nothing like that as it is charcoal roasted by the owner. The freshness of the meats is incomparable to the ones in Singapore. It is difficult to find such good roasted meats in Singapore so I would definitely be back in a heartbeat if I ever miss or crave for the food at Sunroast.