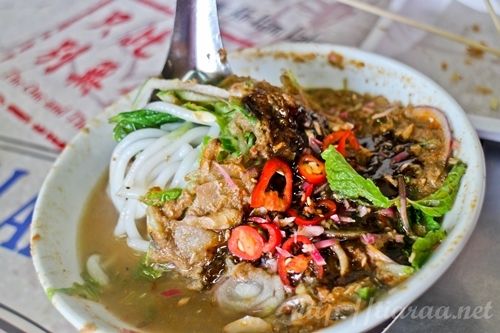 When my sister told me that Penang is a food paradise, whereby you will eat every hour, I thought it was an exaggeration until I went there myself last weekend. On the first day of the trip, my brother's girlfriend's friends brought us to eat from one place to another. It seems like we are continuously eating the entire morning. After which, we went back to the hotel to rest until 2:30pm. Ryan led us to take a bus to Pulau Pinang.
Air Itam Laksa
Jalan Pasar, Paya Terubong, Ayer Itam,
Pulau Pinang, Malaysia 11500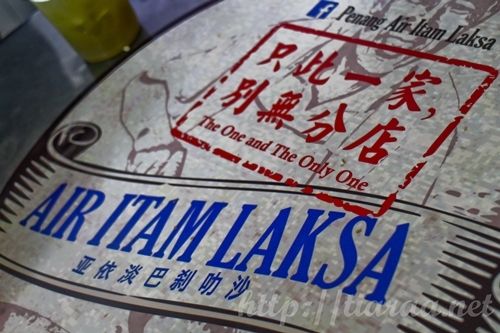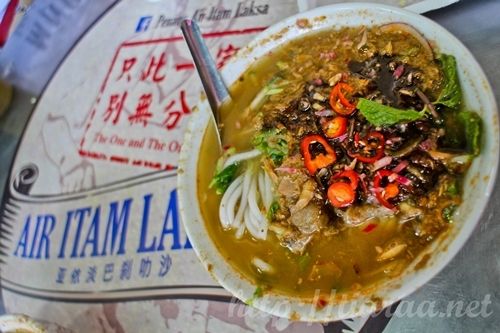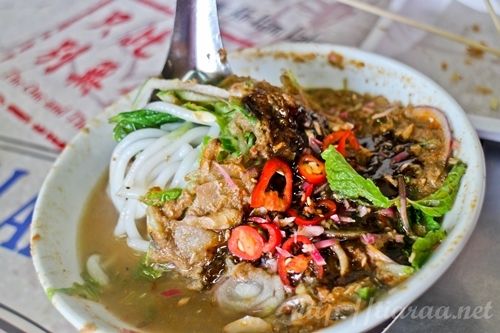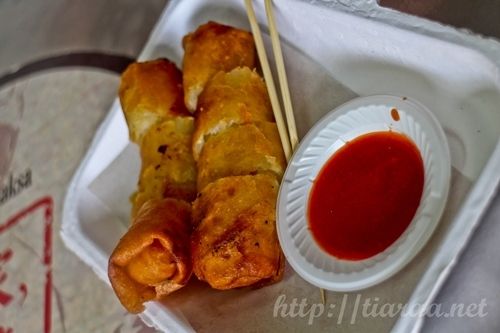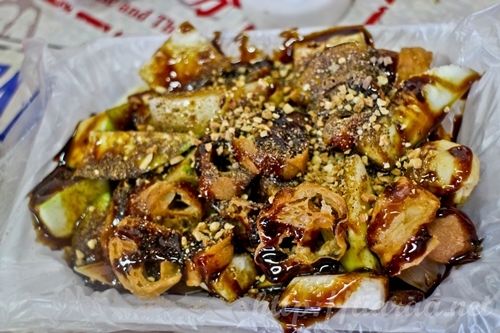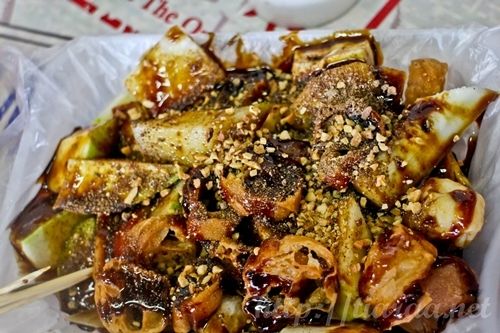 The bus from Georgetown to Pulau Pinang took over an hour and a small handful of us were sleeping like a baby. I was in my cozy corner before Shiling jie woke me up to alight. It was a 3 minutes walk from the bus stop to Air Itam Laksa, which is right next to Air Itam Market. People usually have to wait for ages to get a table but we managed to find one quite fast. The tables were not clean yet but the empty bowls were cleared before our food arrived. Take note that if you are going in a huge group, you have to squeeze a little. 9 of us were not exactly comfortable but we managed to dine fine. We shared a plate of rojak, 2 rolls of popiah & needless to say, the highly raved assam laksa! The food items cost RM12, RM3 & RM4.50 (per bowl) respectively. We ordered 7 bowls of assam laksa though. Each of Shiling's friends had a bowl each, while my brother, his girlfriend and I shared one bowl since we were still bloated from our hourly dosage of food. When I tried assam laksa for the first time in one of the eateries in Singapore, I did not fancy it. However, my opinion of assam laksa has changed after trying the assam laksa served at Air Itam. You can taste the sourness, tanginess and sweetness of the dish from the tamarind, mackerel broth and "hae ko" / thick shrimp paste respectively. What gives assam laksa a distinctive flavour differing from the other curry laksa is the variety of herbs input in the dish. While the other curry laksa dishes consists of coconut milk in their broth, galangal, lemongrass and mint leaves are added to assam laksa. The thick rice noodles are very chewy, which is something I fancy. I did not get to try the popiah as I was still full from what I had earlier on but as always, I love my rojak! The rojak served at Air Itam is a little too sweet due to the large amount of thick sweet sauce poured onto the dish.
OPENS DAILY: 10:30AM-7PM
TRANSPORTATION: BUS 203 / 204 from Georgetown ; RM1.40
PAYMENT METHODS: CASH ONLY!

Ambiance: 6/10
Service: 5.5/10
Food (taste & appearance): 8/10
Value: 8.5/10
Total: 7/10★
Heading to Penang has changed my view of assam laksa and I am looking forward to having delicious assam laksa at Penang once again next weekend!