during my okanagan trip, we were in lake country on day 3. after throwing pebbles and chilling at the okanagan lake with the guys, we decided to dine out since we were starving. however, it was pretty difficult getting around at lake country. we totally forgot how to get to the main road from the lake. so we decided to ask around and thanks to the help of oscar's GPS, we  finally got to the greek house restaurant.

greek house restaurant
3159 Woodsdale Road
Winfield, BC V4V 1X8
(250) 766-0090

View Larger Map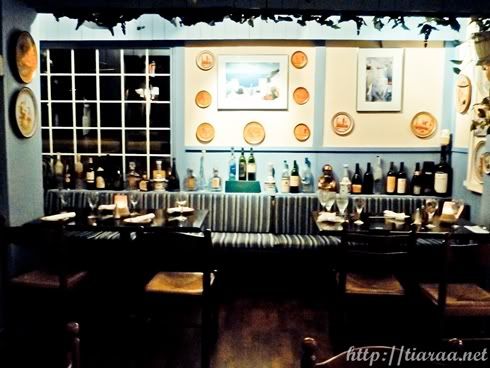 the restaurant is decorated with many leaves and bottles of alcohol. there are many statues and "artifacts" that resembles the greek culture. the server was extremely sociable as she talked a lot with us and recommended us good wine that we wanted to order. she was extremely helpful with our decision for our orders.
APPETIZERS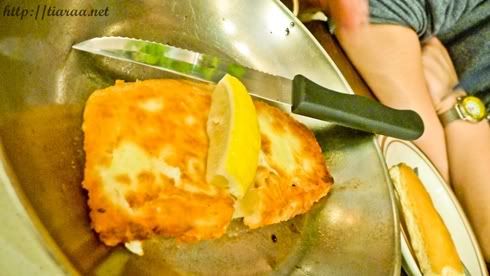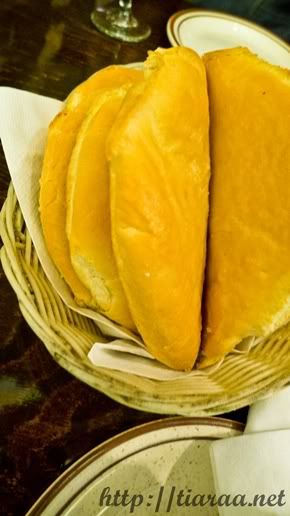 1st picture – we decided to share the kalamari, which is worth CAN$9.95. you know how kalamaris are usually oily and too salty for anyone's liking? well, the kalamari at greek house is salty enough and tastes really good when paired with beer.
ratings: 3/5★
2nd picture – we also ordered another appetizer as we were famished ! we got the saganaki, which costs CAN$9.95. it is a pan-seared cheese, which has a smooth mouth feel. although it is a little dry, the pan-seared cheese melts in your mouth. when the saganaki was served, it was gone instantly !
do you know ? the greek word saganaki means little frying pan.
ratings: 3.5/5★
ALCOHOL
4 of us were drinking so much in okanagan valley that we decided to order the retsina white. the retsina white, which is recommended by the server, costs CAN$24.95. it tastes fruity and has a sweet aroma. retsina is from pine tree and it goes very well with seafood as i was having the prawns and scallop souvlaki.
ratings: 4.5/5★
on a side note, oscar had the pale ale beer, which costs CAN$4.95.
ENTREE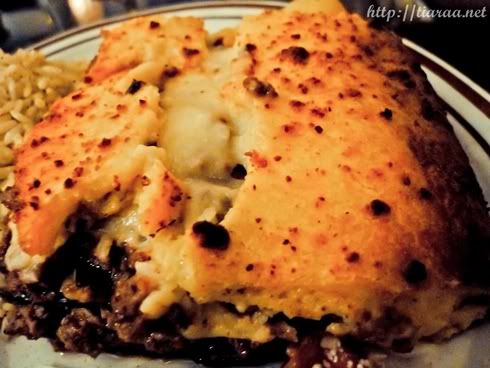 1st picture – i got the prawn and scallop souvlaki that costs CAN$22.95. the rice is not as oily as the rice at stepho's and the shrimp is grilled really well. the seafood is really fresh and the food has spices that makes the dish really pleasing to my taste buds.
ratings: 4/5★
2nd picture – both jack and oscar had the arni psito, which cost them CAN$18.95 each. arni psito is a tender shoulder of lamb seasoned with herbs. as soon as they ate it, both of them fell in love with their dishes. oscar stated that the salad portion has lesser onions than stepho's, which is something he enjoys.
3rd and 4th pictures – kenny got the moussaka, which is CAN$17.95. moussaka comprised of greek casserole with layers of spiced ground beef, zucchini and eggplant. the moussaka is topped with bechamel sauce. kenny ate the moussaka very quickly as he found it really delicious.
RECEIPT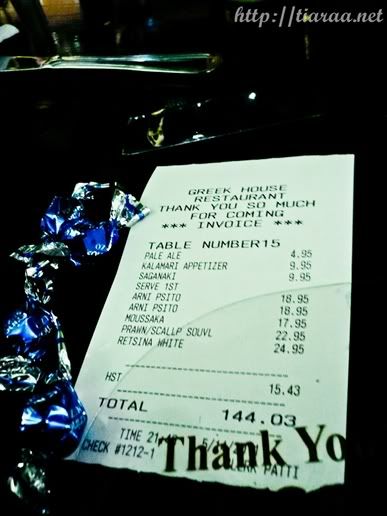 the bill came up to a total of CAN$144.03.
it was one of the more expensive meals at the okanagan valley but it was definitely worth it !
ACCEPTS CASH/CREDIT/DEBIT CARD
CLOSE TO THE BEACH
ambiance: 10/10
service: 10/10
food (taste & appearance): 7.5/10
value: 8.5/10
total: 9/10★
in conclusion, pay greek restaurant a visit even though it is in the middle of nowhere.

swisscheese*