I have done quite a number of hikes in my life, especially in Vancouver and Singapore but ever since I went to Kawah Ijen for the night volcanic hike in April this year, I am inspired to conquer more volcanoes and mountains. When I made plans to go over to Manila with Jia Ling, I knew that TAAL Volcano was one of the places I needed to go and so we went exactly a week ago.
TAAL Volcano
Luzon, Batangas, Philippines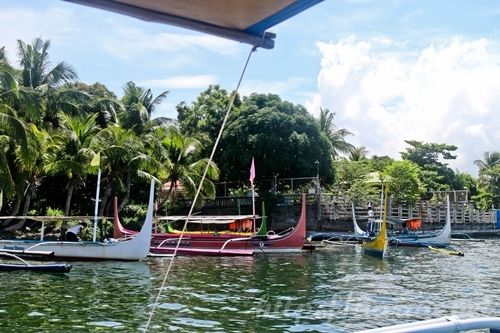 When I have something I plan to do, nothing and nobody will stop me from doing it. A lot of my friends actually tried discouraging me from going to TAAL Volcano because of the recent Kota Kinabalu earthquake. Jia Ling was also hesitant at first but I am so glad she is more than willing to do it in the end. We also did not have any local friends who could take us there anymore but that did not stop us. We decided to take the tour package from our hotel (Bellevue Manila), which is much cheaper for two pax than the  ones a friend introduced to us. Moreover, the costs of the package includes the driver, boat ride, access to the volcano and lunch.We were picked up from the hotel in a private car at 8:30AM by our driver named Marvin. People thought that the journey from our hotel to the volcano will take 3 hours but it only took us about 1.5 hours to get there as there were no traffic congestion. I would suggest staying in the South of Manila if you would like to pay TAAL volcano visit. Once we have reached the bay area, we hopped onto the boat immediately to get across TAAL lake to the Volcano Island. It was a 20 minutes ride and we were admiring the breeze, view and each other's company. The last photo of us was taken by a random man, who decided to sell us the photo at the end of the tour. We managed to bargain this photo from 350 pesos to 150 pesos (USD$3.34 / SGD$4.50 / CAD$4.09) – a little costly but it's the memories we will take away from this.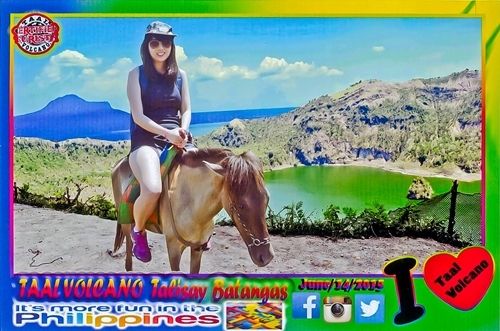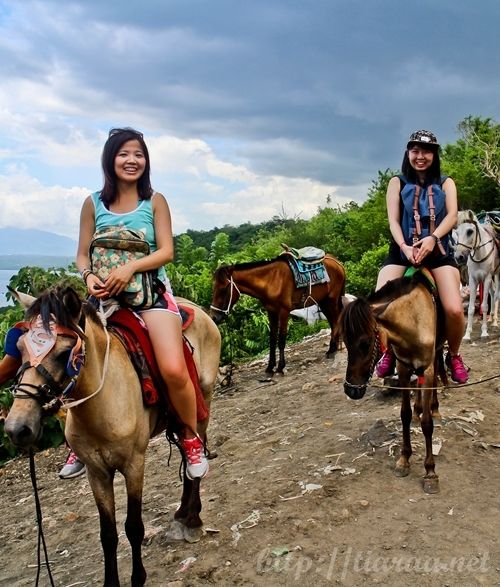 We wanted to do a hike up the volcano initially but since horse riding was so tempting to escape the scorching sun and I have not rode on a horse since May 2011 at Osoyoos, we decided to ride a horse in the end. The horse ride costs an additional 1,000 pesos per pax (CAD$27.27 / SGD$29.66 / USD$22.24) ), which is a little expensive and now that I thought about it, I should have bargain to reduce the cost but oh well, it's over now! My horse (first picture) was quite temperamental, unlike Jia Ling's gentle horse. Moreover, my horse guide was a man, while Jia Ling's horse guide was a woman. Thus, my horse kept galloping away while Jia Ling's horse is always far away at the back. Unlike Kawah Ijen's long, steep and dark hike, it should be a 45 minutes hike up TAAL volcano but with the help of my fast horse, I reached the top in 15 minutes. When I finally reached the top, I waited for Jia Ling for about 5-7 minutes before she finally arrived. We then started taking pictures of the beautiful scenery and everything that we do not have in Singapore. We came across this wooden structured house and decided to take lots of pictures with it as well.
P/S: I do not usually post pictures of people in my blog but since I did not have the wooden structured house or the horses by themselves, I decided to post the photos of us in it.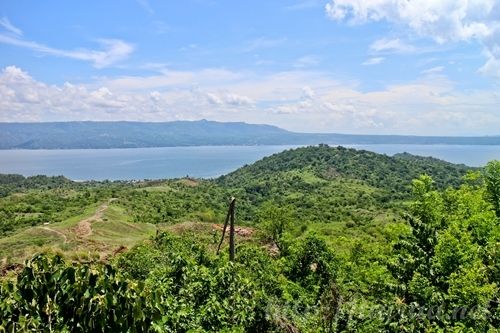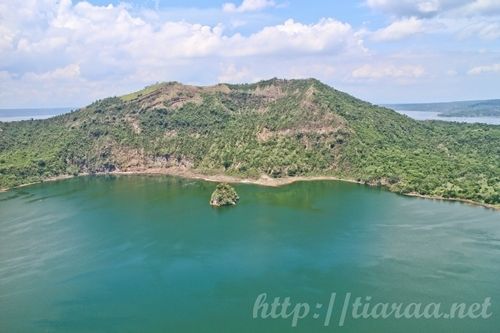 The view of the volcano is picturesque but explaining the structure of this volcano is a little complicated. In the TAAL Lake (267 sq km / 3m above sea level / 160m depth) lies the Volcano Island. Within the Volcano Island is the Crater Lake and again, within the Crater Lake is the Vulcan Point. I hope you will understand the structure of TAAL Volcano after my brief explanation. When I saw TAAL Volcano, I found it to be a small fry of Kawah Ijen as Kawah Ijen is massive! Oh well, each volcano has it's own beauty.
Do you know? TAAL Volcano is one of the smallest active volcano in the world? Last October, there was 5 volcanic quakes in the past 24 hours but since it was still on Alert Level 1, there was nothing to worry about.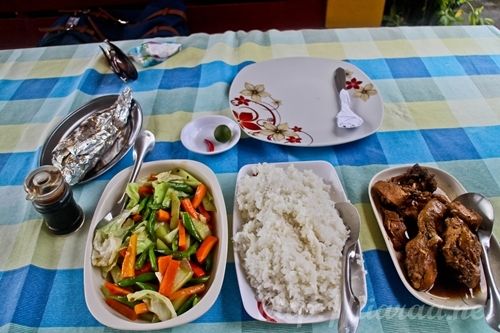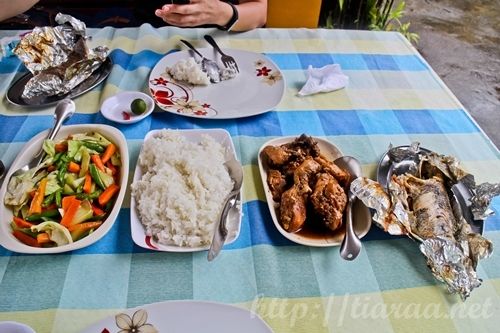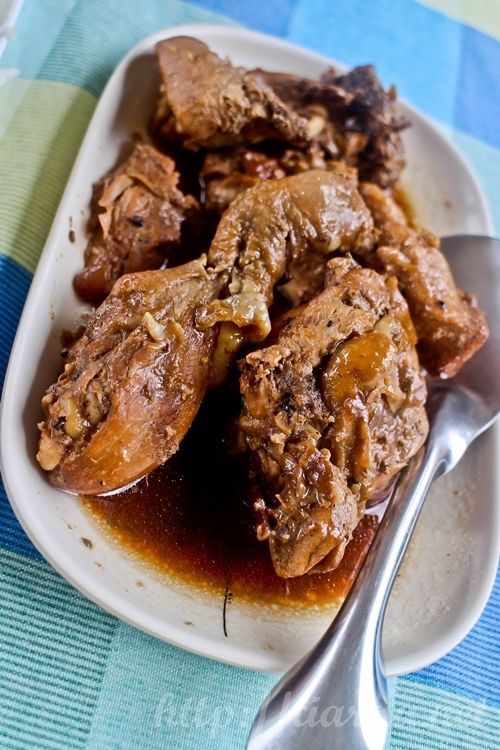 The craziest thing happened when we were riding the horse back to the bay area as it started pouring heavily but were still riding on the horse. As my horse was quite moody, he galloped even faster than he should and I had to hold him very tightly. It was quite an insane but unforgettable ride down the steep slopes. We waited for the rain to subside before taking the boat back to the place, where Marvin dropped us off. When we came back, lunch was served. I usually dislike the lunch served at tours as it is nothing spectacular and only simple dishes are served. I would prefer to try the authentic local cuisine of the country anytime!
COST FOR TOUR PACKAGE (BOAT/DRIVER/ACCESS TO VOLCANO/ETC): 4,100 pesos; Give tips based on your own comfort level
PRICE OF HORSE PER PAX: 1,000 pesos; Give tips to horse & boat man guide at your own comfort level

Although TAAL volcano is the lowest active volcano in the world, we had fun but am awaiting to conquer more volcanoes and mountains in the Philippines.