I have taken bus 99B bus gazillion times and have never fail to chance upon Tojo's. In my 7 years of living at Vancouver, I never once stepped onto the Golden Tojo's because I have heard about it's exorbitant price. However, since it was my last semester at UBC, I decided to try it out with my foodies. Moreover, isn't he the man behind California Roll? All the more for trying out Tojo's!
Tojo's Restaurant
1133 W Broadway,
Vancouver, BC V6H 1G1, Canada
+1 604-872-8050

View Larger Map
1st visit on the 11th of December 2012 with Holly, Saki, Marvin and Janet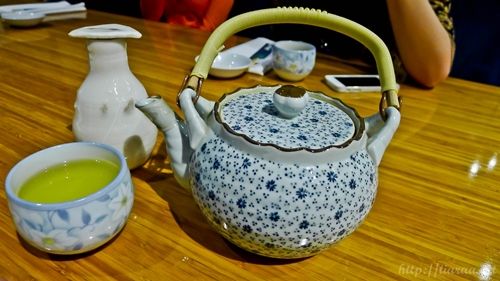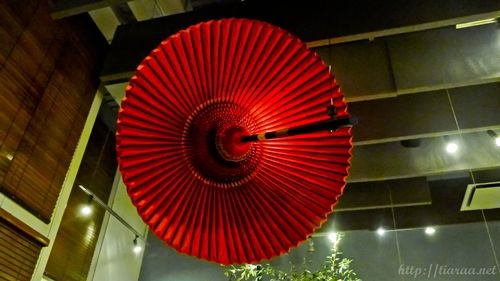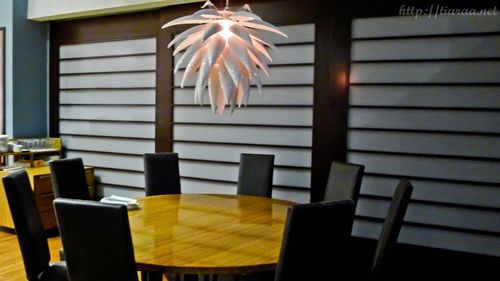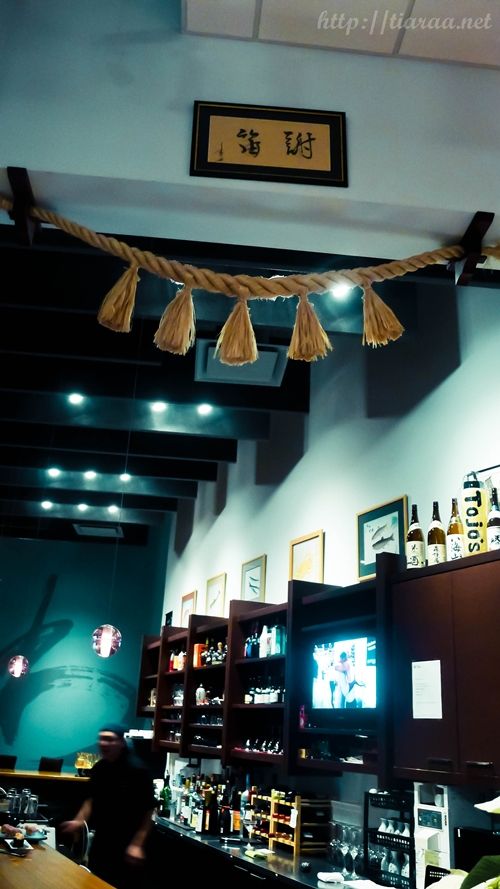 I would have to say that the service is incredible! The minute I entered Tojo's, I had a warm welcome from the friendly server. The outstanding service started there and did not stop throughout the night. Since each of us wanted an omakase set, the server was asking us if we are fine with any food or have certain preferences over certain food or cannot tolerate a particular type of food such as raw food, spicy food or fried food. As I love surprises, I am game for any food thrown to me. The servers not only did their job by taking orders and serving us food but they also care to explain the ingredients in each dish. Some servers have limited knowledge of the English language so when one could not explain the ingredient used in the dish, she went the extra mile to print me a page of the name of the ingredient and it's function. We asked the server to take a couple of group shots for us but he never once complain or find us weird or annoying. As you can see in the second last picture, I also managed to catch a shot of the oh-so-famous Hidekazu Tojo! He is a very humble chef. Tojo's is very down-to-earth and friendly and allowed us to take a photo of him, including a few of his team members.
I am embarrassed to say this but I was half an hour late for dinner with the foodies. So once I entered Tojo's, I ran (not an appropriate act in an elegant restaurant but oh well!) to look for my crew. Thankfully, they were not furious with my lateness.
FIRST DISH: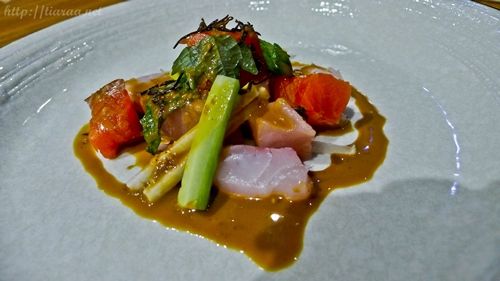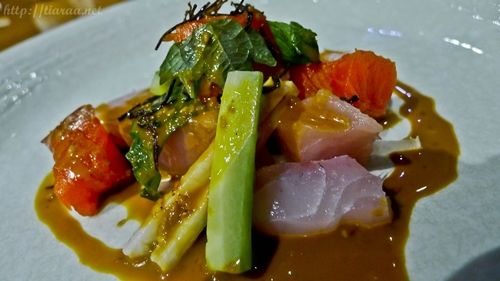 Both Holly and Marvin had the 6-courses Omakase (which costs CAD$120 per set) while the three of us got the 5-courses Omakase (which costs CAD$80 per set). Holly and Marvin had the dish depicted in the first and second pictures. The first dish Saki, Janet and I had was a bowl of Tojo's Tuna (3rd picture). It is a signature dish that comprises of tuna sashimi topped with sesame and green onions and served with special sesame and wasabi sauce. The tuna sashimi was rather refreshing to the palate and I enjoyed every mouth of it. The sauce embraced the taste of the sashimi, making it even more satisfying.
Ratings of Tojo's Tuna: 3.5/5★
SECOND DISH: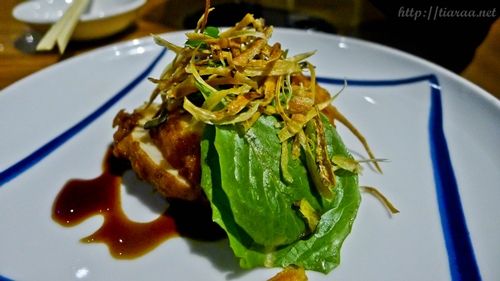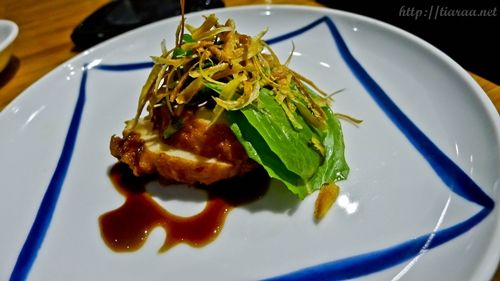 The first and second pictures shown is part of Holly and Marvin's Omakase set. The second dish we had was the Seafood Salad (2nd picture), which is a ceviche style salad served with smoked wild Pacific salmon and octopus. I really appreciate the high quality of the raw seafood served.
Ratings of Seafood Salad: 3/5★
THIRD DISH: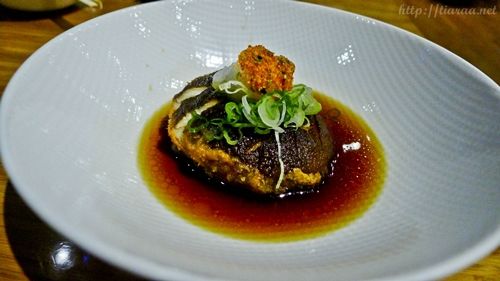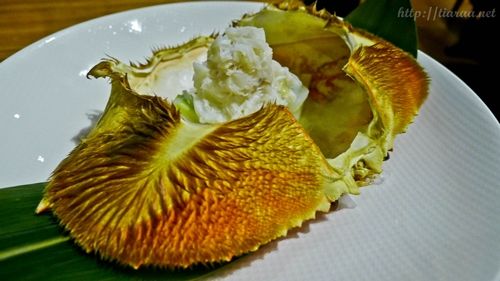 The third dish for the 5-courses Omakase is the Shiitake Shinjo (1st picture), which is a mushroom fishcake. The organic shiitake mushroom fishcake is stuffed with a whitefish mousse, deep-fried and served with ponzu-like sauce and Japanese chili powder. The dish also comes with white radish shaved and topped with seven different spices and tempura sauce. The white radish helps to make the dish not too spicy. The mushroom is very fragrant and easy on the teeth and tongue. The red pepper and ponzu-like sauce enhance the taste of dish. It is very appetizing indeed! The two foodies who had the 6-courses Omakase had the Dungeness Crab (2nd picture) instead. I love how they used the crab shell for a better presentation. The crab shell is filled with crab meat topped with miso dressing, rice noodles, cucumber and pickled apples. I had it on my second visit here and I nibbled every meat of it slowly but surely.
Ratings of Shiitake Shinjo: 3/5★
Ratings of Dungeness Crab: 3.5/5★
FORTH DISH: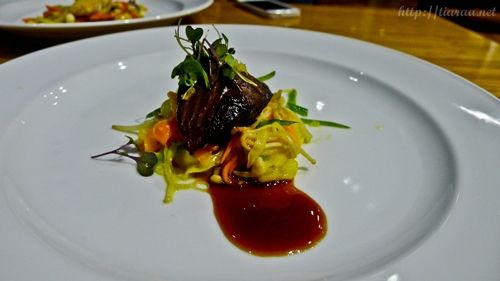 The Halibut Cheeks (1st picture) is fried, stuffed with organic vegetables and sauteed in a creme garlic teriyaki sauce. I really enjoyed the crispiness and flakiness of the halibut. The vegetables added a tinge of balamce to the meal. Holly and Marvin got the dish in the next three pictures for their 6-courses Omakase.
Ratings of Fried Halibut in teriyaki sauce: 3/5★
FIFTH DISH: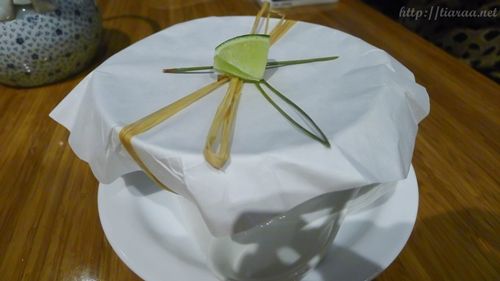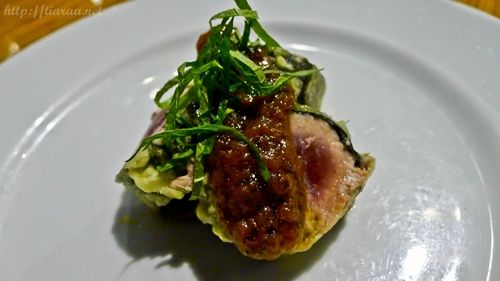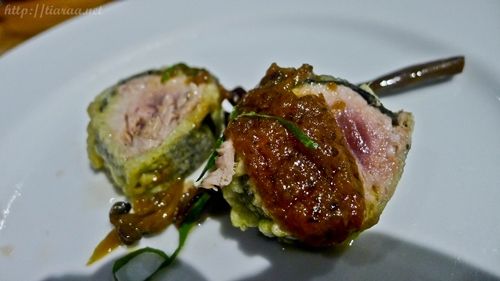 Next, Holly and Marvin had Canadian Sablefish (1st & 2nd pictures) for their next dish. It is basically baked sablefish with Tojo's secret marinade. The sablefish is presented very delicately, which makes it very appealing. As for us, we had the Suntan Tuna, which is red tuna wrapped in nori with a light tempura crust, topped with sour plum sauce and served with fern brake namil and mushrooms at the side. Tojo's is very innovative to spice up this dish with fern brake namil as this ingredient is eaten on Korean Holidays such as Lunar New Year and Korean Thanksgiving. The cooked tuna meat is very tasteless and the plum sauce is over the top. As for the crust, it is crunchy and crispy. It was a little out of balance and I do not really fancy this dish.
Ratings of Suntan Tuna: 2.8/5★
SIXTH DISH: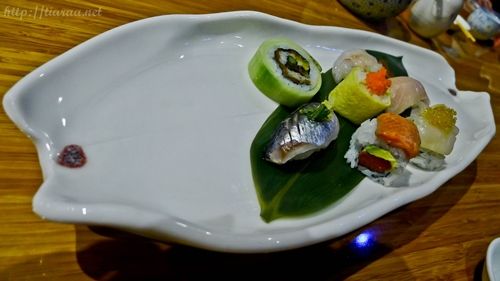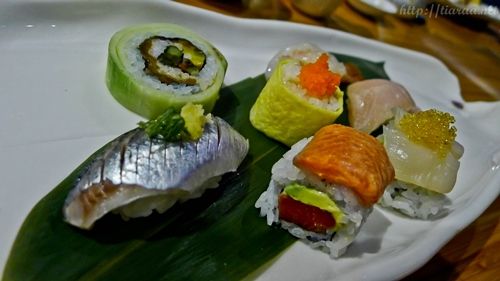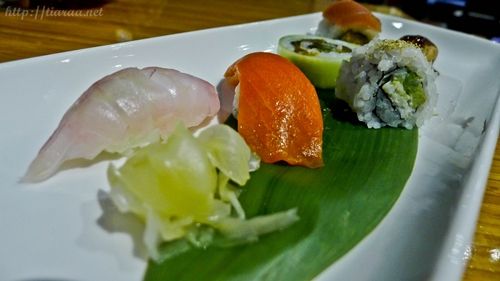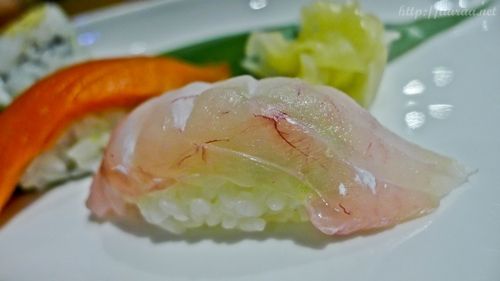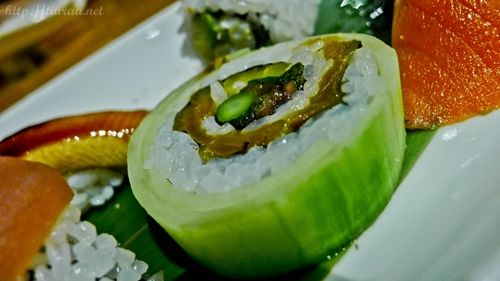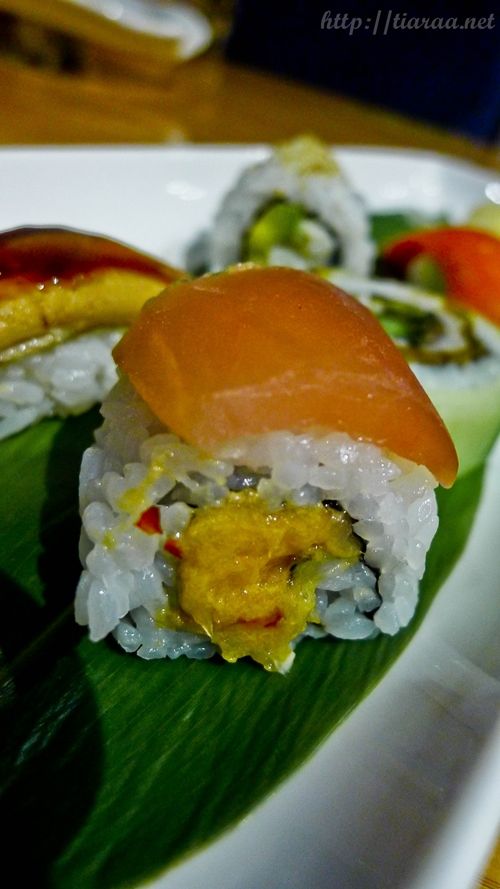 The last savoury dish is the Assorted sushi such as California Roll (5th picture), Saba Nigiri, Unagi Roll wrapped with cucumber (8th picture), Golden Roll wrapped with egg crepe, Unagi Nigiri (9th picture), Spicy Tuna Roll (last picture) and Pacific Northwest Roll. However, we were too full to appreciate and finish the entire dish.
DESSERTS: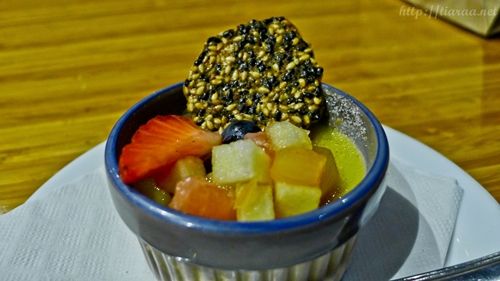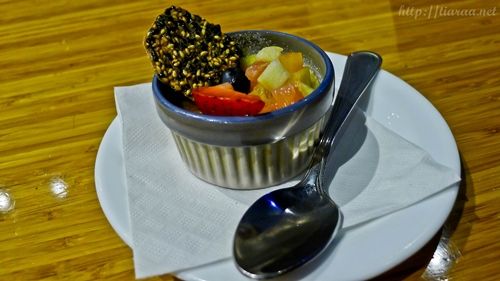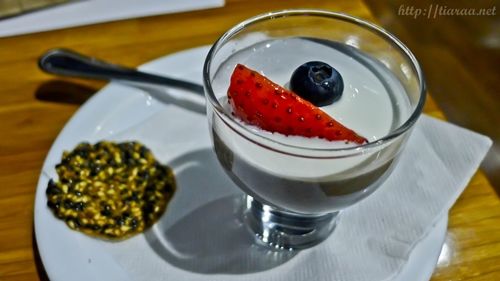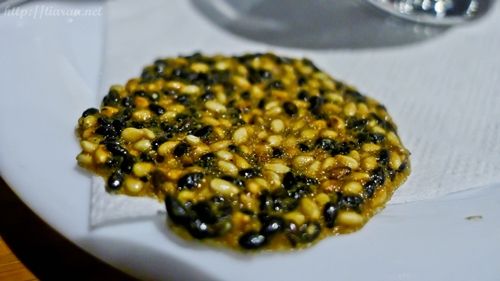 Even though we were full, we still had room for desserts and we wrapped up the night with desserts. I was lucky to eat both types of desserts as someone did not want his dessert. I love BOTH the Green Tea Creme Brulee (1st-3rd pictures) and Sesame Panna Cotta (last few pictures)! Both desserts are light and meticulously prepared and designed to perfection! It was appropriate ending the overwhelming Omakase this way – that is in a sweet note!
Ratings of both desserts: 5/5★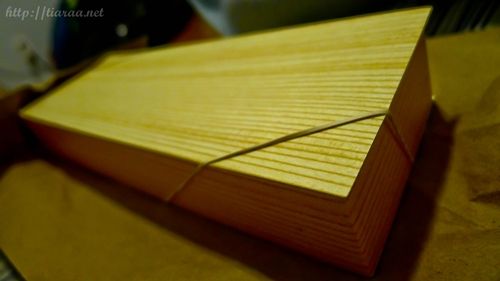 Took the remaining sushi to go but it was not good the next day and I had diarrhea after so never let the quality of the sushi deteriorate!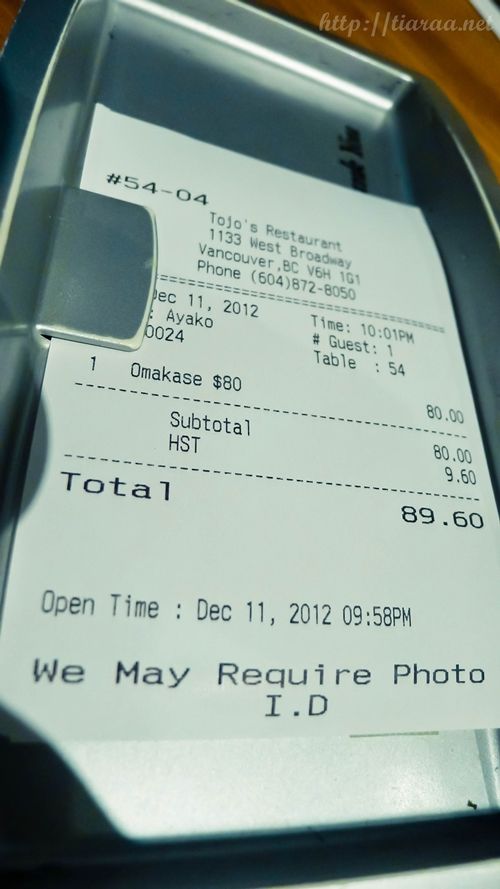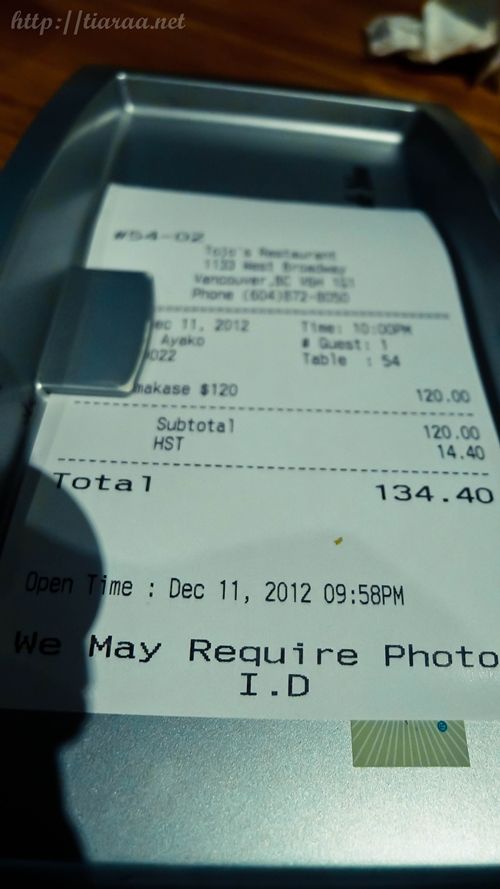 My bill alone came up to CAD$89.60 inclusive of tax for the 5-courses Omakase so I topped up 15% for tips! However, I should have given 20% because of the incredible service! The third picture shows how much the 6-courses Omakase costs after tax is included.
2nd visit on the 25th of May 2013 with Goucek, Kim2, Aathiam, Ah Hock, Bella and Xian Long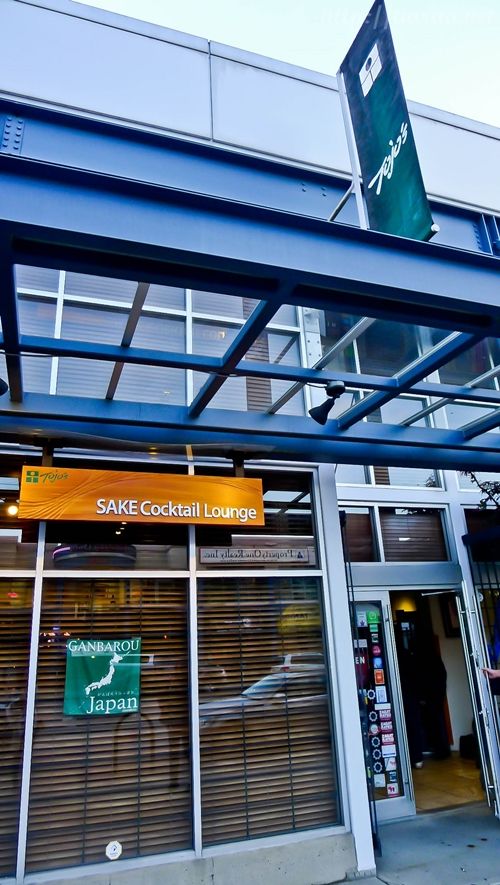 The second time I went to Tojo's was with my relatives, sister and her boyfriend a day after my graduation ceremony in May. This time, it was a different experience because I came with my family instead of my friends. The good service never left though.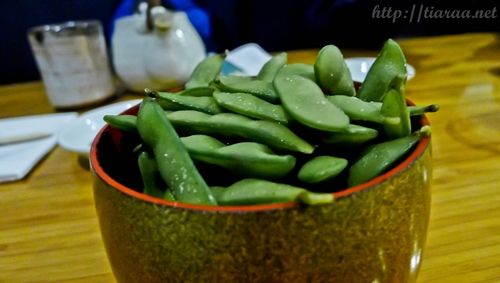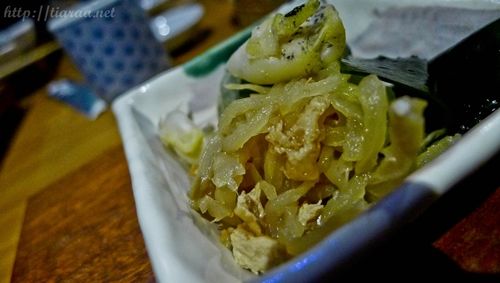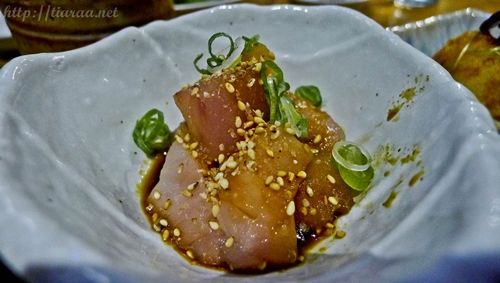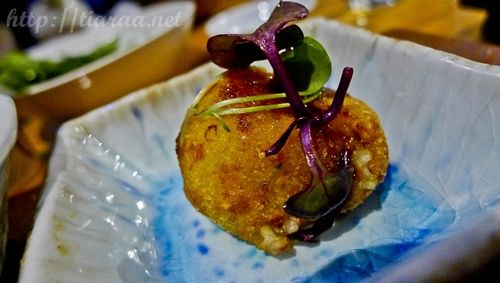 My aunt ordered the 6-courses omakase for 7 of us and she never fails to get the Edamame appetizer (1st picture) whenever we dine at a Japanese restaurant.  The first meal (2nd picture) of the 6-courses Omakase set consists of the Escargot (3rd picture), Tojo's Tuna (4th picture) and Salmon Coquette (5th picture). The Escargot taste really fresh and delicious. The same goes for the Tojo's Tuna I have described above and the Salmon Coquette literally melts in my mouth.
Ratings of Escargot: 3/5★
Ratings of Salmon Coquette: 3.8/5★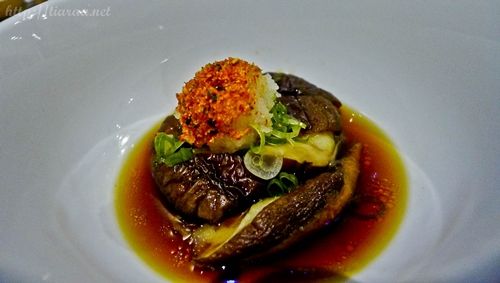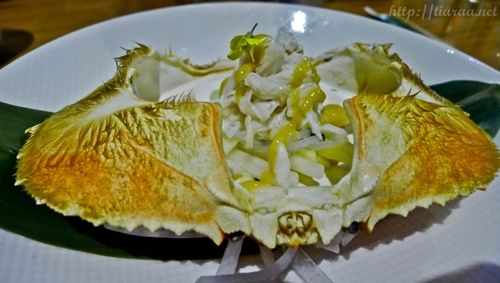 The second dish is the Shiitake Shinjo (1st picture) and the third dish is the Dungeness Crab, which I have described above.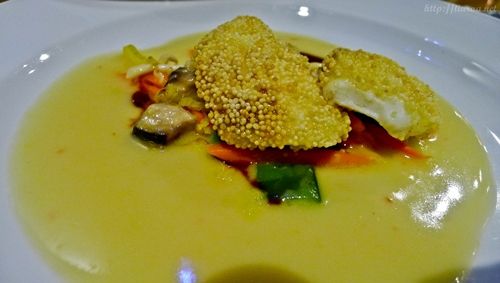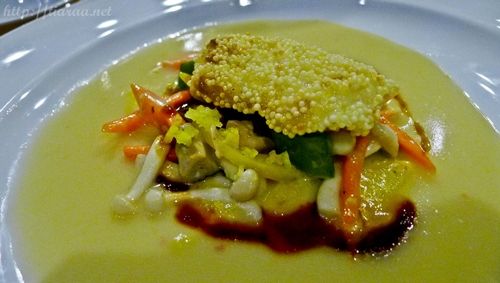 The forth dish is the Halibut Cheek. It is basically sea bream coated with rice cakes and white miso sauce. In between the halibut cheek and the white miso sauce are a variety of organic vegetables such as carrot and mushrooms.
Ratings of Halibut Cheek in white miso sauce: 4/5★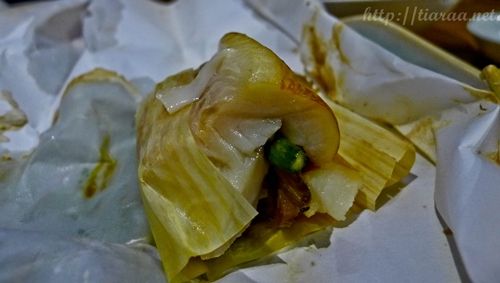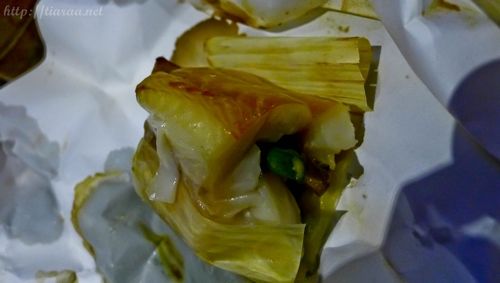 Next, we had the Hamachi Fish, which is presented beautifully in a packet with leaves and lime. The packet comprises of smoked Alaskan black cod stuffed with mangos.
Ratings of Hamachi Fish: 3.8/5★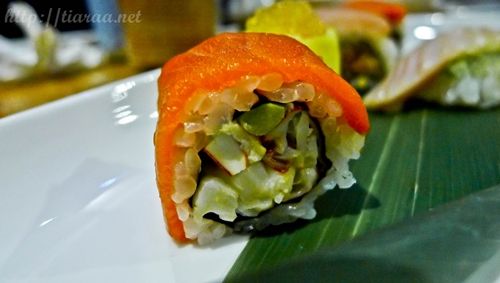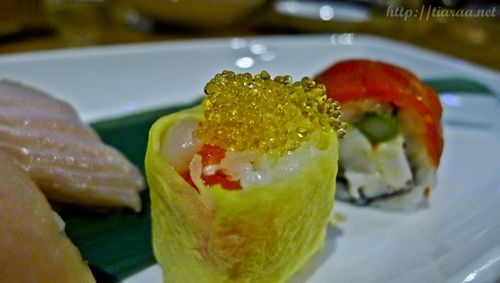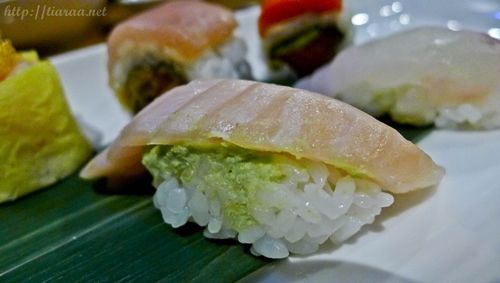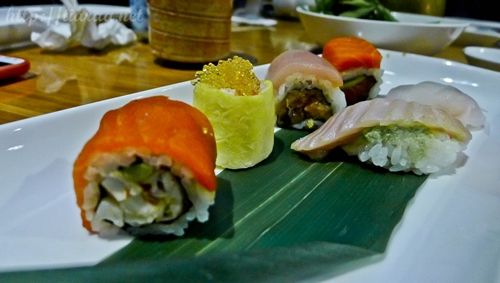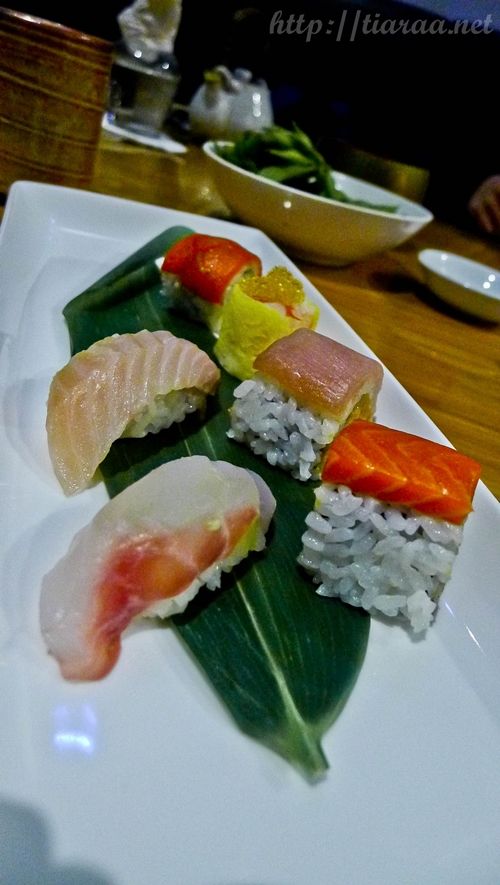 As usual, I could not finish the Assorted Sushi served. Some of the sushis consist of The Great Canadian Roll (1st picture), Great Pacific Roll (2nd picture), Spicy Tuna Roll (3rd picture), Golden Roll (4th picture) and two nigiris.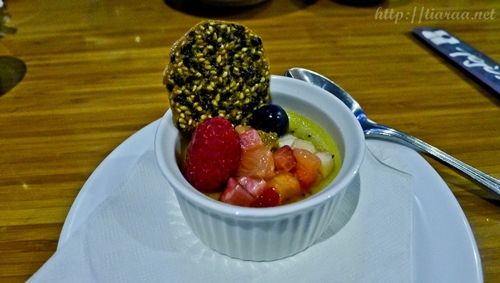 Yet again, we ended dinner with Green Tea Creme Brulee topped with fruits and sesame chip. The sesame chip definitely complements the creme brulee and brings out the sweetness in it. The creme brulee is smooth and supple. The fruits gives it a very refreshing taste as well.
ACCEPTS CASH/CREDIT CARD/DEBIT CARD
OPENING HOURS:
Mon-Sat 5 pm – 9:30 pm
Ambiance: 8/10
Service: 10/10
Food (Taste & Appearance): 7.32/10
Value: 7/10
Total: 8.08/10★
Although the high quality of the food served at Tojo's gratifying, it is not fascinating to the extend of paying so much for it. What really made the night was the phenomenal service though. I would not only raise two thumbs up but two hands up for the exceptional service!