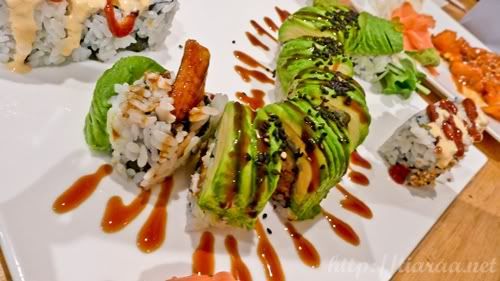 It was my second day back in Vancouver and even though Fine was working that day, she wanted to meet me directly after work. I could tell how tired she was when I saw her but she still made it for the impromptu dinner anyway! She recommended us to have dinner at Sushi Yama as the people in our church frequent there and so, we dined there!
Sushi Yama
371 East Broadway
Vancouver, BC V5T 3M7
(604) 872-0053

View Larger Map
Sushi Yama is pretty close to my house if you don't count the waiting time for public transport. I was surprise that my church mates managed to find an above average restaurant in a deserted/"sketch" area. From the exterior, I would not enter the restaurant if nobody recommended me to. I was shocked to see a long line up and it took Fine & I 15 minutes to be seated! The server was quick to take orders and it was hard to grab their attention!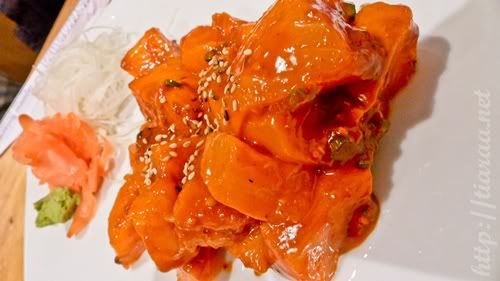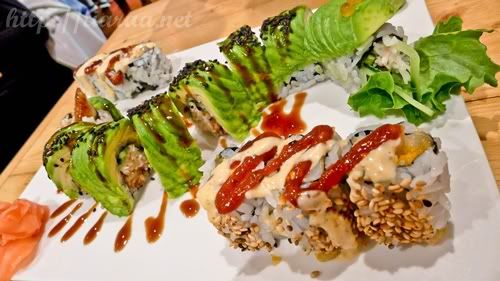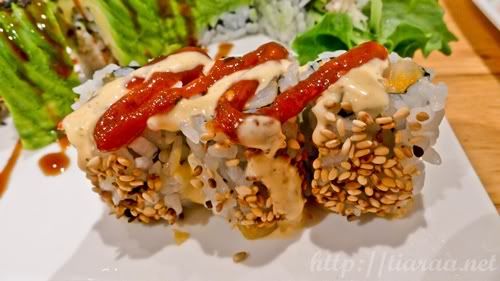 Fine and I decided to order the Spicy Salmon Sashimi (1st picture), Caterpillar Roll (2nd & 3rd pictures) & Spicy Chopped Scallop Roll (4th picture). The spicy salmon sashimi is comparable to the one at Sushi California! I do not have to go all the way to Sushi California for spicy salmon sashimi anymore, WOOHOO! Another thing I was glad is the sashimi is thick, FIRM and smooth, unlike the ones in Singapore! Really jubilant to finally taste high quality sashimi after 6 months.
Ratings: 4.5/5★
As for the Caterpillar Roll, it was one of Sushi Yama's speciality. The sushi consists of crab meat, eel and cucumber coated with rice and topped with avocado layers, mayonnaise & BBQ sauce. The presentation of the sushi is remarkable – Definitely looks like a caterpillar crawling towards you! Taste wise – More to the healthy side but with an edge.
Ratings: 3.5/5★
I used to work in UBC's Honour Roll for 2 years and the sushi I enjoy most there is the chopped scallop roll. I missed chopped scallop roll in Vancouver so much I decided to order that to share & it did NOT disappoint. Fresh scallops, good mayonnaise and spicy mix and right amount of sesame toppings! I couldn't thank Sushi Yama for fulfilling my Sushi Yama cravings even though I had Samurai Sushi earlier.
Ratings:3.5/5★
I was so sleepy as I was jetlag so I did not manage to take pictures of the receipt but Fine and I paid a total of CAD$20 – Quite reasonable, I would say!
CASH ONLY!
Opens:
Monday – Friday 11:30AM – 12:00AM
Saturday 12:30PM – 12:00AM
Sunday Closed
Ambiance: 5.5/10
Service: 6/10
Food (taste & appearance): 7.67/10
Value: 7.5/10
Total: 6.67/10★
In conclusion, never judge a book by it's cover.

swisscheese*