I have been wanting to dine at Nakhon Kitchen ever since Brandon and Joanne stated that it was a good restaurant. However, there is always no time to head there even though my house is just a 15 minutes walk away from Nakhon Kitchen. Peihua, Joanne and I finally went there on a Sunday early April to try the Thai food there.
Nakhon Kitchen
Blk 136 Bedok North Ave 3,
#01-166 Singapore
+65 6245 5548

View Larger Map

Nakhon Kitchen is located very close to Joanne's crib so whenever I feel like trying the food there, I will always think of Joanne. Peihua, Brandon and Joanne find that the food at Nakhon Kitchen is very expensive even though it is coffee shop style and the portion of the food is very small. However, there is always long line ups at Nakhon Kitchen, especially during dinner period.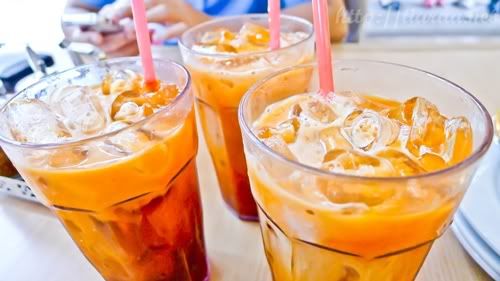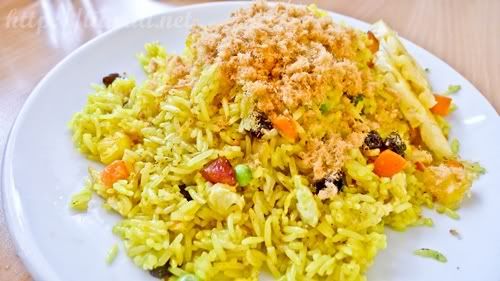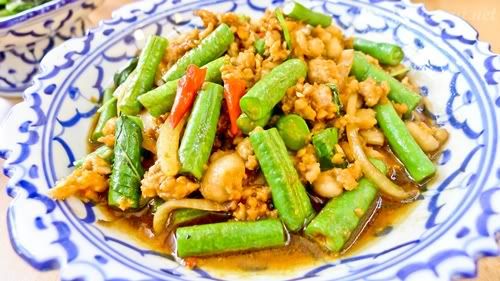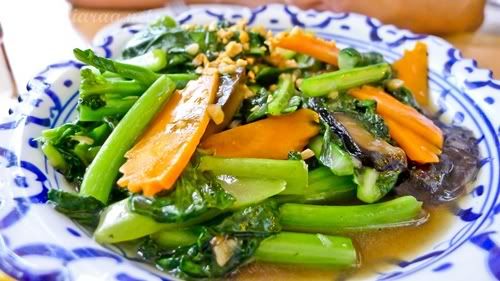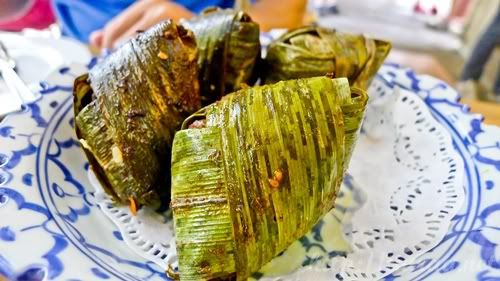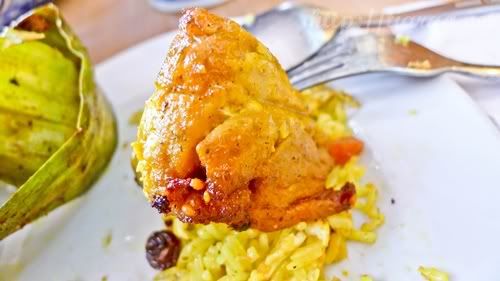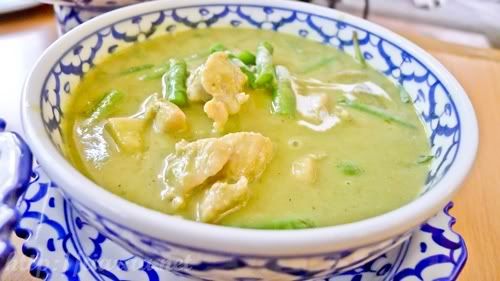 1st picture – 3 of us had a glass of Thai Tea each, which is SGD$3 per glass. The glass of Thai Tea is too sweet that I could not even finish half of the glass!
Rating: 2/5★
2nd picture – Peihua and Joanne decided to order the Pineapple Rice (SGD$6) to share but it was not really enough for 3 people. Thank goodness I try to cut down on refined carbohydrates. In addition, the pineapple rice is not exceptionally good – It tasted just like white rice. The only plus factors are the ingredients in it. Pineapple Rice are usually served in half-hollowed pineapple, thereby making it appetizing. However, it is not the case for this dish. It was served on a plate topped with raisins, a generous amount of pork floss, pineapples cubes and bits of vegetables. The pineapple cubes adds moisture to the rice and the floss and raisins adds unique and gratifying flavours to the dish. I have to applaud how Nakhon Kitchen adds different seasonings to the dish.
Rating: 2.7/5★
3rd picture – What goes well with rice? The Kapow Pork, which is minced pork with basil leaves and chilli. I did not really fancy this dish and found it too expensive (SGD$6) for such a small portion of a less than average dish. There is a lack of aroma and flavour in this dish and even Joanne and Peihua commented that the standard for the food in the restaurant has dropped dramatically after not dining at the place for awhile.
Rating: 2.7/5★
4th picture – The Kailan with mushrooms and carrots that is worth SGD$6 is definitely the most average dish that should not be tried at all.
Rating: 2.5/5★
5th & 6th pictures – The highlight of the meal is definitely the Pandan Chicken. Not even my favourite Green Curry can beat this dish! Chicken is marinated, shaped into a dumpling and wrapped in pandan leaves, which is an extremely unique wrapping style! However, there is no pandan taste at all. The Pandan Chicken is nicely seasoned and cooked though – the sides of the chicken is crispy yet not burnt. All flavours of the chicken is retained very well but not too oily for your palate. Try it now – 4 pandan chicken for SGD$6 ONLY!
Rating: 3.7/5★
Last picture – The first thing I always think of whenever I enter a Thai restaurant is to order Green Curry Chicken as that is my favourite Thai dish. However, I was very disappointed by the Green Curry served at Nakhon Kitchen even though it is the most expensive dish that we ordered – SGD$8. The curry is overly spicy like McDonalds Spicy Nuggets. You know the feeling where the meal is "forced" to be spicy? That is what you get from this dish! The only thing I love from this dish is the fact that there is generous amount of my favourite vegetables in the dish such as eggplant cubes, long beans and Thai eggplants called Ma-kuea that looks like peas. The gravy is also very thick, which is a plus point for the curry.
Rating: 2.7/5★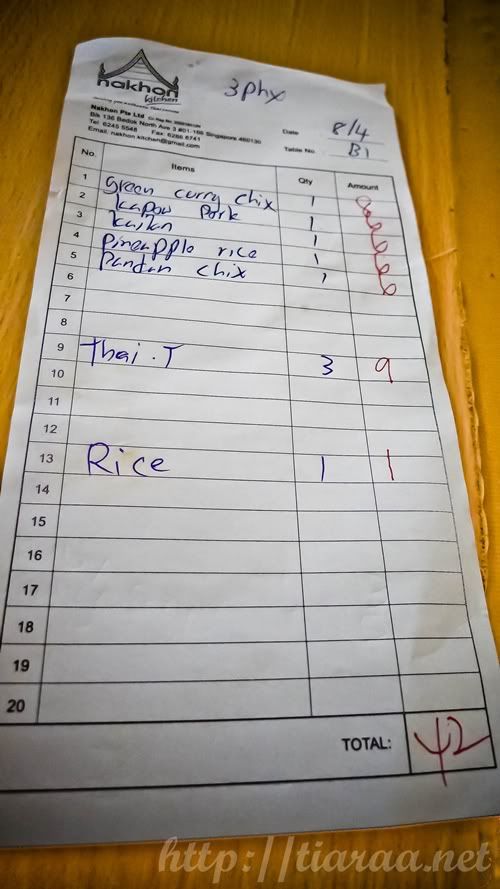 3 of us had to pay SGD$42 in total, which is SGD$14 per pax! I would not say that it is value for money but it's good that I finally got to try this restaurant that everyone is raving about.
CASH ONLY!
COFFEE SHOP EXPERIENCE
NEAREST MRT STATION: BEDOK
OPENS DAILY:
12pm-3pm, 5:30pm-10pm 
Ambiance: 6/10
Service: 5/10
Food (taste & appearance): 5.43/10
Value: 5/10
Total: 5.36/10★
A hidden gem in Bedok? A little Thailand in Singapore? Definitely NOT! I prefer my dining experiences at Thai restaurants located in Golden Mile complex instead.
swisscheese*