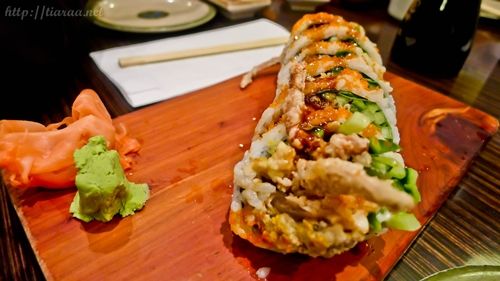 I needed to study for my midterms on one Saturday evening so Mich invited me to Metrotown's Starbucks to study with her while Rebecca and Luki were shopping. After 2 hours of studying, it was 7pm and we decided to dine at Sushi Garden.
Sushi Garden
4635 Kingsway
Burnaby
(604) 436-0104

View Larger Map
Sushi Garden is a very crowded restaurant that is always filled to the brim, especially during lunch and dinner time. The place is quite squeezy and cluttered and the servers are always too busy to refill our tea or take our orders. You got to be patient at such restaurants as it is very difficult to catch the attention of the servers.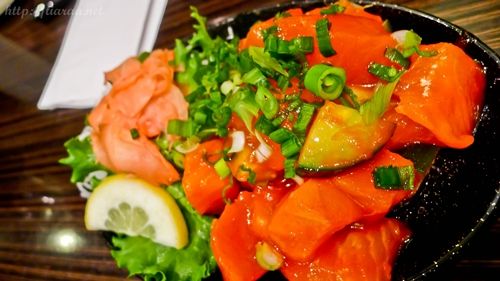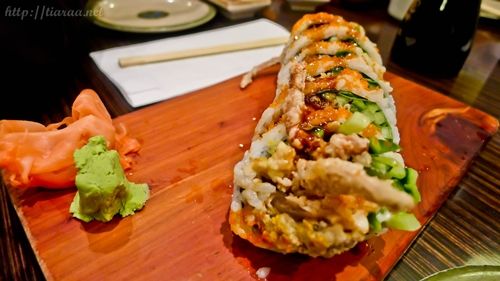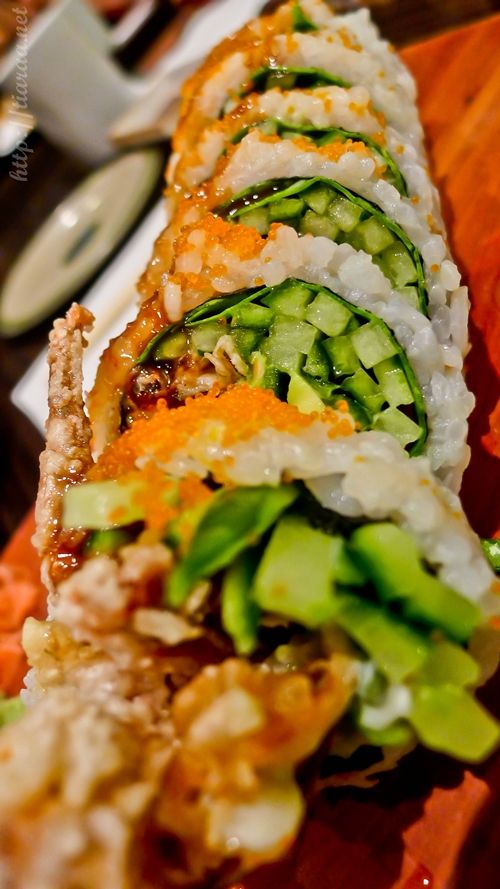 It was such a coincidence that four of us each got the Spicy Salmon Sashimi (1st, 2nd & 7th pictures), which costs CAD$8.50. It is quite a big portion and I could not even finish it so I had to take it to go. The sashimi is too chewy and it makes it very overwhelming if you consume too much of it. The first bite of it tastes so good but subsequent bites of it is too much to bear until I felt like puking halfway. I also got the Spider Roll (3rd & 6th pictures), which is filled with soft-shell crab, a generous amount of cucumber and sweet soy sauce and topped with tobiko. The sushi costs CAD$6.50 and it is worth the amount as the serving size is huge. The soft-shell crab is so crispy and delicious and I really like it!
Ratings of Spicy Salmon Sashimi: 2.8/5★
Ratings of Spider Roll: 3/5★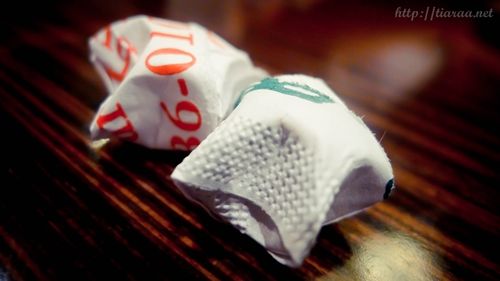 CASH/CREDIT/DEBIT
NEAREST SKYTRAIN STATION: METROTOWN
OPENING HOURS:

MON-SAT: 11AM – 10PM
SUN 11:30AM – 9:30PM
Ambiance: 6.5/10
Service: 5.5/10
Food (taste & appearance): 5.8/10
Value: 8/10
Total: 6.45/10★
Sushi Garden is a good Japanese restaurant for casual dine outs.
swisscheese*