What I love about Hong Kong is whenever I head there alone, my Hong Kong Vancouverites will never fail to bring me around to all the good places that serve delicious food! During my solo trip to Hong Kong right after Bangkok last August, Bonnie suggested that we go to Tung Po Kitchen since I wanted authentic food.
Tung Po Kitchen 東寶小館
2/F Java Road Municipal Services Building, 99 Java Road, North Point
北角渣華道99號渣華道市政大廈2樓
2880 5224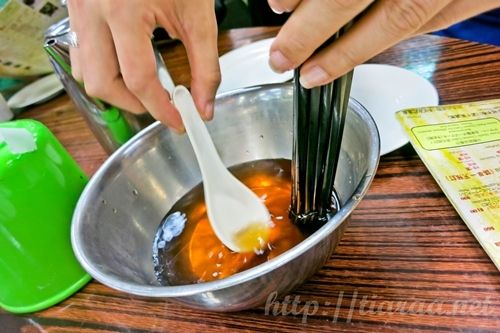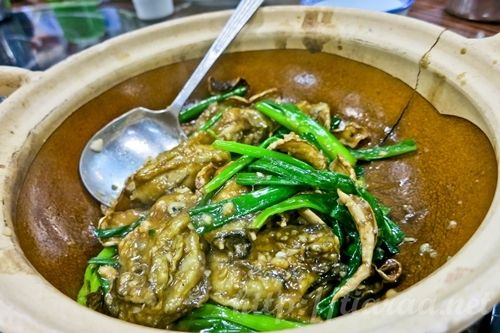 So on my first night there, it was the night of a weekday. Yet, there are plenty of people lining up to dine at this dai pai dong / 大牌檔. In case you did not know, this restaurant is located in 2nd floor of Java Road Municipal Services Building / 渣華道市政大廈. The first floor is a market that usually operates in the morning. I am so happy that despite it being a working day, my HK Vancouverites never fail to show up with much enthusiasm to bring me to have good food. Moreover, we waited for half an hour before finally getting a table. We even had to share a table with other customers but it is the usual routine in Hong Kong, isn't it? As you can see from my pictures, the restaurant is filled to the brim! From my forth picture, you can see how utensils are washed by the customers themselves. We decided to share Squid Ink Spaghetti / 墨汁墨魚丸, Wind Sand Chicken / 風沙雞, Eggplant Claypot and Asahi in a bowl / 戰鬥碗. There are high ratings of the squid ink spaghetti and wind sand chicken all over the net. Although the restaurant features this unique fusion dish made up of squid ink spaghetti and cuttlefish balls, I found the pasta relatively bland. The juicy cuttlefish balls did the magic though. However, it is still not worth the rave. Moreover, the portion is so small and not worth HKD$68 (USD$8.77 / SGD$11.77 / CAD$10.74). The wind sand chicken stays true to it's reviews online of being the signature dish as I love the crispiness of it. However, certain parts of the flesh is still pretty dry. We got half of it for HKD$180 (CAD$28.43 / SGD$31.17 / CAD$23.22). The rest of the claypot dishes are slightly above average. What I found most fascinating about this restaurant is drinking our Asahi beer from bowls. I guess this appeals to not only tourists but the locals as well!
OPENS DAILY: 5:30PM-12:30AM
NEAREST MTR: NORTH POINT ; EXIT A
PAYMENT METHODS: CASH ONLY!

Ambiance: 6.5/10
Service: 6/10
Food (taste & appearance): 7/10
Value: 7/10
Total: 6.63/10★
As usual, I prefer dining in these kind of Dai Pai Dong over any Hong Kong franchised restaurants anytime!