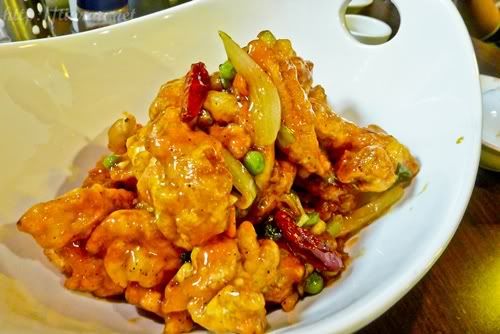 My dearest HFAN girls decided to have dinner with me on a Saturday night but the problem was we did not know where to head to. Too many choices and some people had different preference. When I was dining with Fae, Aldh, Jason & Mike in Sushi Bella two days ago, Jason & Mike recommended me to Tai Won as they had it the night before and  enjoyed their meal there a lot. So I gave the girls 3 options – Pin Pin, Tai Won or another Japanese restaurant, which I have forgotten about. Majority chose Tai Won and so, I made a reservation for 10 of us.
Tai Won 太園
4727 Kingsway
Burnaby, BC V5H2C3
(604) 437-3399

View Larger Map
Irene, Any & I met at Metrotown Skytrain station and we decided to walk to Tai Won from there. The tables were arranged for 10 of us to be seated when we came. Of course, everyone came and different times but the waiting time is not long so the server is fine with it. Tai Won did not have a variety of food. Their menu is just a few pages with pictures to depict what's in their food. Bella and I did our homework by reading the reviews online and trying to get the best choices. Unfortunately, her deep fried dumpling was sold out. They are actually running a very good business since lots of their food items are sold out by dinner time. The unique selling point about Tai won is they are actually serving Chinese food cooked in Korean style! My sister told me that her Korean friend, Cindy also love this restaurant. The restaurant is pretty busy so it was hard getting the server to help us snap a shot of our group but she did it anyway, thumbs up! Also, after we were done with our meals, we kept taking endless amount of pictures and making lots of noise but the servers never chase us out at all!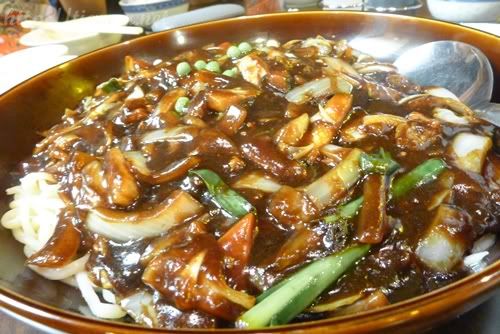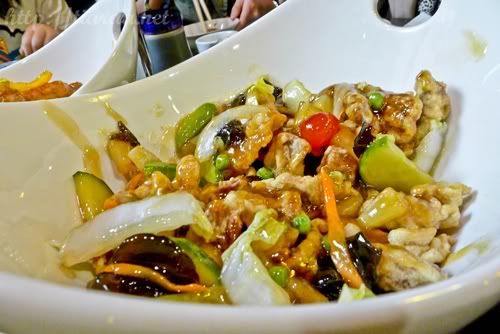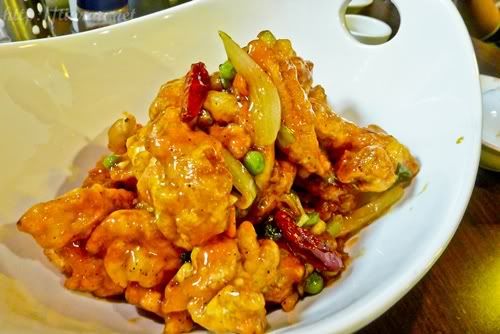 We had 2 sets of Jaeng Ban Jja Jang (1st picture), 2 sets of  Tang Soo Yook (2nd picture) and 2 sets of Kan Poong Gi (3rd picture) for the 10 of us. We seriously ordered way too much that we could not finish it but the girls asked me to take the remaining food to go. Vivi even packed the food for me while we were taking pictures.
The Jaeng Ban Jja Jang costs CAD$12.99 per plate and it consists of noodles topped with black bean sauce and filled with pork and onion. Catherine volunteered to mix the noodles with black bean sauce at our table as the portion was huge. The food is definitely appetizing, fragrant and mouth-watering! Enjoyed my share though I could not consume a lot of it. Catherine kept putting  lots of food on my bowl though.
Rating: 4/5★
Tang Soo Yook is basically fried crispy pork and vegetables such as cucumbers, cabbage and round tomatoes topped with sweet and sour sauce. It is worth CAD$15.99 per order. The sweet and sour sauce was overwhelming so I prefer the Kan Poong Gi a lot more! The pork was really crispy and good though so I like it a lot! As for the Kan Poong Gi, I enjoy this dish because of the chilli sauce. The chicken is crispy as well and it is mix with dried chilli, peas and onion. The dish costs CAD$16.99 per bowl. Both the chicken and pork are very well-cooked and defrost though. Some meats are not defrost well and are cooked right away – boy, how awful the texture is!
Rating for Tang Soo Yook: 3/5★
Rating for Kan Poong Gi: 3.5/5★
The total bill came to CAD$109.69 with $12% HST tax. The girls decided to treat me as I am heading back to Singapore again, awww! Very touched by their gesture! Anyway, they made a total payment of CAD$120-130, inclusive of  tips.
CASH ONLY!
Opens:
Daily Morning – Dinner Period
Nearest Skytrain Station: Metrotown
Ambiance: 6/10
Service: 7.5/10
Food (taste & appearance): 7/10
Value: 7/10
Total: 6.88/10★
In conclusion, I will try out other items when I am back there again. Although the girls said they have tasted better Korean food, just looking at the pictures make me crave for the delicious food!

swisscheese*