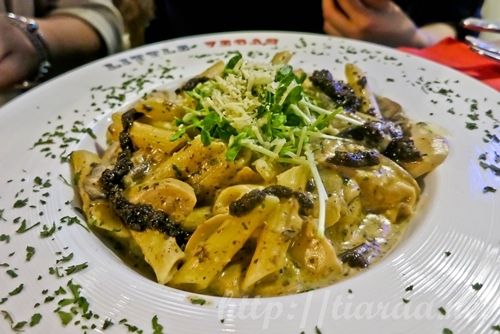 I have been hearing about Little Vegas from Bonnie for quite some time when she told us to support the facebook page. She has also been posting a couple of pictures of the enticing food and the interesting decor. This made me so psyched to head there when I was in Hong Kong a month ago!
Little Vegas
25/F, Bartlock Centre, 3 Yiu Wa Street
耀華街3號百樂中心25樓
Hong Kong Island, Causeway Bay
+852 2622 2369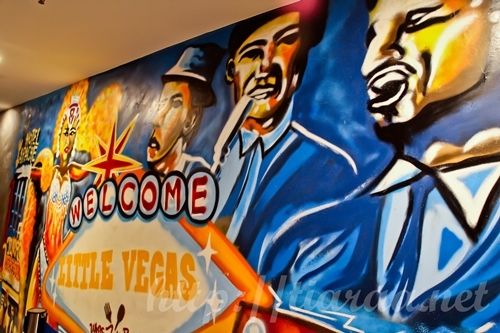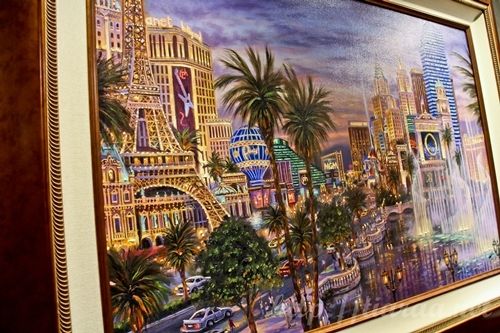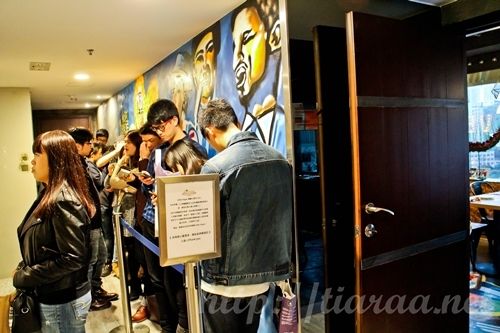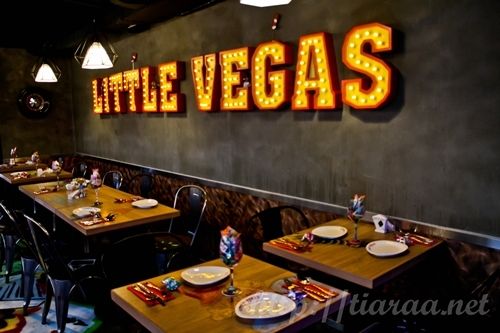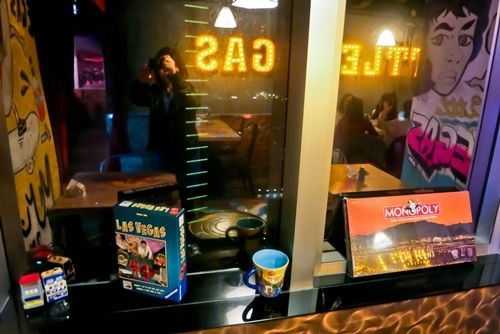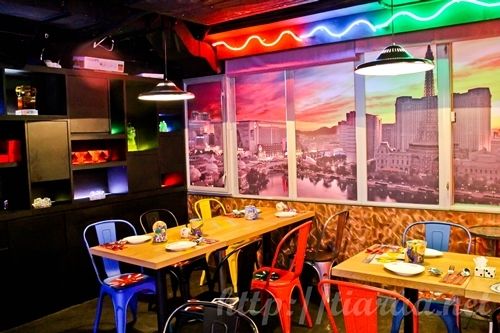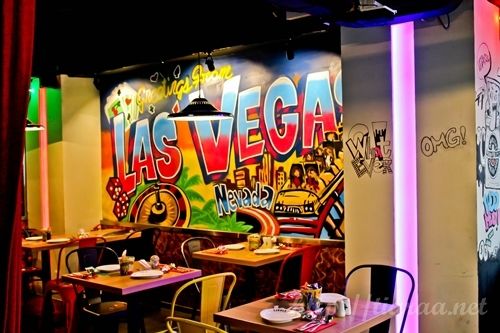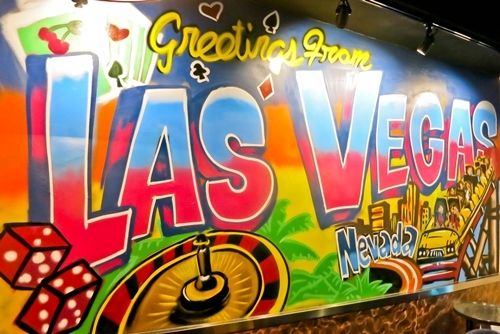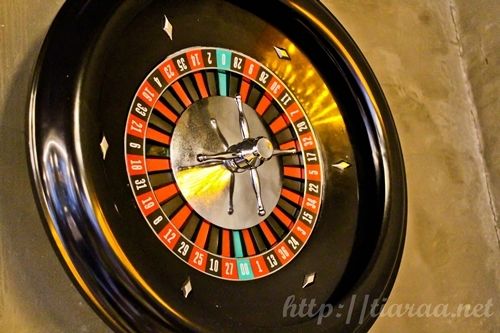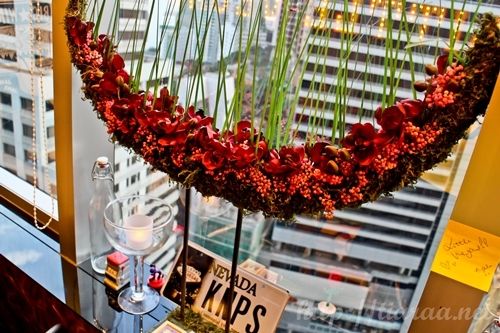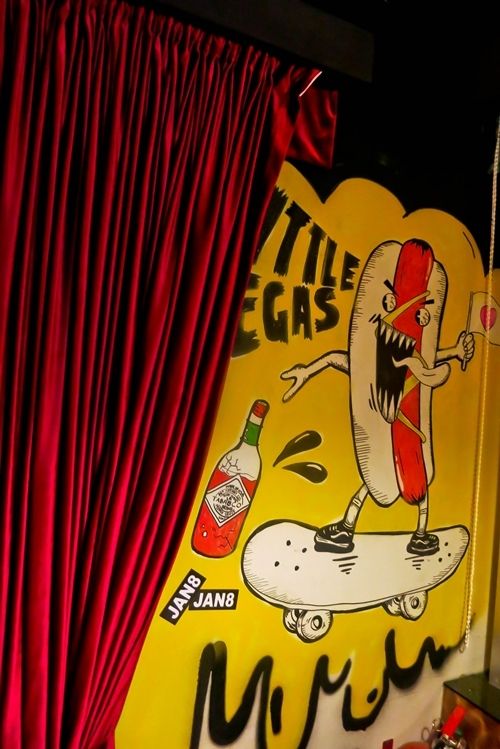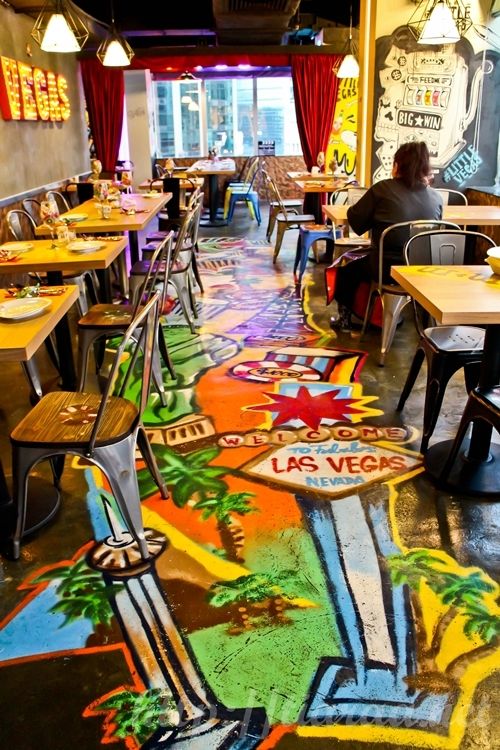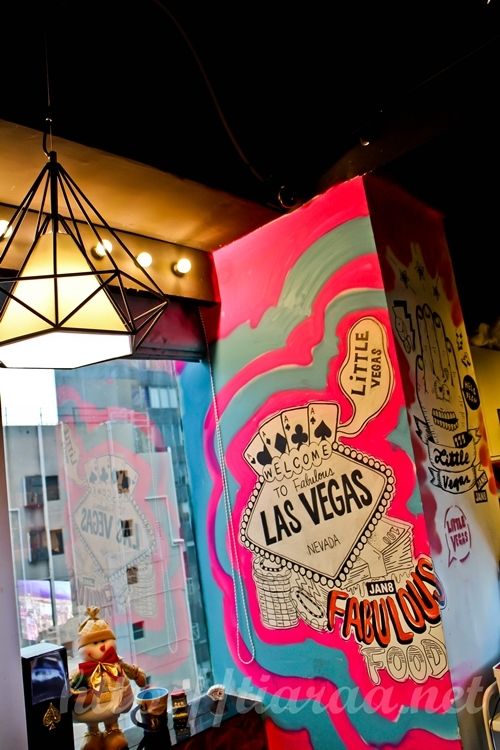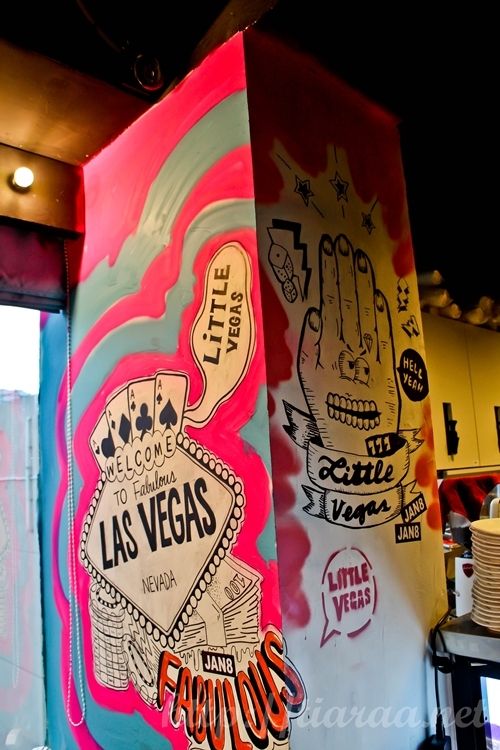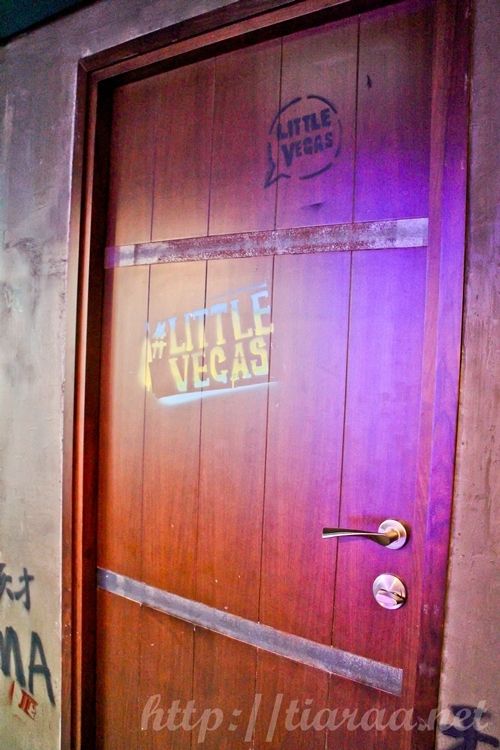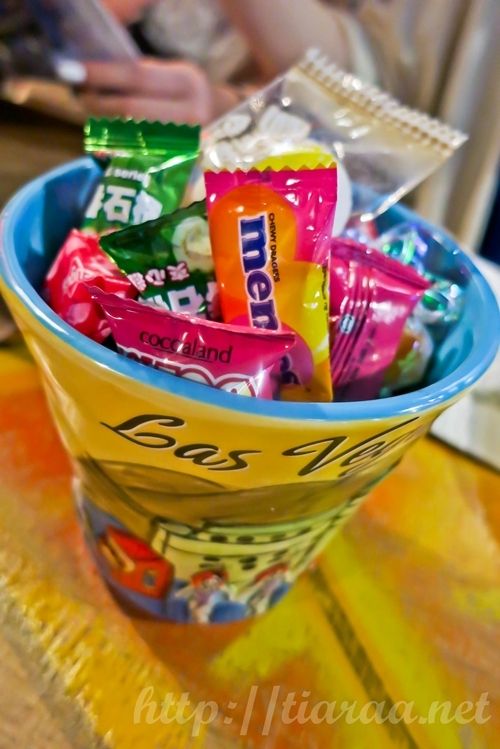 The day after I touch down at Hong Kong, it was Phoebe's hens night and she brought the party to Little Vegas. The name itself is totally appropriate for a bridal shower. I met Bonnie at Times Square prior to the bridal party to get some helium balloons, tiara, wand and sash for Phoebe. As the theme is blue, we tried to get silver, white and blue helium balloons. The heart-shaped pink and white helium balloons also caught our eye so we got that as well! After which, Bonnie led the way to her frequently visited Little Vegas. I was surprised that there are line ups practically everywhere at Hong Kong and queuing up for the elevator of Bartlock Centre is no exception. Upon exiting the elevator on the 25th floor, I was amazed by the beautiful welcoming graffiti (1st picture) to Little Vegas. As Tim studied at UNLV in Vegas, he knew that he will be opening a restaurant of the city he has been studying at for years.  So having such vision, the owner of the restaurant bought the delicate painting from the second picture all the way from Vegas to put it up at the entrance of the restaurant. Do take note that Little Vegas is a very popular restaurant/cafe to dine and chill the night away so even at 4pm on Valentines Day, before it reopens at 6pm, there is already a long line up as depicted in the third picture. The restaurant symbolizes the theme as you feel like you are in Vegas just by looking at the decor. I really like how the walls are sprayed with graffiti to make you feel like you are in a casino at Vegas. It is also very adorable how they put sweets in champagne glasses or cups. So back to Phoebe's bachelorette party, the previous customers were not done with dinner when we arrived at 7pm so we waited for them to leave and the tables to turn before starting to put up the balloons, tiara, wand and sash. We also had to wait for Milka to collect her set of balloons before piecing everything together. All of Phoebe's bridesmaids have arrived but Milka was still waiting for the other set of balloons to be delivered. When Phoebe and her sister arrived shortly, Bonnie tried to stop them from entering the restaurant by saying that the tables are still being arranged. Although Phoebe has already seen Milka with a huge black plastic bag of items, we tried to distract her so that they can complete the decor. When everything was finally arranged and settled, we finally brought Phoebe in for a sweet treat! I have to say that the servers there are very attentive to our needs and we had to credit Bonnie for doing all the PR for us as well!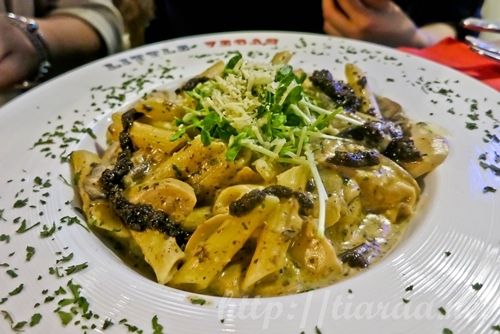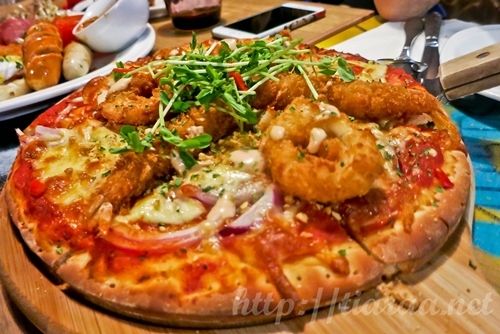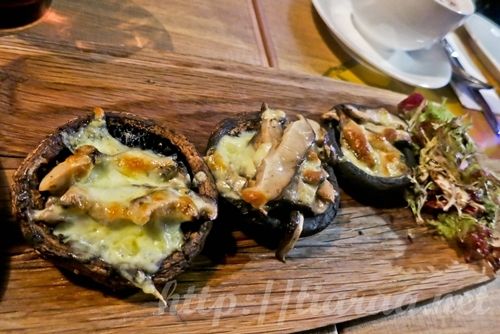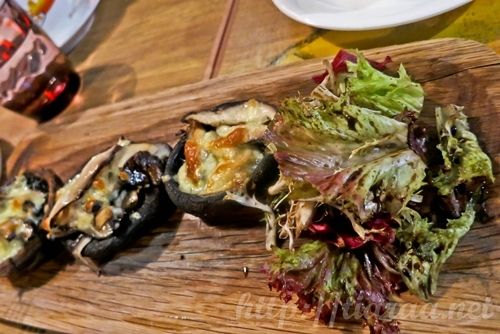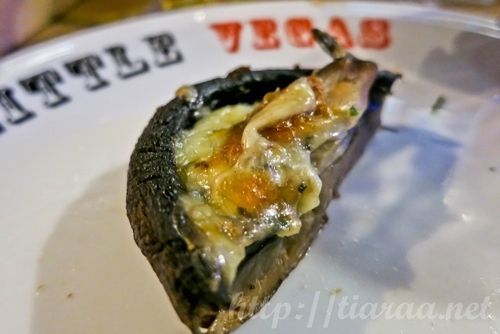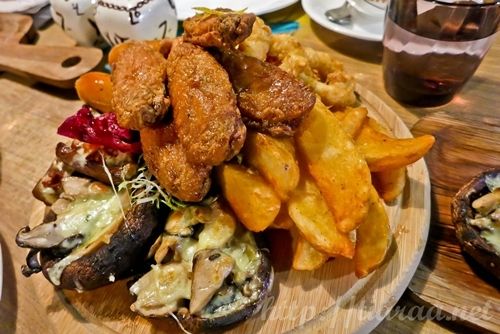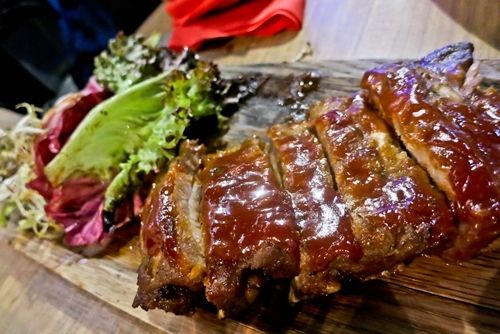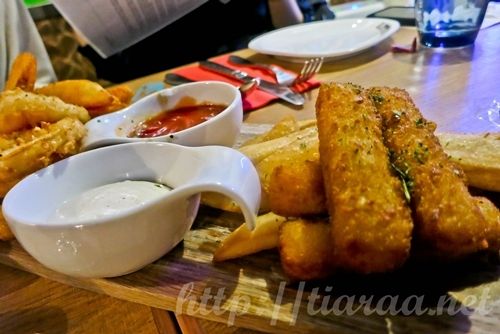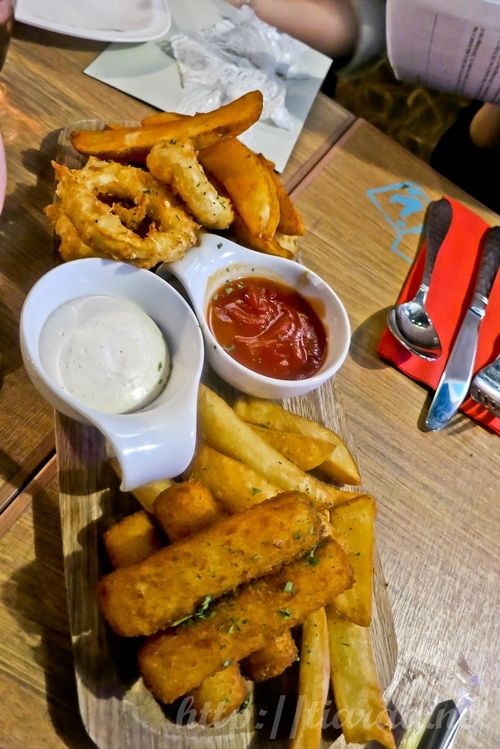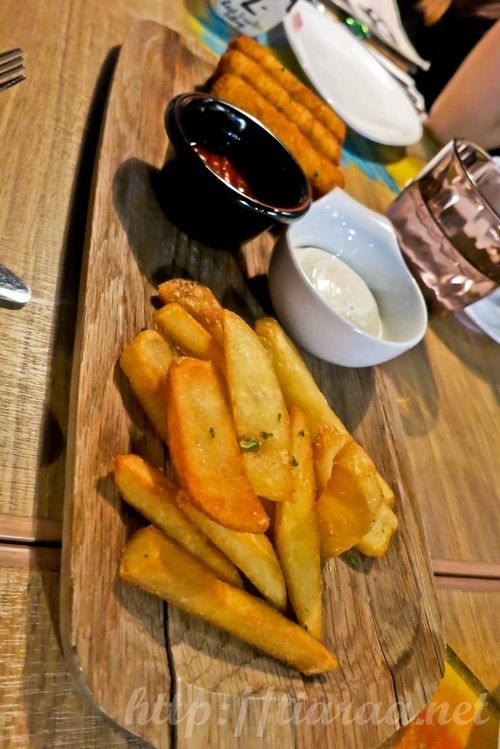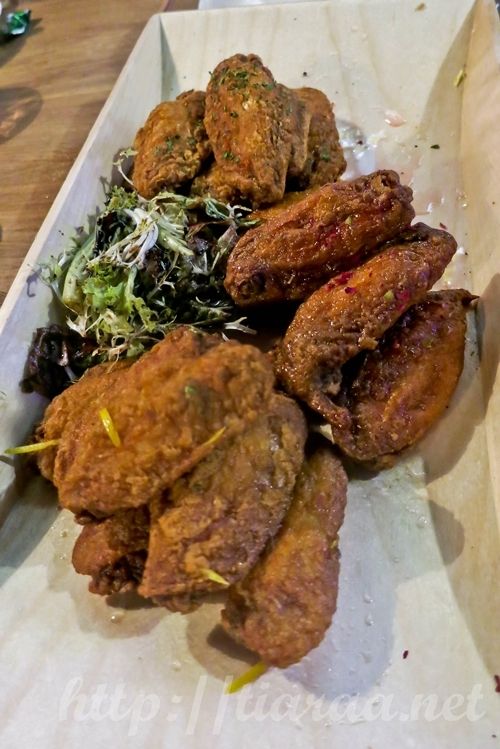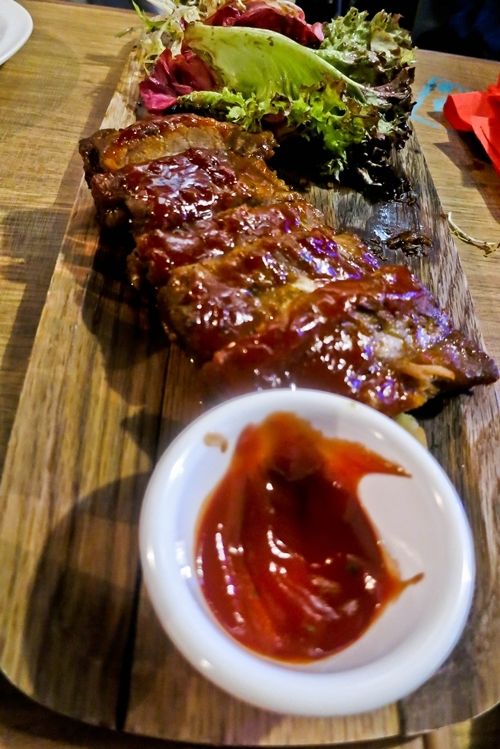 Phoebe ordered tonnes of dishes for all of us to share while catching up with us and discussing about the details of her wedding with her bridesmaids. I am so happy for Phoebe because many of her bridesmaids came all the way from Vancouver just to attend her wedding. It is such a dedication, I must say! Phoebe also gave us her DIY wedding invitation card that made us even more excited for her wedding! The Ravioli with Mushroom and Cheese (1st & 2nd pictures) smelled and tasted just like truffle pasta and I love biting every bit of it. It is quite cool how the pizzas are named as well. We ordered the No Rules Pizza (3rd & 4th pictures), which comprises of crab meat, fried squid rings, mozzarella, fried shrimp, spring onion, garlic and spicy tomato sauce. Doesn't the name of the dish represents Vegas too? Following that, we also had the Grilled Portobello Mushroom (5th-7th pictures), which is topped with onions, cheese and mixed mushroom. Very fragrant and delicious! The Deli Sharing Platter (8th picture) consists of so much appetizers such as spicy sausages, squid rings, wings, fries and eggplants and this was definitely good for sharing, as mentioned on the name itself. The House Favourite Baby Back Ribs (9th & last pictures) was so juicy and tasty and I felt like going for seconds although there was not many of it yet there's a lot of us to share it. We were shocked to see the Crazy Fries Platter (10th & 11th pictures) and Tummy Teasers Fries (12th picture) being ordered as we had a huge dosage of fries and wedges after this meal. I was wearing a body hugging dress so you can tell how happily bloated I was after this meal! My ultimate favourite dish from this meal was none other than the WINGS CHALLENGE (13th picture) as I love how the three different flavoured wings is uniquely seasoned. The dish comprises of 18 wings, 6 of which are wings seasoned with rose, 6 of which are lemon infused, while the last 6 are marinated with spicy yuzu flavour. The food costs HKD$128, HKD$118, HKD$88 (half), HKD$168, HKD$98, HKD$43 and HKD$156 respectively.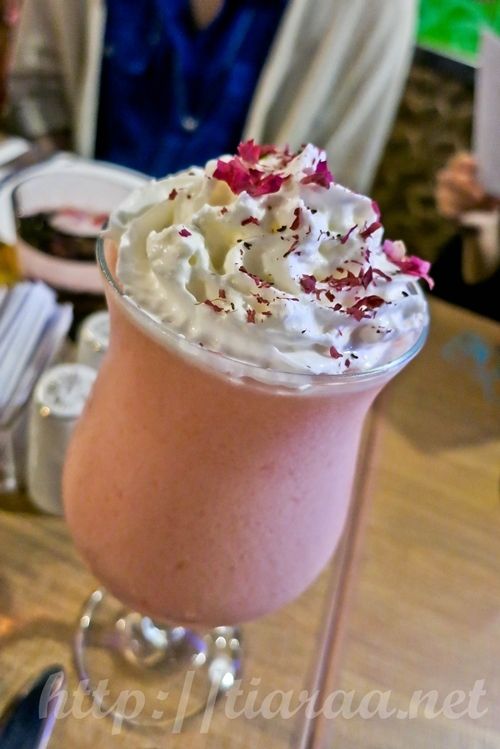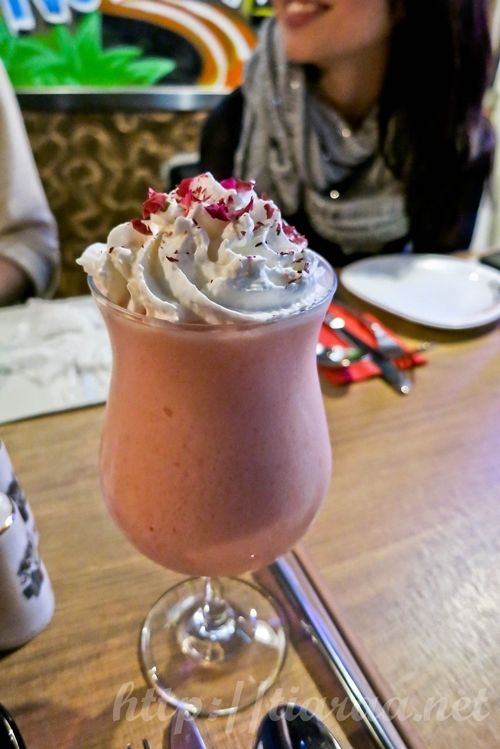 Phoebe had the Rose Milk Tea (1st picture), which looks so appealing and helps to warm up the soul during cold Winter days at Hong Kong. I regretted not getting that and ordering Strawberry Rose Smoothie (2nd & 3rd pictures) instead. Though I was satisfied slurping my drink away, I could not help but felt cold after. Bonnie got herself the Mango Smoothie (4th & 5th pictures) as she had the Rose Smoothie countless times before. The drinks cost HKD$28 for the hot milk tea and HKD$42 for each of the smoothie. Sweet Phoebe paid for the bill as she wanted to thank us for celebrating her hens night together with us. This was the last time that I saw her attached but not married.
OPENING HOURS:
Sunday & Monday:12:00-15:30, 18:00-22:00
Tuesday-Thursday:12:00-16:00, 18:00-22:30
Friday & Saturday:12:00-16:00, 18:00-23:00
NEAREST MTR: Causeway Bay; Exit A
PAYMENT METHODS: CASH/CREDIT

Ambiance: 9.5/10
Service: 8.5/10
Food (taste & appearance): 8/10
Value: 8/10
Total: 8.5/10★
For such a nicely decorated cafe/restaurant with impeccable service and gratifying food with an edge to it, I would highly recommend this restaurant to the people at Hong Kong. Moreover, the price is fairly decent for a cafe at Causeway Bay.