Island Trekker PART 1: Tumalog Falls
After we were done at Tumalog Falls, it was time for the most exciting part of the trip – Swimming with the whale sharks!! We took the motorcycle back to P&J before getting into our car for the whale shark destination.
Oslob Whale Shark Watching
Natalio Bacalso Avenue,
Oslob, 6023 Cebu, Philippines

When we have arrived, we had to go for our briefing. In tagalog, whale shark is known as butanding. For being known as one of the largest fish in the world, it measures up to 18m and weighs more than 34 tons. Thankfully, they consume only small fishes and zooplankton via sucking the water through their large mouths. That explains why we can be in close proximity with the whale shark, although there should be a 4 meters distance apart and we are not allowed to touch them. One of the important guidelines of swimming with the whale sharks is not to put on any sunblock as one of the ingredients of the sunscreen lotion will harm the whale shark. If you happened to have it on, you have to wash it off before getting to the whale shark point or you will be fined or jailed once discovered. This is to protect the sharks since whale sharks are listed as vulnerable by the IUCN.
So after the briefing, we hopped onto our canoe bangka boat. The boat was actually filled by 6 people already so we were the last four to head in. It took us only 5 minutes to arrive at the Whale Shark Point by boat and once you have arrived, you are already able to see the whale sharks from the boat. First, we got inside the waters with our vest to get a feel of the water and the temperature of the water proved to be warm and comfortable to swim in. When I wanted to submerge into the waters, I took out my vest and decided to swim. Although the boatmen were nice to keep snapping photos for us using the water camera we rented, they were too fast and kept repeating "1, 2 and 3″ when we just got out of the water after diving down to take the pictures. The water is really salty and we need to fix our snorkeling gear before diving down the waters once again but the boatman are a little too fast. I think that for this trip, it is fine to rent the water camera (500 pesos / SGD$15.16) but not the snorkeling gear (500 pesos / SGD$15.16) as it will be hard for you to breathe if you dive into the waters. It is best to bring your swimming goggles for this experience instead.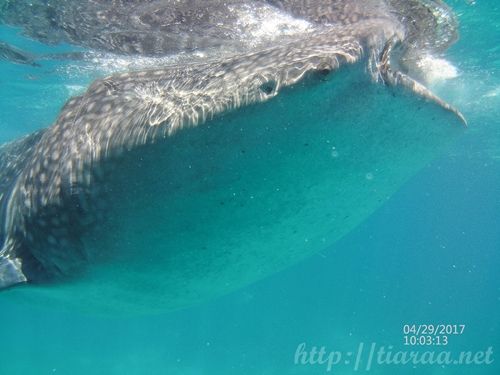 I was lucky to have a few pictures with the whale sharks although my pose was laughable. I am so thankful and glad to swim with the whale sharks with one of my best friends and although our boyfriends are not able to swim, they got out of their comfort zone and mingle with us in the waters for a bit before getting back up to the boat. The only thing I was upset about is that we only got half an hour to be at the whale shark point. That seems too quick and the area is a little crowded and messy since there were about 6 boats surrounding that area. Too many people were in the area and some of us ended up kicking one another. We are also not allowed to swim freely as the boatman will keep asking us not to go too far. The whale sharks were practically in an enclosed area surrounded by boats, people and boatmen. This creates stress if you want to swim freely with the whale sharks yet not touch the whale sharks in order not to hurt them. I would strongly suggest using goggles, masks and fins if you would like to dive down into the waters to spend some time with the whale sharks and other sea creatures since the surface has too many people.
As a first timer swimming with the whale sharks, this was an amazing experience but since it is unethical for the boatmen functioning just to constantly feed the whale sharks with plankton in order to keep the sharks at the whale shark point for tourism purposes, I will try to go to Donsol Bay or Derawan Island to swim more freely with the whale sharks in the future.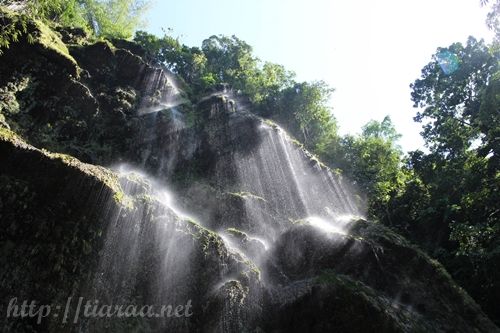 Island Trekker PART 2: Whale Shark Snorkeling
When I went to Manila two years back, I never imagine myself riding a horse to the volcano. This time, I did not envision myself going to Cebu this year but Jia Ling, Jun Yuan, Oppa and I finally confirmed our trip in March. The purpose of the trip was to attend Shara's wedding but since there are opportunities to swim with one of the biggest fish in the world, why not?
As I was so busy prior to my Cebu trip since I was at Korea for a week before that, Jia Ling was such a sweetie to do all the research and hard work for the programs at Cebu. Thankfully, we had a day to spare and meet up along with both our partners four days before the trip to discuss on the itinerary. Although the plan was not finalized, at least we had a rough idea on what we will be doing on each day we are at Cebu. So on the first day of our trip, Jia Ling went to research and compared between Island Trek Tours and our hotel's tour group called Cebu City Tours. Since Island Trek Tours had a more detailed schedule of the program than Cebu City Tours, Jia Ling went ahead and booked the Island Trek Tours because advanced booking of 24 hours is required.  We had to make a payment of 50% deposit via paypal for the tour prior to the pickup in order to receive our confirmation. So this means that for two pax exclusive of snorkeling gears and water camera, the cost for the entire day's program is 7350 philippine pesos, which is equivalent to SGD$214.63. This means that the cost for one pax for the entire day's program including breakfast, lunch and transportation is SGD$107.32.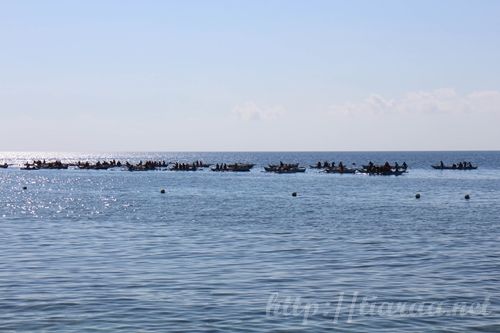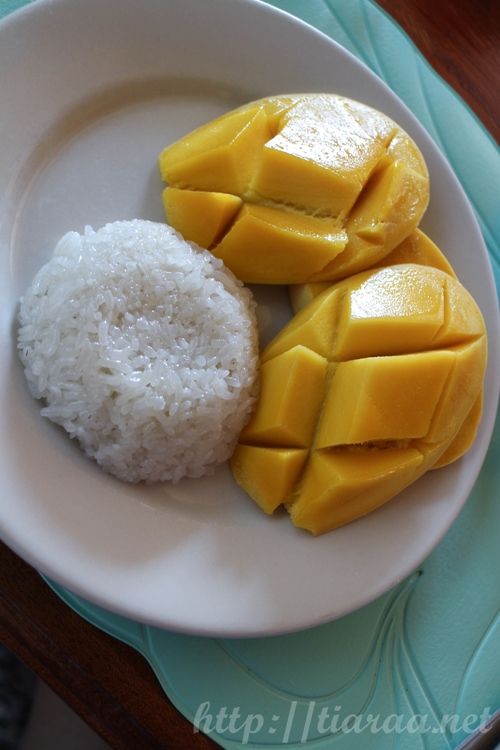 So when the day (exactly a month ago) finally came, the driver named Michael came to pick us up from our Waterfront Cebu City and Casino Hotel at 5am. The 3 hours drive from our hotel to Oslob was relatively smooth with little to no traffic and we managed to reach our destination in 3.5 hours. Once we have arrived at Oslob at 8:30am, a guide named Leslie greeted us and took us to P&J restaurant to have our light breakfast, which is included in the package. We could not believe that light breakfast served was none other than mango sticky rice!! The four plates of mango sticky rice were shrink-wrapped and placed on the table when we came to the restaurant. When we removed the shrink wrap from our individual plate of mango sticky rice, there were so many ants approaching the plate, our hands and our bags. Thus, we had to finish the meal quickly. Although the weather was hot, the restaurant is facing the sea, which is something we love.
During breakfast, Leslie briefed us on our itinerary, as well as details of the whale shark watching program. Since it is the long Labour Day weekend in the Philippines, there are tonnes of people swimming with the whale sharks. However, only a certain number of people can be at the whale shark point. Leslie informed us that the our queue number is 226 but the current groups at the whale shark point is only up to queue number 160. Thus, it will take 1-1.5 hours before it will be our turn so he suggested us to go to Tumalog Falls first before moving on to our whale shark program.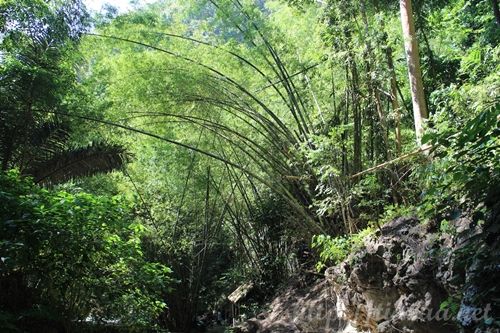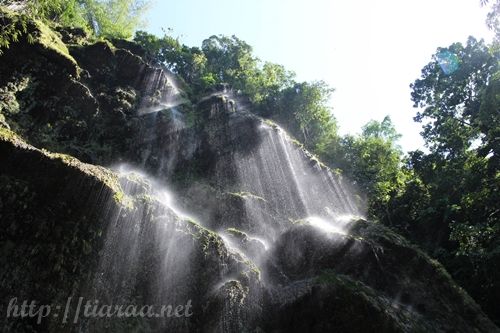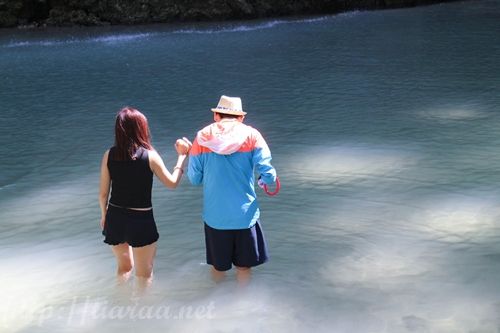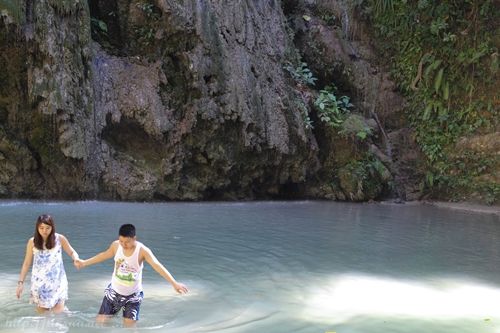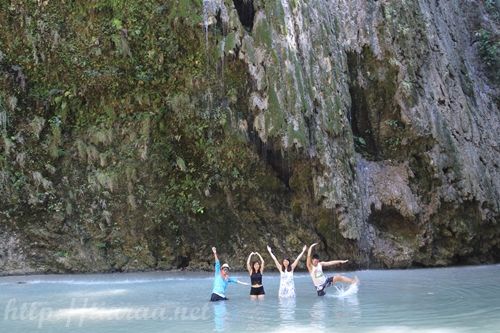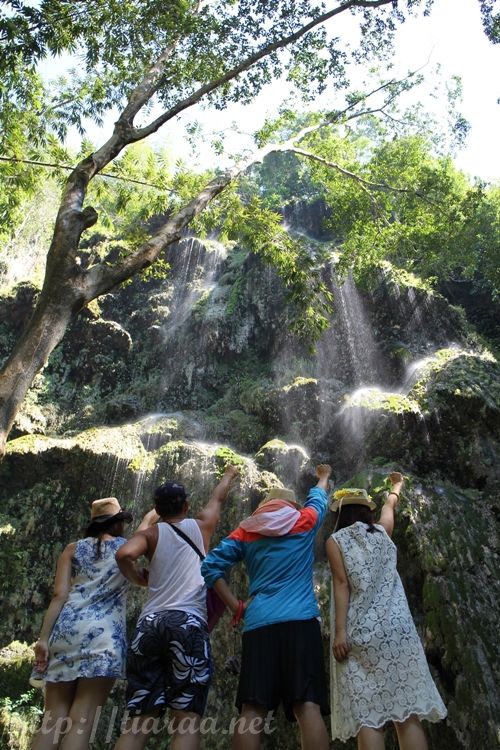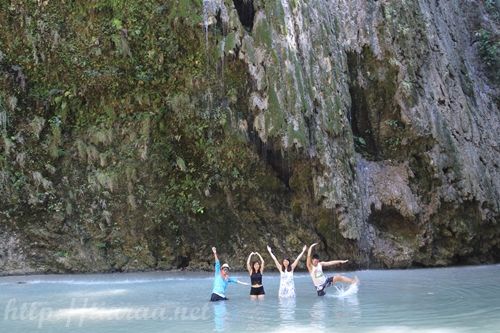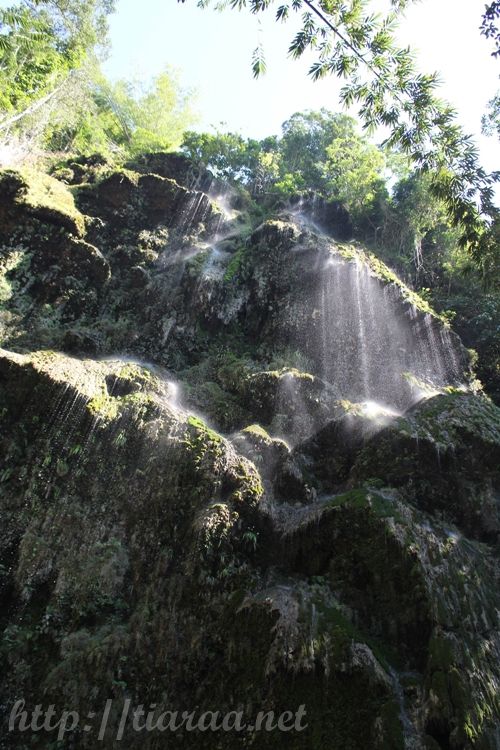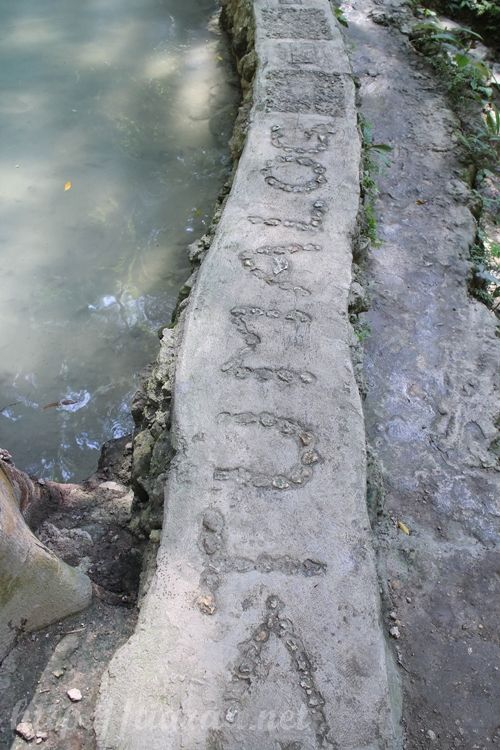 From P&J restaurant, we either had to take a 25 minutes walk to Tumalog Falls or go there in 5 minutes by motorcycle. Initially, my boyfriend decided on walking as he mentioned "Safety First!" but after considering the steep slopes we had to walk through under the hot sun, he told us to take the motorcycle instead. The price for taking a motorcycle to Tumalog Falls and back is 50 pesos, which is SGD$1.52. This is very worth it, especially if you do not want to get sunburnt. However, please note that the cost of the motorcycle ride is not included in the Island Trekker Tour. Look at the pictures above and you will see how stunning the waterfall looks! Anyone is able to get into the waters to snap a picture and such. The water was really cold so we had to take time to adjust to the temperature before walking further. We spent about half an hour to 45 minutes being at Tumalog Falls before heading for the most exciting part of the program.
Head over to part 2 of this program, which is of course the most exciting part of the trip!