Burmese food is not for everyone as the sauces of some of the food are too heavy for some people and their stomach may not be able to take it. However, there seems to be a saving grace for anyone who cannot tolerate dense food and is going to Burma and that would be the Shan noodles! The most famous eatery in Yangon would be the 999 Shan Noodle House, I have friends going to Myanmar not liking any food consumed except for the Shan noodles at 999 Shan Noodle House, so of course I have to try this highly raved dish!
999 Shan Noodle House
No. 130 B 34th Street
Kyauktada Township,
Yangon (Rangoon), Myanmar
+95 1 389 363
We went to 999 Shan Noodle House by taxi and it seems to be so well-known that the moment you mentioned this place, every taxi driver will know the direction to it. When we arrived at 999 Shan Noodle House, the place was filled to the brim so the servers brought us upstairs to be seated. Although the place was overwhelmingly full, the servers still made time to joke around while taking our order, assisting to help us take photos multiple times, checking with us if the food was good, as well as seeing us downstairs to make the payment.
Since I am the type of person who loves eating a variety of food but is easily full, I suggested sharing food with Ling Ling during my entire trip to Myanmar in February this year. We ended up sharing three dishes as shown in the first picture. One of the dish is Fried Bean Sprouts with Bean Curd as depicted in the second picture. We also shared the Wonton with Soup and the Sticky Shan Noodle as seen in the third & forth pictures and fifth & sixth pictures respectively. The food is relatively good. Although the noodles are quite oily, the soup was very soothing to the throat and the bean sprouts taste healthier. It is way more decent than many of the food we have tried at Burma. Restaurants that serve local food and are frequented by locals usually indicates that the food served is authentic. Although there were many backpackers and foreigners dining at the restaurant, my Buremese friend from Taunggyi, the capital of the Shan State, mentioned that the Shan noodles served at this place is authentic enough. True enough, this is one of the best Burmese food we had from Myanmar! Additionally, the total cost for three dishes is only 8,400 Myanmar kyats, which is equivalent to SGD$8.45. This is so cheap as compared to other developing countries. I hope that the next time I come back to Yangon, the price would not increase since Burma is opening its gates to foreigners.
Opens daily from 6:00am-7:00pm
Payment Methods: CASH ONLY!

Ambiance: 7/10
Service: 9/10
Food (taste & appearance): 7/10
Value: 8.5/10
Total: 7.88/10★
For people who are fussy eaters and cannot tolerate types of food that are out of the norm, this restaurant is safely recommended to people traveling to Yangon!
Sui Qian has been wanting to rent Nyonya traditional clothes for the longest time but it seems like there are only shops that sell the clothes and not rent them for photoshoot in Singapore. Prior to planning the Malacca trip, I did my research on where to rent the Peranakan traditional clothes for a photoshoot and realized that there are many places in Malacca that have that service and Casababa Gallery is one of them. However, it was months after I did the research that we finally went to Malacca and I totally forgotten about this place. Since we made an impromptu trip to Malacca in June, I did the research at the very last minute and discovered that Nyonya Memoirs located near Hatten Hotel has this rental service too. Although I took note of Nyonya Memoirs, after walking and exploring the entire stretch where the Baba Nyonya Heritage Museum is located at, we came across this gallery and decided to check it out. We were hesitating to get the tickets as we could not have the sneak preview of the costumes and backdrop but Sui Qian stated just to get it since it is only RM 15 per pax and we could escape the heat.
Casababa Gallery
87, Jalan Tun Tan Cheng Lock,
Taman Kota Laksamana,
75200 Melaka, Malaysia
+60 13-788 2668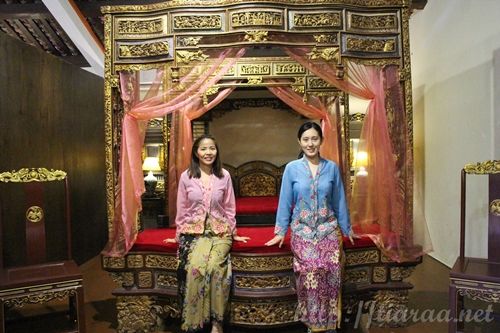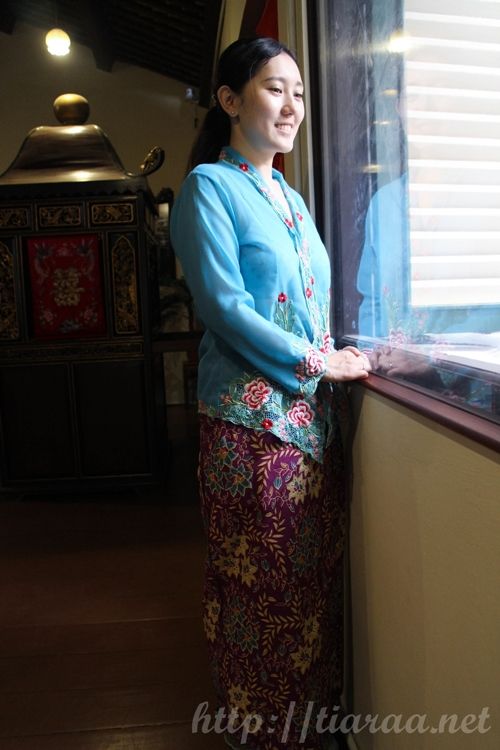 When we went upstairs, we could finally see all the outfits Casababa Gallery has and the entire Peranakan furniture that contributes to the backdrop of the photoshoot. There was already a family wearing a mix of the Chinese and Perankan traditional clothes when we went up so we browsed through the different traditional clothes and were surprised that there are even hanboks available as well. After the family has finish their photoshoot, the shop personnel helped us to match the Nyonya top with the respective Nyonya bottom and took pictures of us with the many furniture that the gallery has as shown above.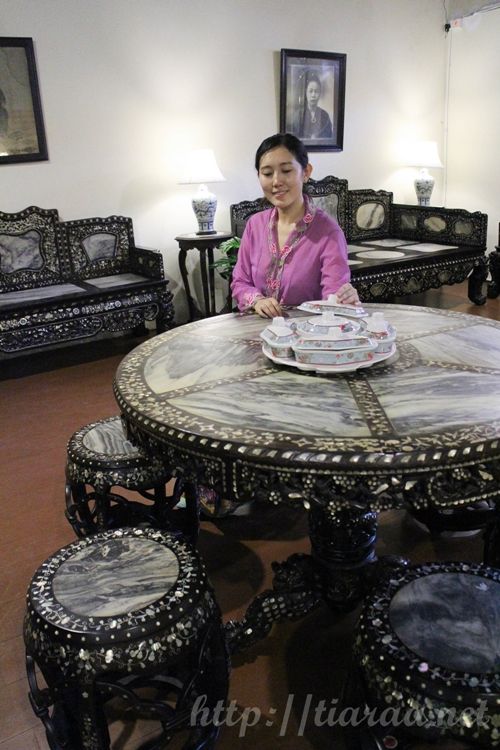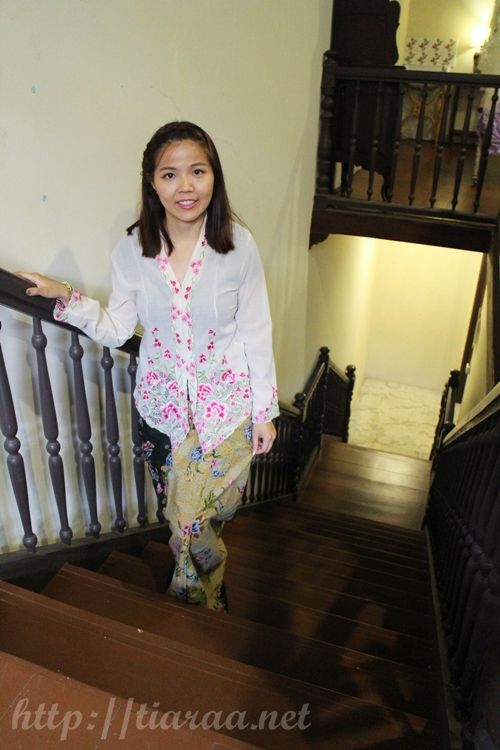 One great thing about Casababa Gallery is that they allow you to change to different outfits for an unlimited duration of time so we changed to a different color after taking some pictures with the first outfit. Nyonyas should actually have kerosangs to fasten the lapels of the kebaya but since the gallery did not offer that, we looked like common Nyonya ladies. Nyonyas should also have their hair bun up and can only let their hair down at night. In the olden days, being a Nyonya is not always sugar spice and everything nice as unmarried women are not allowed to be seen or cannot socialize with men. They are often kept at home and can only see visitors via the hole at the second level of the home. The prerequisites for women to get married is being able to cook, sew, bead and embroidery. This will be further judged by the mother of the prospective husband. This is just a sneak preview of a Nyonya in the olden days. I am not sure how will I keep up being a Nyonya during those times, laughs!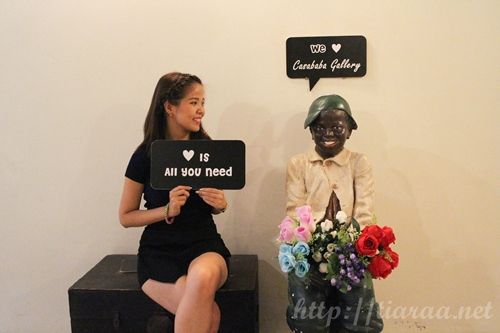 However, you are not allowed to wear the traditional outfits downstairs but there are still more backdrops to take photos with there. After hours at Casababa Gallery, I also realized that Casababa Gallery is the place I introduced to Sui Qian way before the trip but totally forgot about it.
PAYMENT METHODS: CASH ONLY!
OPENS DAILY EXCEPT FOR WEDNESDAY: 10AM-6PM
As I love trying out traditional clothes from different cultures, I really enjoyed the experience of wearing different colors of the Nyonya clothes without being rushed. The best thing is the shop personnel is so patient to help us snap shots at different angles and with different Peranakan furniture to give the Nyonya vibe.