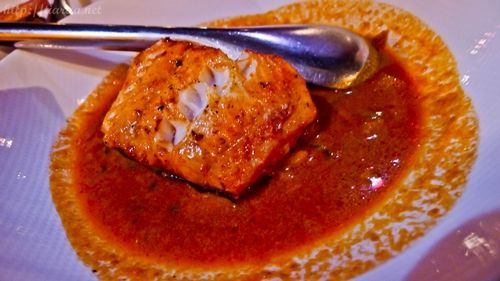 Sometime in 2012, Aldhyan introduced Gigi and I to try the signature cricket pizza at Vij's. It was quite an interesting experience dining there so I wanted Holly, Venessa and my other foodies to share the experience with me last fall. However, Theresa is not into Indian food, Venessa had exams or projects due the following day and the others were busy. In the end, only Janet, Marvin, Christopher, Holly and I went for the dinner.
Vij's
1480 W 11th Ave
Vancouver, BC
+1 604-736-6664

View Larger Map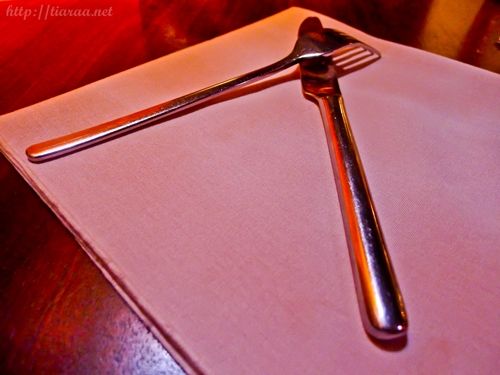 Vij's looks quite casual on the surface but it's interior is very elegant. At Vij's, no reservations can be made as you have to wait in line at the door to get a table. From the reviews online, we knew that we had to wait for 1.5-2 hours so a few of us went there 1.5 hours earlier than the time we planned to meet so that we can get a table by the time the rest of the crew arrived.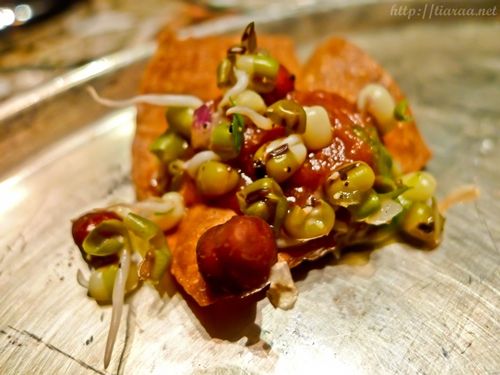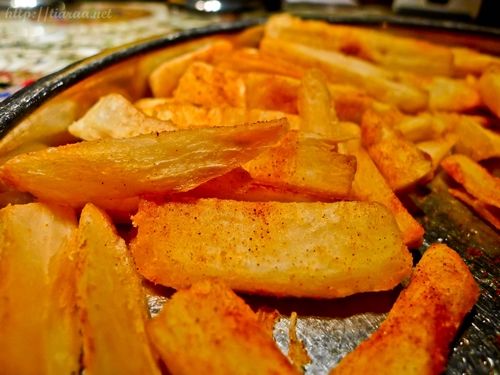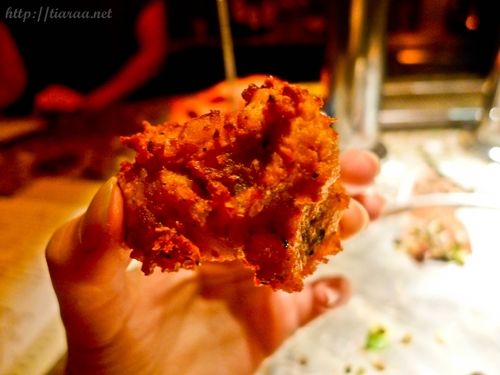 While waiting, we were given many mini food samples and chai tea offers. The first mini appetizer we had is the Papri Chaat (1st picture). It comprises of fried dough topped with chickpeas, chutney and lentils. The second complimentary appetizer is the Cassava Root (2nd picture) that is tossed in Indian Spices. The third mini appetizer is Pakora (3rd picture). All of the appetizers taste really delicious and it really anticipated me for the main course. The servers are very professional as they try to make you feel comfortable while you are waiting for hours. The overflowing of food and drinks keep you entertained and make make you forget the long wait. Soon enough, we got a table after 2 hours.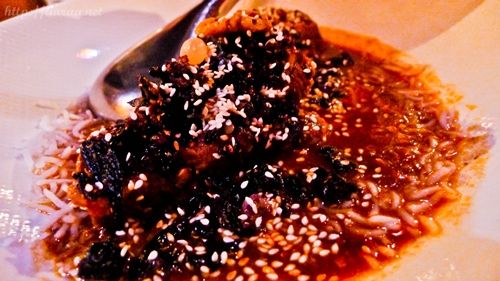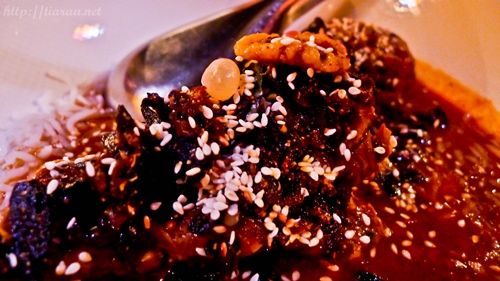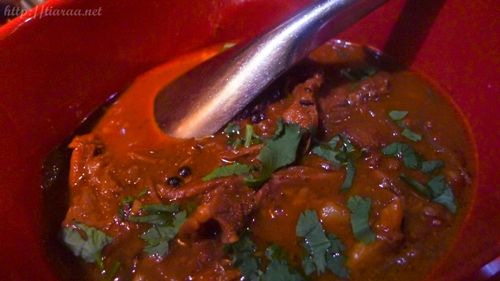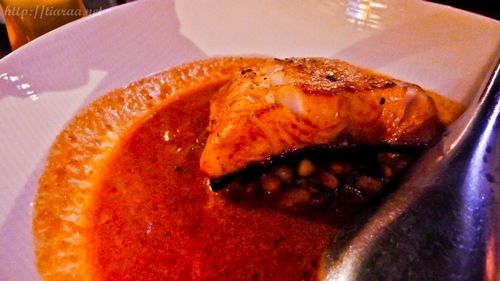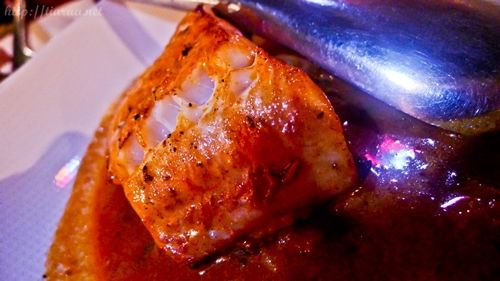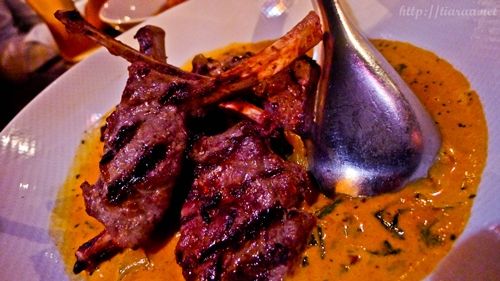 We shared a couple of dishes and the first and second pictures depict the Shortribs that costs CAD$29.75. The beef shortribs is braised and comes with charred okra, jelly beans and walnuts in tomato, yogurt and cumin curry. The shortribs fell off the bone and is very tender and the fun touch of jelly beans is very unusual but surprisingly good. According to Vij's, "jellybeans impart a delicious sweetness that acts as a palette cleanser".
Ratings: 3.5/5★
As shown in the third picture, the Goat Stew is Rajasthani styled in tomato sauce (without having a tinge of tomato), spicy and topped with mildly spiced vegetables such as green peppers, cabbage, green chili peppers, red cayenne peppers and onions. The dish is very spicy and my friends were sweating buckets consuming it. The dish costs CAD$28, which is quite overpriced for such a small meal but it is uniquely an Indian fusion meal. Not everyone is able to consume goat but this goat dish has milder flavour.
Ratings: 3.7/5★
We got the Sablefish (4th & 5th pictures) for our next dish, which is grilled and then, sauteed in onion masala. The grilled Sablefish is served in tomato-yogurt broth on navy beans. The sablefish is very fresh, flavourful and rich. It costs CAD$28.50, which is more or less the usual price of a dish there.
Ratings: 3/5★
Since there were five of us, we figured that we should order another dish so we got the Eggplant Rapini (6th picture), which costs CAD$13.50. The Eggplant Rapini is served in thick garlic and yogurt curry. As I am an eggplant lover, it is no doubt that I will enjoy this meal to the maximum but this eggplant dish is designed very meticulously. It made my eyes close and tastebuds dance at the same time. We wiped the plate clean in no time.
Ratings: 5/5★
I have saved the best for last and let me tell you that the Lamb Popsicles (last picture) BLEW my mind away. I am salivating while writing this because the lamb popiscles is THAT good! The lamb popsicles are marinated in wine and served in fenugreek curry on turmeric and spinach potatoes. Although the two male foodies were panting over the spiciness of the dish, they still continue eating it. Although the meal is a little heavy, the fenugreek curry brings out heat and flavour to the dish. This makes the lamb popsicles rich, thick and sweet without trying too hard. I do not mind coming back here for this dish despite the long wait just for the lamb popsicles! This is coming from a non-meaty person by the way.
Ratings: 6/5★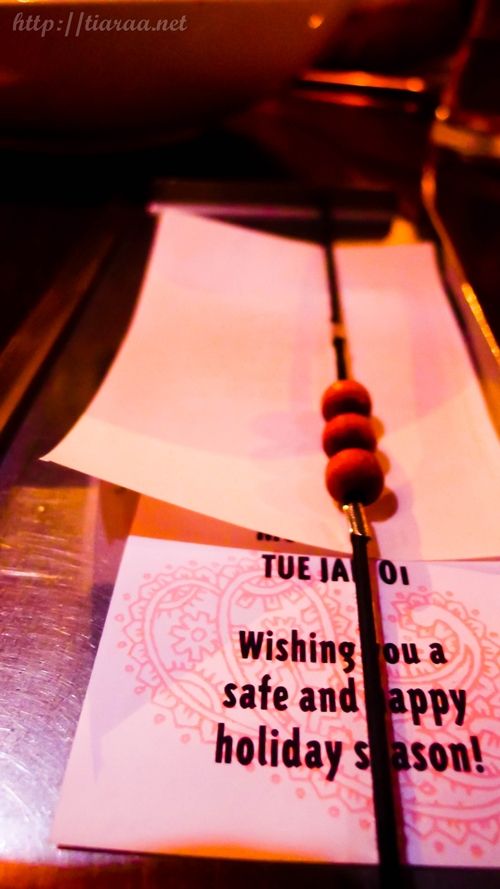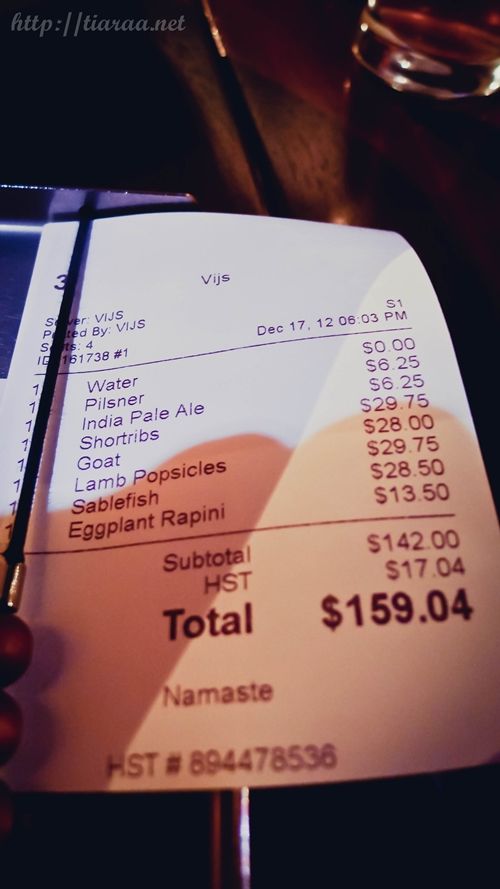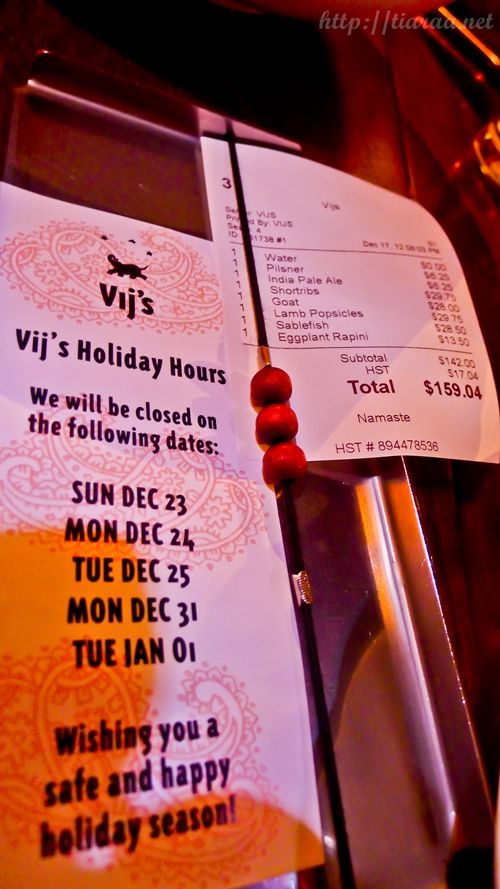 The total came up to CAD$159.04, which is quite expensive for 5 dishes but definitely worth every penny spent. We topped 15-20% for tips because of the exceptionally gracious service we have received throughout the night.
ACCEPTS CASH/CREDIT CARD/DEBIT CARD
OPENING HOURS:
Mon-Sun 5:30 pm – 10:30 pm
Ambiance: 8.5/10
Service: 9/10
Food (Taste & Appearance): 8.48/10
Value: 8/10
Total: 8.5/10★
Vij's is definitely not an authentic Indian restaurant but the dishes served have been made with tender loving care and designed very well. It gives the Modern Indian Fusion cuisine a unique image with their orgasmic taste and fragrant aroma.