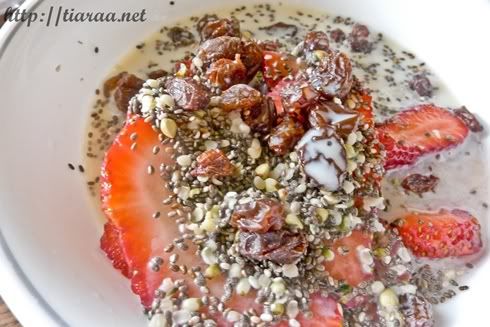 recently, i have discovered a new healthy breakfast through the eat vancouver 2011 and dragon's den via my FRE 302 class. as many of my friends already know, i am currently jogging everyday and consuming home cooked meals most of the time. therefore, i have also come up with a new healthy breakfast to share. i would like to introduce 2 products to you today.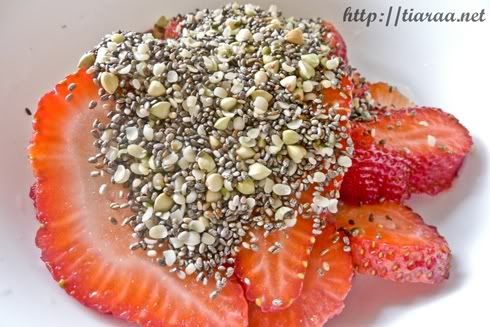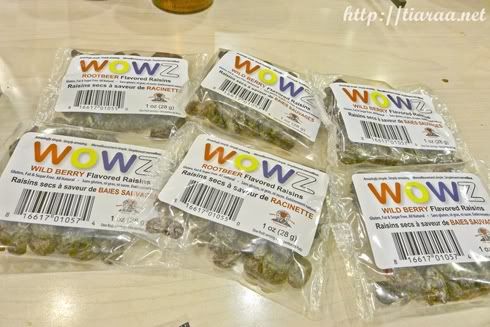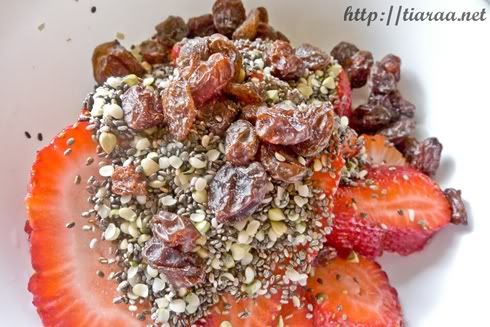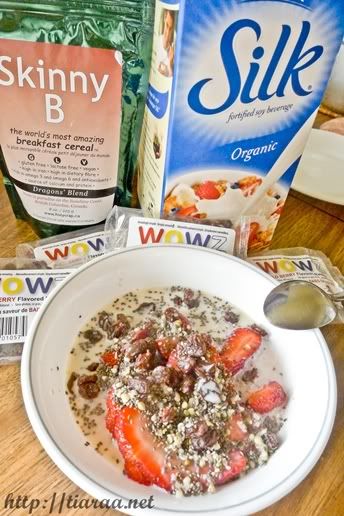 1st picture –  slice your fresh strawberries or any kind of berries or fruits you desire.
p/s: strawberries have significant amount of fiber and vitamin c.
2nd picture – add 2-3 tablespoons of holy crap or skinny b cereals.
i have no idea why my classmates do not like it but i enjoy eating it both when it is crunchy and when it absorbs the milk and is gelatinous.
holy crap/skinny b cereals is a new type of product that can be found in IGA, choices, capers, drive organics and a few other grocery stores that caters to organic or healthy products. it is gluten free, lactose free, nut free and sugar free. for more information regarding it, view the video below. since it is raw, is it definitely natural. also, the cereals are organic but it is not genetically modified.
3rd picture & 4th pictures – add raisins. what i added were wowz wildberry raisins that i got from eat vancouver 2011. even though the raisins are not made locally (made in cody, wyoming), it is GMO free, sugar free, gluten free and natural. they even have raisins catered to the diabetics and other flavors such as rootbeer, mango, sour apple, cinnamon, cherry and  licorice. i purchased the rootbeer as well but i will input everything under the food festival 2011 entry when i have the time to.
5th picture – pour  milk or in my case, silk soy milk to the amount you want to.
YOUR CEREAL IS READY TO BE SERVE !
feel free to add nuts or other fruits you may like to.
for me, this is a really healthy breakfast as it does not consist lots of sugar and has lots of fibres and vitamins involved. something i usually lack when i dine out. i hope this is helpful for you ^^
swisscheese*