Need to be heard by major companies? Share your feedback by clicking here today !
oscar, kenny, jack and i settled at the holiday inn in west kelowna the night before as all bed and breakfast were filled and there were no inns or motels since we were in the city. one bed and breakfast was even preparing to host a wedding for the day after. the decorations were movie themed and such. anyways, we woke up from holiday inn, packed our bags and went straight to cherry pit restaurant for breakfast.

cherry pit restaurant
2565 Highway 97
Central Okanagan H, BC V4T
[can't find map of cherry pit]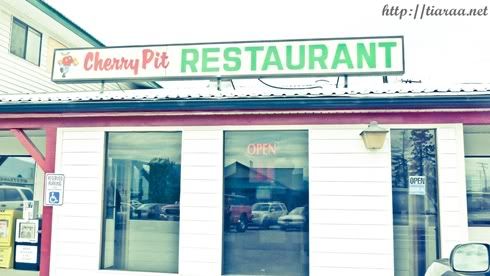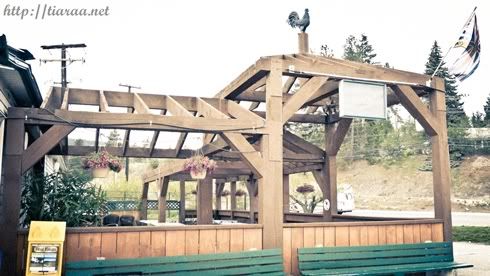 i was asking oscar how did he know that such a restaurant is good and he responded that he was walking around in the morning and saw many people lining up for seats. great observation indeed ! the restaurant is pretty neat and we were greeted by friendly servers. they even told us how the hash brows were made and such. when we left however, i found some servers really rude when i dropped one of my stuff.
BEVERAGES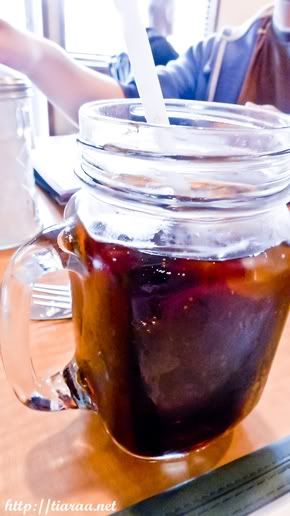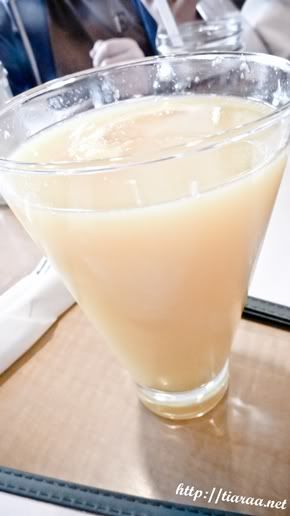 1st picture – one of the guys ordered coke, which was placed in a petite jar. i knew i just had to take photo of this the moment i saw it ! major cuteness !! isn't it just like the drinks in montana's ?
2nd picture – i ordered orange juice as it is my essential vitamin C that i was lacking from the trip. unlike other restaurants that served soda or sweetened orange juices that taste artificial, the orange juice turns out to be freshly squeezed orange ! for a brightly colored healthy juice to brightened your life for the rest of the day, what more can you ask for ?
ratings: 5/5★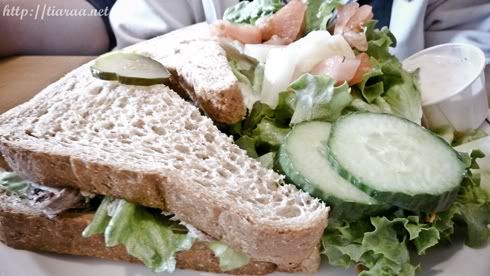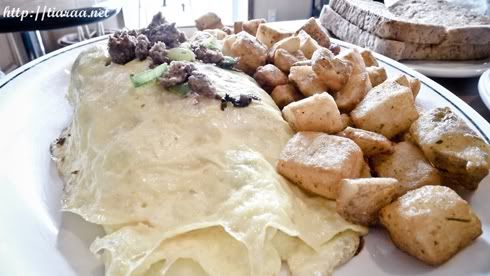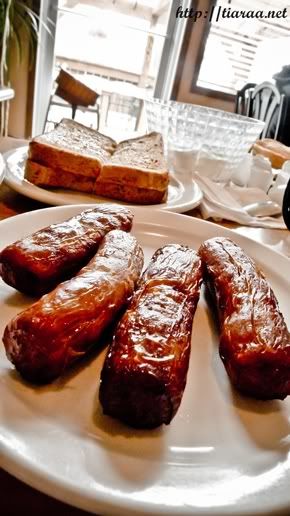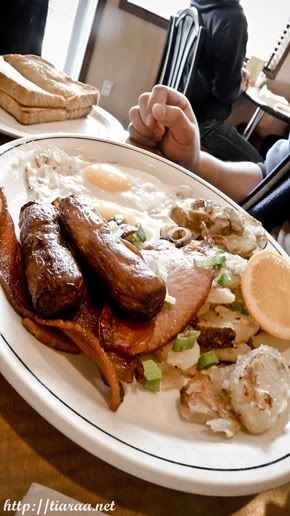 1st picture – kenny and i were fighting to get the lazy man eggs benedict and i ended up getting it. sad to say, i always remember to take down the costs of everyone's meals except mine. the scrumptious eggs benedict that i had consists of  bacon and poached eggs topped with hollandaise sauce with two halves of an english muffin on the side along with a slice of orange. the hashbrow is not oily and the bacon does not taste salty like other restaurants. this restaurant really emphasizes on homemade food instead of the typical commercialized breakfast served elsewhere.
ratings: 4.5/5★
2nd picture – jack had the roast beef sandwich, which is worth CAN$8.50. it is sliced roast beef served with dijon mustard lettuce and mayonnaise. jack was speechless when he ate the sandwich and he found it good.
3rd and 4th pictures - after debating on whether to get the lazy man eggs benedict and texas omelette (CAN$9.95), kenny decided to get the texas omelette instead. the texas omelette comprised of ground beef sauteed with onions, peppers, tomatoes, salsa with cheese. according to kenny, the sausage is not salty and is one of the best in the world but it differs from germany sausage. kenny also stated that he loves the ground beef cheddar cheese in omelette as it is a really nice omelette.
5th picture – oscar, being the famished guy that he is, got the hungry man 1, 2, 3. it costs him CAN$10.95 and the meal has 2 sunny side ups, potatoes, 1 ham steak, 2 breakfast sausage, and 3 bacons. oscar could not tell what the aroma of the potatoes was but he said that it is really good. he asked the server how the potatoes were made and she cooperatively told us that they usually bake, slice and grill the potatoes so that it will be fresh and healthy for the consumers. also, the bacon is homemade ! it is amazing how this restaurant can make the bacon taste smoky but not salty.
ACCEPTS CASH/CREDIT/DEBIT CARD
ambiance: 8/10
service: 7.5/10
food (taste & appearance): 9.5/10
value: 10/10
total: 8.75/10★
in conclusion, this is one family restaurant you do not wanna miss at the west bank !

swisscheese*