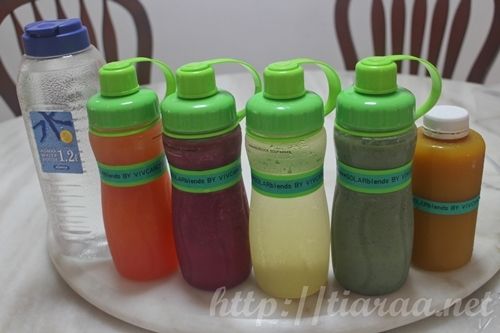 It has been 1 year and 5 months since I last did my juice cleanse and since I was feeling so easily fatigue and felt the need to freshen up and use this method to lead a healthier life, I decided to go on another juice cleanse. I could have easily got discounts or groupons and get my juice package from HIC Juice or Beauty Cleanse again but I wanted something more personal and customized so I approached my raw food mentor, who is also a smoothie/juice cleanse consultant.
Wholelife Consultancy
I attended practically all Vivienne's raw food pantry classes last year but did not have a chance this year as I was so busy traveling and had too many errands to run, especially with the change of jobs almost 3 months ago. So I have been on an on and off contact basis with Vivienne this year. I wanted to do a cleanse earlier but I got carried away while messaging her halfway. She would also teach me what to eat when I felt I was going to be sick and I ended up being fine after. This time, I felt the need for a thorough cleanse so I approached her and went to her home for a pre-cleanse consultation.
Pre-Cleanse Consultation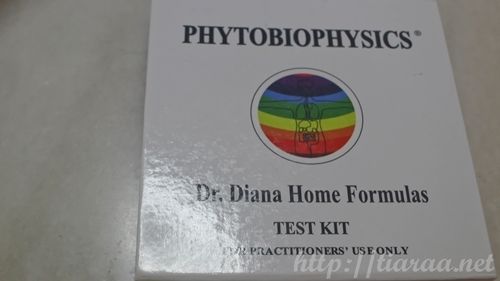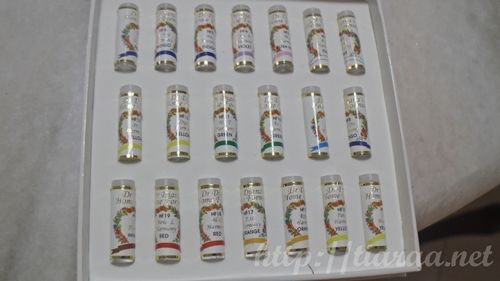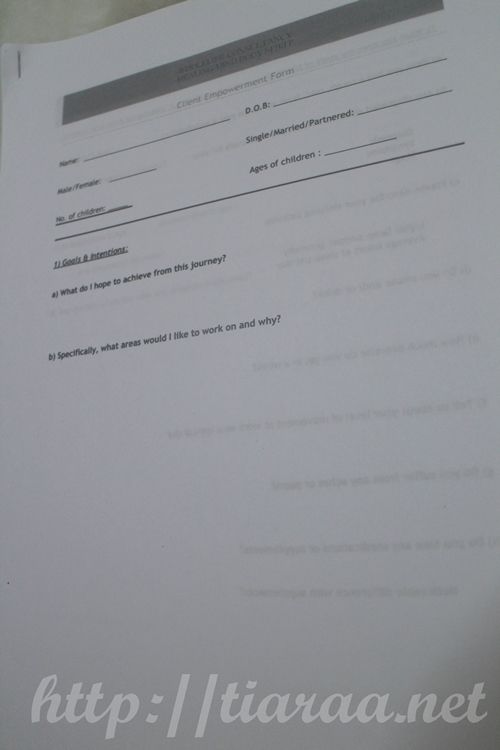 I was so happy seeing Vivienne after I have not seen her for such a long time. She sat me down and made me fill in the questionnaire as seen in the 5th picture. The questionnaire had quite a lot to fill in such as your eating habits, level of physical activity per week, family medical history and such. What I love about  Vivienne's cleanse is the fact that she will not sell you a juice cleanse package without providing you with a consultation unless you had it with her within three months. Also, during the consultation, she will check if you are ready for the cleanse. If not, you have to wait for about 1-2 weeks until you are ready to do the cleanse in order to do it. Meanwhile doing the questionnaire, she also gave me a glass of smoothie called the GreenLife, which comprises of 25% organic greens, in base of apples, pears, bananas and guavas. The juice was so refreshing and I even had a second cup of it after. I had a mango prior to my arrival at Vivienne's home so I was already on a 50% juice cleanse that day.
After filling up the entire form, Vivienne did a muscle assessment test in order to test my heartlock. She took out her phytobiophysics kit as seen in the first, second and third pictures above. In order to do the electrical muscle test, she had to use one hand to focus attention on gently touching some parts of my body. The other hand is used to press down on one of my outstretched arm to test the strength of my deltoid muscle while either asking me to repeat the sentence she just stated or by touching the remedies in the phytobiophysics kit. For example, she first instructed me to say "I love my family". While I was saying it, she will gently press down on my outstreched hand and asked me to resist her. Next, she asked me to repeat "I love my job" and press down on my outstretched hand as well. From there, she can tell if I am telling the truth when saying these sentences or whether these factors are causing me pain by the way I resist. My next test was touching each of the remedy in the kit while she pressed down on my outstretched arm to see which remedy I needed the most. Each remedy is essential to a system/organ in the body.
From the test, she could tell that I needed HF13 the most. It is funny how she could tell that I was attracted to yellow that day as I was wearing a yellow dress, I drank warm freshly squeezed lemon water and ate mango before I came over. If you see the phytobiophysics kit clearly, there is an illustration on the wide spectrum of energy, whereby white light splits into the rainbow. Since yellow fell into the low frequency earth colors, it is the color of the mental journey. I will elaborate more about HF13 in my maintenance cleanse entry the next time as I did not manage to consume HF13 during my entire juice cleanse. Vivienne also stated that while she was doing the test on me, it indicated that I was not doing well in my digestive area. True enough, I have not been able to poop for a few days despite consuming so much fruits. Vivienne could actually tell when I first came in because of the yellow issues and also because my face looked bloated. You may think how can something such as color play a part in indicating about health? Well, yellow stimulates the digestive system, liver and stomach and this explains why HF13 will be able to balance the pancreas, kidneys, adrenal glands and skin, which I will talk more about in my next entry.
For my heartlock test, it also indicated that my pulmonary is not doing well because my stomach is not as strong due to stress. Thus, I feel the bloatedness and not being able to have any bowel movements for a few days. My aortic side was also a little down possibly due to interference from my braces. Tricuspid was fine but mitral was slightly off. For those who do not know much about the heartlock test, here is a summarized version of it - Usually, the tricuspid represents male energy, fatherhood and betrayal. Mitral symbolizes emotional crisis and motherhood. Pulmonary is related to youth, rejection, bitterness and breathing and aortic shows babyhood, teeth, bereavement and loneliness. I hope this clarifies it better but in order to know which part you are weak in, it is better to be tested for it.
Regarding my journey, Vivienne asked me for my age. Afterwhich, she divided my age by 4 so that she can measure my life in 4 quadrants. Since I am currently 28, each quadrant will be 7 years. According to the test, Vivienne stated that the first quadrant of my life was very traumatic but it got better since the third quadrant onwards. I agree that this is very true as I hated most of my childhood life very much.
So according to all my tests outcomes, Vivienne could customize a cleanse for me. It was the 3rd of October when I visited her for a consultation and there were 4 days (including that day) to go before I did the cleanse. On that day, Vivienne encouraged me to take a cup of isotonix (last picture), which is a vitamin supplement needed to be absorbed into my body quickly. She also added the vitamineral green powder (last picture) into my juices/smoothies in order to nourish my body. Lastly, she gave me a couple of Naturext Probiotics 50B (last picture) sachets so that I can take it every night before my cleanse as I need good bacteria to outweigh the bad bacteria in my body. This helped me a lot in moving my bowels as I was able to start pooping on a daily basis starting the day itself!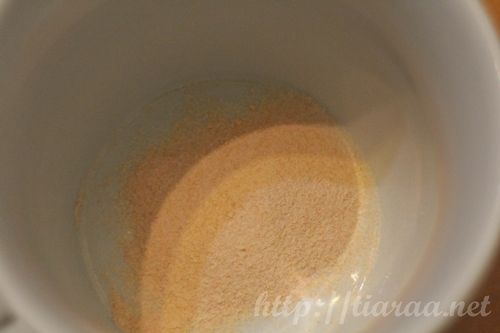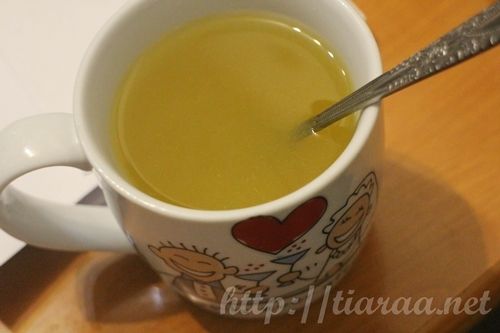 The above pictures show how I took my probiotics every night and it really helped me a lot! My pre-cleanse was better than last year as I did not binge as much and I went mostly raw or vegetarian as much as I could except for Monday night, where my girlfriends and I surprised our friend for her mini bridal shower. I went all vegetarian on Tuesday, the day before the cleanse.
Day 1 of Juice/Smoothie Cleanse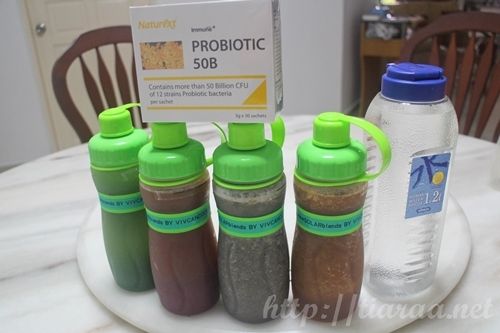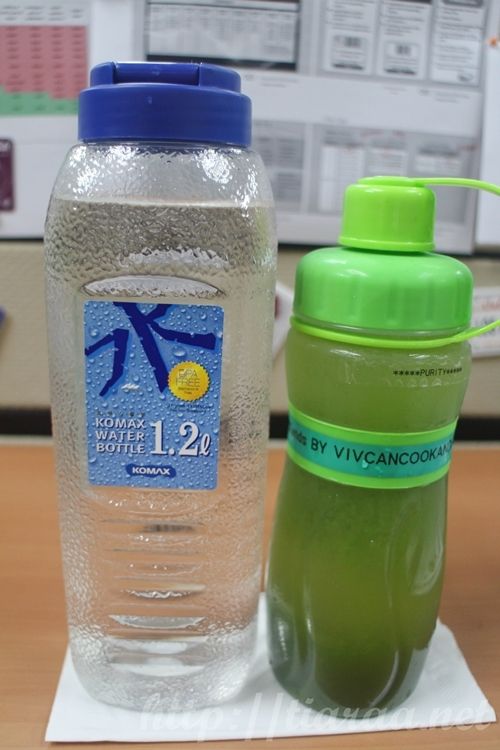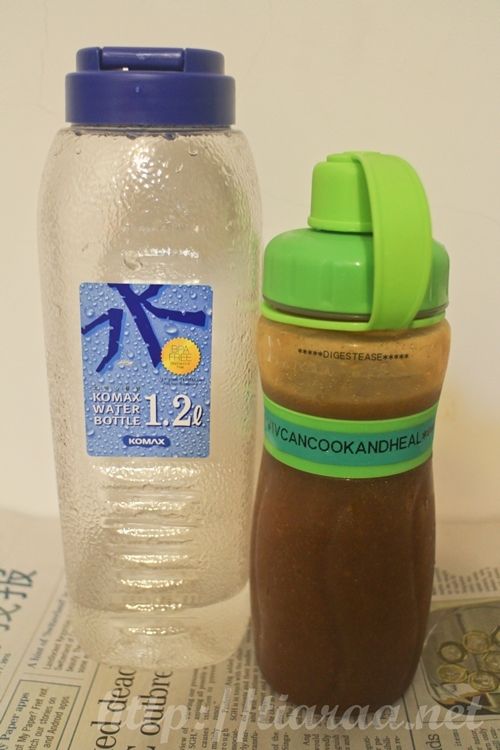 The first day of my cleanse started on a Wednesday! I woke up early in the morning and drank my warm lemon water before heading to Vivienne's home to collect the smoothies and check in with her for a bit. I also got 1.2L of kangen water from her so that I can calculate my water intake throughout the day. When drinking juices/smoothies, water consumption is also very important in order to expel everything out. I also bought a box of probiotics from Vivienne as it helped me with my bowel movements. I started the cleanse only after having my morning bowel movements in the office. First, I went ahead with the "Purity" juice as seen in the second picture, which comprises of red apple, pineapple, English parsley, cucumber and wheatgrass. I finish drinking it in an hour. Not everyone could take wheatgrass as they may feel dizzy after consuming some of it. Vivienne kept checking in with me on this but there were no signs of dizziness. Next, I had the "Kidney Flush" (third picture) for lunch after an hour of completing "Purity". "Kidney Flush" was a cooling juice, which consists of mint leaves, watermelon and mint essential oil. This helped me with my throat, especially with the haze going on strong! At about 3pm, I started on the "Green Warrior" (forth picture) and this was my favourite smoothie from this cleanse! The smoothie has ingredients such as Malaysian bananas, US blueberries, green apple, passionfruit and sweet caixin. The reason why the smoothie is quite dark is due to the US blueberries. Since the "Green Warrior" is a smoothie and has thicker consistency, it is a lot more filling than the juices I had in the morning. Thus, I managed to save the forth bottle for "dinner" after work. The last smoothie is none other than "Digest Ease", which is made up of Malaysian papaya, Thai basil, Malaysian peppermint, US kangen water and Thai longan honey. Again, I ended the day with probiotics mixed with water. I felt that the first day of cleanse was great! I managed to excrete healthy poop two more times after my morning poop. Moreover, I went to the washroom many times to excrete urine. This is essential in detoxification. For the sequence in consuming juices/smoothies, it is important to drink juices before smoothies first as it is the most thinning for your blood. While drinking juices/smoothies, you must chew your juices/smoothie instead of gulping it down. If you find your juices/smoothies too concentrated, always drink water in between consuming your juices as this helps to expel the output better.
Day 2 of Juice/Smoothie Cleanse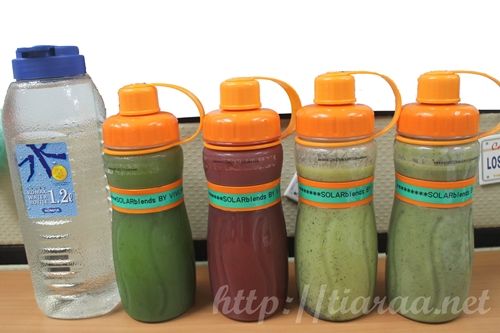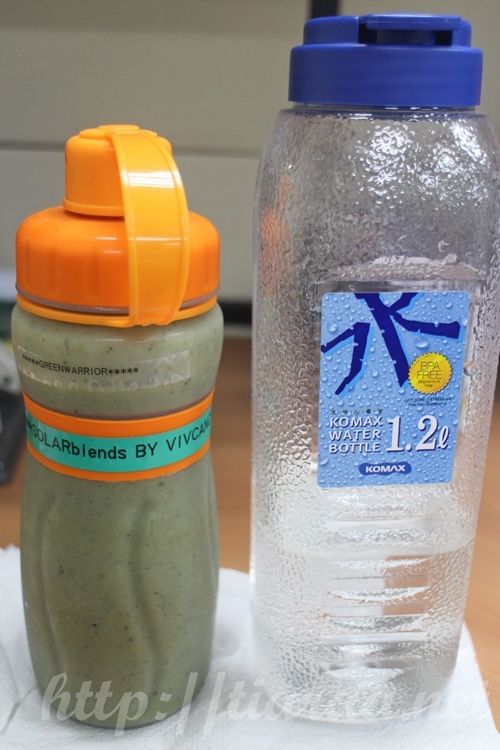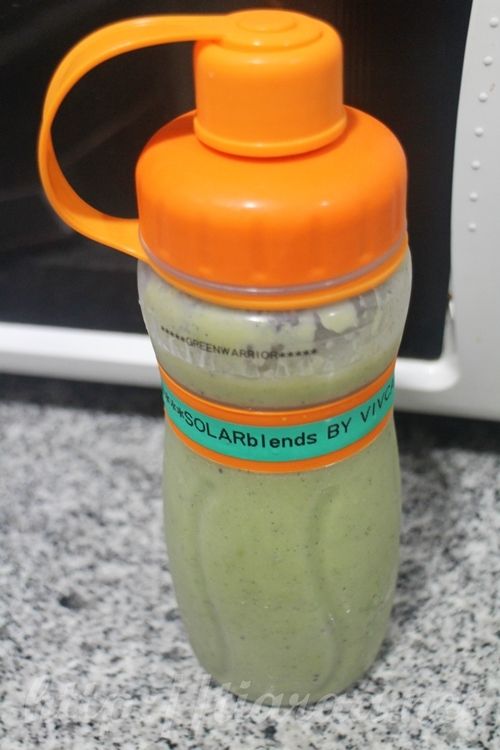 The second day of the juice cleanse was practically the same except that I had two "Green Warrior" bottles instead of the "Digest East". I would gladly trade anything for "Green Warrior" anytime! Again, I managed to expel healthy poop twice that day! On the second day however, I had ulcers due to my braces and had slight sore throat. Vivienne explained that when you detox, your last known illness will be first to come out and this can be further elaborated with the Hering's Law of Cure. Although there were signs of ulcers and sorethroat, I felt very alert during work. This is a positive effect of detoxing!
Day 3 of Juice/Smoothie Cleanse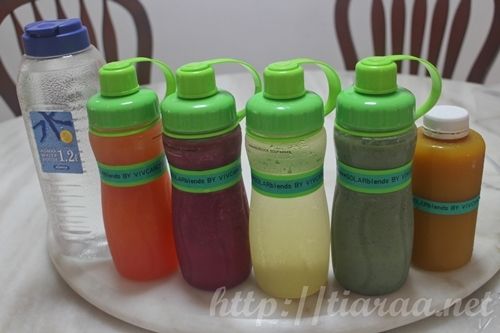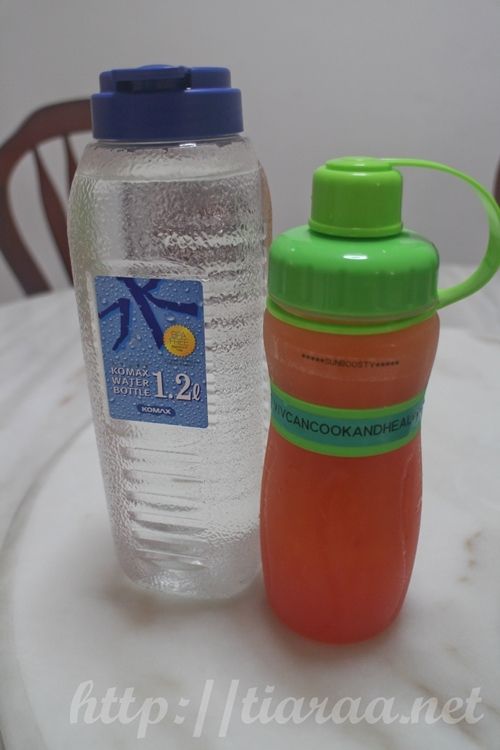 The last day of the cleanse was quite unusual. Sweet Vivienne had a bonus bottle of smoothie for me and that is none other than my favourite "Green Warrior". Other clients can get it for an additional $10. I started out with "SunboostV" (second picture), which tastes like heaven! Since oranges were in season during that period, the juice was made up of mandarin orange, wild orange essential oils, blood oranges, grapefruit, pineapple juice, kalamansi lime and lemon. I totally forgot to go in sequence of my juices and had "PinkofHealth" (third picture) during lunch when it was supposed to be the last smoothie to drink. This smoothie is my second favourite part of the cleanse as it comprises of Vietnamese red dragonfruit, medjool dates, Malaysian bananas, rose water and kangen water. If you did not already know, your sense of smell sharpens during the cleanse. All my colleagues were consuming my favourite nasi biryani, while I was consuming my smoothie. I was very thankful I did not succumb to temptations though! I had "LiverAid" (forth picture) at around 4pm but that was the hardest drink to swallow as it is made up of the juice of fresh turmeric, pink Himalayan salt, longan honey and kangen water. Although it is best to complete a bottle of juice in one hour, I took about 3 hours to finish this because it is not to my liking. It was 7pm when I finish the "LiverAid" so I knew I will not be able to drink the bonus bottle on that day and decided to have it in my post-cleanse the next day. I had the last bottle at around 8ish that evening, which is the "Burdock Soup" consisting of coriander, daikon, shitake mushroom, kangen water, pink Himalayan salt, carrots and needless to say burdock. Although this bottle tastes like an ordinary soup, it was blended, not cooked. Thus, Vivienne encouraged me to drink this chilled or at room temperature without heating it up as the enzymes will be killed once the soup is heated up. Again, this is not my favourite drink as I am a sweet-tooth lover. However, I still managed to finish it within an hour. The taste is exactly like a soup but without the oil. Vivienne explained that since it was the last day of cleansing, the mix will be more herbal to get the body to detox better and it also helps with blood cleansing. It is also a little different because the body will have to transition to post-cleanse the next day. I found this cleanse very different from the juice cleanse sold outside as most of the smoothies/juices made elsewhere are all sweet flavours but there are all sorts of flavours in Vivienne's juices/smoothies!
At night, Vivienne congratulated me for completing my 3 days juice cleanse without having any solid food. I would have 5 days of juice cleanse if it was not for my business trip 3 days later. I felt a lot lighter due to the excretion of urine and poop, less bloated and more alert during work. This year's cleanse was also a lot more enlightening than my previous cleanse with Beauty Cleanse because I could check in with Vivienne anytime via whatsapp and I had my answers immediately after I made my enquiries. She was there to provide me with support, encouragement, advices and love when I needed it the most because it is not easy doing a juice cleanse and even more so in Asia.
Day 1 of Post Cleanse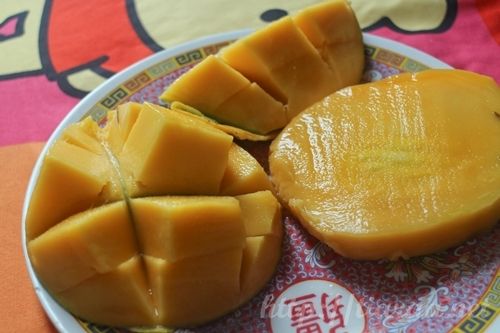 I woke up very early on the first day of post-cleanse to head to the dentist for my monthly braces tightening. Of course, I never forget my warm lemon water before heading out. I was starving by the time I reached the dentist so I went to purchase a Thai coconut to keep me full until I reach home after the visit. Once I arrived home, I immediately drank my bonus "Green Warrior" smoothie within an hour as depicted in my first picture. I stayed home the entire day as I need to recuperate from the fatigueness I felt the past few days due to my cleanse. I was aching all over and Vivienne told me it is because when we detox, the body starts to feel very fatigue, which is why we need to go for a massage during detoxification. However, I did not have the time to do it as I just wanted to stay home all day, especially with the bad haze around. So once I got hungry again, I ate mango (second picture) and I had a bowl of corn and vegetable soup (third picture) twice when I was hungry during the afternoon and evening.
Day 2 of Post Cleanse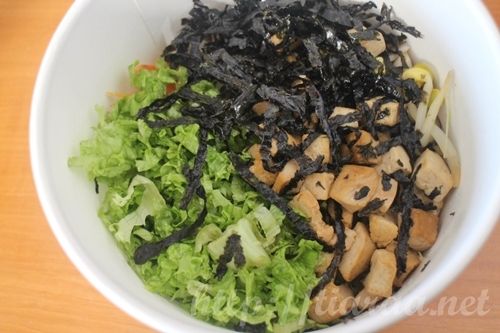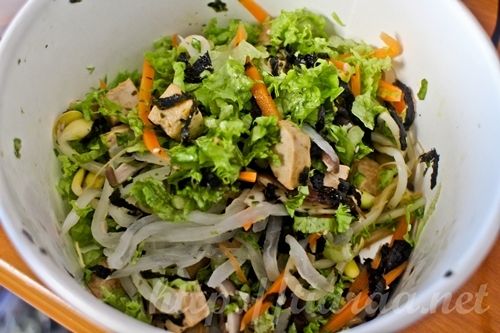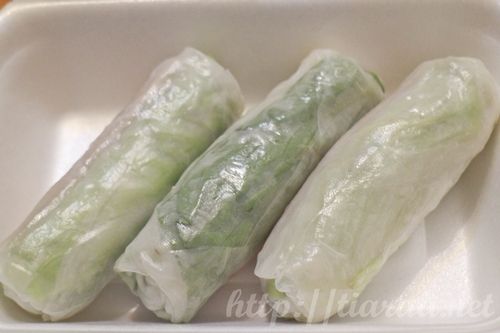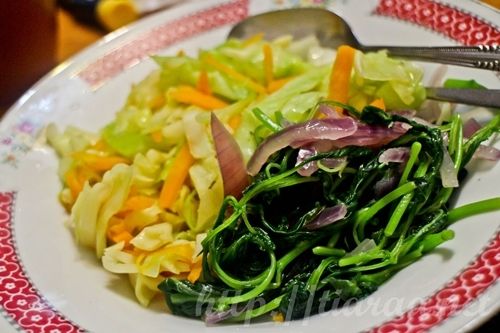 On my second day of post cleanse, I had warm lemon water before a family brunch with my relatives from Jakarta and intimate family. Since they were having dim sum for brunch, I had no choice but to consume the only vegetable dish they ordered. People who are Asians should know that it is not easy doing a juice cleanse in an Asian family as your relatives will be feeding you fat as this is the way they show love. It was very hard for me to reject my grandma, grandaunt, cousins and aunt when they brought so much food from Jakarta only to find out that I was on a cleanse and am unable to consume it until I am back from my business trip the following week. However, we must not break our principles in order to achieve our goals. Thus, I had no choice but to join family gatherings but continue on my eating habits and not submit to temptations or pressures from my relatives. On my way home from brunch, I decided to buy packed bibimbap without rice (1st & 2nd pictures) from Pak's Bibimbap at Bedok Mall so that I can consume it when I am hungry at a later time. My father brought home fresh Vietnamese rolls for me (3rd picture) in the evening, which shrimps and pork I managed to extract out. When I was hungry again, I had cabbage, carrots, onions and vegetables (last picture) for my last dish that night.
Day 3 of Post Cleanse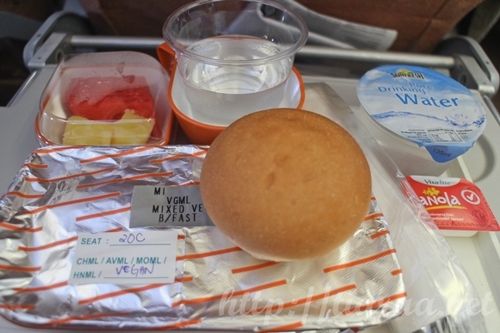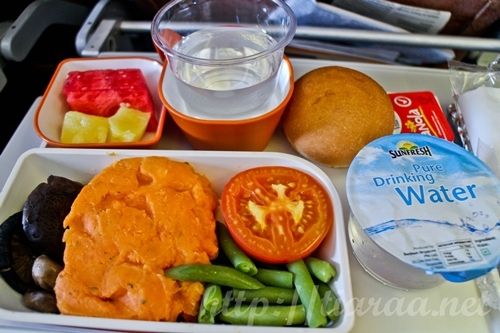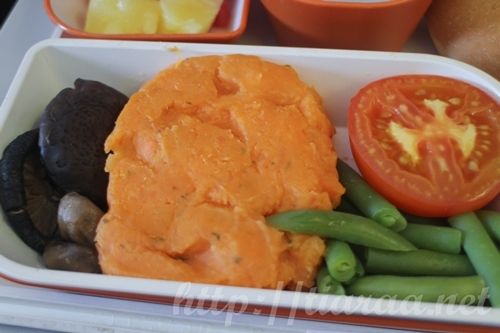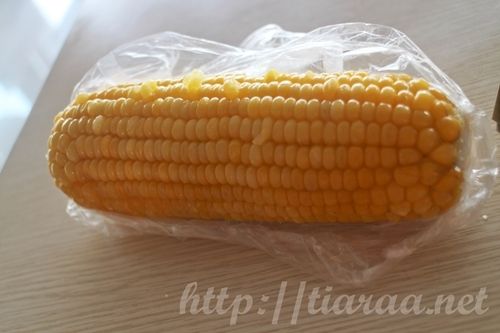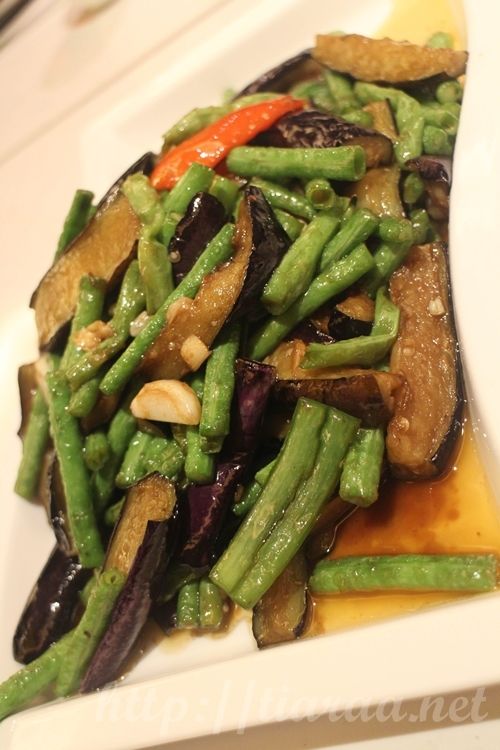 I went on a business trip on the third day of my post-cleanse. Prior to my trip, I had warm lemon water and 2 mangoes at different times – Once at home and another at the airport. As my flight was at 9AM-2PM flying from Singapore to Wuhan, I ate cooked vegetarian meal (1st-3rd pictures) during my flight. Thankfully, I made the changes to my meal choices for the flight on Saturday as many Indian passengers asked for vegetarian food onboard but the crew stated that it has to be requested before boarding the plane. So what I had was mashed sweet potato, long beans, tomatoes and mushrooms for my main dish and watermelons and pineapples for my sides. I did not consume the bun but I had packet nuts from the crew, which includes green peas, broad beans, peanuts, wheat flour, chili powder, vegetable oil, salt and food coloring. The packet stated that there is no MSG in this packet and it is suitable for vegetarian. I landed at Wuhan International airport at 2:05PM but by the time I got out of immigration, collected my luggage and bought a local SIM card with data plan, it was already 3PM. The driver brought me to his car and our 2 hour journey from Wuhan to Huangshi began. I was starving halfway through the journey so the driver brought me to a convenience stall to buy corn (4th picture). However, he also got me a rice dumpling and it had a bit of meat inside. Out of gratitude, I ate the entire rice dumpling even though I wanted to continue my post-cleanse being vegetarian for awhile. As I have not ate meat and rice for 5 days, I felt very bloated for a few hours after consuming the dumpling. This is because our body is not designed to consume so much food. The rice will be harder to digest and we can feel the effects even more, especially after going through a cleanse. When I arrived at the hotel at 5PM, I immediately took the time to clear my emails for quite some time. Around 7:30PM, I decided to have dinner at the Chinese restaurant in the hotel because the other two restaurants were serving buffet while the lobby lounge is very quiet at night. The long bean and eggplants (last picture) served at the restaurant is very oily though. I could not finish it and had no choice but to order a bowl of assorted mushroom soup, which is so much more soothing to the throat. I ended my night with probiotics as usual.
Day 4 of Post Cleanse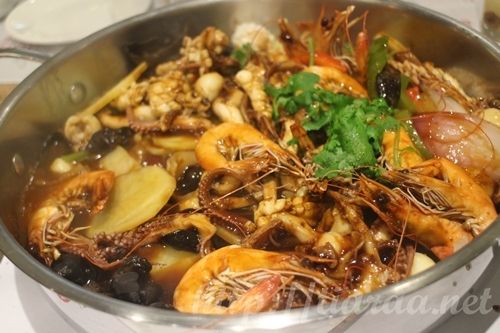 On the forth day of my post cleanse, I woke up at 5:30AM to clear my emails but of course, I will never forget my daily regime by drinking warm lemon water and green powdered drink along the way. As the server for my VPN is slow, I was taking until 8:30AM to be done with my emails. I showered soon after and rushed to the breakfast buffet to have pomelo and dragonfruit. I managed to grab the banana and pineapple bun to bring it to work as work starts at 9AM. After Nickly settled me in a room to clear my emails for an hour before training, I was still a little hungry so I had the pineapple bun. I could not consume the banana as it does not have black dots on it, which will be better to eat when fully ripen. I decided to wait a day or two to have it. In every company that has a factory in China, lunch is provided for free so I had delicious healthy homemade lunch as seen in the first picture. There are lots of seasonal vegetables incorporated in the dishes and the food is not as oily as outside. You can opt out of having rice but I did not know that until I saw Nickly not taking that bowl of rice. People in China eat at a quick pace though! I do not usually eat fast as I take my time to chew and swallow my food. I was surprised to see everyone leaving so fast and soon,it was only Nickly and I present in the canteen. I felt bad making her wait for me but she was so sweet. It is better to consume the food at a slower pace though so that you will know when you are exactly full. Between lunch and dinner, I was quite full so I did not eat much but Nickly offered me a white chocolate waffle biscuit so I ate it. After work, Nickly and Betty brought me to have hotpot (second picture) so I ate way more than I did for the past week. I chose seafood instead of meat as it is best to delay the consumption of meat and it is better to start with seafood than meat post-cleanse. Head back to the hotel after buying fruits to take my probiotics and have an early night. Although Vivienne suggested that I can start having meat the day before, I can officially announce that I broke my post cleanse vegetarian diet on this day. I still try my best to consume more fruits and vegetables whenever I am alone or whenever I can.
Day 5 of Post Cleanse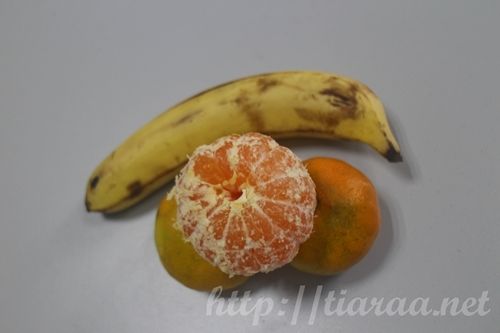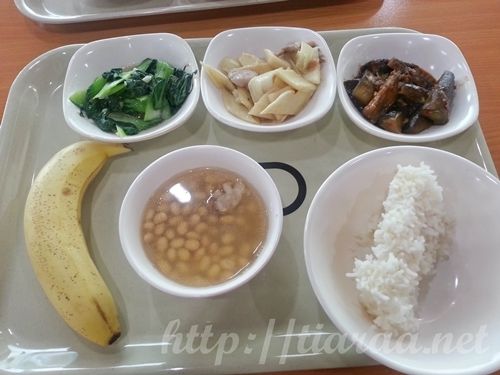 I did not manage to even have a sneak peak of the breakfast buffet on this day as I woke up at 6AM to hit the gym. So I just grabbed the oranges I bought the day before and the banana I took from the buffet the previous day and brought it to work to eat while working (first picture). After an intensive training, it was lunch time and again, I really enjoyed the lunch (second picture) comprising of green vegetables, lotus vegetables with bits of chicken, eggplant, rice and soup with beans provided by the factory. I did not finish my rice because I was too full! In between lunch and dinner, Nickly offered me a couple of chocolates so I ate a few and brought the rest back to Singapore. We had a lot for dinner as the HODs also came along and although lots of food were ordered, people were drinking more than eating. Since I was considered a foreign guest there, many of them started to bottoms up with me. The culture in China is very different and they can drink well. I had a couple of glasses of China white wine, Western red wine and China beer. We also went to a pub, where I snack a lot to remain sober despite the alcohol. It was quite a whacky night, where I went back to the hotel vomiting everything out! I believe my tummy was so used to the juice cleanse that they are unable to take in all the rubbish that I have just consumed.
Day 6 of Post Cleanse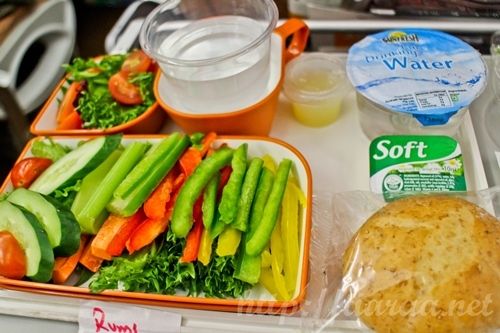 I ended up dozing off very quickly but woke up at 5AM with a little throbbing headache. Vivienne told me no matter what rubbish I have taken, I must always have my warm lemon water, green vitamineral powdered drink, juices and fruits in the morning and ending the night with probiotics and so I did! I was not very hungry in the morning though so I had only an orange and did not manage to get to the breakfast buffet. It is funny how my headache disappeared soon after going on the factory tour at work. During lunch, I had similar food as the two previous days except I did not take the bowl of rice this time as firstly, I did not want wheat in my diet and secondly, I was dining with my HOD and do not want him to be waiting for me like Nickly did the past two days. Felt so satisfied after lunch after all the nourishment! I had a couple of oranges and chocolates between lunch and dinner as I was going back to Wuhan by car for 2 hours starting 4:30PM and my flight was at 8PM so I did not have any food until dinner (picture above) was served at around 8:30PM. This time, Silkair served me raw vegan dinner and it was delicious! I ate the bun this time as I was worried that I will be hungry past midnight. When I arrived in Singapore close to 1AM, I was starving so I had Mee Rebus. I know that this is bad for supper but I was too hungry to think much. Did not finish the noodles as it will cause bloatedness. Although I still try my best to follow the healthy regime of having warm lemon water, green powdered vitamineral drink, juice and fruits in the morning before any meal, eat clean during the day and end the night with probiotics, I knew that my post-cleanse has officially ended. My goal for the juice cleanse is not for me to lose weight but rather pick up better eating habits and healthy regime and boost my health!
Travel Kit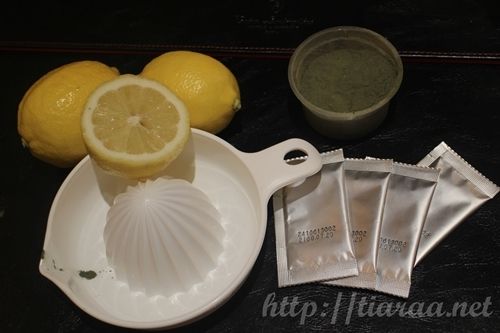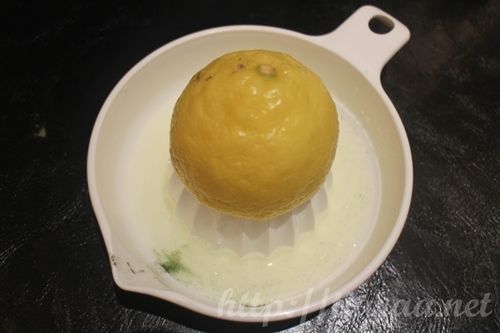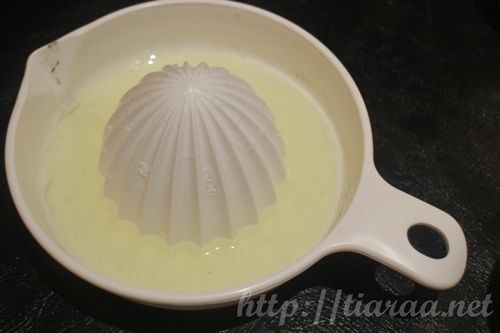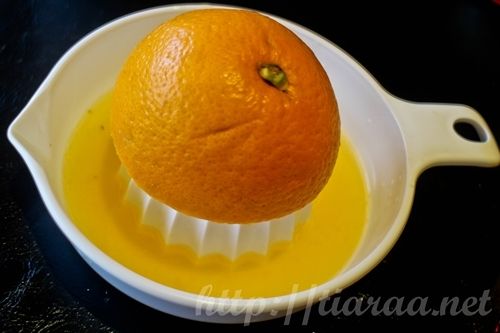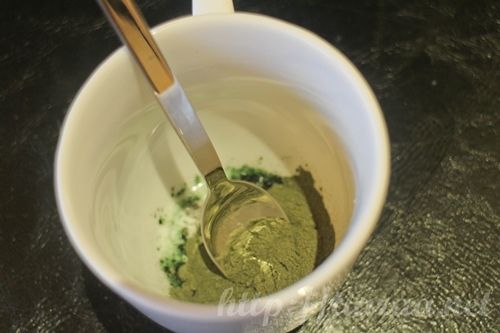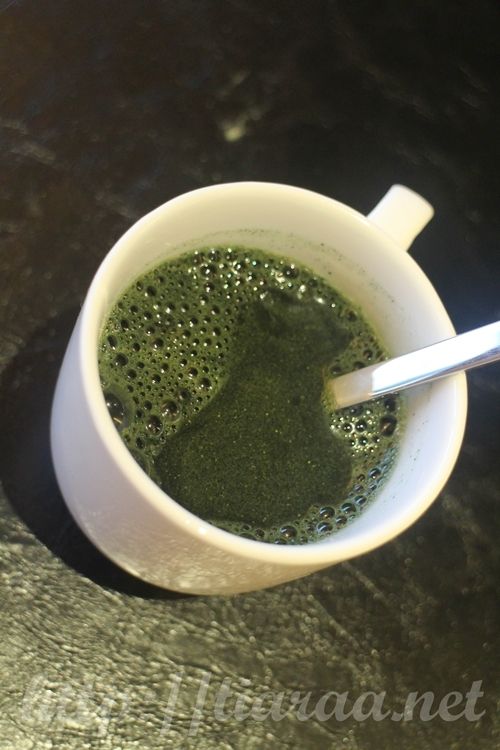 Vivienne prepared a healthy travel kit for me so that I can still do my health routine during my business trip. So my usual wake me up routine will be drinking warm freshly squeezed lemon water (1st-3rd pictures), having orange juice half an hour later (4th picture) and drinking the vitamineral green powdered drink (last two pictures) after. When I was back in Singapore though, I usually put the green powder in my orange juice. See the sachets in the first picture? I brought over my probiotics so as to consume the powdered drink before I sleep. It is always essential to do this healthy regime despite any rubbish you consume. I am glad I started on this regime as I am feeling the effects of it with less bloatedness, more excretion of waste and such.
COMING SOON: Maintenance Cleanse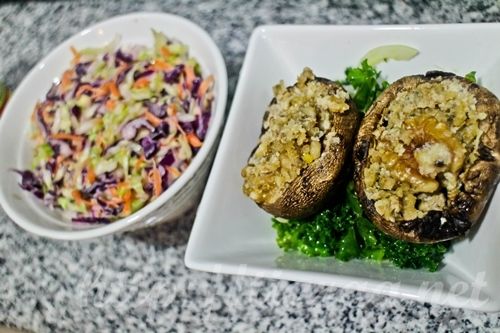 Since it still falls within the same month, I am currently on a 5 days maintainence cleanse (50% juice & 50% raw food) with Vivienne starting Monday (26th Oct) and I will update more about it after the cleanse so stay tuned!