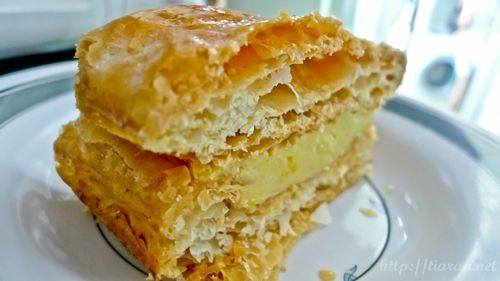 I have never heard of Ritz before until my colleagues (Cas & Kate) brought the strudel to work. After which, Hansley decided to buy the strudel and share it with us the very next day. I had a slice of strawberry strudel and I love it! So on one fine day, I decided to head to the Ritz outlet located at Katong that Hansley and Cas introduced to me.
Ritz Apple Strudel & Pastry
27 East Coast Road
Singapore
+656348 0756

View Larger Map
The outlet at Katong was quite small and seats were limited. Usually, people have the strudels at their comfortable home. However, a small handful of people will ask the person at the counter to cut the strudels into slices and devour the strudel immediately at the small little store. The person selling me is really nice and answers my never-ending question. Do take note that all strudels are HALAL so Muslims are able to consume the strudels as well.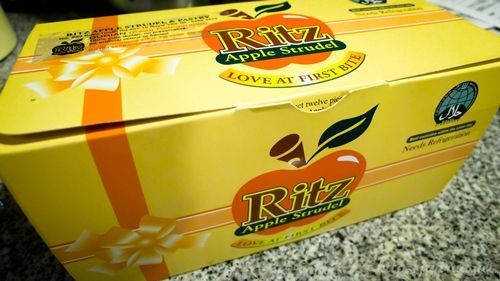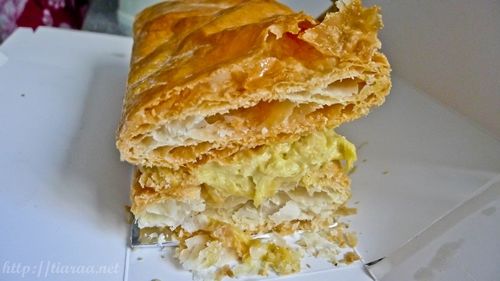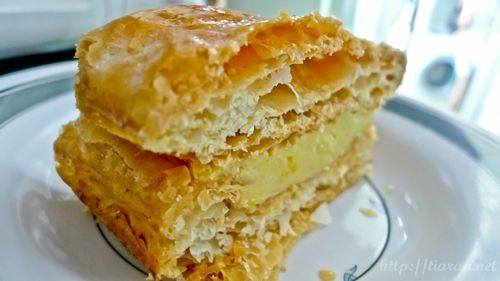 I brought home a box of 15″ Durian Full Loaf Strudel that costs SGD$28.90. As my father, Yati and I love durian, I decided to share it with them. Daddy prefers fresh durian fruit instead of all the durian pastries so he did not eat much of it. The remaining loaf was eaten by both Yati and I!! It is really addictive and I enjoyed it very much. You do not get sick even though you ate many slices of it. What I love about the strudels here is their top sugar-coated crusts – Crispy, light and not too sweet! The filling of the durian is also very generous, sweet and fresh! However, do consume the strudel within 24 hours or the durian will turn bad.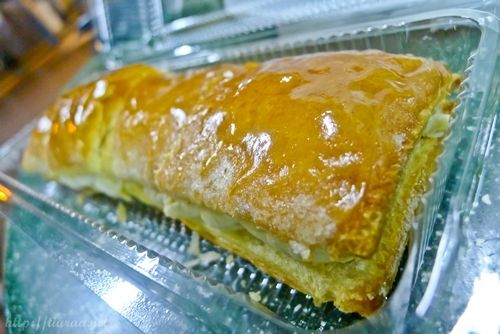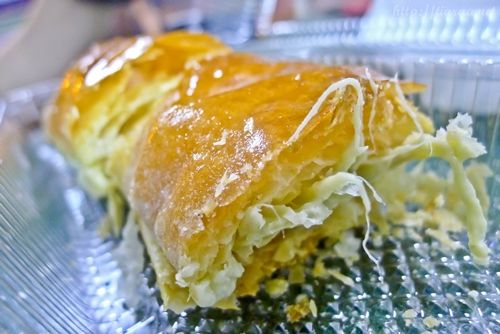 I brought Charles to Ritz the second time after watching a movie a Katong I12 and he decided to buy 2 pax of Durian Half Loaf 7″ Strudel that costs SGD$14.90 each. As the store was closing, we decided to eat the strudel at Bedok Central since I wanted to grab the famous Mie Soto for supper. Charles shared a packet with me and brought the other packet home for his parents. The strudel is to die for – durian oozing into your mouth!
CASH/NETS/MASTERS
BUS: 10, 12, 14, 32, 40.
OPENS DAILY:
10am-10pm
Ambiance: 6/10
Service: 9/10
Food (taste & appearance): 9.5/10
Value: 9/10
Total: 8.38/10★
I would love to try more of Ritz's strudels but I highly recommend both the strawberry and durian flavours even though their mango and strawberry flavours are out of season/stock.
swisscheese*