On the third day of my trip to Mekong Delta, I decided to use the entire day to explore Mekong Delta with a tour that my guesthouse organized for me. The tour group is called the Youth Tourist Joint-Stock Company but I liaise with my guesthouse directly. The price for the tour is actually 335,000 dong but as I was there during the TET holiday, the price is increased to 342,000 dong (CAD$19.26 /SGD$20.96 / USD$15.68). According to tripadvisor, I read reviews that my guesthouse advertise the cheapest tour so I just booked with them. My guesthouse owner told me to be ready by 7:30am so when I went downstairs, she brought me to the main road to board the bus along with other tourists from other guesthouse.
REST STOPS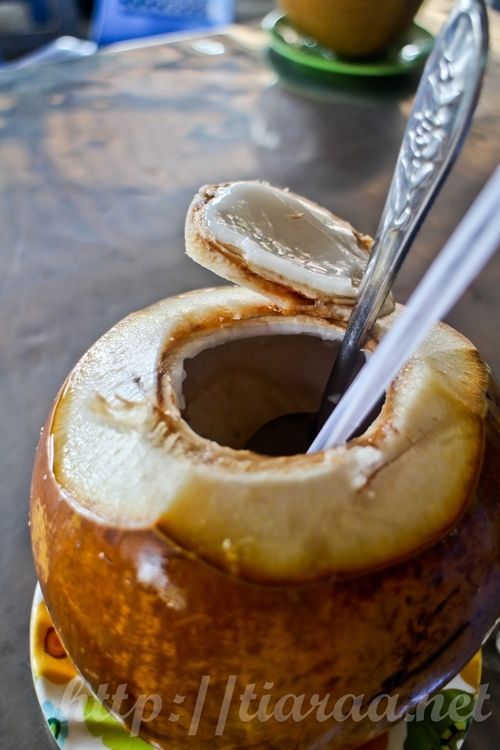 It was roughly a 3 hour drive from Saigon to Cai Be so we had a rest stop, whereby the tour guide gave us 20 minutes to wash up, use the washroom, grab a bite, hydrate ourselves & rest at the hammock. What I love about Vietnam is that there are hammock at the resting areas/pit stops! The best thing is the washrooms are not as dirty as the ones I have seen at Indonesia but since I have not gone to public washrooms in rural areas, I am not sure how the condition is like there. I managed to purchase coconut water, Banh Mi with butter and a bottle of water at 20,000 dong (CAD$1.13 / SGD$1.23 / USD$0.92), 15,000 dong (CAD$0.85 / SGD$0.92 / USD$0.69) and 7,000 dong (CAD$0.33 / SGD$0.43 / USD$0.33) respectively. The coconut water was so refreshing as I was starving from skipping breakfast. Do not expect much from the Banh Mi though. I could not finish it and brought back 1/3 of it, only to throw it in the end.
FLOATING MARKET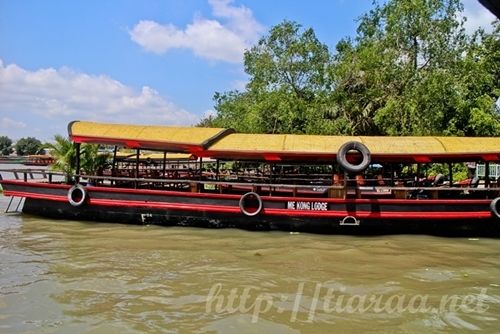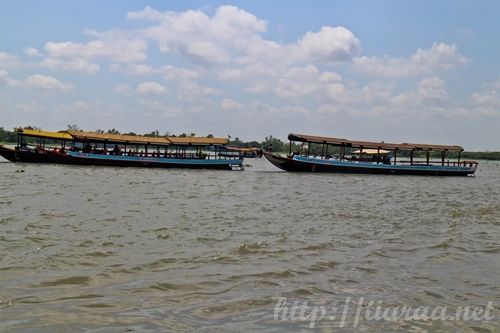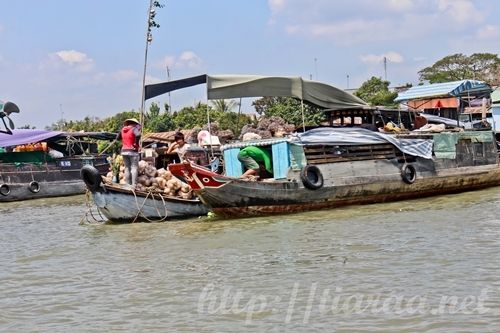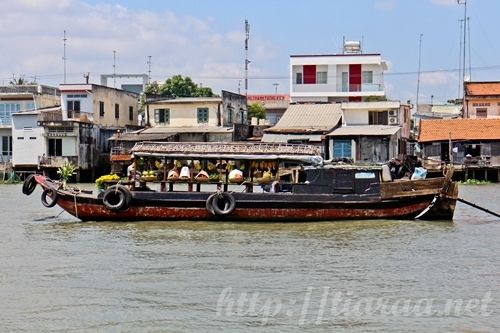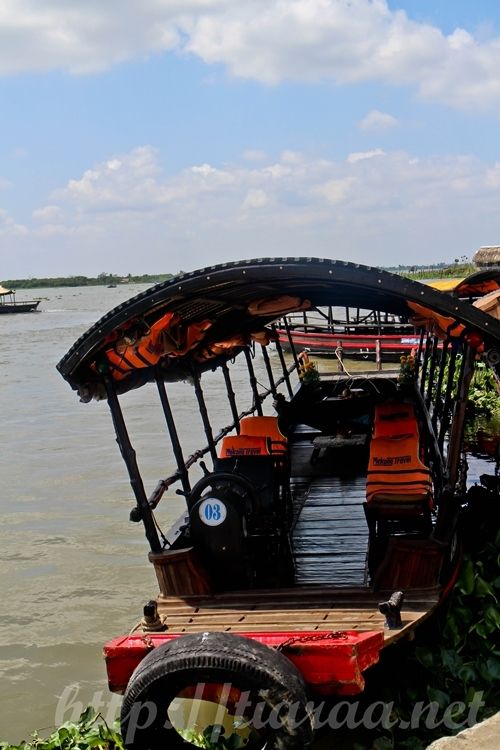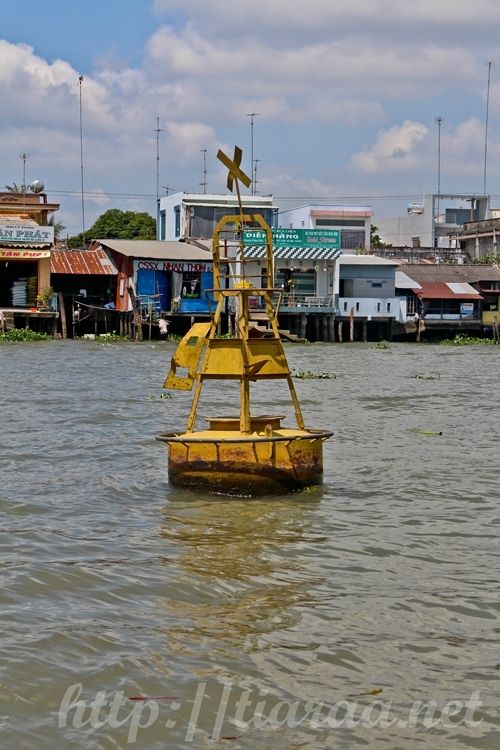 When we have arrived at Cai Be, we took a boat as depicted in the second last picture and went to the floating market to view the tradition there. I have not been to the floating market in Thailand but I have heard that many tourists head there to buy items for the experience, only to be sold at ridiculous prices. As for the floating market in Vietnam, tourists are not allowed to buy anything. The people who are selling the items on the boat hangs a sample of the food item they are selling on a bamboo stick to show what type of food they are selling wholesale. For instance, the boat in the third picture is hanging a few potatoes on the stick and as you can see from the picture, the boat is filled with lots of potatoes. Different boats sell different fruits or vegetables so when the product is sold out, the seller has to head back to the garden to collect more products. They usually stay on the boat for 2-3 days so they use the river water for everything including urinating, drinking, eating & showering. If you also noticed that there are a pair of eyes on the exterior corner of the boat, it symbolizes spiritual protection for the people on the boat.
Side track: The tour guide told us that although the Mekong Delta belongs to Vietnam, Vietnamese are the last to get the fish from the Mekong River so the fishery industry is not Vietnamese's major economics. Most of the fishery output is actually from aquaculture. How funny, isn't it?
ROYAL JELLY & HONEY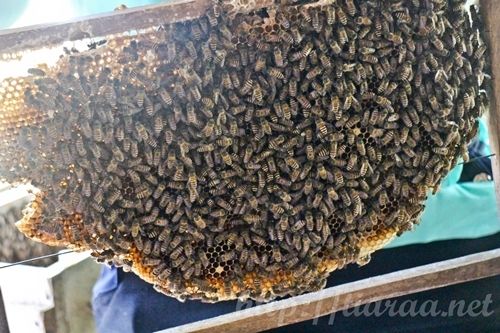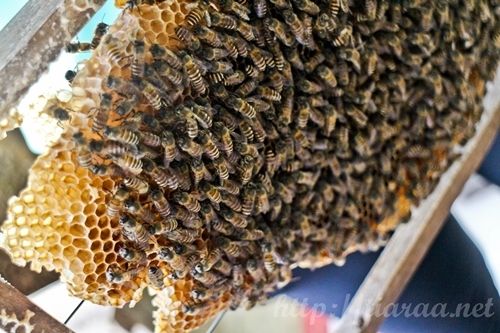 Next, we move on to the shore, whereby we went to many gift stores and "mini factories" appreciating how different food items are made. In this store where the tour guide brought us to, we were shown how the bees are kept and used to make honey and royal jelly. The store owners even allowed us to touch the bees but just looking at it gives me goosebumps. We were given samples such as royal jelly tea and honey coated snacks to try. It was like having miniature Vietnamese high tea. The experience is different and I enjoyed it although I did not bother to buy anything from there.
SKIN OF SPRING ROLLS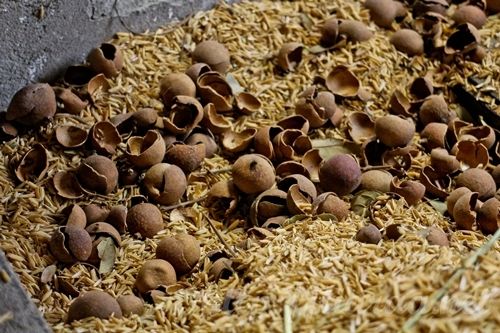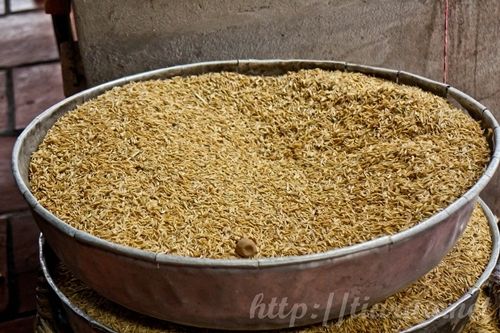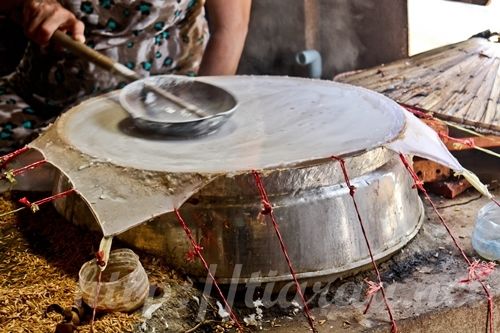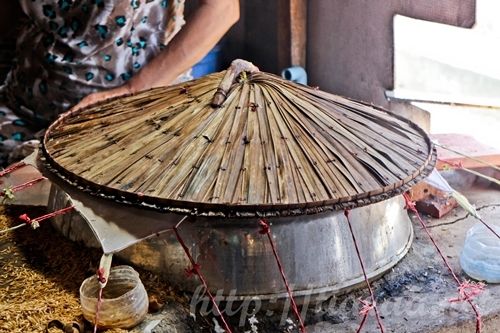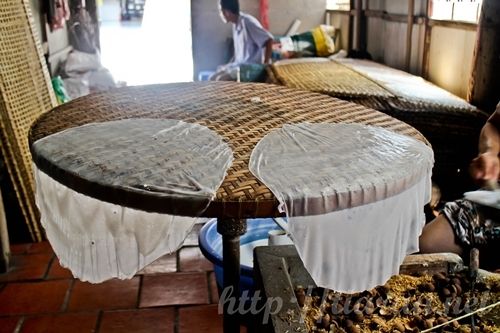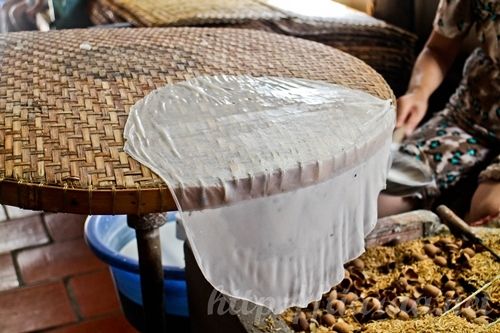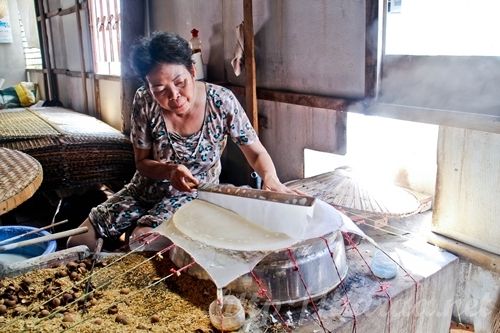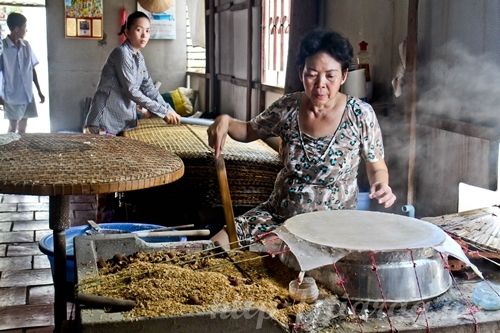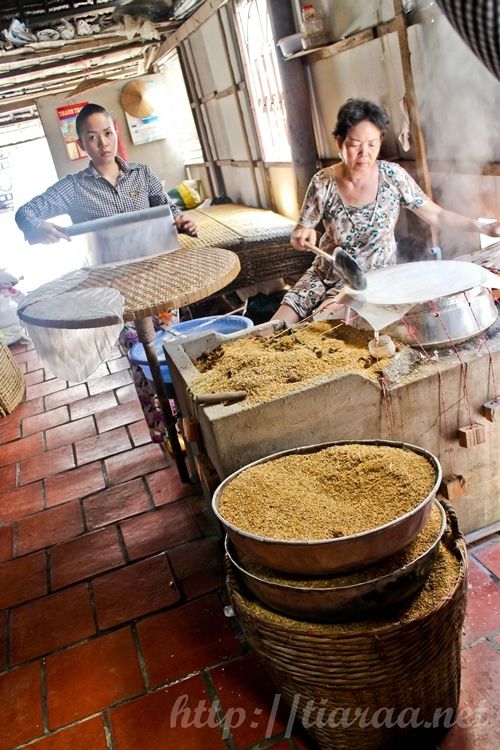 Next, we went to another store just a walk away and saw how the skin of spring rolls are traditionally and freshly made. Just look at how patient and delicate the lady is!
COCONUT MILK CANDIES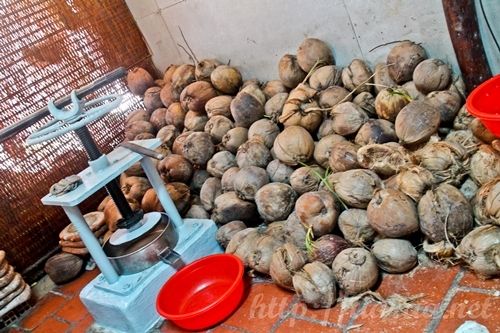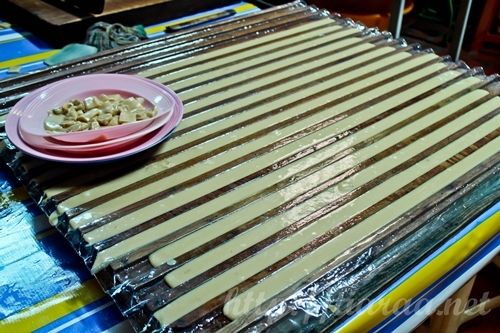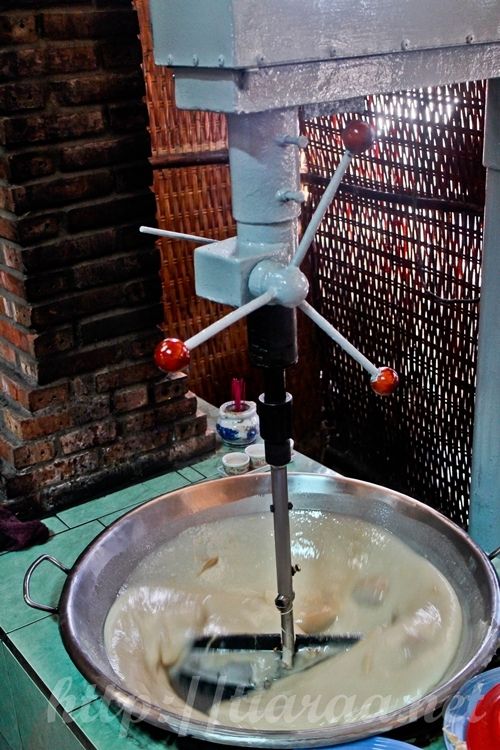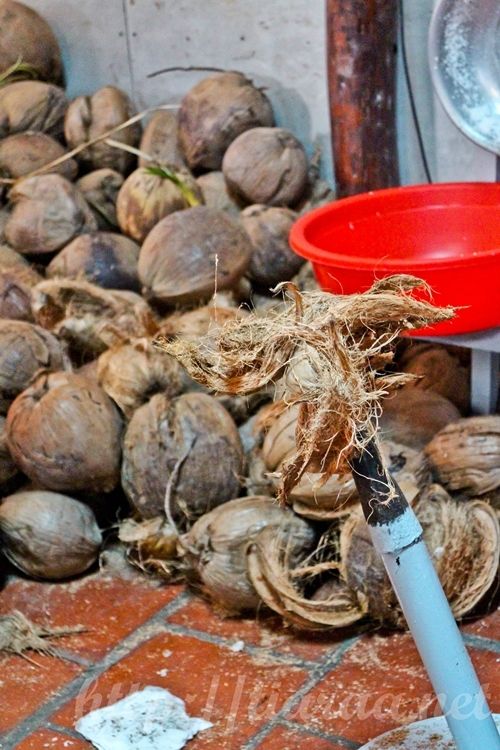 We were also brought to a mini coconut candy factory, where we were shown how every part of the coconut is fully utilized. Again, although there were different flavored coconut candies such as durian coconut candy and such, I did not purchase anything since I do not really enjoy consuming sweets.
VIETNAMESE POPCORNS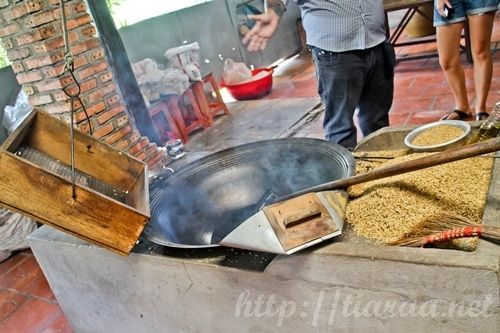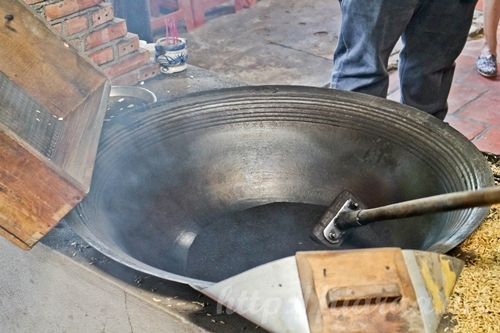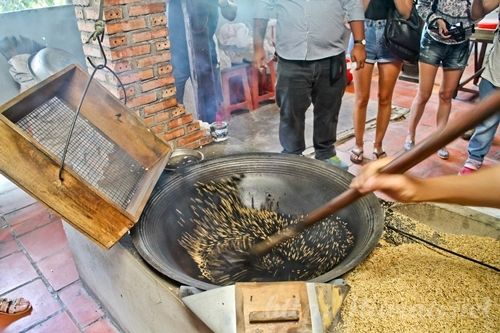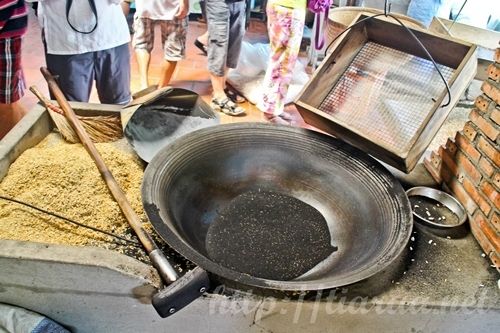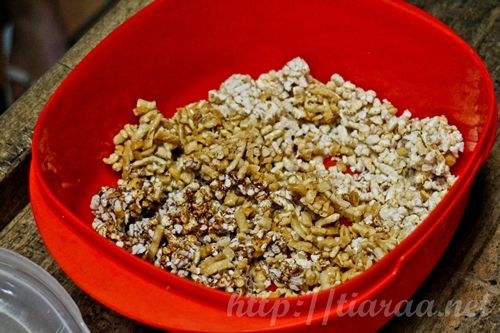 At another corner of the store, we also saw how Vietnamese rice crackers are made. They call it the Vietnamese popcorn and stated that they used to eat that everyday when they were young. It is cool watching them demonstrate how it is cooked since the grains and sand are thrown into a hot wok and after it pops, you have to filter the sand out before selling the rice crackers.
GIFT SHOP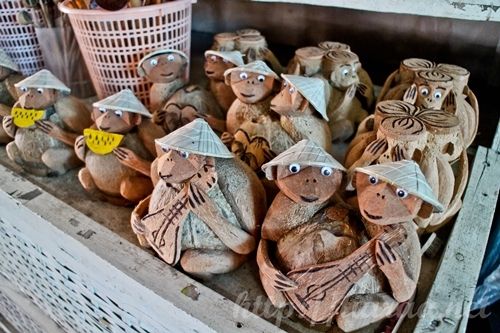 As I stated previously, every part of the coconut is used in the coconut candy factory so the adorable little wooden monkey souvenirs you see in the second picture are carved out of coconut shells. If I have my own home, I would have bought it but I do not have so I cannot afford to buy so many items I find cute.
LIFE BY THE WATERS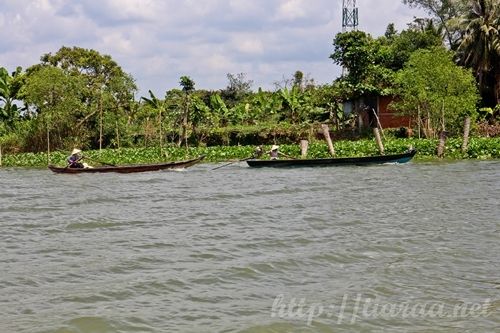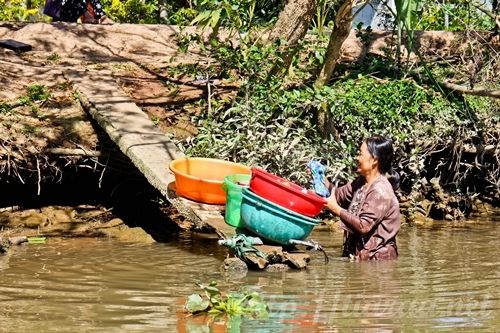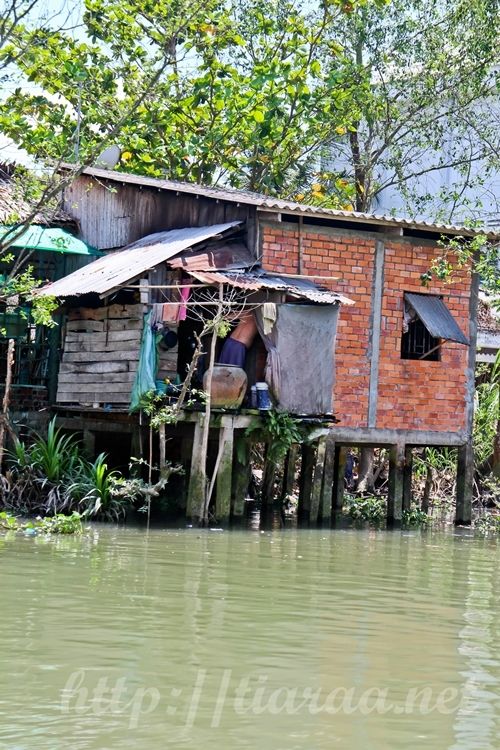 We took the boat once again to Vinh Long, whereby we saw how life is like by the waters. The pictures say a thousand words, yes?
BAY THOI HOMESTAY
Ấp Bình Thuận 2,
Xã Hòa Minh,
Huyện Long Hồ,
Tỉnh Vĩnh Long
0703 859019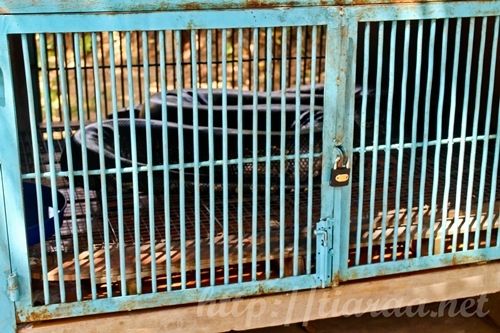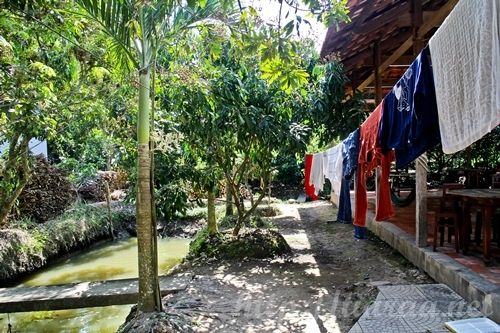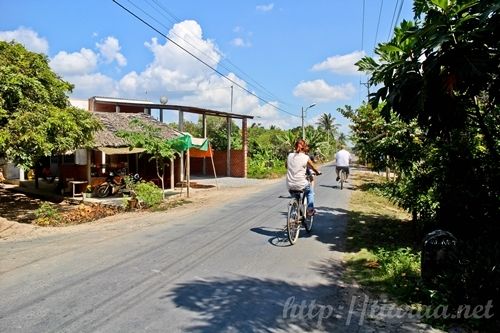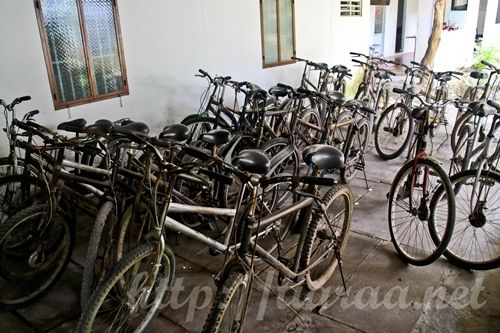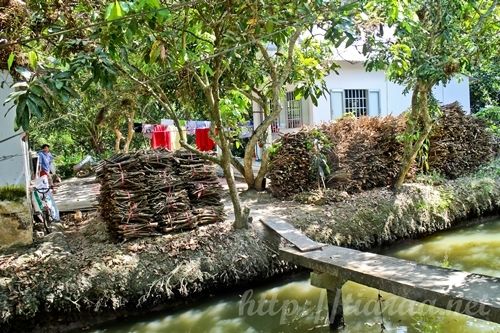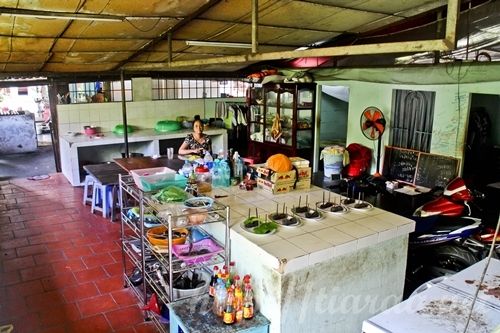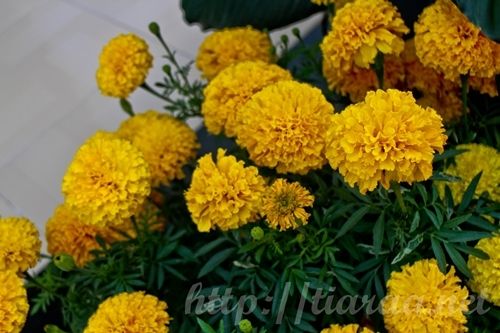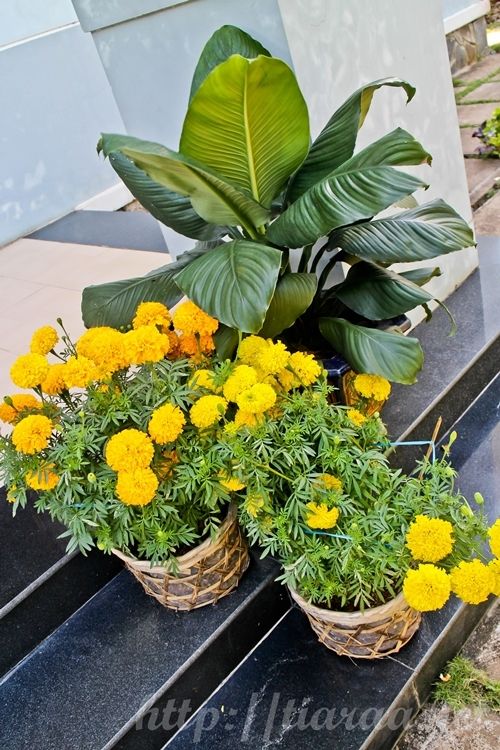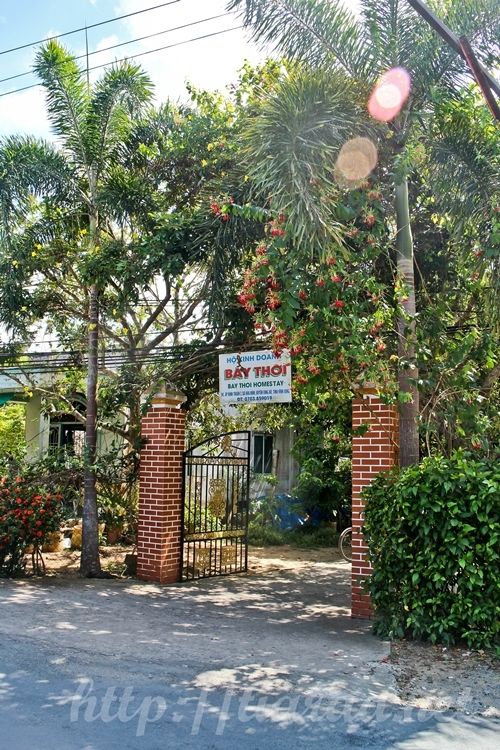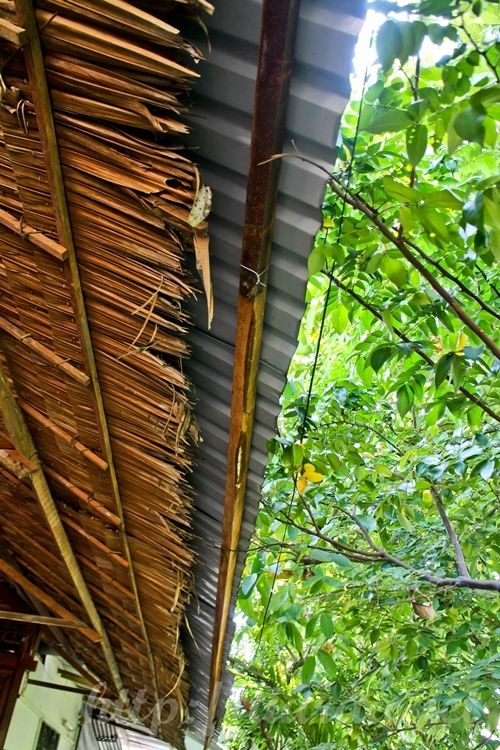 We went to a homestay place at Vinh Long to embrace the culture there. There were hammocks provided for rest after lunch and bicycles available to cycle around the area. Lots of the bicycles were too big and rusty though so I did not attempt to use it. Some of the other people managed to cycle it but found it really hot cycling under the scorching sun. Accommodation is also provided here as seen above but due to the time constraint, I did not sign up for it. It would be nice living here for a day or two to appreciate nature at its best though! I see so many banana palm trees, which makes Vinh Long so beautiful. Oh, how I love greeneries!
LUNCH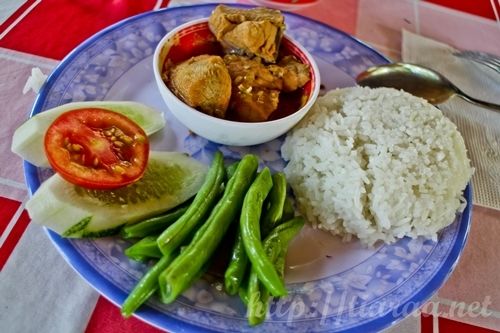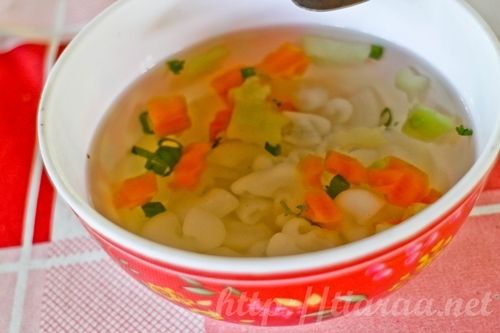 Lunch was provided by the homestay but you need to top up if you wanted to consume fish. I just made do with my dish. I got to know two lawyers from Switzerland and one was a vegetarian so she was served with tofu instead of meat. I also got to know a Filipino lady better as she was a solo traveler too so we exchanged experiences and had quite deep conversations throughout our boat and bus rides back to Saigon. The food was just average from my point of view so I am glad I did not top up money for additional food items. Moreover, I could not even finish my meal. Fruits were complimentary as well!
RAW BOAT RIDES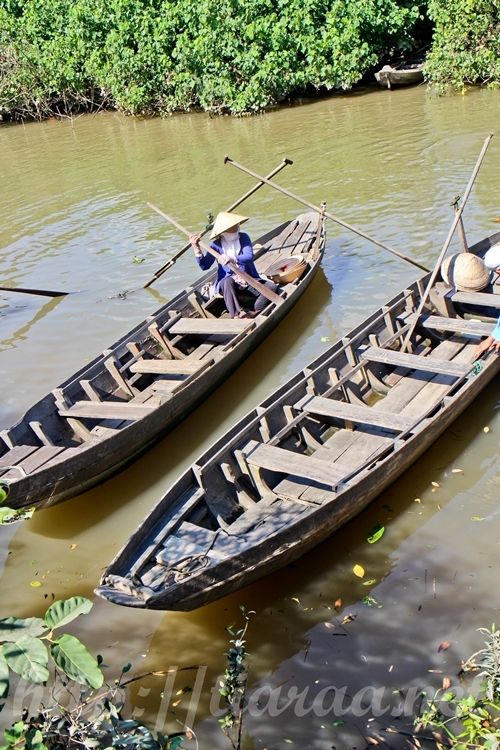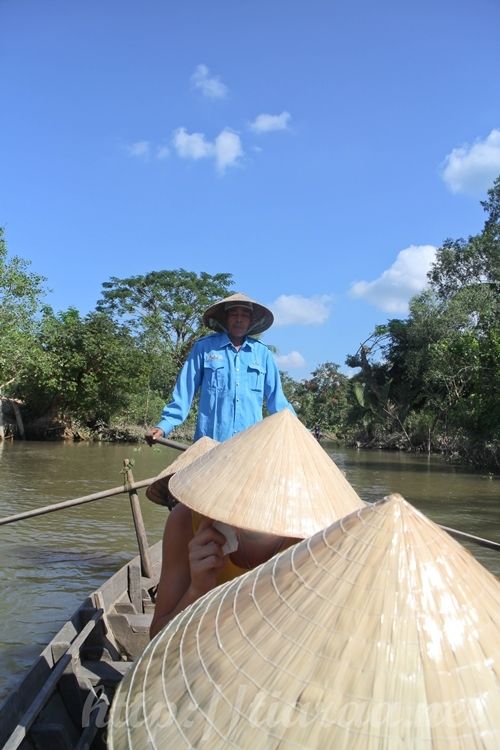 The final leap of the tour was a 20 minutes raw boat ride back to the boat. 4 people could fit a raw boat but as the boat is quite slow, we were trying to beat the heat with the complimentary Vietnamese conical hat provided. The river is calm and serene and just being on it brings tranquility. I would love living around here for a day or two. After the ride, we gave the person who rowed the boat tips. I gave about 20,000 dong as it is very hard for them to earn money and they worked so hard under the scorching sun.
MEKONG REST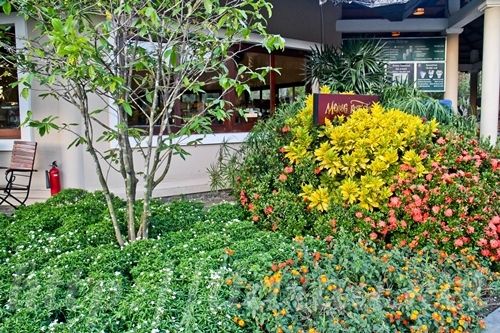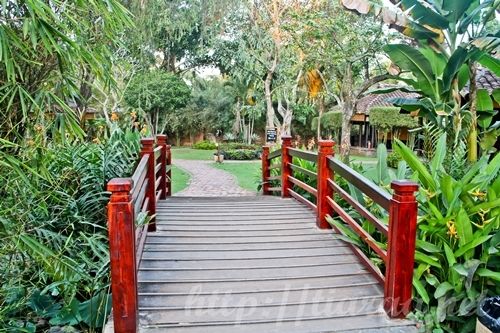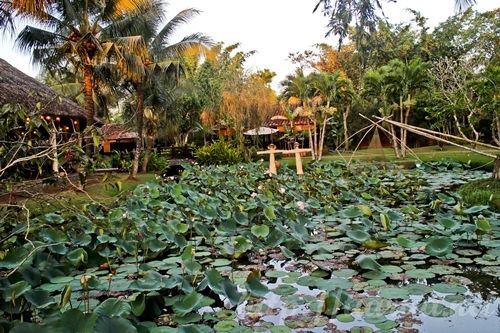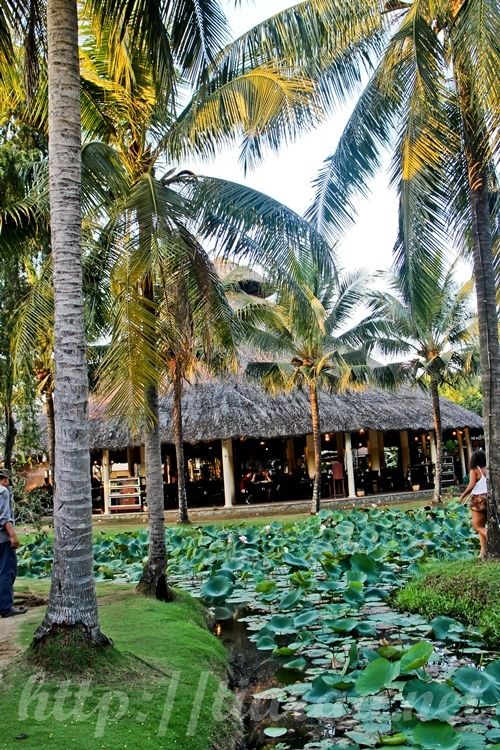 The bus took us to our last pit stop for refreshments before we head back to District 1 at 7:30pm. I really found the Mekong Rest so beautiful! The sight is so majestic – the greenery, the sun reflection on the waters, the flowers, bridge and even the infrastructure of the building – so old school!
PRICE OF TOUR: 342,000 Dong (CAD$19.26 /SGD$20.96 / USD$15.68)
When I have more time on my hands, I hope to revisit Mekong Delta on my own without the tour and figure out how to venture out this place and find more hidden agendas rather than just keep going to gift stores after gift stores.