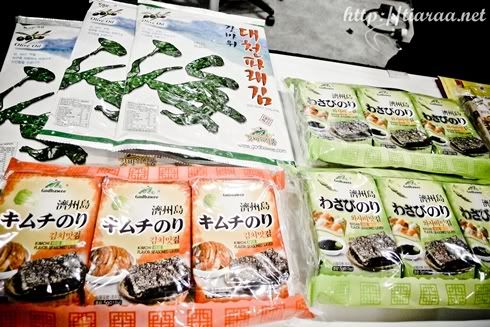 my FRE professor told us that eat vancouver 2011 will occur during the weekends a day before the food festival actually commenced. i only heard about it last year but did not have the time to go for it when kenny asked me to. this year, i thought to myself that i will not miss it. so mich, irene and i went for it on the first day, when canucks was playing in the 5th game of the finals. we decided to go on that day because 1) we are not really crazy fans of canucks 2) we wanted to go when there is less crowd.

P/S: only companies that serve ready made food are allowed to accept tickets. the other companies accept cash only !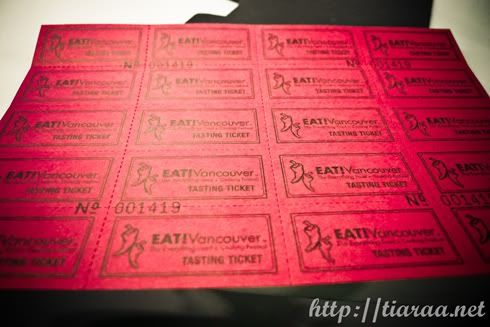 10 bucks equate to 20 of the coupons !
cobs bread had samples of apricot delight, cape seed, chia flax and pane di casa at eat vancouver 2011. i don't really have much impression of it because i prefer sweet and decorative food over savory and plain ones. so i guess the above is chia flax with cream cheese.
italissima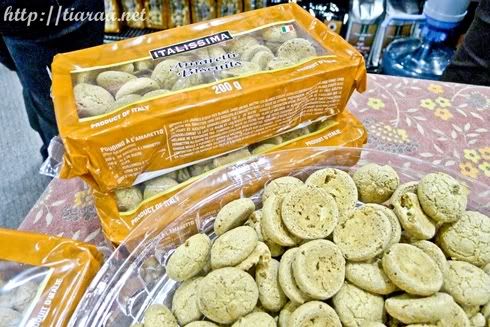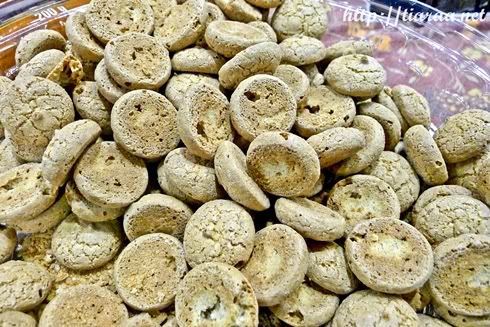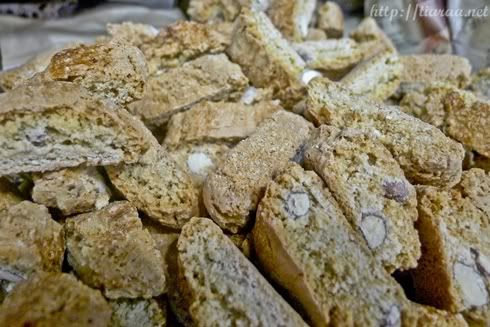 we saw this company selling amaretti biscuits and biscottis, which tastes really crunchy and not as sweet as the regular snacks we usually eat. irene love the cookies that she got a packet for herself.
mcdonalds – everyone's lovin' it !! there were free samples of vanilla latte, coffee, iced coffee and such. they were even giving out bookmarks describing their range of coffees from bold to sweet: cappuccino>latte>iced latted>iced mocha. they also gave us a voucher so that we are able to have $1 off for the purchase of a McCafe espresso-based coffee that is valid until 30th september 2011. of course, their coffees are incomparable to starbucks'.
consulate general of the republic of indonesia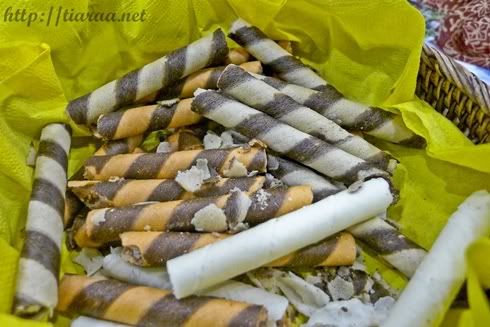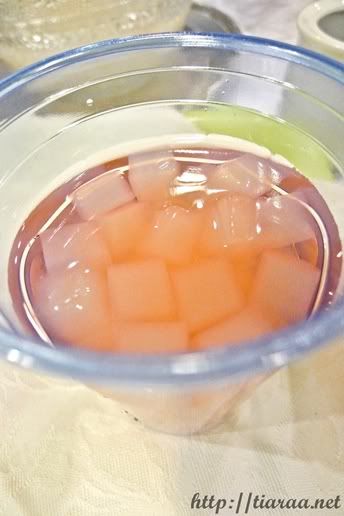 tracking my roots back to indonesian goodies ! angel was helping out there ! she was serving free samples of the banana biscuits and nata de coco (coconut jelly beaverages). also, they were selling indomie and chocolate cookies. irene's aunt was also helping out in the area, where the packages of instant noodles are.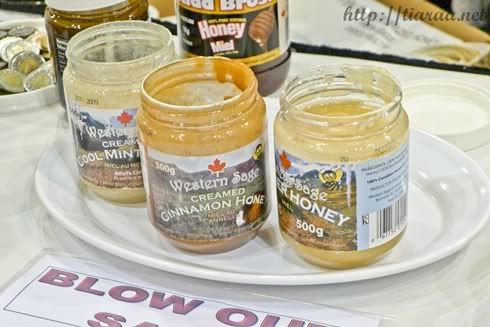 western sage offered a variety of honey flavors such as cinnamon honey, cool mint honey and such. it can be found in many of the supermarkets such as safeway, save on food and t&t. it is totally natural and of high quality. i fell in love with it when i first tasted the glacier honey. mich & irene like it as well !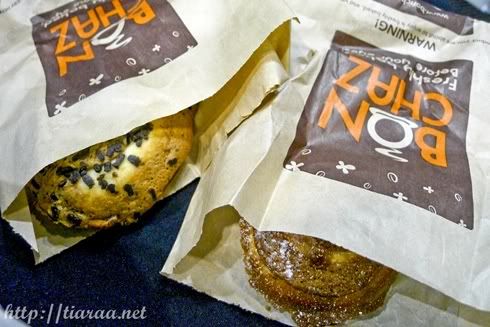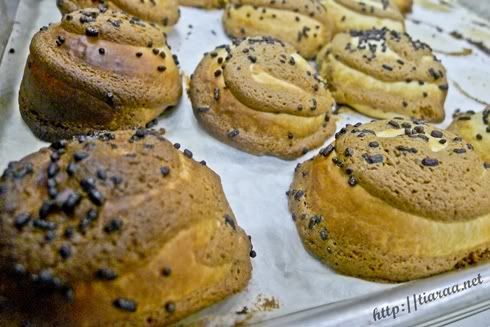 people who do not like bonchaz ought to have a SMACK on their face ! bonchaz accepted tickets so we were happily giving our tickets away ! i remember it was one bonchaz for the price of a ticket. bonchaz were offering mini bonchaz in chocolate or the original flavors, way to go !
my ratings on bonchaz at here !
spices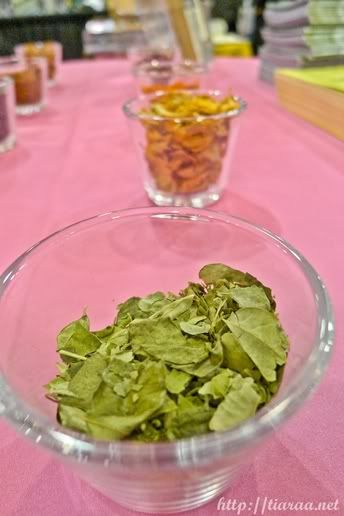 i did not bother about the company name of this booth but it was selling indian spices, my bad !
imelda was at the booth so we talked for a bit. the above picture depicts biscuits with wasabi sauce ! how unique ! really like how the biscuit tastes after dipping it into the wasabi sauce. there were other dipping sauces as well such as pad thai sauce (hot favorite !), creamy sesame sauce and satay peanut sauce.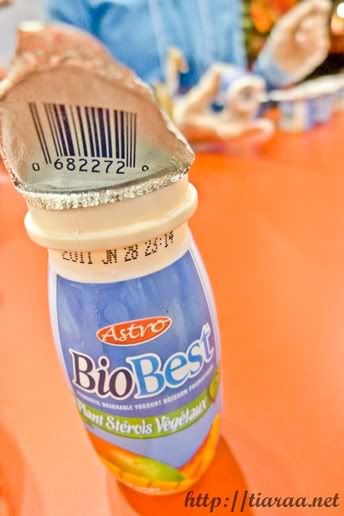 bored of the usual yogurt packaging ? here's a reinvention of packaging for your convenience. astro has made it easier for you to consume your yogurt in class, on the go and even in movie theaters. i had the one with peach flavor and plant sterols and boy, was it refreshing for the day ! other flavors include strawberry, blueberry and raspberry. biobest yogurt is value added as you can choose yogurt either with antioxidant, calcium, omega 3, sterols, smoothie or vitalite.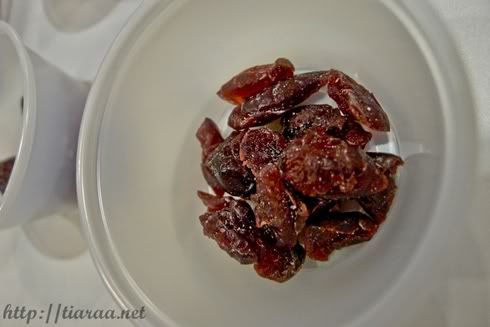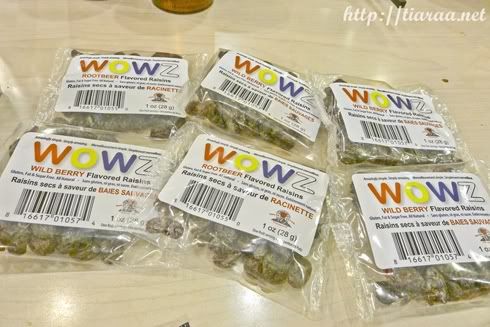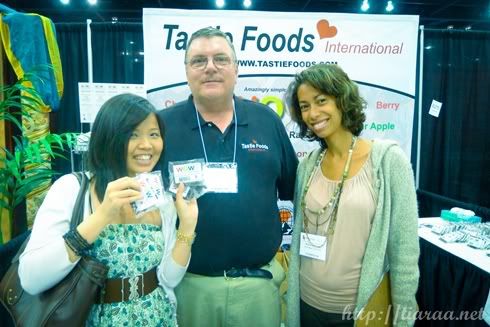 my view on wowz flavored raisins
gelato/sorbet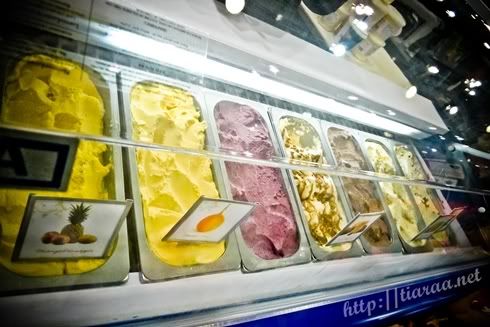 definitely need to knock my head again for forgetting to snap a shot of the booth. mich and irene had the maple ice cream while i had the pineapple sorbet. the maple ice cream tastes really goods complementing with the nuts. it was really too sweet though ! mich and irene wanted to drink water right after eating it. as for the pineapple sorbet, it is really refreshing for my palate. also, very few gelato places serve such flavors. though i cannot remember the name of the store but i remember the person saying that it is located in gastown, together with the tourist shop.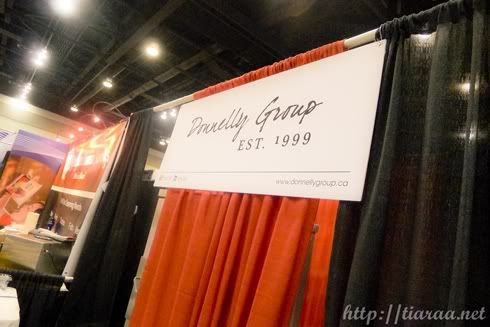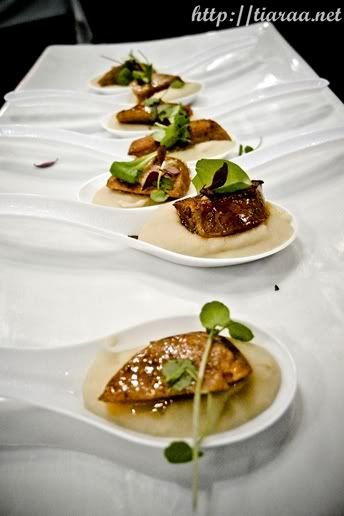 the donnelly group public house is a large company with lots 6 pubs scattered around downtown vancouver – academic, the calling, cinema, lamplighter, library square and new oxford. the group were wearing really formal attires and serving us with their newest and most exquisite beer and food.
1st picture – it was their newest addition to the beer list – ginger beer. i usually can take in beer but ginger beer ? IT WAS NASTY ! threw the sample away right after my first sip !
2nd picture – it was blue cheese and lettuce stuffed in some kind of thinly sliced meat. i really enjoyed it !! however, mich and irene are not used to it's taste.
3rd picture – it was white meat puree & it was my favorite of the lot !!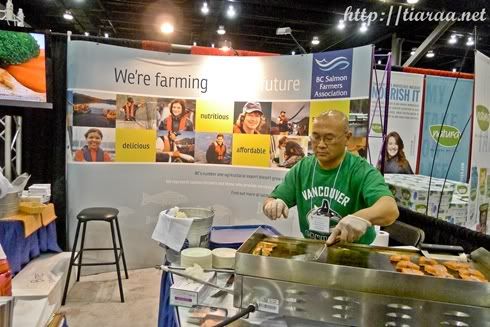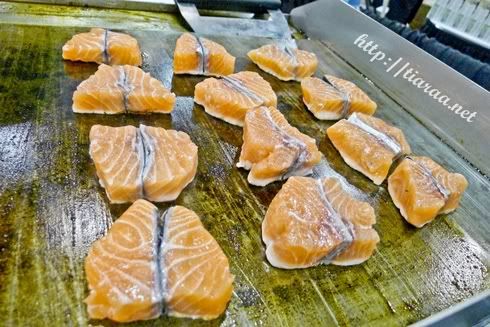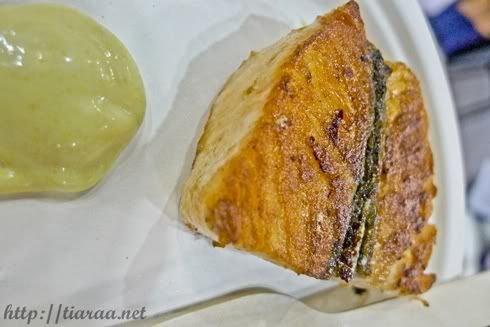 for environmental sustainability and high quality seafood products, purchase your fish from this company ! i was surprised that we had the a grilled atlantic salmon each for FREE, when we are supposed to pay it with 4 tickets. what an amazing and friendly service ! the grilled fish tasted fine but i was so bloated from the other food i already had, what a bummer !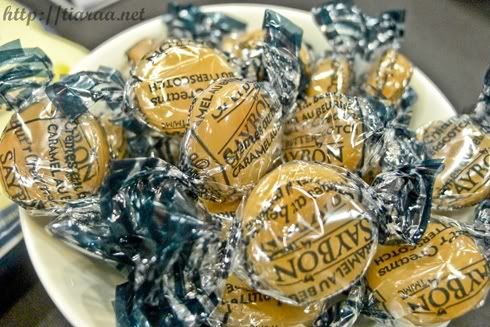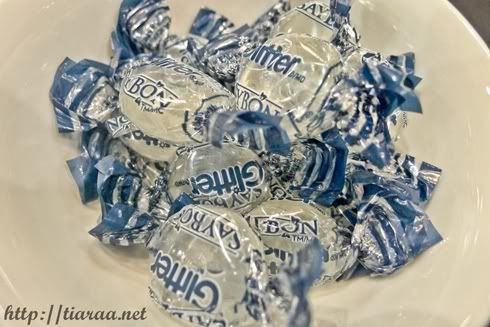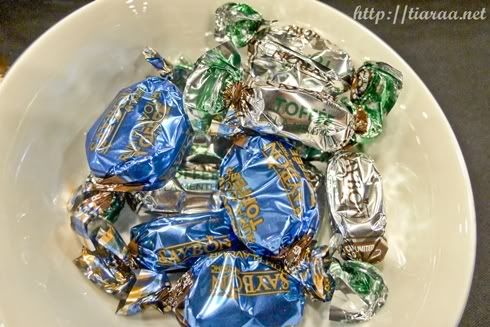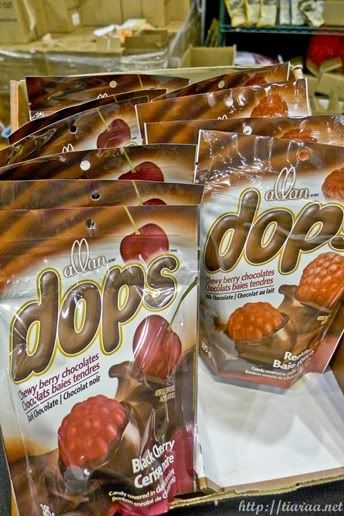 allan candy was serving saybon sweets and dops chocolates. i really like the saybon sweets but it kept getting stuck to my gums and teeth. also, i am usually not a fan of sweets so i got the dops chocolates instead. it is black cherry berries coated with chocolates. how dope ! mich and irene got the saybon chocolates though.
churros !!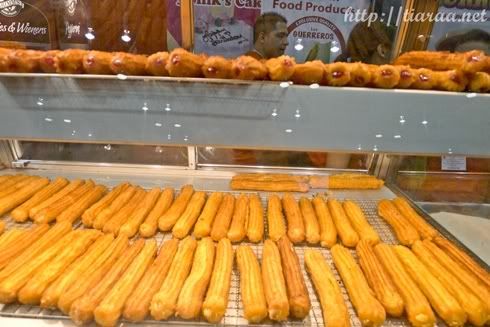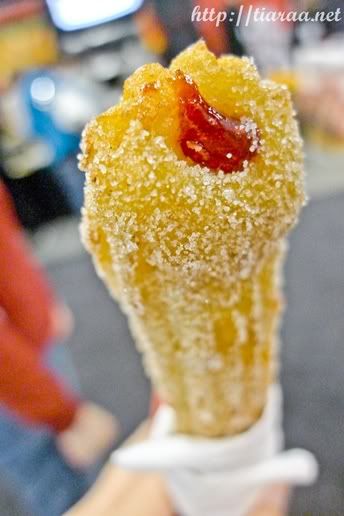 something that i always look forward to in night markets and playland ! they had the original flavor and the strawberry ones. i decided to order the churros filled with strawberry and coated with sugar. it was way better than the one i tasted at jack in the box in the states ! one churro was worth 5 tickets at eat vancouver !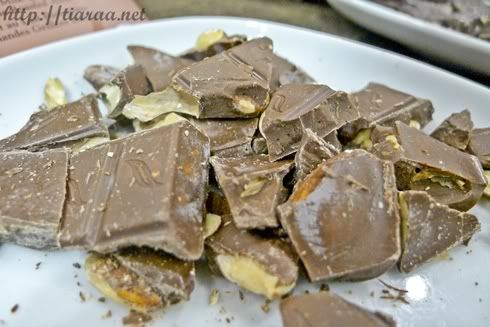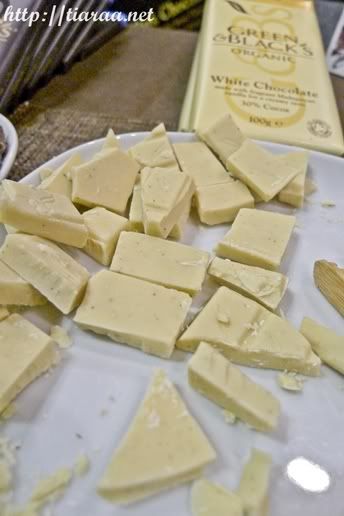 i only tasted the white chocolate as i did not want to stuff myself silly with lots of chocolate samples. the organic white chocolate tastes as good as white chocolates in general. i guess the trends for snacks are towards organics now eh?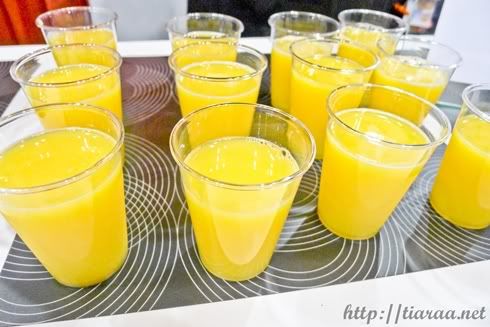 honestly, i think that this item is USELESS for my household ! firstly, i do NOT drink canned juices and secondly, you can use other utensils for getting all the juice OUT of the can. the idea for this is to break frozen juice up, mash it and stir it ! definitely a bad product for me !!
healthy seaweed snacks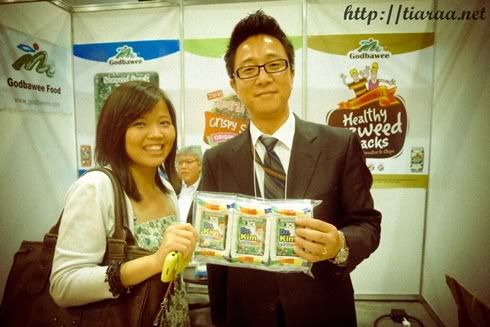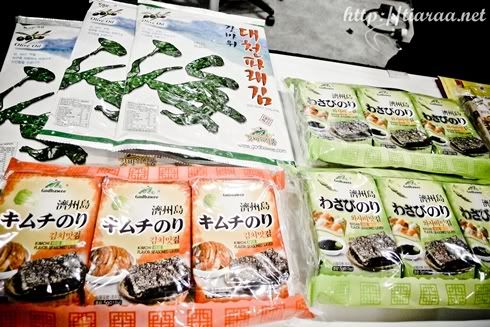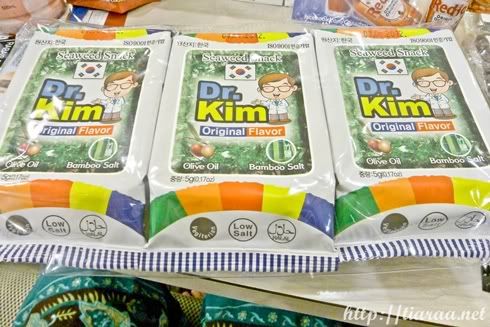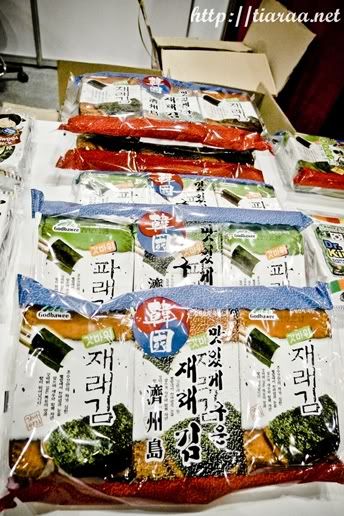 initially, i did not have any interest on dr kim's product until i saw the product in the 3rd picture ! it depicts a cartonized character of dr kim himself, the manufacturer of the company. such packaging makes me want to buy the product even though i wouldn't in the first place. they had different flavors of seaweeds but i got dr. kim's original flavor, which is made with bamboo salt and olive oil ! it is not as salty as other seaweeds i have tasted. definitely healthy !! 3 packet for $1 at eat vancouver !
seoul trading corp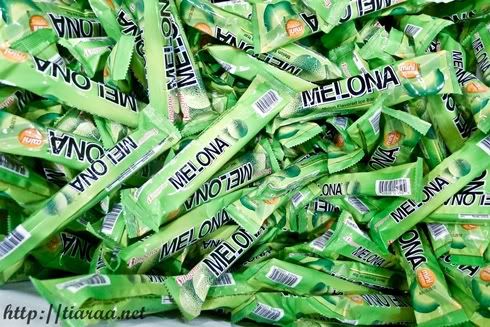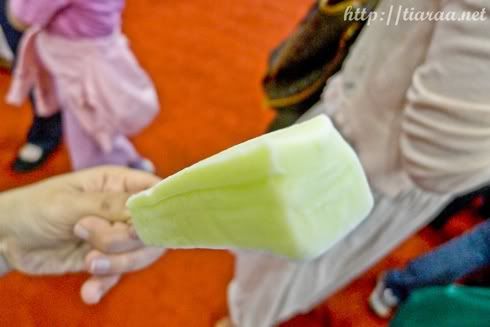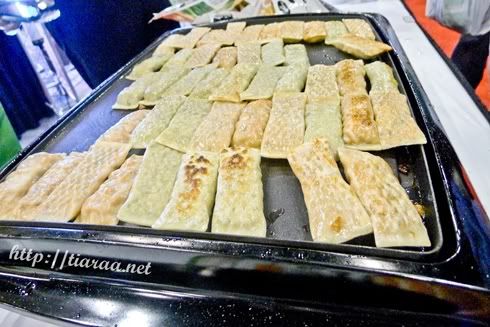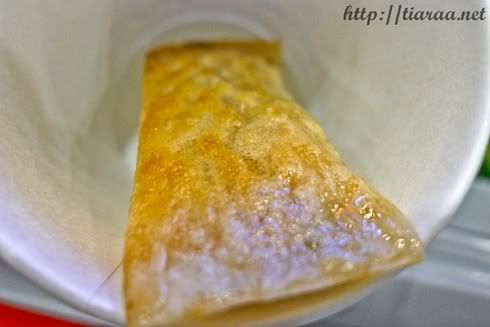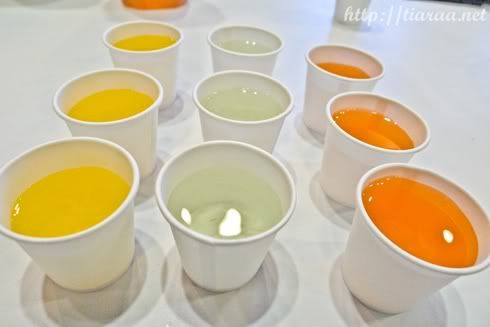 this is by far, one of my favorite booth of eat vancouver 2011 ! it has a variety of aloe vera (mango, original and orange), soft melona ice cream and fried dumpling like food. mich and irene bought bottles of the original aloe vera while i got the melona ice cream with mich. the melona ice cream is soft and smooth, unlike other hard ice cream served in convenience store. both the aloe vera and melona ice cream made my day !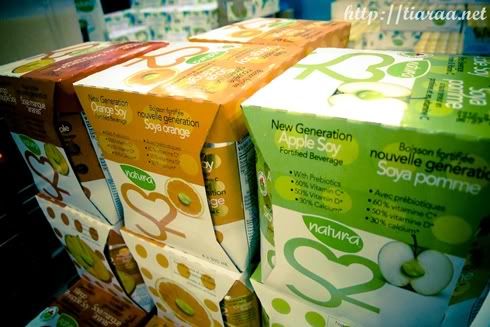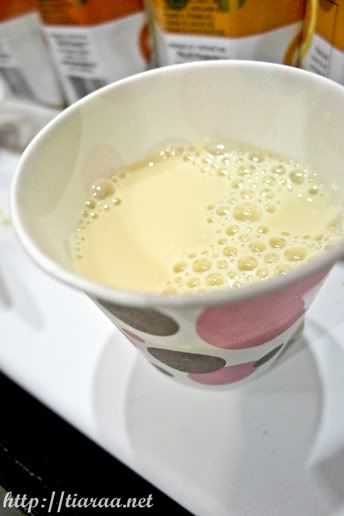 another favorite company that i will patronize after this lovely experience !! we got to try the latest addition to their soy milk – the apple and orange flavored soy milk ! it tastes really good, typically the apple ones ! natura products have so many health benefits such as being a natural source of omega-3 and folic acid and having high protein and calcium content. it is not as sweet as many other soy milks i have tried as it is low in sodium, saturated fat, trans fat and has no preservatives. another reason being the perfect product for me – it does not consist of lactose as i am SLIGHTLY lactose intolerant !!
ALCOHOL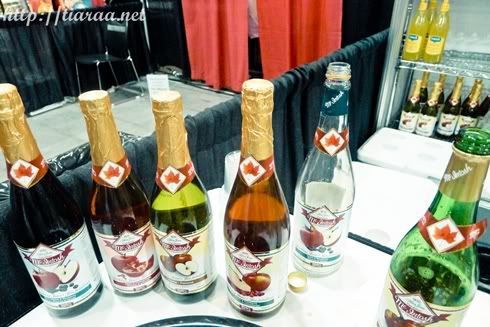 only people at the age of 19 and above can enter this area so poor mich couldn't come in. irene and i walked in and snap a few shots of the lovely packaging and drinking instruments and walked out empty-handed. the amount of tickets to spend on alcohol sampling is too EXPENSIVE ! i have 4 bottles of wine from the okanagan valley so i did not wanna waste anymore money on this.
pacific institute of culinary arts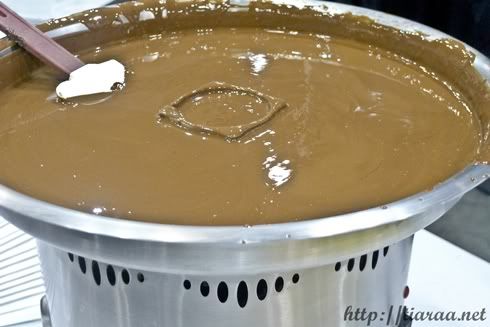 the institute of culinary arts was rising funds for their program so it was $2 for each chocolate-coated fruits skewer. i contemplated on getting it but got it in the end ! after which, i regretted getting it as the chocolate was dripping ALL over and it was such a messy eat !
many others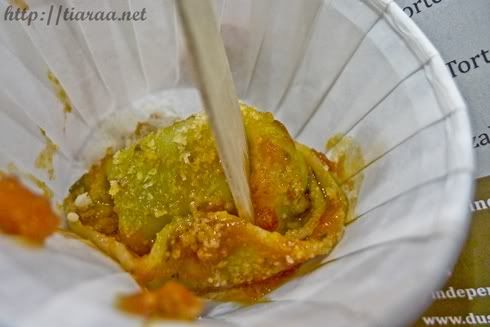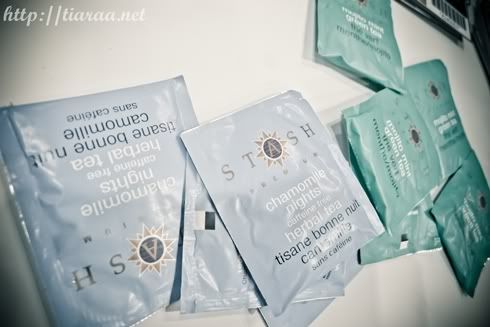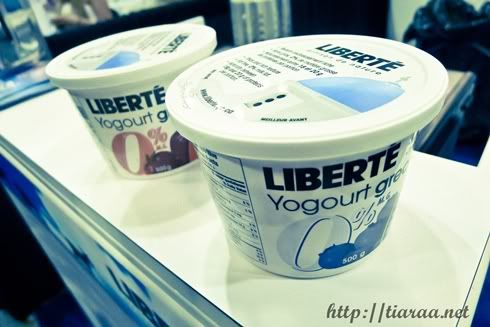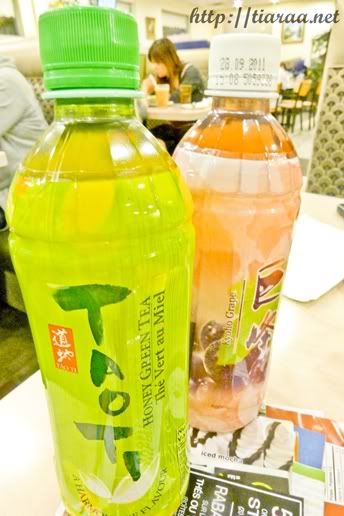 i was kind of observing the marketing strategies and food trends at eat vancouver. just take a look at it:
* coffee with antioxidant – health benefits since people are more health conscious
* avocado sauce – something new and unique that risk seeking people that will love to try it
* yogurt without gelatin for vegetarian and such
* greek yogurt – thick and with more milk fat – high quality yogurts
* fontaine sante – high quality food (hummus, dips, spreads, sauces, salads, vegepates, appetizers) with no preservatives, chemical additives or monosodium glutamate
* taoti  - bored of the usual green tea ? here's honey green tea and grape green tea for you ! they have more flavors in store. one bottle of green tea is 2 tickets each.
free stuff in goody bag !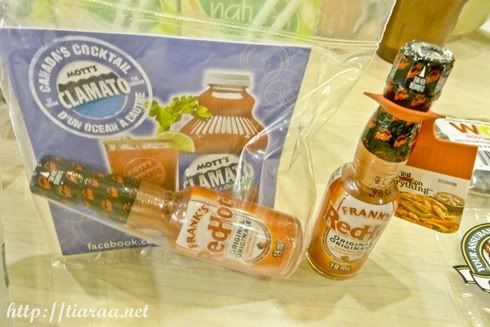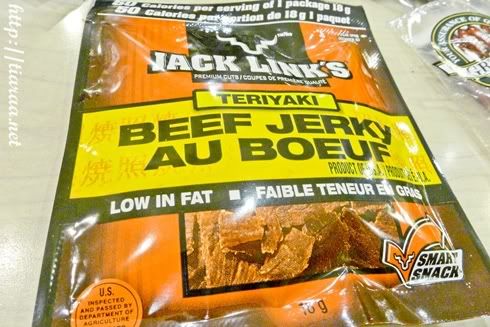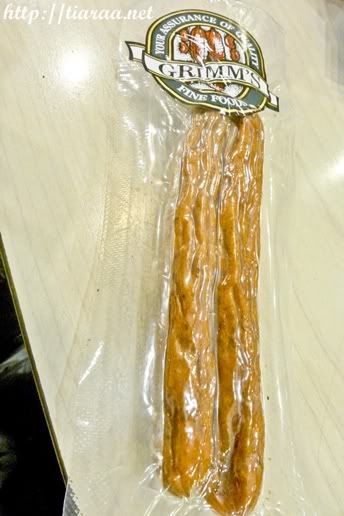 there were more but i have no time to upload each and everyone of them !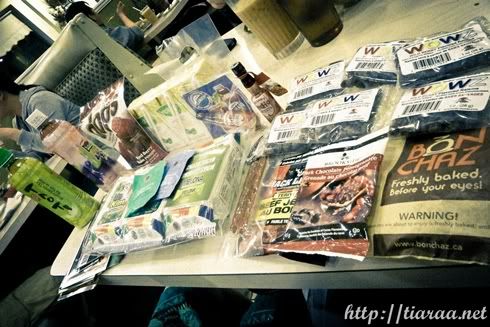 this is mainly what i got altogether ! half of which were free samples and the other half was what i got with cash or tickets.
i am so glad i managed to head to eat vancouver this year and bomb the booth owners with many questions and such ! till part 2 of eat vancouver 2011 !
swisscheese*