Back in 2013, cat cafes and dog cafes were so popular in Korea and I even went to those cafes during my 32 days stay at Seoul. However, cat cafes and dog cafes have expanded to other parts of Asia and even Singapore has those cafes as well. So the people with creative juices at Bangkok came up with a better idea to open a cafe that breeds Huskies and Alaskan Malamutes for the customers to play with after having their beverages, meals and desserts. This cafe is none other than the highly raved True Love Husky Cafe that many Singaporeans head to when they are on a vacation at Bangkok!
 True Love Neverland Siberians Husky Cafe
153 Paholyothin Soi Ari Samphan 2,
Bangkok, Thailand
090-101-9669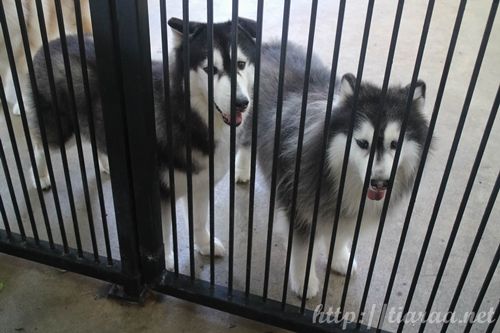 Prior to my trip with my brother and future sister-in-law at the end of April this year, my brother already told us that this cafe will be one of places we have to go to during our trip. Thus, we went to the cafe on the second day of our trip to catch the last slot of playing with the huskies. Before entering the farm-turned-cafe, we were asked to fill in a form on our particulars such as age, whether we have pets and whether we had any pet that passed on within the last year. We must submit the information along with the admission ticket, which costs 350 baht (USD$9.92 / SGD$13.42 / CAD$12.89) per pax. The amount is inclusive of a beverage and a dessert. After which, we were brought into the cafe, where we had the choice to either sit outside or inside. Since my brother was so excited to look at the huskies, my brother decided to go for outdoor dining. When we were escorted to our table, we could only see two huskies enclosed in a large area as above. The rest of the huskies were back in their cages in an air-conditional house. There are three timings to play with the dogs and the schedule is as such:
Early Afternoon Session: 12:30-2:30PM
Late Afternoon Session: 3:30-5:30PM
Evening Session: 6:30-8:30PM (Only from Fridays-Sundays)
DINNER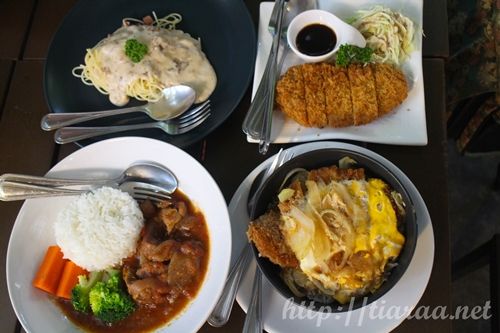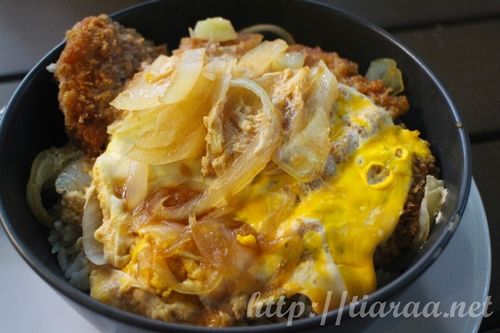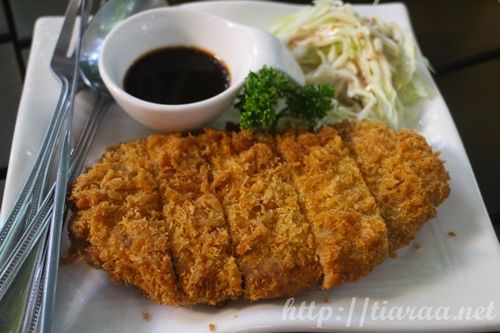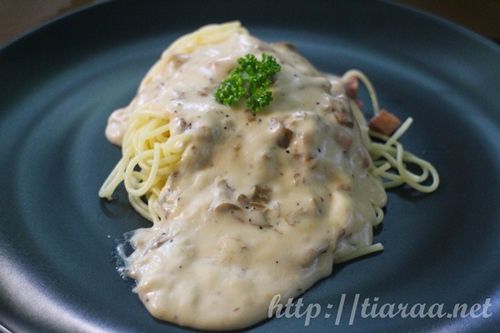 Since we were there about 5:40PM, we had time to eat and went to order dinner as depicted above. I had the Katsudon as shown in the second picture, while Shiling Jie and my brother ordered the Classic Thai Simmered Chunk Pork in Tomato Sauce with Rice and Spaghetti Cream Sauce Bacon per dish as portrayed in the forth and fifth pictures respectively. My brother also ordered the Katsu as depicted in the third picture to share but wrong move bro, my dish and the side dish are too dry for my liking. I could not finish my meal as usual! Bro and Shiling jie both enjoyed their meals but I really did not like the dish I have picked and the side dish ordered. The total came up to  for 560 baht (USD$15.86 / SGD$21.46 / CAD$20.63), which I found not worth it. I would rather pay for authentic Thai food than meals in this sort of cafe.
DRINKS AND DESSERTS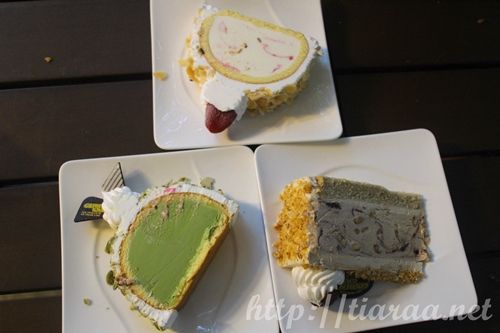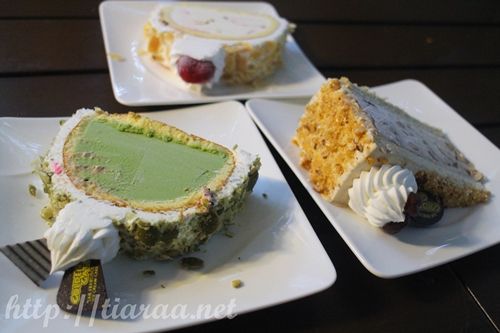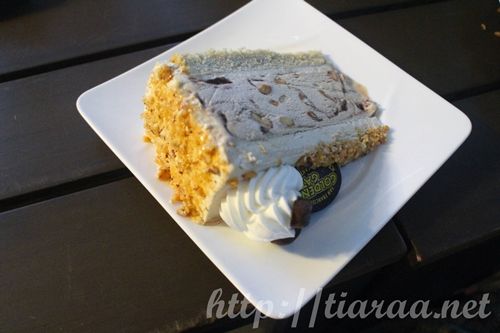 Since we already paid for the entrance fee, we had 2 cups of Passion Fruit Juice and 1 cup of Ice Lemon Tea and 3 ice-cream cakes free of charge. There were a variety of ice-cream cakes but we ordered the matcha, coffee and strawberry ice-cream cakes. Although I am a huge fan of all desserts matcha, I am sad to announce that the matcha ice-cream cake fared the worst. The strawberry ice-cream cake was light and fluffy, while the coffee ice-cream cake had the original coffee taste to it. My bro and his fiancee are not sweet-tooth lovers but they enjoyed the desserts!
ADORABLE LITTLE HUSKIES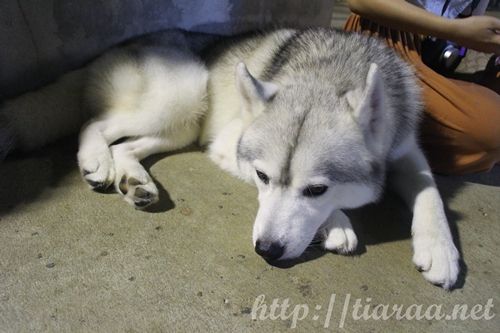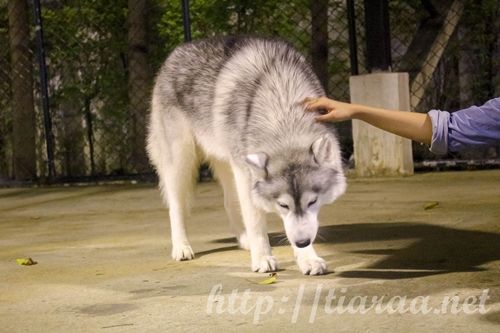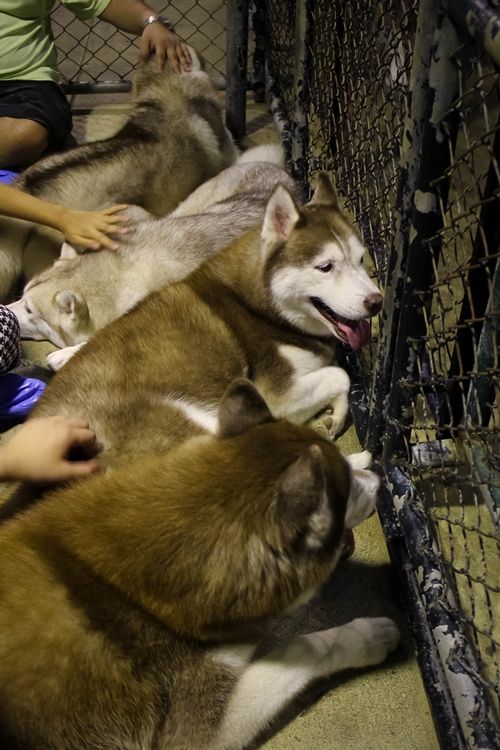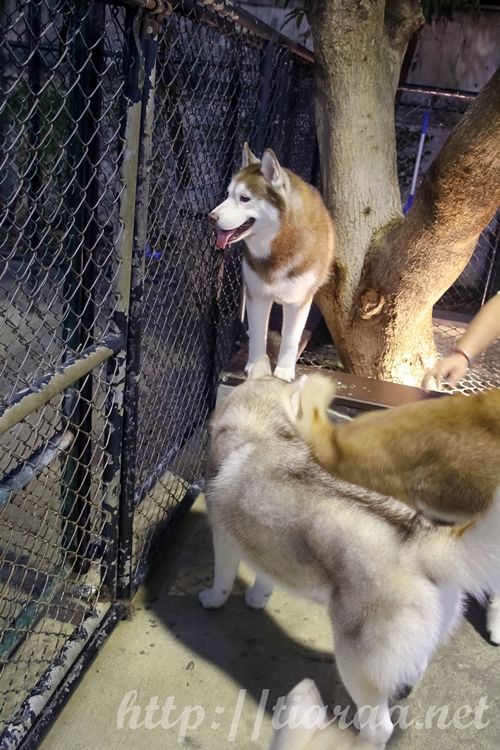 5-10 minutes before we could mingle with the huskies, there was an announcement giving us instructions to wash our hands, change our footwear to the blue plastic footwear provided and to sanitize our heads before heading into the playing area. We are not allowed to let the dogs lick our hands as this is unhygienic and the dogs' wellbeing is their highest priority. The group of 25 Huskies, 1 little Shih Tzu, 2 Australian Shepherds and 1 Japanese Akita were split into 3 pens as some dogs may fight with one another if put together. We are not allowed to open the gate of one pen to head to the other pen on our own. Instead, the employees of Neverland Cafe will do so once requested. We had about an hour to pat, carry and play with the dogs. I could tell that 90% of the customers are Singaporeans and even the owner mentioned it herself. Instead of mentioning how cute the dogs are multiple times, I will end off with the following video:

Too cute not to post!! Awww, love love!!! by @swisstiara
Opening Hours:
Tuesday-Thursday: 12:30-2:30PM; 3:30-5:30PM;
Friday-Sunday: 12:30-2:30PM; 3:30-5:30PM; 6:30-8:30PM
Nearest BTS Station: Ari; Grab a Tuk Tuk for 40 baht after exiting at Exit 3
Payment Methods: CASH ONLY!

Ambiance: 8/10
Service: 7/10
Food (taste & appearance): 6.5/10
Value: 6/10
Total: 6.88/10★
No doubt, I love dogs but the one who enjoyed this experience the most was my brother. He disappeared two minutes before the gates were opened but was the first customer to go through the gate as he was too excited. I had my fair share of enjoyment too but I just hope that the huskies are well taken care of. It seems like they are since they are so clingy to the workers there. Please be prepared to call an uber/grabtaxi after the session as the cafe is quite deserted so there are few cabs around the corner and only one tuk-tuk will be in the area.