Gyu-Kaku was highly raved last year and so, Fine brought me there in early before she left for a few months. After which, Janet brought me there after church in mid December.
Gyu-Kaku
888 Nelson St G3
Vancouver, BC V6Z 2H1
(604) 558-3885

View Larger Map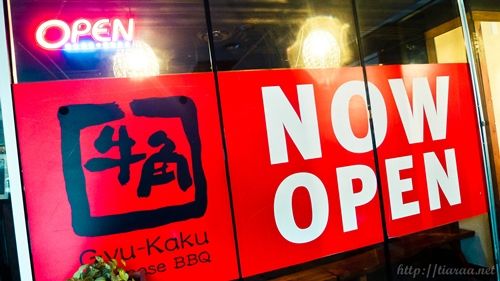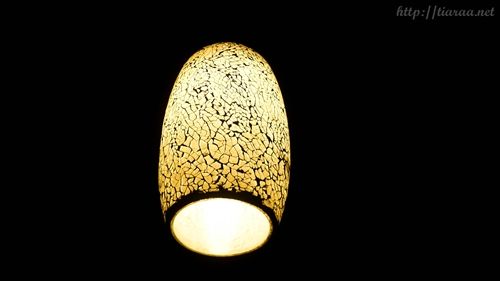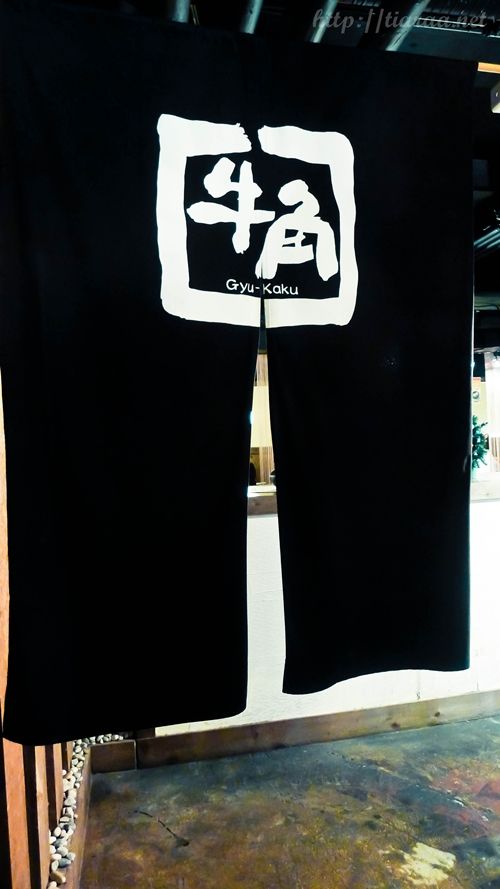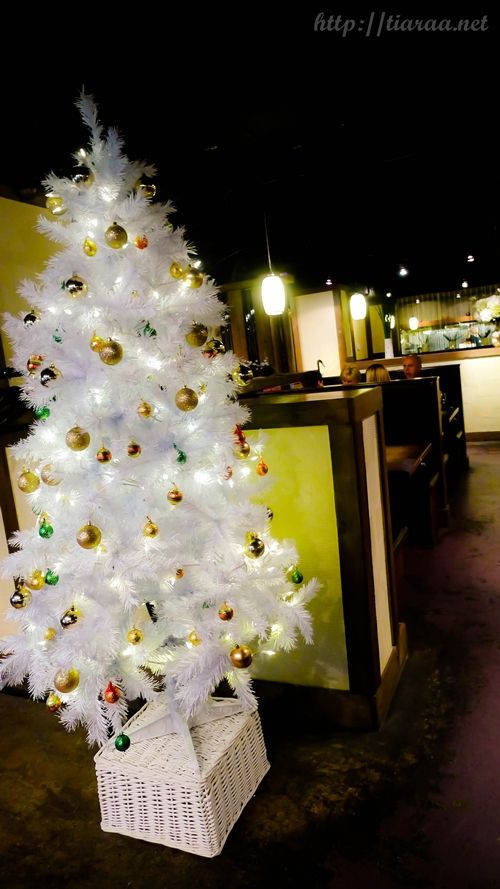 Since it was close to Christmas when we visited Gyu-Kaku, there were Christmas decorations and one of which is the Christmas tree. The ornaments hung on the tree are chocolates and we are allowed to take it home. The server was very patient taking many pictures of us with the Christmas tree after our meals. Do take note that you will have a stench of barbecue smell after having your meal there.
FIRST VISIT WITH FINE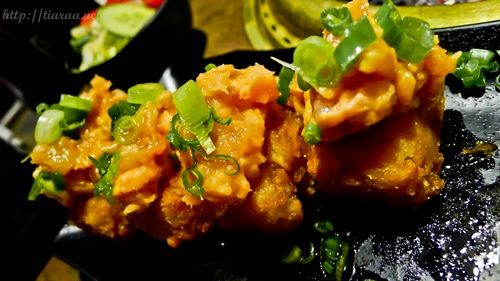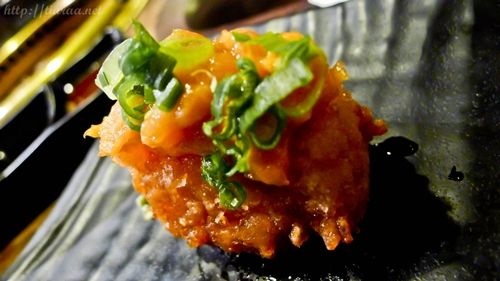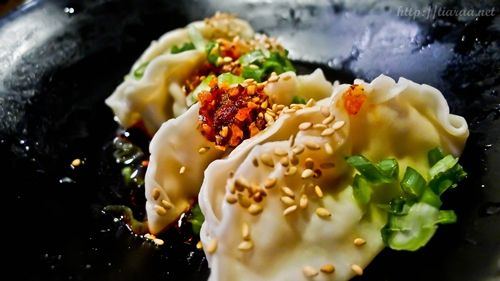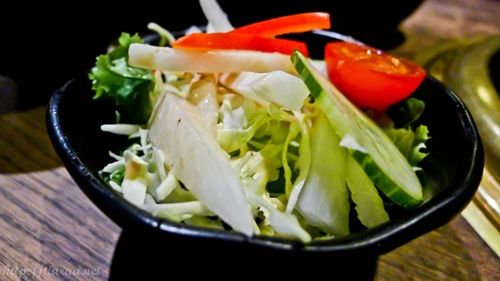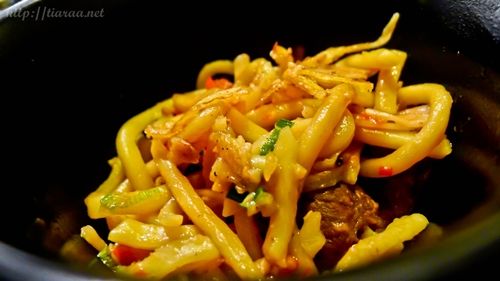 Fine and I shared lots of food for lunch because we were starving so we ordered the Spicy Tuna Volcano (1st-3rd pictures), Steamed Chili Dumplings (4th picture), Sukiyaki Bibimbap Set (5th & 6th pictures) and Beef Garlic Noodles (8th & 7th pictures). The dishes cost CAD$4.95, CAD$6.95, CAD$7.95 and CAD$5.95 respectively. Crispy or grilled rice is enclosed with spicy and slightly fried tuna in the Spicy Tuna Volcano dish. This was definitely one of my favourite dish of the night. The original price is CAD$6.95 but because it is lunch time, there are promotions available. The Steamed Chili Dumplings topped with sesame, spring onion and chili is spicy and moist. It tastes delicious and I give two thumbs up for it. The Sukiyaki Bibimbap is no exception! It comprises of sukiyaki sauce, green onions, onions, rice and beef served in hot stone bowl. Miso soup and salad was also added as side dishes. We did not fancy the Beef Garlic Noodles though. The garlic BBQ sauce just did not match the egg noodles and the beef is really tough to chew on.
Ratings for Spicy Tuna Volcano: 4.5/5★
Ratings for Steamed Chili Dumplings: 3/5★
Ratings for Sukiyaki Bibimbap: 4/5★
Ratings for Beef Garlic Noodles: 2/5★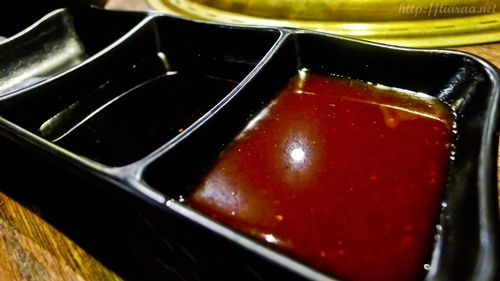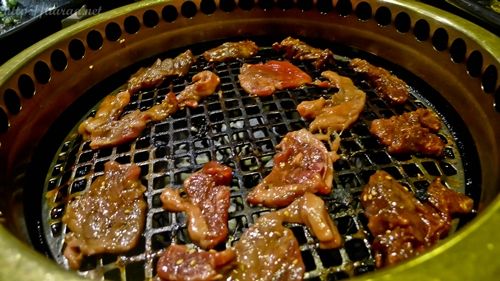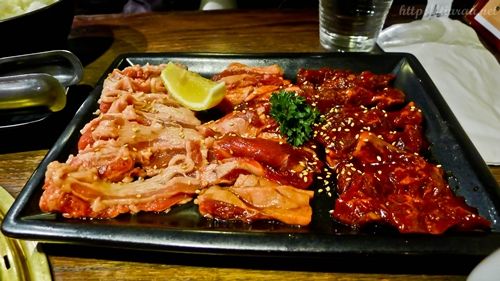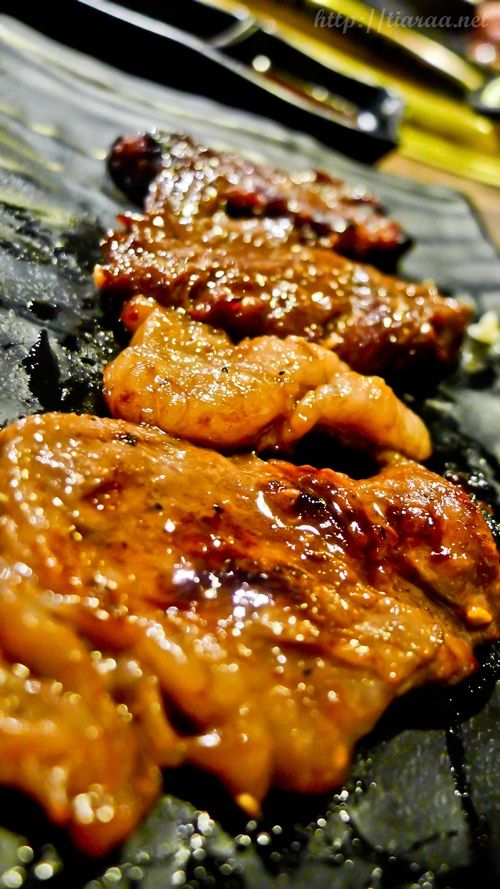 In addition to crazy amount of food we ordered, we also had the Meat Lover's Set, which is made up of Toro Beef Shio, Chuck Kalbi Tare, Bistro Hirami, rice, miso soup and salad. The sauces available for the barbecue are chili. sweet soy sauce and vinegar. Definitely not a meat lover but the barbecued meats here are awesome.
Ratings for Meat Lover's Set: 3.5/5★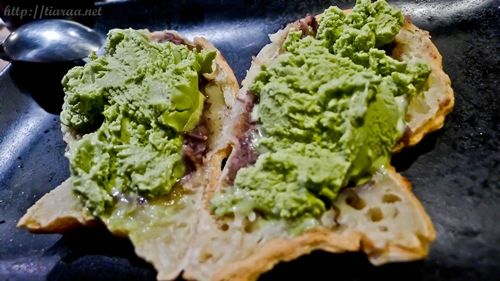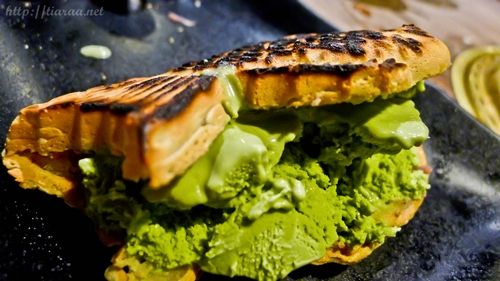 We really wanted to cleanse our barbecued smelling mouth with something sweet so we decided to order the Taiyaki Pancakes with Matcha Ice Cream. The dessert costs CAD$4.50. I did not know the procedures to get the desserts made so Fine showed me the steps…
1) Put the taiyaki onto the barbecued grill.
2) Apply the red bean spread onto the Taiyaki.
3) Place the entire matcha ice cream evenly on each inner side of the taiyaki.
4) Close the taiyaki.
I love anything with red beans and matcha on it and the combination of it is as orgasmic as it can be. This dessert did not fail me except that it melts as heat is produced on the grill.
Ratings for Taiyaki Pancakes: 4/5★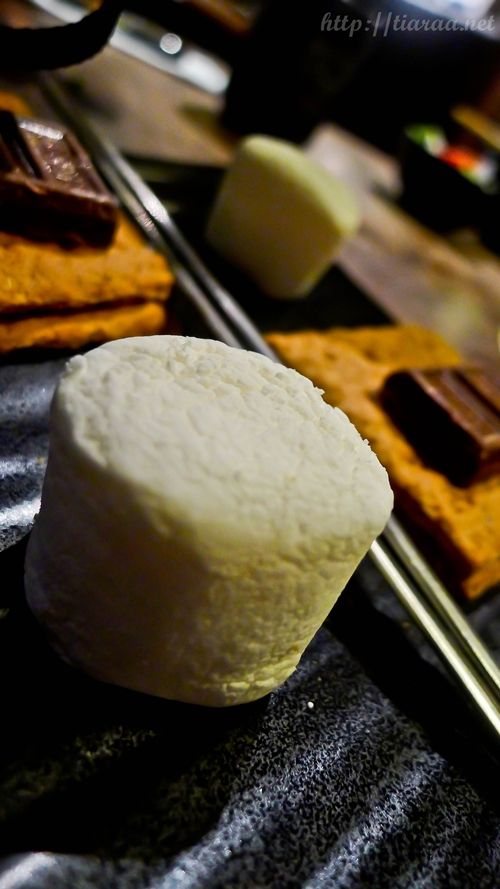 Remember what you usually have during campfire in high school? Well, one dessert was not enough thus, greedy little us wanted to order S'more as well. Again, I love it! However, we did not melt the marshmallow enough so it was not as soft as we thought. Blame me for being too scared of the fire.
Ratings for S'mores: 2.8/5★
SECOND VISIT WITH JANET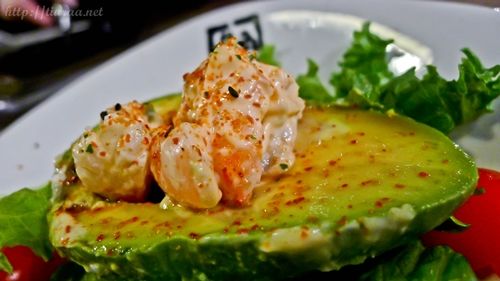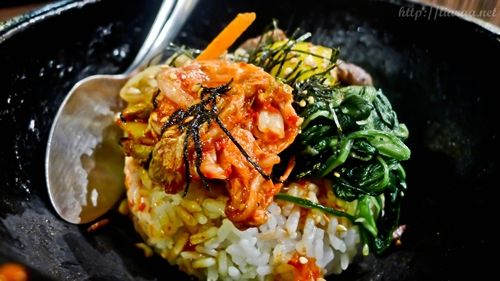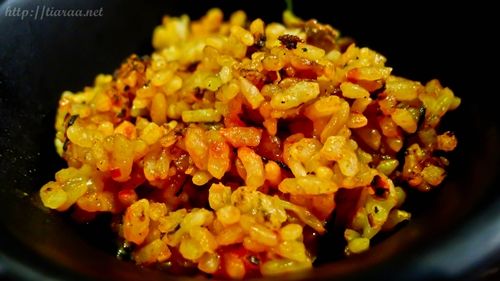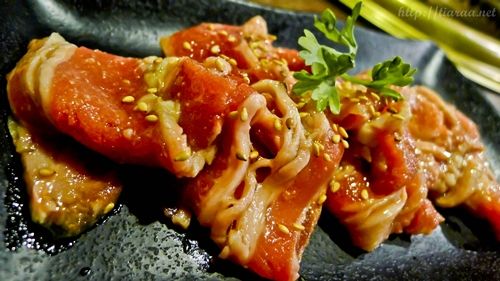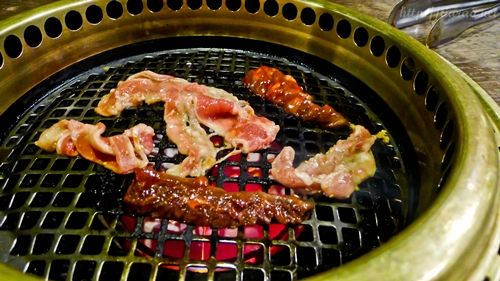 One fine day after church in mid December last year, Janet and I were starving and craving for Gyu-Kaku so we decided to satisfy our cravings for it since the restaurant is near the church. We shared the Spicy Shrimp Avocado (1st & 2nd pictures), Original Bibimbap (3rd & 4th pictures), Toro Beef (5th & 6th pictures) and Harami Skirt Steak (7th picture). This time, the spicy shrimp avocado is the highlight of the night. Whenever fruits and savoury food blends together, the outcome is always a good one. The fresh avocado is definitely a complement to the shrimps, tomato, lettuce and spicy powder. It melts in our mouth to the point that it left us speechless. The original bibimbap was not as fantastic as the sukiyaki bibimbap but still better than the beef garlic noodles. Even though I am not a hardcore carnivore, the barbecued meats made me salivate for me and even as I typed this, I am craving for it now.
Ratings for Spicy Shrimp Avocado: 5/5★
Ratings for Original Bibimbap: 3/5★
Ratings for Sukiyaki Bibimbap: 3.5/5★
Ratings for Barbecued Meats: 3.5/5★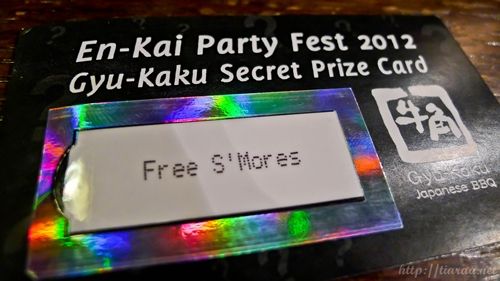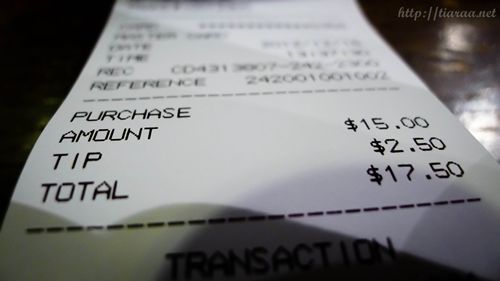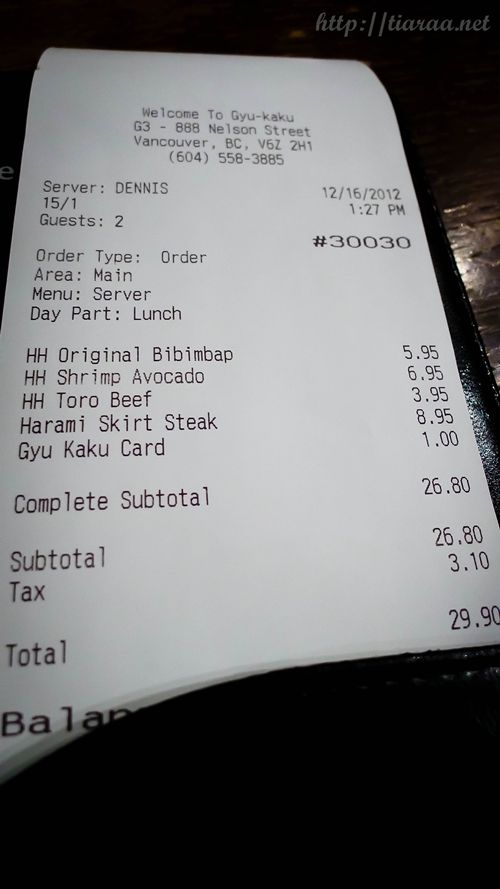 There was this En-Kai Festival and we won free s'mores to redeem but since I was leaving Vancouver for my holidays, I decided to give Janet my prize. The total bill for the food and a Gyu-Kaku card was CAD$29.90 and if you do the math, my share of the payment is CAD$15. Topped up CAD$2.50 for tips and we are free to go. If you must know, the food is worth the cost and I truly enjoy both my dining sessions there!
CASH/DEBIT/CREDIT
OPENING HOURS:
Monday: All Day Long
Tue–Sun: 11:30AM–6PM (last call)
Sun–Thu: 9PM–10:30PM (last call)
Nearest Station: Buarrard Station

Ambiance: 6.5/10
Service: 7/10
Food (taste & appearance): 7.05/10
Value: 7.5/10
Total: 7.01/10★
What differentiates Gyu-Kaku from it's other franchises in other parts of the world? Definitely the service, SALUTES!