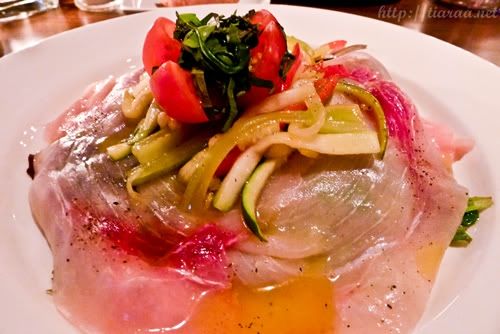 It was nearing Valentines Day and thankfully, our dearest event organizer Emily invited all members of HFAN to RSVP for our Valentines Day dinner at Frankie's Italian Kitchen. I was contemplating if I wanted to spend time with my single girlfriends or go for the dinner. However, my single girlfriends were all busy studying for their midterms so I decided to join the dinner.
Frankie's Italian Kitchen & Bar
765 Beatty Street
Vancouver, BC V6B 2M4
(604) 688-6368

View Larger Map
Valentines Day came and it ended up with very few ladies attending the dinner due to other commitments such as midterms, video shoots, couple dinners and such. The funny thing was Emily could not make it for the dinner as she missed her flight from LA to Vancouver. Thus, Wete helped out to consolidate the revised number of people attending. He kept encouraging us not to cancel on him. The reservation ended up with about 16 people. I saw Denny when I was on my way walking from Stadium skytrain station to the restaurant. We were the first two who arrived at the restaurant. Turns out the restaurant is located within Georgian Court Hotel. It has a grand outlook as it looks like a fine dining restaurant but the costs of the food there is decent. So 16 of us were split into 2 long rectangular tables, resulting in about 8 people per table. We were served by an easy-going server named Jerry.  He kept joking with us and literally took pictures with us when we asked him to take a picture for us. We were also given separated bills for easier payment.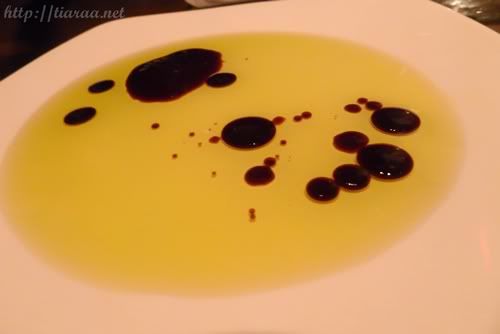 We were first served with complimentary bread with extra virgin olive oil and balsalmic vinegar dip. The bread has a soft texture and tastes delicious, especially after it has been dipped with the oil. Everyone was starving and ate lots of bread the moment it was served to us.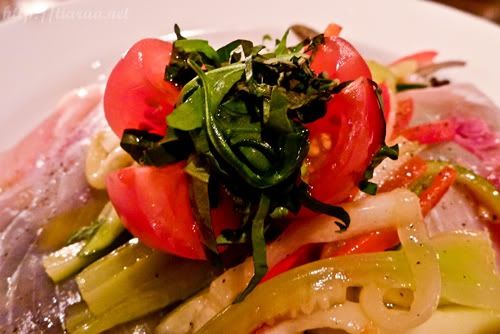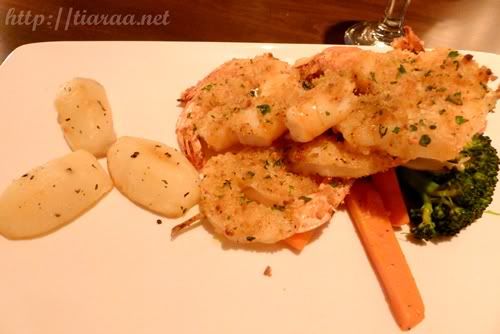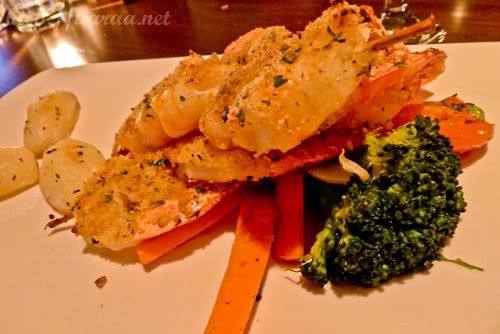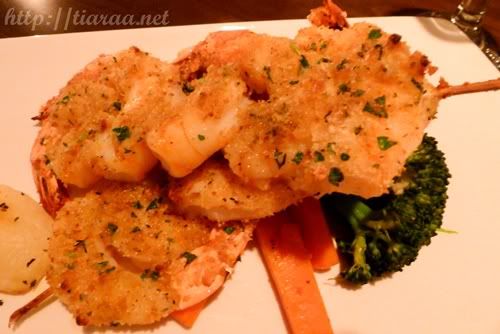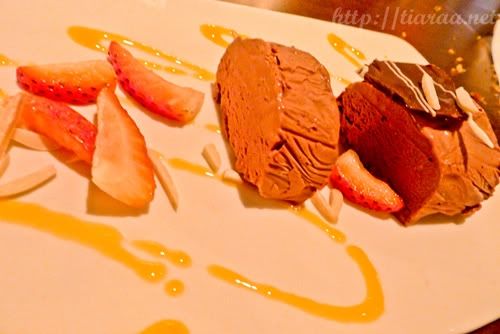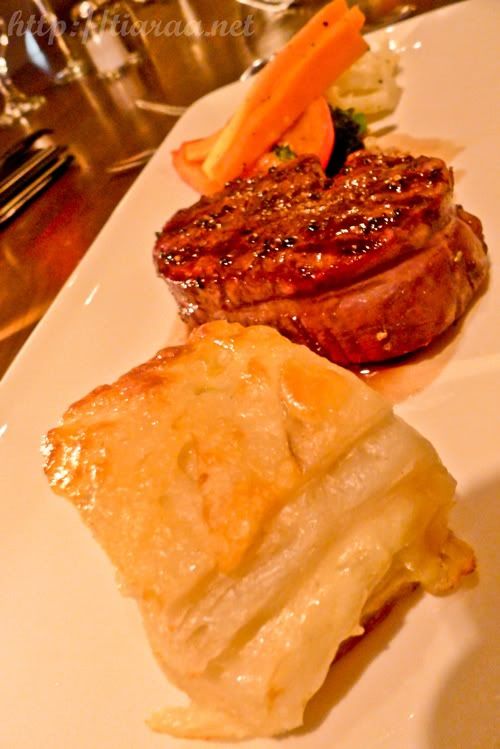 I ordered the Valentines Day Set, which consists of the Valentine Carpaccio (1st and 2nd pictures), Valentine Prawn (3rd – 5th pictures) and Valentine Chocolate Passion (6th and 7th pictures). The Valentines Day Set costs CAD$40, without tax and tips.
The Valentine Carpaccio is very different from the one I ate at Kingston Taphouse & Grile. The carpaccio at Kingston Taphouse & Grile is really too salty for my liking. As for the carpaccio at Frankie's Italian Kitchen, it melts in your mouth as the slices are very thin, delicate and translucent. It is drizzled with extra virgin olive oil with a tinge of salt and pepper and topped with tomato and slices of vegetable garnishes. In my opinion, this appetizer was the highlight of the night.
Rating: 4.5/5★
The Valentine Prawn consists of prawns skewers coated and fried with cornflour so as to provide crispiness for the prawn. There were also slices of broccoli and carrots underneath the prawn skewers so that consumers will have a variety of food in their meals. The prawn skewers are extremely salty and it makes it too difficult to swallow everything up!
Rating: 2/5★
Valentine Chocolate Passion came last and I did not have much of an impression of it. It was basically rich chocolate ice-cream that melts rapidly. I enjoy ice-cream that can be at it's refrigerated state for a longer period of time  than the ones that melt so quickly. Even though I am a sweet-tooth person, I did not manage to finish my dessert. Fernando has the same sentiments as me and could not finish his dessert as well. My friends said the other dessert fared way better!
Rating: 2.5/5★
I forgot who got the beef entree in the last picture but it sure looks appetizing!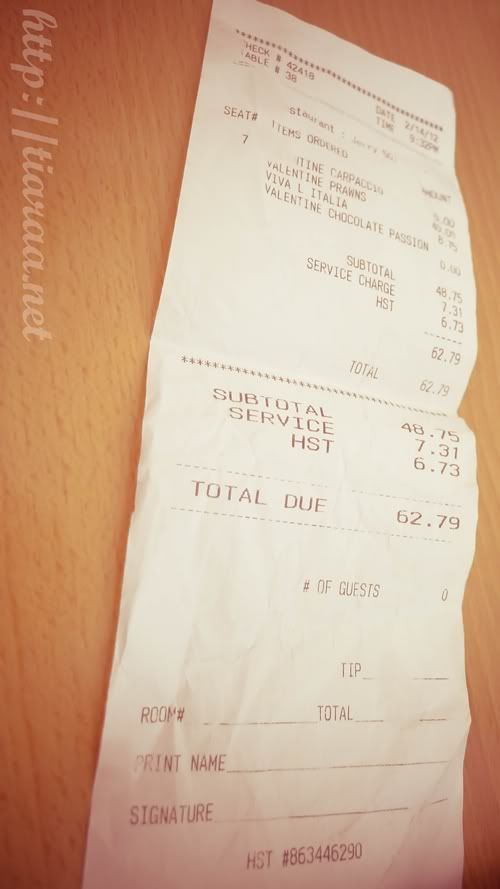 The bill came to a total of CAD$62.79, inclusive of tax and tips. I forgot to mention that I got myself a cocktail as well. Thus, the hefty expense – Not too bad for a classy restaurant with a Valentines Day set meal!
CASH/DEBIT/CREDIT
Opens Daily:
Mon – Thu: 7AM – 11PM,
Fri – Sat: 7AM – 12AM,
Sun: 7AM – 10PM
Nearest Skytrain Station: Stadium
Ambiance: 8/10
Service: 10/10
Food (taste & appearance): 6/10
Value: 6.5/10
Total: 7.63/10★
In conclusion, I had a good time at Frankie's Italian Kitchen. It was a good blend of food, company and ambiance!

swisscheese*