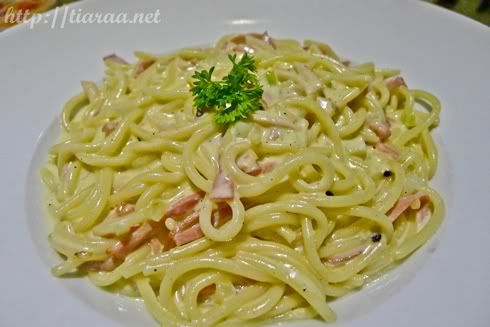 As best friends, Vivian and I always spend quality time with one another either weekly or once a fortnight. We did not make plans to meet at a certain restaurant that day because Bedok Point is a mall filled with restaurants from the top level to the ground floor. So we decided to meet at Bedok Point and browse through the restaurants. We finally decided on Eatzi Gourmet since we haven't seen this restaurant in other malls before.
Eatzi Gourmet Restaurant
799 New Upper Changi Road,
#03-08/10 Bedok Point Mall,
Singapore
+65 6241 7279

View Larger Map
Eatzi Gourmet looks like a romantic restaurant to have candlelight dinner in. However, to me, it is not what it seems. The service was very slow and all servers were pretty unattentive. There was an exception though – one server was very friendly and constantly help us to refill our glasses with water. It is a quiet environment. Thus, Vivian and I could have a proper conversation there.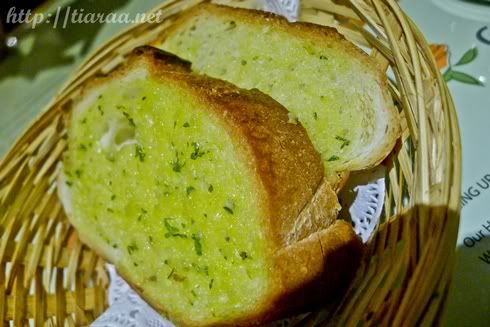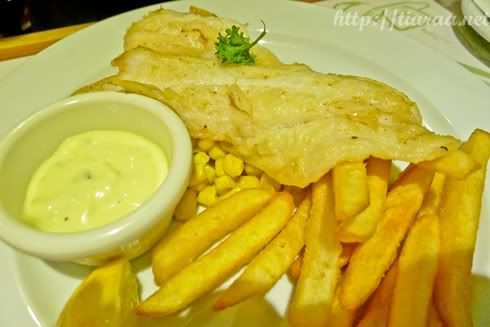 1st picture – A complimentary set of garlic bread was given to us after we made our orders. Vivian & I did not end up finishing them though. The bread was tough and hard to chew.
ratings: 2/5★
2nd picture – Vivian got herself the Grilled Fish Fillet for SGD$14.50. The set also consisted of grilled fish fillet with tartar sauce and fries at the side. Vivian found the fillet average and not some rock-your-socks meal.
ratings: 3/5★ (Vivian's rating)
3rd picture – I had the Spaghetti Carbonara, which costs SGD$10.50. The meal comprised of ham, parmesan and cream on spaghetti. I really like it when egg is mixed with spaghetti with cream sauce as it will accentuate the taste of the cream. However, Eatzi's spaghetti is too creamy for my liking. The ingredients such as the ham is also too little. It seems like I am consuming solely the spaghetti only. I did not manage to finish my meal.
ratings: 2/5★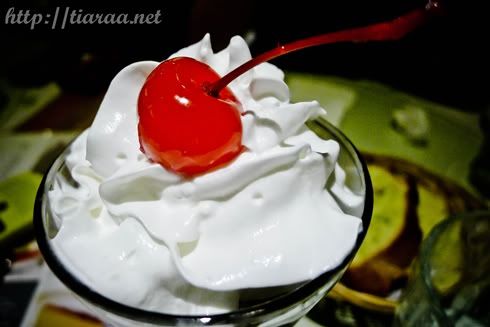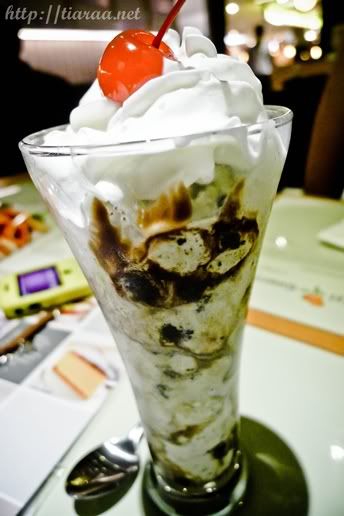 I decided to order the Cookie Monster but I regretted it so much later. Firstly, it is not worth the SGD$4.90 to have an ice-cream set that tastes exactly like McFlurry. Secondly, I saw the desserts (such as Tao Suan, Red Bean Soup, Bean Curd that are 2x less the price) at Bedok Central Hawker Centre and it seems like I should have get that for dessert instead. Nothing special, nothing unique – totally regret ordering this.
ratings: 2.5/5★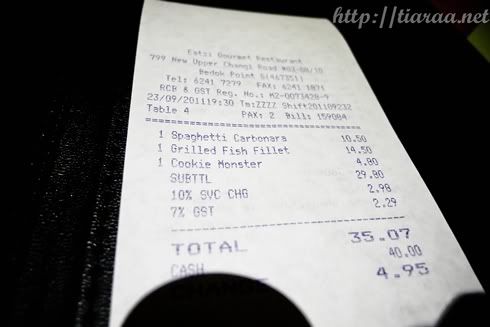 The bill costs a total of SGD$35.07 , inclusive of tax and tips. A little too expensive for less than mediocre entrees and dessert.
CASH /DEBIT/CREDIT
Daily: 11am – 10pm
Nearest MRT Station: Bedok

Ambiance: 6.5/10
Service: 5/10
Food (taste & appearance): 4.75/10
Value: 5/10
Total: 5.31/10★
In conclusion, we are definitely not going back there.
swisscheese*
Tags: cookie monster, eatzi gourmet, grilled fish fillet, spaghetti carbonara
Highlights
Network
swiss@tiaraa.net
Swiss Tiara Sumarli
Create Your Badge
Food & Travels
Meta