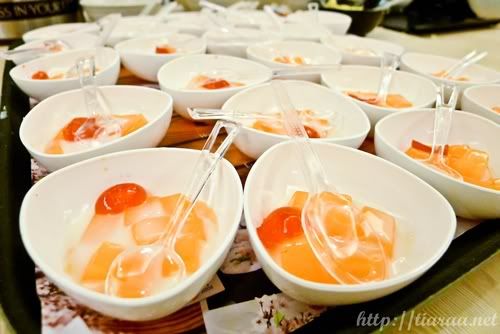 On the 11-11-11, my "Sa Ko" (third aunt from my dad's side) and her partners had the opening ceremony of Center Stage at Taman Anggrek so naturally, my entire family was invited to the opening event.
Center Stage
Mal Taman Anggrek
UG Floor no. U15-U11
Jl. Let. Jend. S. Parman Kav. 21, Jakarta

View Larger Map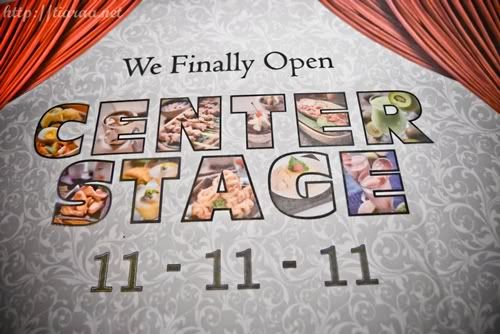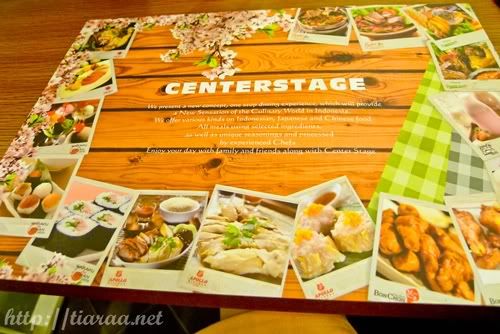 On the day of the opening ceremony, Wee Yip, Milton and I went for the opening together. I arrived at Jakarta at around noon but the opening started at 11:30AM so we missed the part, where my aunt & her partners cut the ribbon. If you did not already know, Jakarta's traffic is a killer! There is always congestions everywhere so we were only able to reach Taman Aggrek at 2.30PM.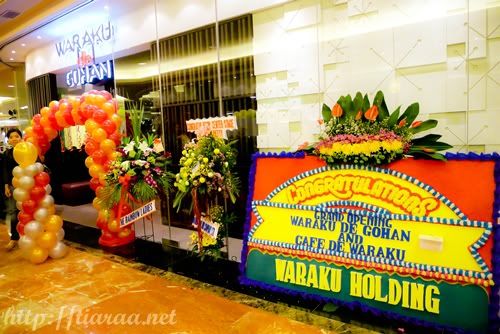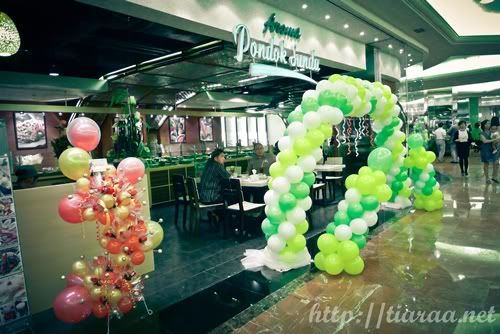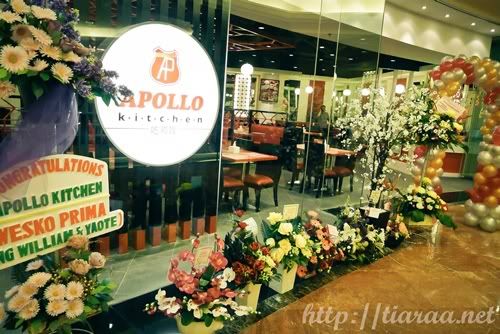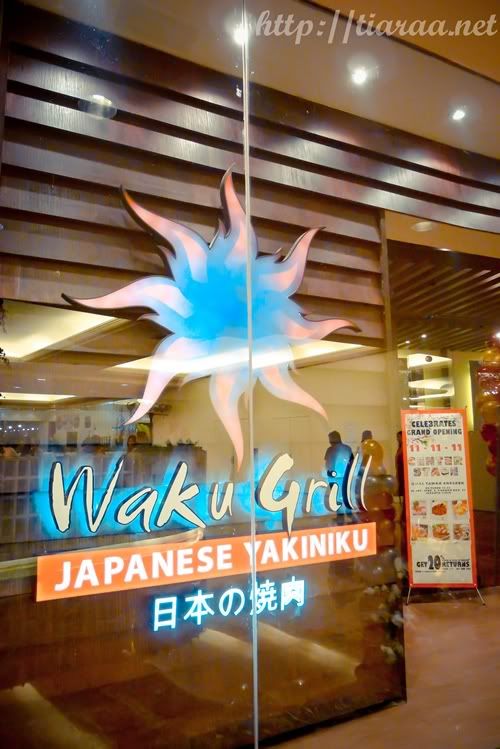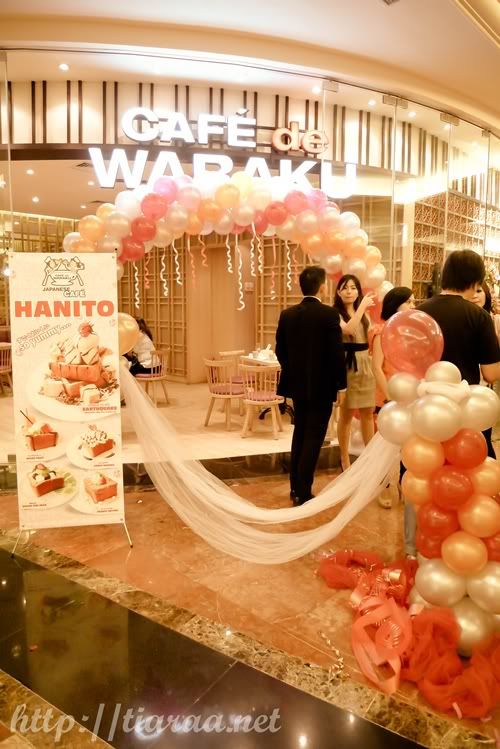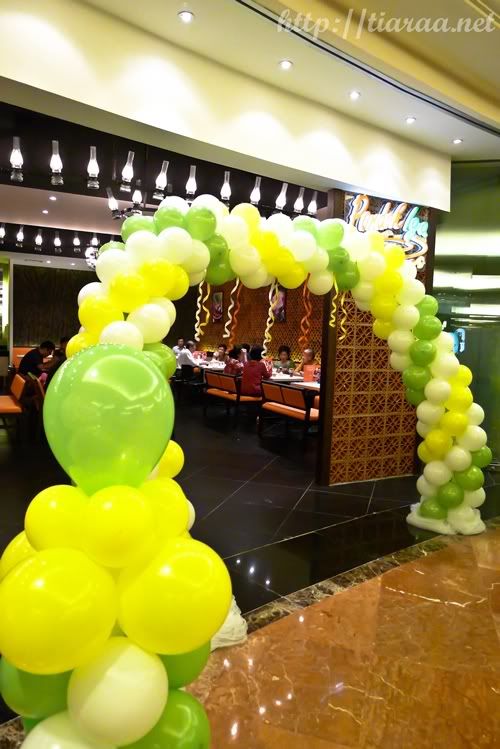 Center Stage has a total of 8 food outlets but my aunt and her partner opened only 6 outlets were open that day. The other 2 restaurants will be opening soon. All 8 restaurants have their own dining area but they are also surrounding a central dining area meant for any of these restaurants. 6 of these restaurants are the following:
1) Waraku de Gohan (First & second pictures) – My aunt & her partners franchise this from the Waraku management. This restaurant serves Japanese food such as sashimi, sushi and udon.
2) Pondok Sunda (3rd picture) – A restaurant serving Indonesian cuisine.
3) Apollo Kitchen (4th picture) – A restaurant that serves Hainanese Chicken Rice
4) Waku Grill Japanese Yakiniku  (5th & 6th pictures) – This restaurant is also franchised by the Waraku management and it focused more on Japanese grilled food.
5) Cafe de Waraku (7th picture) – Another restaurant franchised by the Waraku management, which serves delicious desserts.
6) Pondok Iga (8th picture) –  A restaurant serving Indonesian cuisine.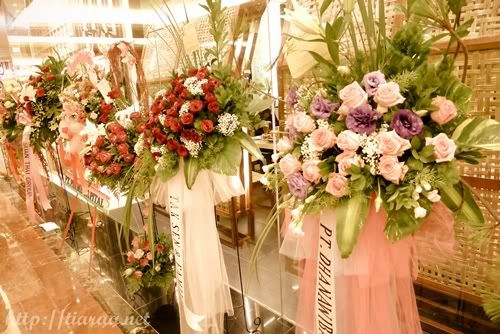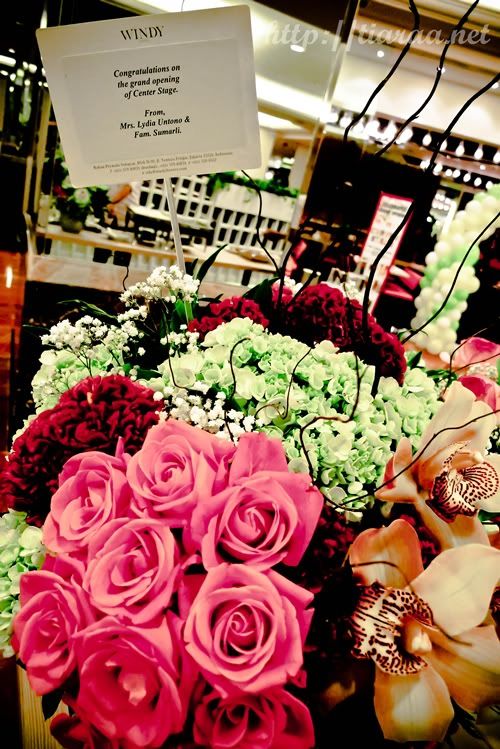 Lots of blessings of flowers for the opening of the ceremony and the last picture of flowers were given by my grandmother. She wanted order the huge flower board but it can only be placed outside the building of Taman Anggrek.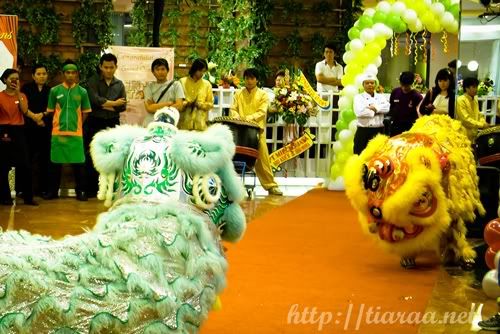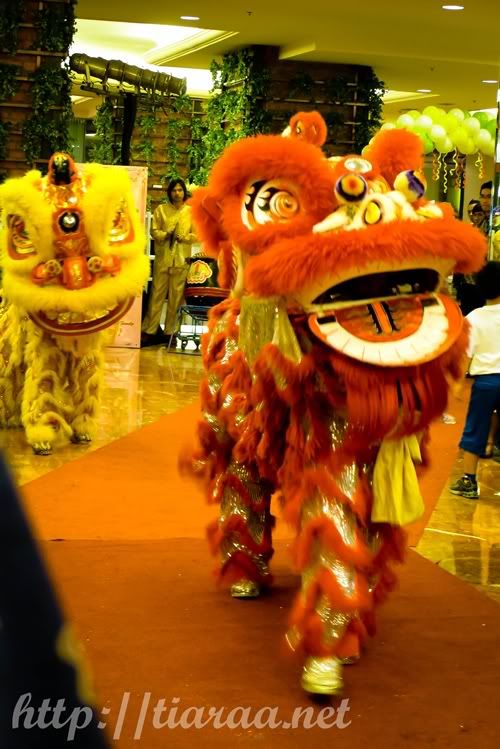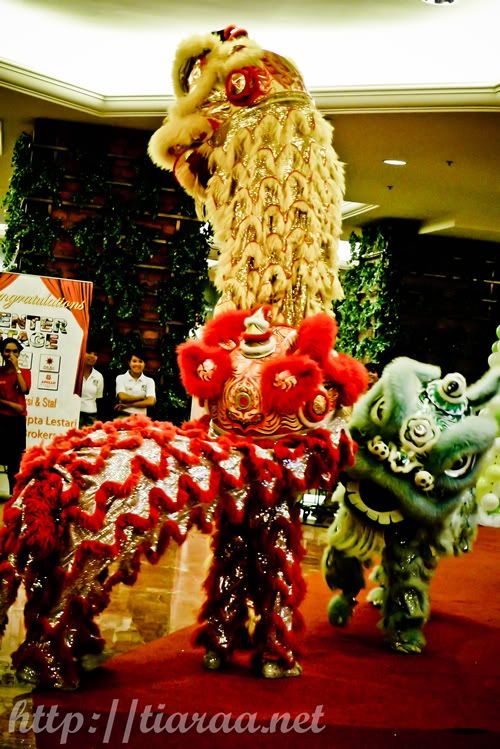 Thankfully, we did not miss the lion dance ceremony! Boy, was the event grand! Red carpets, lion dance, photography sessions, etc.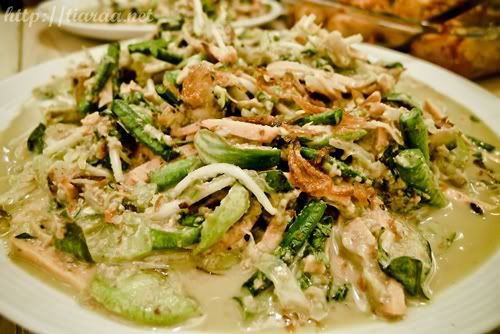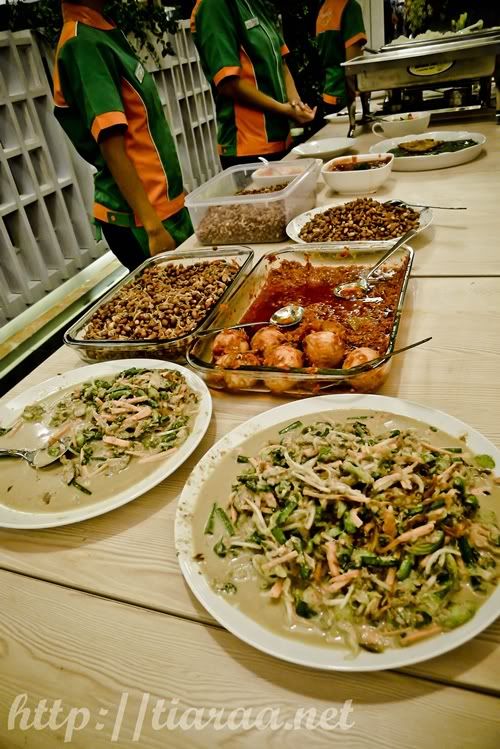 There was a buffet provided for people who were invited to the event. The Indonesian food tastes really good but the Gado Gado depicted in the second picture tastes the best. In case you do not know, Gado Gado is a Sundanese dish that consists of raw and fresh vegetables coated with spicy, peanut sauce. The flavour of the peanut sauce is what you look out when consuming Gado Gado.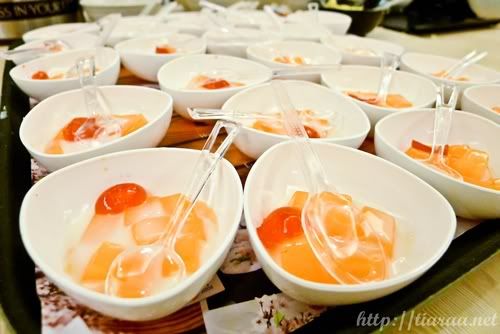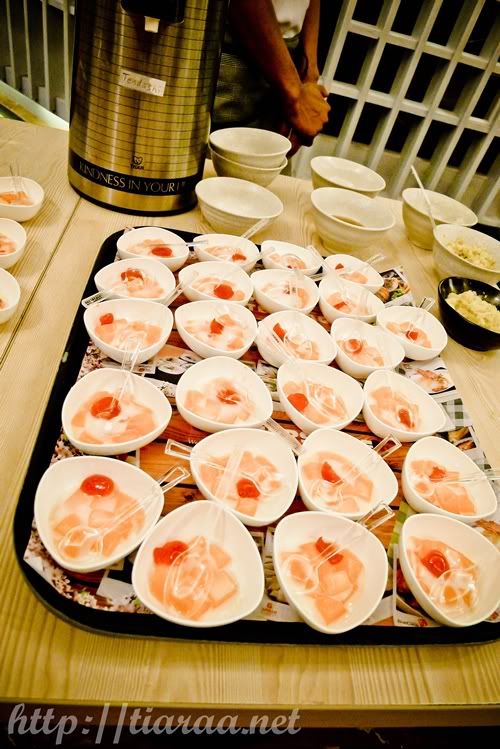 I enjoy desserts a lot so naturally this fruit pudding is appetizing to my taste buds. I did not dare to try the sushi at the buffet as my expectation of sushi has rise due as the sushi and sashimi in Vancouver are way better. Also, Wee Yip commented that he did not like the sushi served.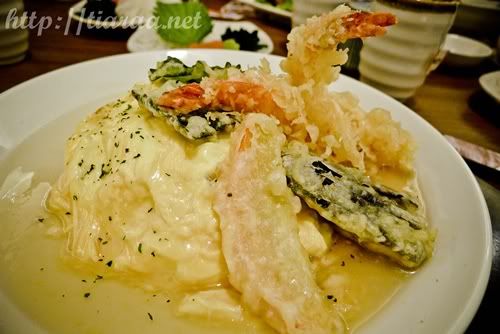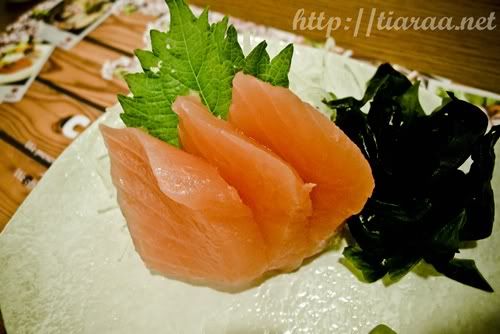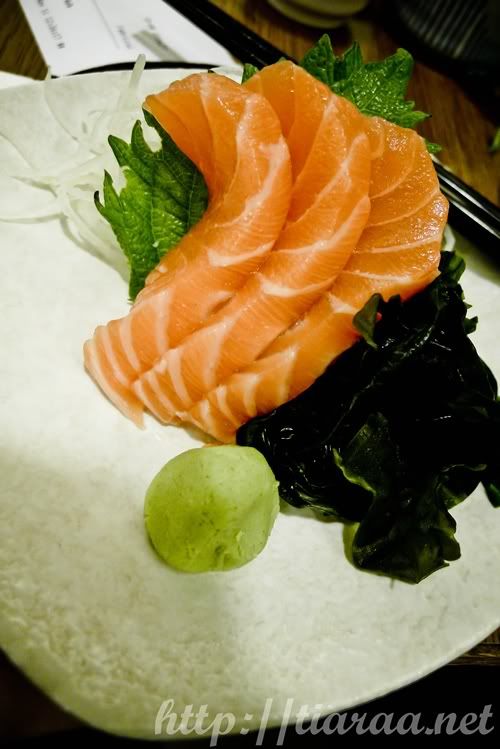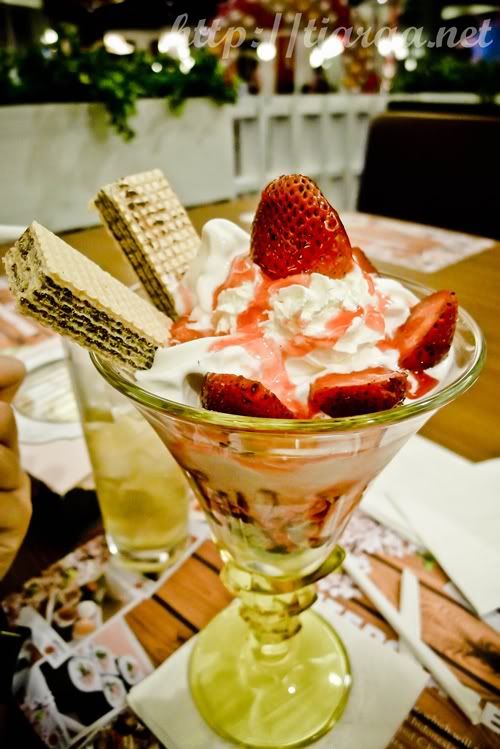 The next day after the opening ceremony, my cousin ("Sa Ko" daughter) host her birthday celebration at Center Stage. Our entire Sumarli family was there and we were free to order anything we want. I shared the fried chicken (1st picture) from Waraku de Gohan with Mandy. The chicken is scrumptious and very well cooked!
I forgot what the second picture was as my cousin (Kor Aswin) was the one who ordered it.
I shared the Chu Toro (Tuna Belly – 3rd picture) and Salmon Sashimi  (4th picture) from Waraku de Gohan with Kor Aswin. The Chu Toro costs 29,000 Rp while the Salmon Sashimi costs 23,000 Rp. The sashimi is not very firm but still edible and tastes average.
Mandy & I were still craving for desserts when most of our relatives have left so I ordered Vanilla ice-cream with fresh strawberries, strawberry whipped cream and chocolate waffle biscuits (5th picture) from Cafe de Waraku.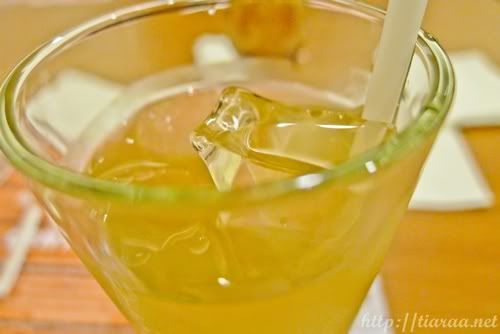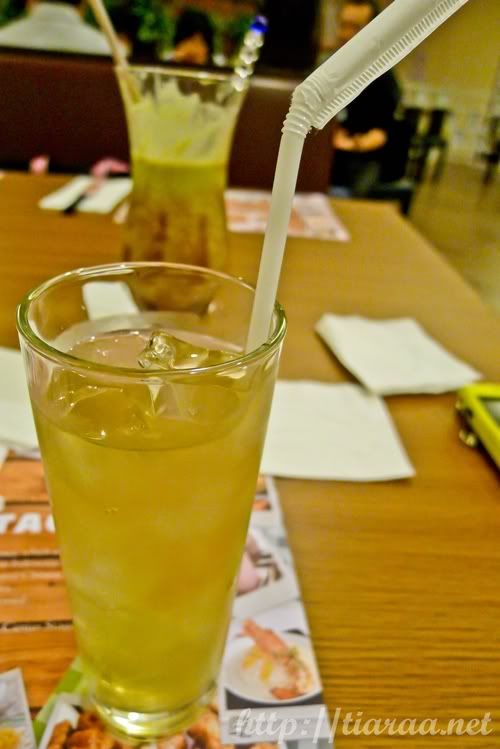 Mandy asked for the Japanese Ice Green Tea and I tried a sip of hers. I fell in love with it instantly as the green tea is very refreshing, authentic and unsweetened yet has an aromatic fragrant. This is probably one of the best ice green tea I have ever tasted.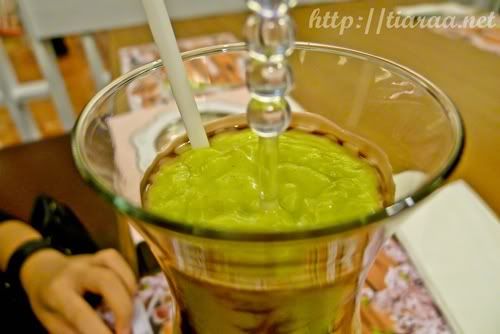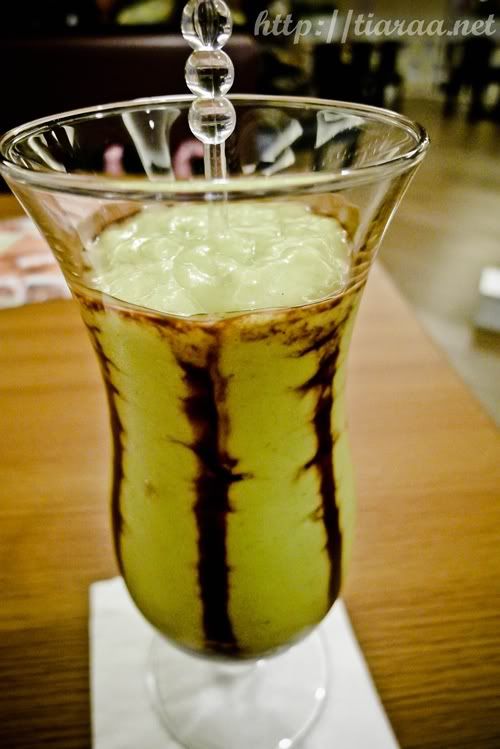 Another beverage I have ordered is the Avocado Juice with chocolate syrup. I have never drank avocado juice before and after drinking avocado juice at Cafe de Waraku, I always order avocado juice whenever I am at Indonesia. The avocado juice has a high viscosity, which is something I enjoy sipping my straws in. The chocolate syrup enhances the flavour and makes the juice very tasty. However, I would prefer not to have the chocolate syrup in it just for a healthier choice. Overall, you have to try avocado juice in Indonesia!
I have more Indonesian restaurants to do reviews on but have to spare time on it. Just stay tuned & watch this space!
No ratings here because these restaurants are owned by my aunt & her partners so I am trying not to be biased here.
swisscheese*