As we were craving for ramen, had Ajisen Ramen for lunch with Shaun and Charles while they were working nearby. We wanted desserts after so we were deciding between the many dessert cafes such as Awfully Chocolate, Swensens and others. In the end, we decided on Max Brenner Chocolate Bar.
Max Brenner Chocolate Bar
1 HarbourFront Walk #01-116 VivoCity
+6562784218

View Larger Map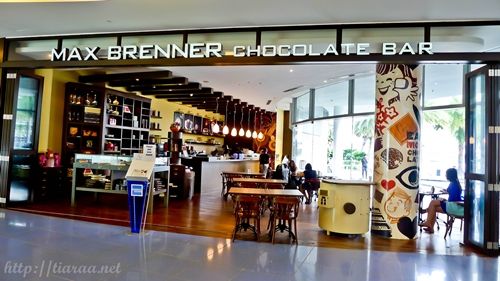 I went to Max Brenner at Katong I12 before and I really enjoyed the desserts there even though it is a tad too sweet. I guess I love the atmosphere and such. The outlet at Vivocity has a better view than the one at Katong I12 as you can see Resort World and Universal Studios from your window seat. However, the person serving us did an average but not fantastic job.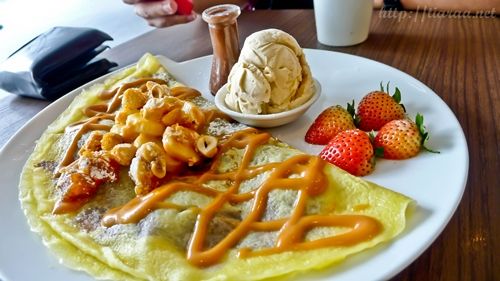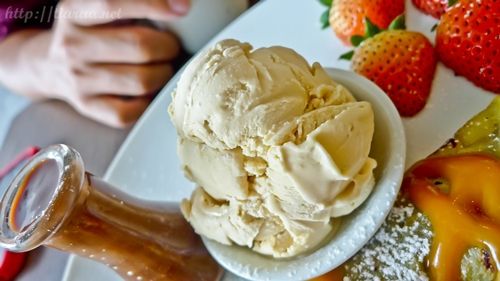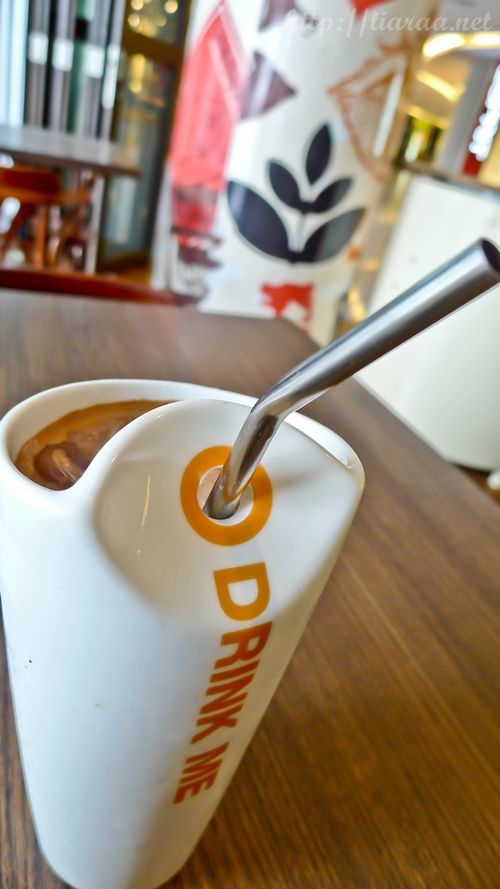 Charles and I shared both the Hazelnut Cream Banana Toffee Crepe (1st-6th pictures) and Pure Chocolate Truffle Granita (7th-10th pictures) because we were still so bloated from Ajisen Ramen. The crepe set consists of crepe filled with hazelnut cream inside, topped with slices of banana, toffee sauce and chocolate crunchy wafer balls. The set also has slices of strawberries, a scoop of caramel ice cream and a small container of milk chocolate ganache. The set costs SGD$17.90 and I felt that it was quite expensive but I guess many nice cafes in Singapore serve really expensive but mediocre food. Moreover, the crepe set was way too sweet – TOTALLY SUGAR OVERLOAD! I did not really consume a lot of it so Charles finished it off. I prefer desserts in some places at Vancouver because they do not put too much sugar in the desserts and the fruits are naturally sweeter in Vancouver. Even though I do not really order sweet beverages, the blended ice chocolate fared much better in comparison to the crepe. It is basically pure chocolate truffle blended with ice dark chocolate. You can either choose dark, milk or white chocolate to blend it with the chocolate truffle but I chose dark chocolate because it will not be too sweet this way! The drink left me craving for more but I controlled myself in order not to consume too much sugar.
Ratings of Hazelnut Cream Banana Toffee Crepe: 2/5★
Ratings of Pure Chocolate Truffle Granita: 4/5★
CASH/CREDIT/DEBIT
Opens:
Sun – Thu: 10:00 – 22:00
Fri – Sat: 10:00 – 23:00

Ambiance: 7/10
Service: 6/10
Food (taste & appearance): 6/10
Value: 7.5/10
Total: 6.63/10★
Even though I am not a big fan of sweet beverages and I prefer ordering desserts more than beverages, I prefer the chocolate drinks more than the desserts at Max Brenner. However, this place cater more to the chocoholics!
swisscheese*