Thanks to Ci Retty's recommendation of Thierry, I went to Thierry thrice in my short trip of 2.5 weeks to Vancouver. The HFAN ladies were thinking of having another ladies' night at Thierry so we went there in mid February two nights before I left.
Thierry Chocolaterie Patisserie Cafe
1059 Alberni St
Vancouver, BC V6Z2V6
(604) 608-6870

View Larger Map
No reservations could be made for a cafe like Thierry as it is based on a first come first served basis. Thankfully, Fidella stays close and she came very early with Andrew to reserve the seats for 7 of us. We had to join two tables and find 7 chairs for us to seat together before we could head to the counter to place our order. It was quite crowded and noisy that night but we enjoyed our night anyway!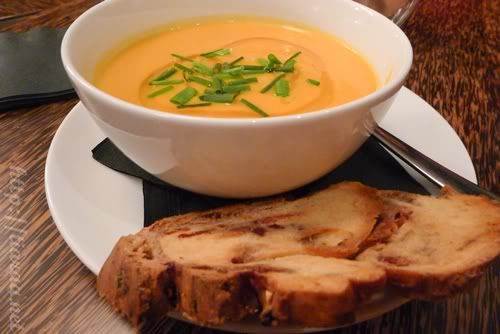 I was starving by the time I got to Thierry so instead of getting the sweet cakes like I usually do, I decided to get myself the pumpkin soup (CAD$6.75) once again! I know I will never get to taste such delicious pumpkin soup in Singapore so got to consume this while I could. The level of creaminess and viscosity of the soup is just impeccable!
Both Vionna and Fidella got different types of quiche. One got the vegetarian quiche, which consists of quiche with organic vegetables and herbs. The other had the lorraine quiche, which comprised of quiche with thick cut bacon and mushrooms. They both fell in love with the quiche at their first bite! I guess that was the highlight of their night because Vionna did not like the macaroon she got and Fidella did not quite fancy her hot chocolate drink.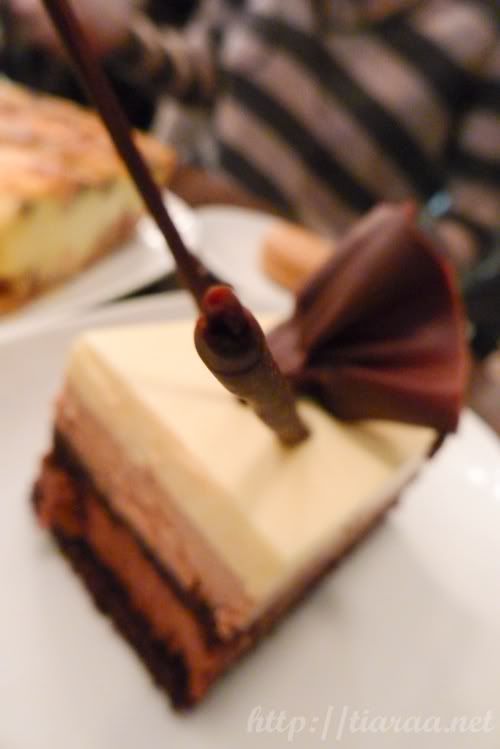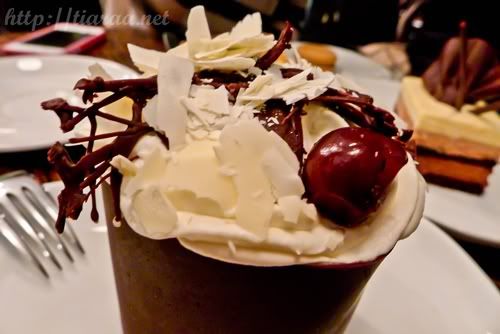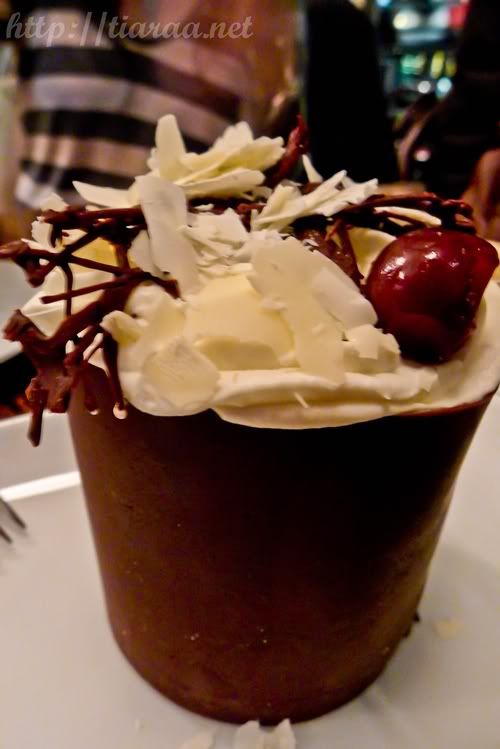 1st and 2nd pictures – Emily finally settled for the Chocolate Trio after browsing through the delicate cakes that Thierry carries. The Chocolate Trio is made up chocolate sponge cake in between white, milk and dark chocolate mousse. She enjoyed her cake but she found the chocolate cakes at Thomas Haas tasted way better!
3rd and 4th pictures – Jessica came a little later but she managed to find her way to Thierry! She decided to get the Blackforest cake instead. It is made up of layers of light pastry cream and chocolate sponge cake, topped with cherries and pieces of chocolates and coated with chocolate coating.
I also wanted to try Thierry's liquid chocolate so I decided to get the hazelnut hot chocolate. It is made with velvety dark chocolate and hazelnut. Both Emily and I found the hazelnut liquid chocolate too saturated that it was so hard to slurp the entire cup of liquid chocolate up! I really enjoy thick soups, smoothies and such but the hot chocolate we had is really too rich for my liking.
Opens Daily:
Mon – Fri: 7AM – 12AM,
Sat – Sun: 9AM – 12AM
Nearest Skytrain Station: Buarrad
swisscheese*