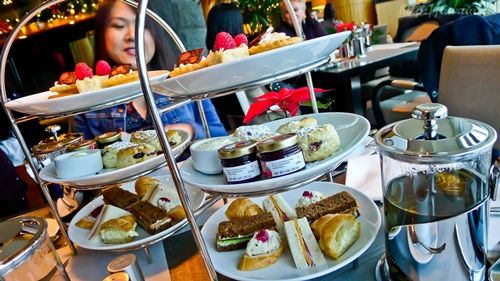 If you have read my earlier blog posts, I went to a few Fairmont Hotels held at different locations to try out their high tea. First, I had high tea with Vivi at Fairmont Pacific Rim. Next, it was high tea at Fairmont Vancouver Hotel downtown with Angel. Since I have yet to try the high tea located at the Airport, Holly, Venessa, Maggie and I decided to go for it since there were deals on the living social site at that time.
Globe@YVR
Fairmont Vancouver Airport
3111 Grant McConachie Way,
Richmond,
BC V7B 0A6, Canada
+1 (604) 248-3281

As all of us finish our final exams at different times, it was tough looking for a suitable time for us to have high tea together. We finally managed to make a reservation for the 28th of December last year and that was when I just arrived back at Vancouver from my vacation at LA with lack of sleep. Service at Fairmont Vancouver Hotel was no doubt, excellent! The lady never fails to retake our picture even though we are so particular with certain angles and such. The above picture is our beautiful view of planes at the departure gate. What a nice corner we had to dine and see planes take off and arrive slowly but surely!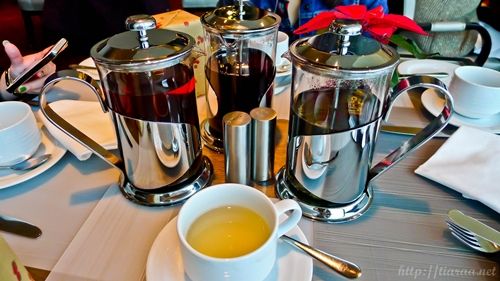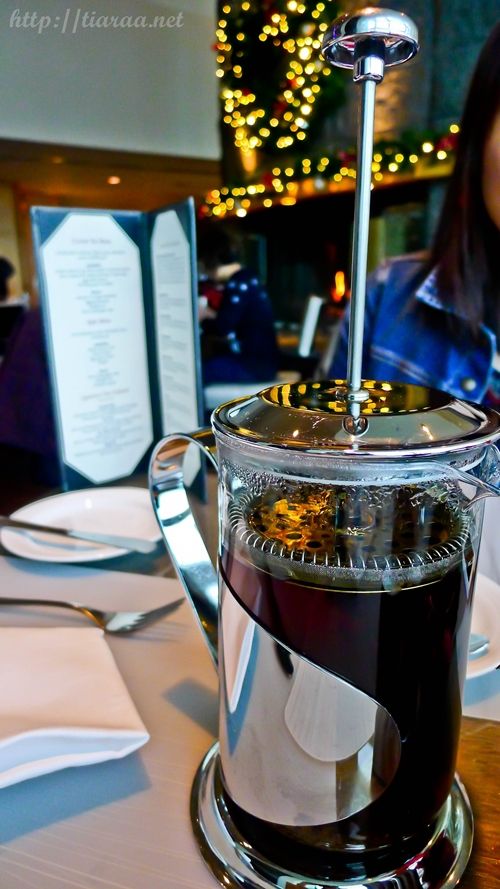 As I was feeling tired from only 2-3 hours of sleep at a distant relative's home, I got myself the Fairmont Vancouver Airport Jetsetter. Instead of easing my recovery from jetlag as stated in the menu, it helps me to feel less tired from my little hours of sleep. The tea is grown in the Himalayan foothills and has honey from their very own hives. This is a reason why the tea is very soothing for the throat!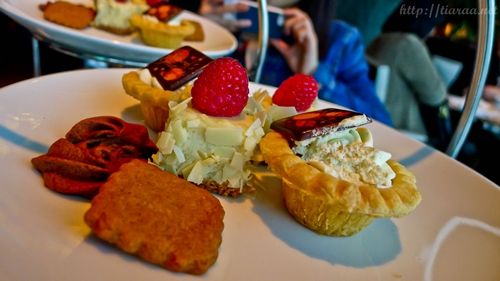 We had two three-tired trays for four people but since Maggie did not come, we spitted her share by three and took it to go. If you don't already know, the composition of high tea is a three-tired (sometimes two-tired) tray comprising of sweet miniature cakes and tarts at the top tray, scones and jam and butter spreads in the middle tray and miniature pastries at the bottom tray.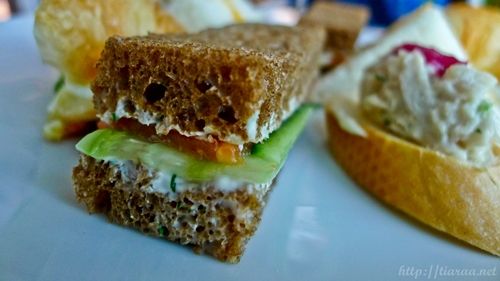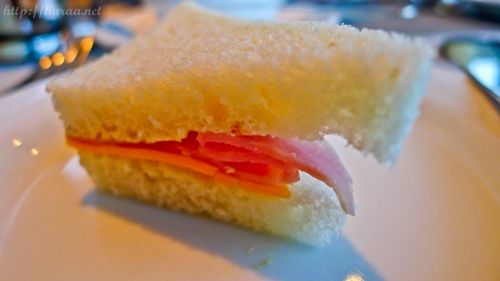 Some people usually love having desserts first but since we follow the norm, we started the afternoon tea with the savory food at the bottom of the tier first. The above pictures show the following miniature pastries from the bottom tray: Egg Salad Croissant (1st & 2nd pictures),  Smoked Salmon Sandwich (3rd & 4th pictures), Roast Turkey on baguette (5th picture), Ham & Cheddar Sandwich (6th & 7th pictures). Egg salad croissant is one of my comfort food for high tea as it can never go wrong. The smoked salmon sandwich is one of the mini pastries that I often look forward to eating. This sandwich uses rye for the bread component and cucumber, horseradish and smoked salmon for the contents. However, my favorite mini pastry at Fairmont Vancouver Airport goes out to the Roast Turkey on baguette. The baguette is topped with minced roast turkey and the cranberry chutney and maple mayo topping bring out the sweetness in the roast turkey. The ham and cheddar sandwich is always the most boring mini pastry for me and for Fairmont's standard, it very mediocre. All the different types of bread used are very fresh and made right from the oven on a daily basis.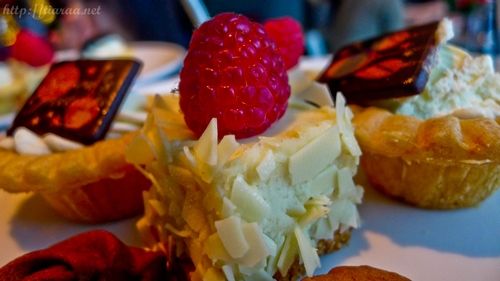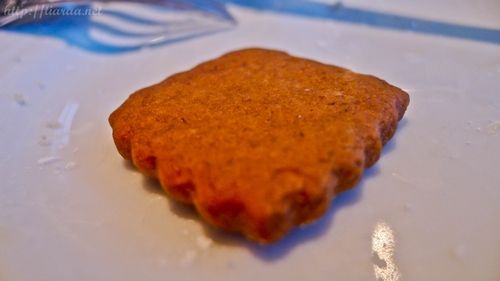 We worked our way upwards via the three-tired tray so we had the Cranberry and Lemon scones (1st picture) next. The scones are fluffy and crumbly and the Devonshire cream helps to enhance the taste to make it a little buttery. It is one of the better food items of the afternoon tea set. Next, we finally made it to the top and tried the Chocolate & Orange Shortbread (2nd & 3rd pictures), Pumpkin Tart (4th picture), Eggnog Cheesecake (5th picture) and Homemade Ginger Snap (6th picture). The mini desserts made it feel like we are still celebrating Christmas as all of it are delicious festive desserts and satisfy our Christmas cravings instantly.
The afternoon tea at Fairmont actually costs CAD$39 per pax but since we had the living social deal, we only had to pay tax and tips for the afternoon tea. Just for your information, The living social deal consists of CAD$43 for an afternoon tea for two and two hours of parking at the Fairmont Vancouver Airport. A pretty good deal, don't you think?
ACCEPTS CASH/CREDIT CARD/DEBIT CARD
NEAREST STATION: YVR AIRPORT @ CANADA LINE
AFTERNOON TEA HOURS:
DAILY 2 pm – 4:30 pm
Ambiance: 7.5/10
Service: 8/10
Food (Taste & Appearance): 7/10
Value: 8.5/10 (only with living social deal)
Total: 7.75/10★
Afternoon tea at Fairmont Vancouver Airport is fine but if I had to pay the original price for it, I do not think that this is worth it as I can get better high tea sets at other places. The food is standardized so I would not travel all the way to the airport just for high tea unless I am transiting at YVR.