While I was studying in Vancouver, I was a loyal customer of a baker, who is able to customized 3D cakes for me at a relatively cheap price. So, I was always requesting for many customized cakes for my friends' birthdays. However, when I came back to Singapore for good last January, I was clueless of a personal baker that I can rely on in Singapore. Thankfully, Singapore has bakeries no matter where you are and it is very easy to buy a birthday cake if needed. Go down to the basement of a mall and you will know what I mean. So, here's the story behind my many encounters with this newly established baker.
30th April 2014 – Joyce's farewell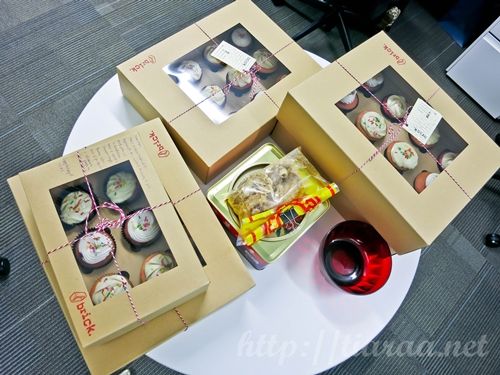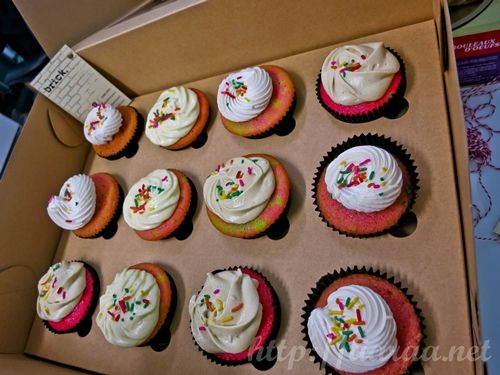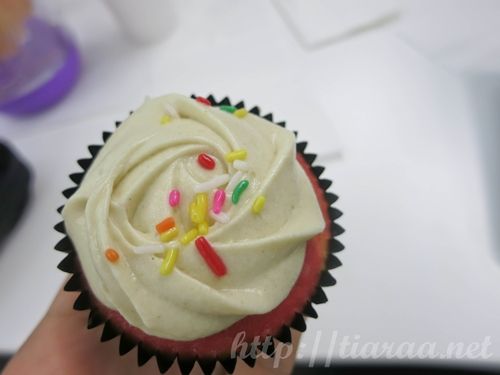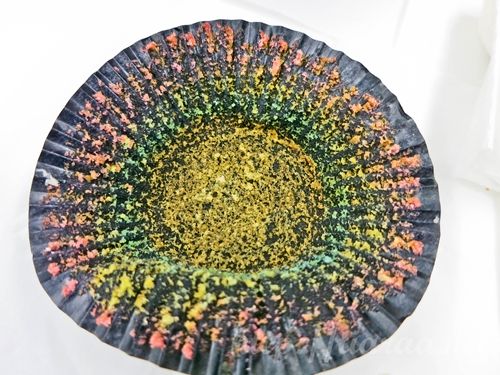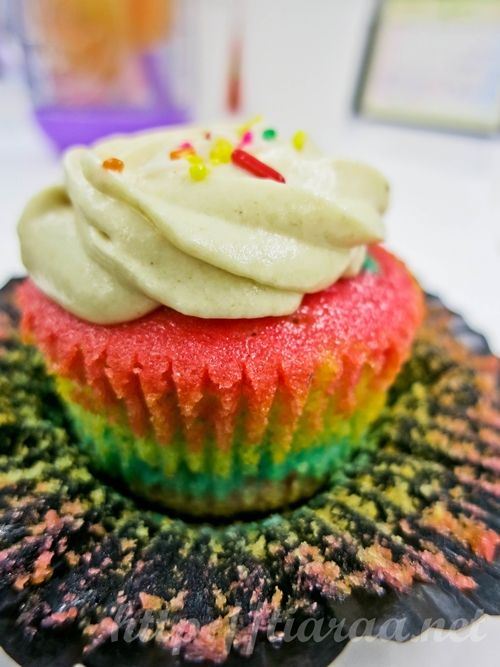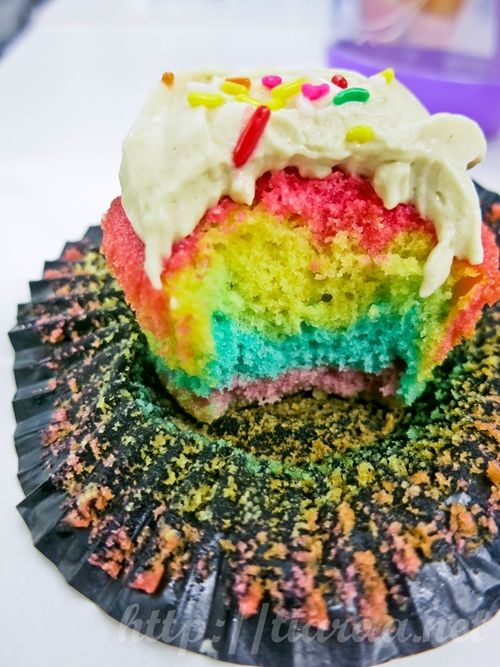 During practically every colleague's farewell, the person who is departing will usually get a farewell gift for everyone in the team. So on Joyce's last day of work, she surprised us with a rainbow cupcake each. Joyce is not really a sweet tooth lover but she loves anything with rainbow on it. She got Jiamin from @inthebrickyard to do about 50+ rainbow cupcakes for many of our colleagues. Even though I'm a sweet tooth lover, I'm not particularly fond of cupcakes and muffins because the first bite is always the best but subsequently, it gets worst and you feel like puking as you consume more of it. Unlike other cupcakes, which I cannot finish eating, I tried this cupcake and found it really tasty yet not too sweet and creamy and I was able to finish it up. The thing I love about this cupcake is the fact that it is light and fluffy.
9th May 2014 – Martin's farewell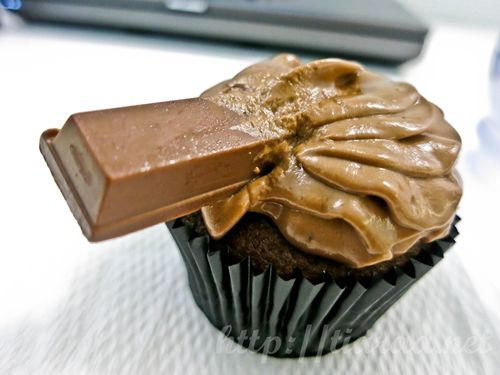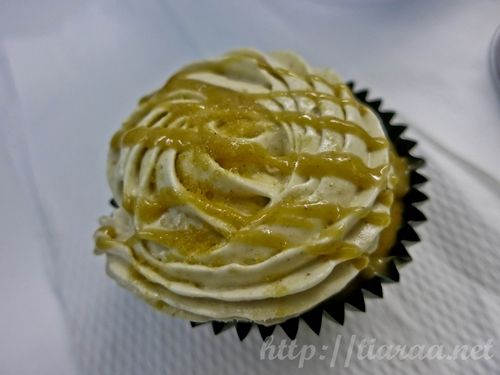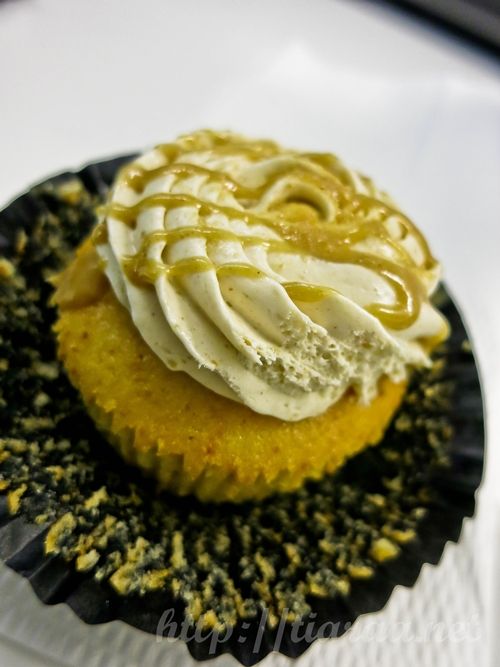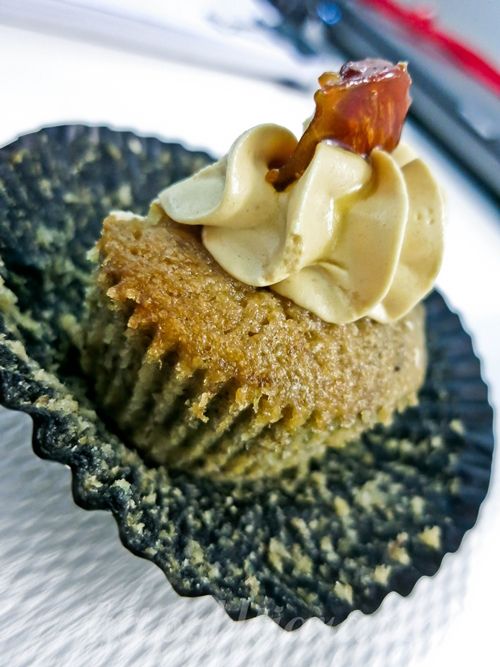 Martin also left the company the following week and he ordered packages of cupcakes for each of the colleague as well. I was lucky enough to try the different flavoured cupcakes namely horlicks dinosaur cupcake, gula melakka cupcake, banana salted caramel cupcake and chocolate drool cupcake. I am not a fan of horlicks and chocolate cupcakes as they are usually dense and have such intense flavour. @inthebrickyard does it so much better than other famous cupcakes bakeries though. I could finish the horlicks and chocolate cupcakes but one is enough for me. I prefer the banana salted caramel cupcake as it has a milder taste.
5th June 2014 – Sabrina's birthday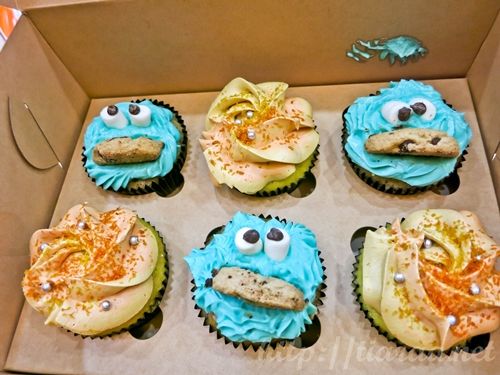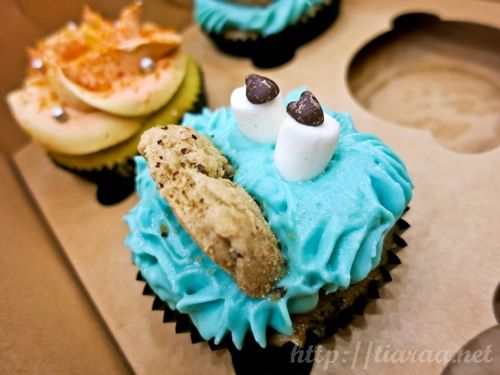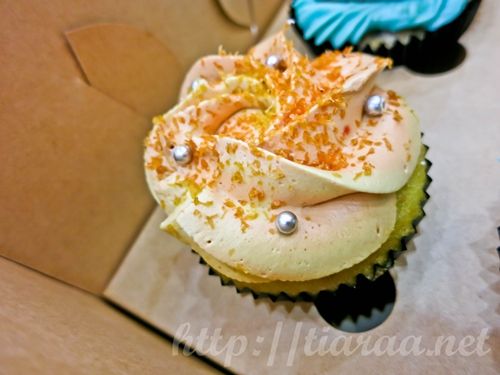 When I went for my church retreat last June, I decided to give Sabrina a birthday surprise since I missed her birthday celebration during cellgroup and we were going to JB on our own as we were going a day later. I ordered a box of 6 cupcakes from @inthebrickyard, 3 of which are cookie monster vanilla cupcakes filled with chunky oreo bits and topped with oreo frosting. The other three were ondeh ondeh pandan cupcakes topped with gula melaka colourful swirl frosting and sprinkled with coconut flakes. My churchmates were amazed by the two delicate cupcakes and kept asking me for the name and number of @inthebrickyard .. I gave the extra name cards given and they swore to order from them again! A box of 6 cupcakes only costs SGD$18 and if you need it delivered at your doorstep, it will be an additional SGD$8. It is inexpensive considering how much efforts are put into making the cupcakes, frosting, name cards and packaging. I did not pay for delivery fees as Jiamin could meet up at woodlands and I was heading there to go to JB so it was convenient for both of us.
14th June 2014 – Steph's road to recovery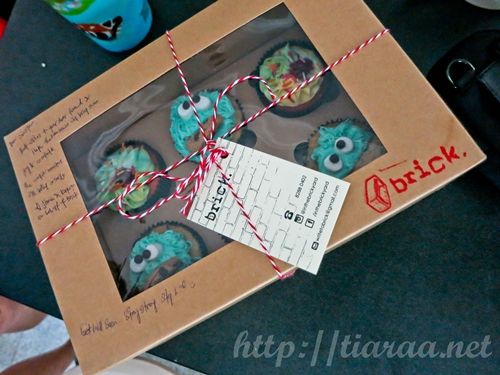 When Steph was staying home to recuperate from her trampoline incident, I decided to cheer her up with @inthebrickyard's cupcakes. I ordered 3 rainbow pancake cinnamon flavoured cupcakes topped with maple syrup frosting and glazed bacon. @inthebrickyard wants to give the customers a bite size of our regular American breakfast. Initially, I ordered oreo cupcakes with a sunflower surface for the other three cupcakes so as to cheer Steph up. Unfortunately, Jiamin told me that they had overwhelming orders and thus, the sunflower cupcake was a failure. However, they made it up by baking extra furry cookie monster cupcakes and stated that they will make it up by giving me discount for the future orders. The total costs was SGD$26, inclusive of delivery to Steph's home.
1st Febuary 2015 – Sam's birthday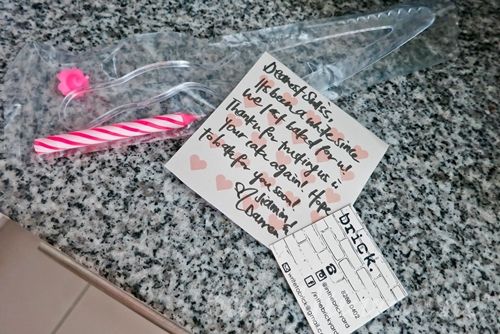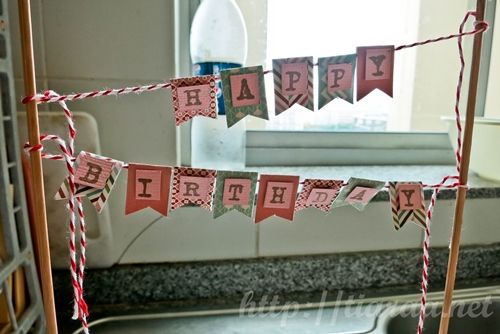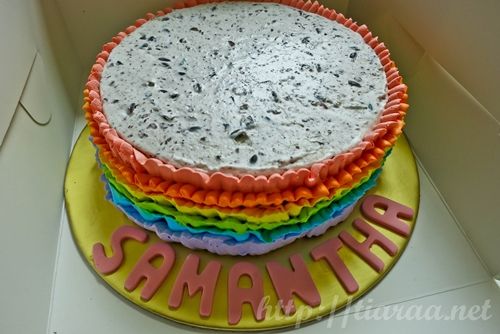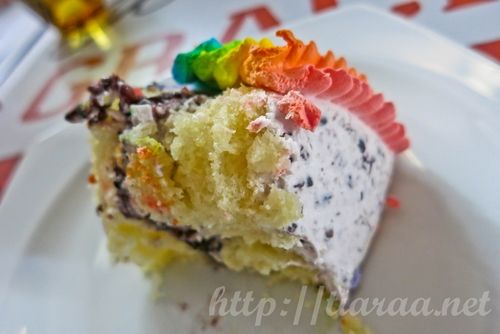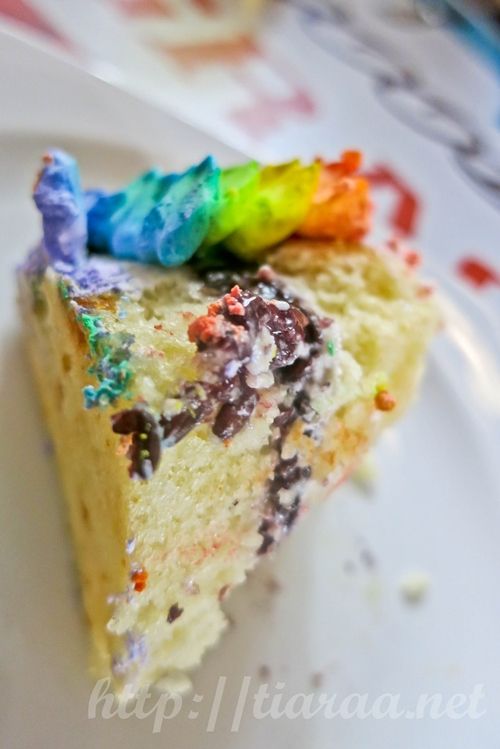 The last item I ordered from @inthebrickyard was a pulut hitam cake coated with coconut and enclosed with rainbow buttermilk layers. It was SGD$35 for the cake itself but an additional SGD$6.50 for the happy birthday bunting and my SGD$4 for the fondant of my sister's name. An additional SGD$10 was for delivery charges. So, the price of the cake came up to SGD$55.50. Everyone loves the cake, especially my sister and mother! Even my non-sweet-tooth brother and his girlfriend love how light and delicious it tastes! I believe that this was one of the best cakes I have eaten from @inthebrickyard and I can't wait to order more from them in the future!