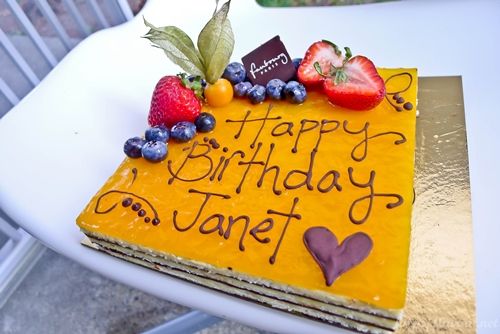 It was close to Janet's birthday last year and I planned to surprise her with our two other mutual friends that she has invited for her birthday dinner. I did not have time to get the balloons so I only got her a bouquet of flowers near my home and a cake. What does birthday cakes mean to you? It maybe a tradition or a routine to others but to me, it is definitely a necessity.
Faubourg
2156 West 41st Avenue
Vancouver, BC
(604) 266-2156

View Larger Map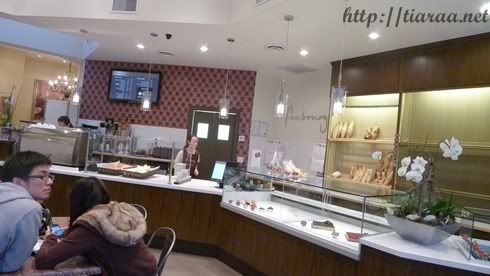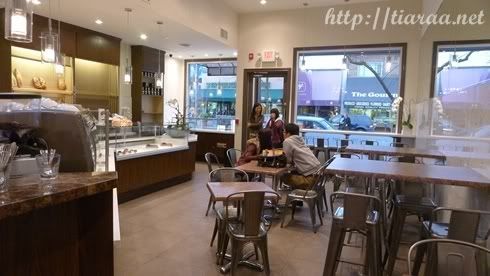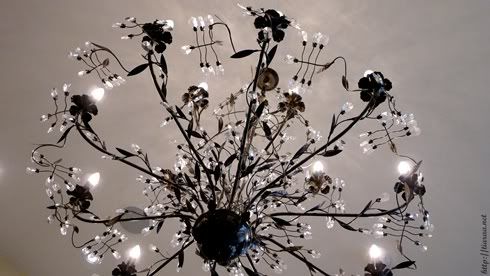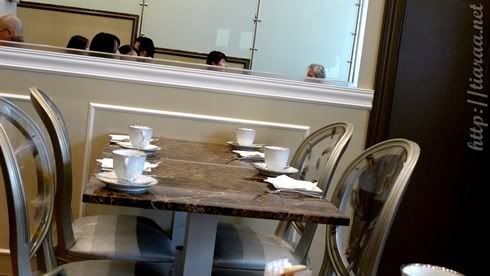 In my previous entry about Faubourg, I talked about how much I love the interior design and ambiance of the place. I came back a year later with no exceptions, I am still in LOVE with Faubourg.
One of the many trips to Faubourg – 24th September 2012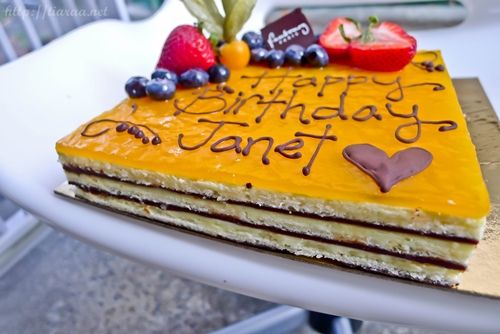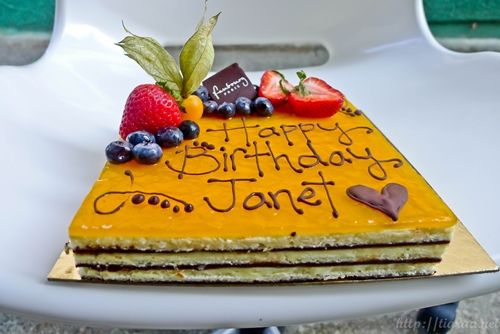 I know that my dearest BFF is fine with tarty cakes like passionfruit cake so I got her something more unusual than the usual chocolate cakes, cheesecakes and fruity cakes. I decided to buy her the Passionfruit Opera, which is basically layers of almond sponge cake that is soaked in passionfruit syrup. The sponge cake is then layered with passionfruit butter cream and rich dark chocolate ganache and coated with a passionfruit glaze. The cake is garnished with fresh strawberries, blueberries and a piece of chocolate with it's signature trademark. Although the taste of the passionfruit is a little strong, it is not as overwhelming as the passionfruit cake at Thierry. Overall, I found the cake really light and scrumptious as the tarty passionfruit is neutralized by the sweet chocolate ganache.
Ratings: 4.5/5★
Next trip to Faubourg in Fall 2012 – 20th October 2012
Holly and I knew one another from our FNH 342 class last fall and we became friends after she randomly complimented me when I cut my hair short. She was so friendly to everyone she met. We decided to hang out randomly one day at Kerrisdale to have Minerva Pizza for dinner. Since both Holly and I are desserts fanatics, we went to our favourite cake shop at Kerrisdale and it is none other than Faubourg!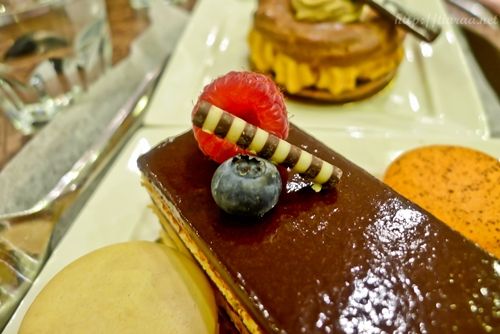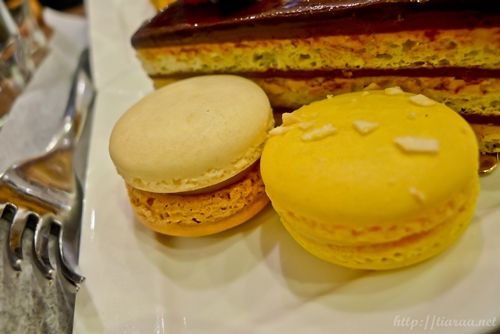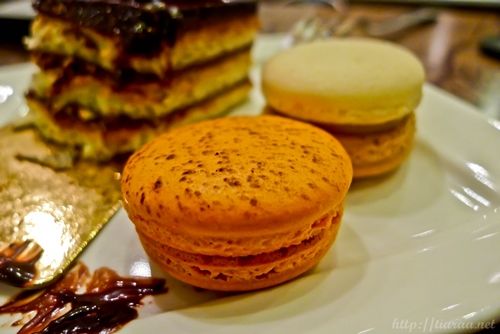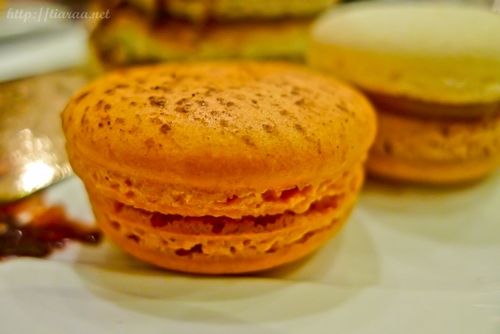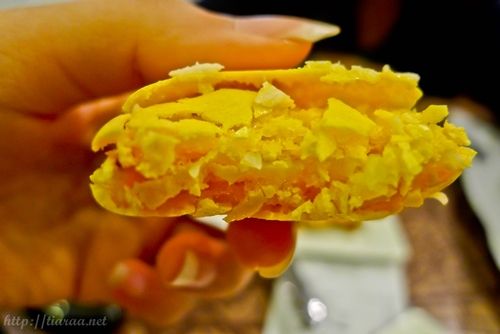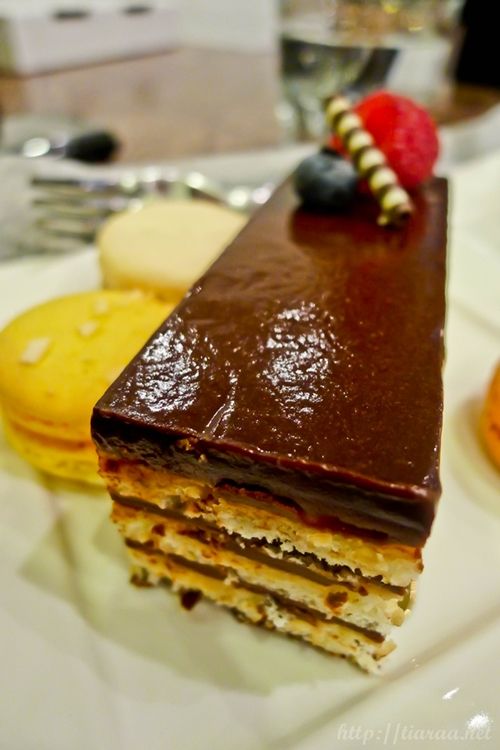 It was 11 days prior to Halloween when we were at Faubourg. Thus, there are many pumpkin flavored pastries, cakes and confectioneries available at Faubourg. Being the adventurous us, Holly and I decided to share an opera cake, a pumpkin cake, a pumpkin macaron, a cappuccino macaron and the faubourg signature macaron.  I used to love overly sweet food but not anymore. I am trying to go easy on my sweets and try not to have insanely sweet food. What I need is just a tinge of sweetness and I will be satisfied. Well, both the pumpkin macaron and cake and the did just that! I will not complain about the opera cake being saccharine but it is much better than the opera cake at Thierry.
Ratings of Opera Cake: 2.8/5★
Ratings of Pumpkin Cake: 3.5/5★
Ratings of Pumpkin Macaron: 3.2/5★
Ratings of Cuppuccino Macaron: 2.5/5★
Ratings of Faubourg Signature Macaron: 3/5★
ACCEPTS CASH/CREDIT CARD/DEBIT CARD
Coffee Shop
Mon: 7-18:00
Tue-Sat:7-19:00
Sun:8-18:00
Bistro
Mon-Fri 8-17:00
Sat/Sun : 9-17:00
Afternoon tea
Mon-Sun: 12-17:00

Ambiance: 10/10
Service: 7/10
Food (Taste & Appearance): 6.5/10
Value: 7/10
Total: 7.63/10★
In conclusion, I am definitely SOLD by Faubourg's delicacies!