After our lunch at Ippudo Singapore, Vivian and I took went to window shop around town for a bit before deciding to settle down at Canele for desserts.
Canele Patisserie – Chocolaterie
Shaw House  1 Scott Road, #01-01A,
Singapore 228208
6738 9020

View Larger Map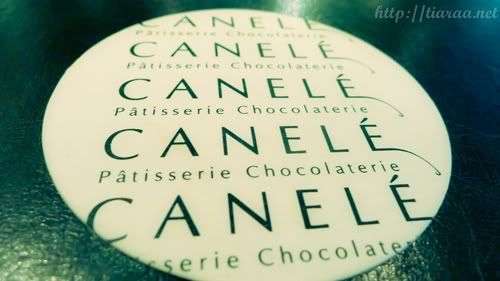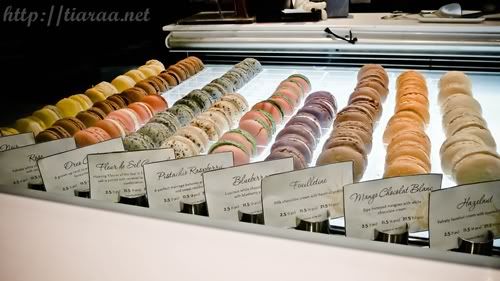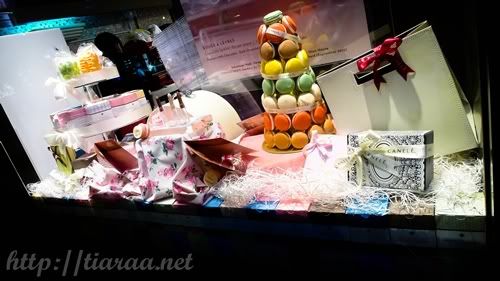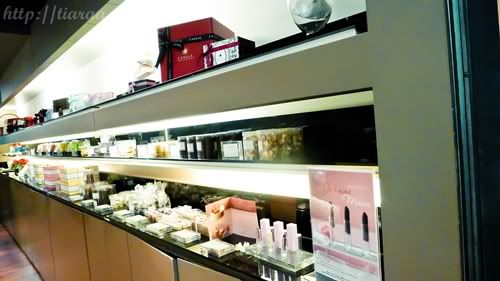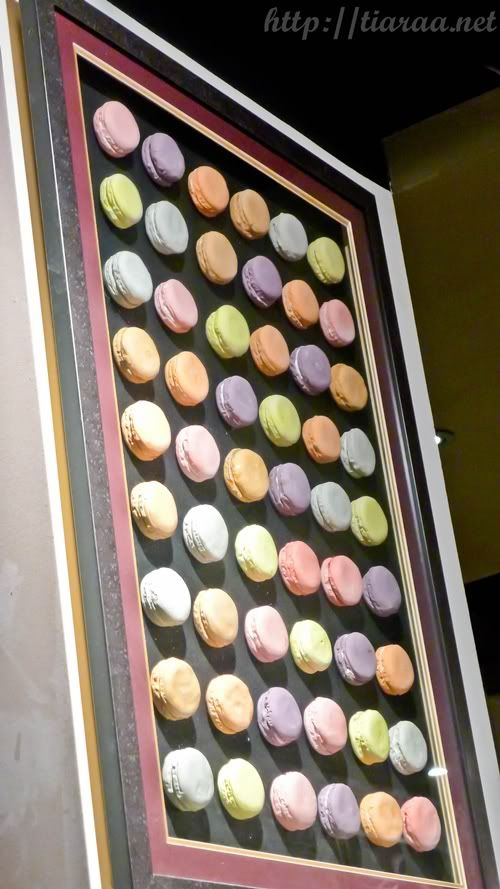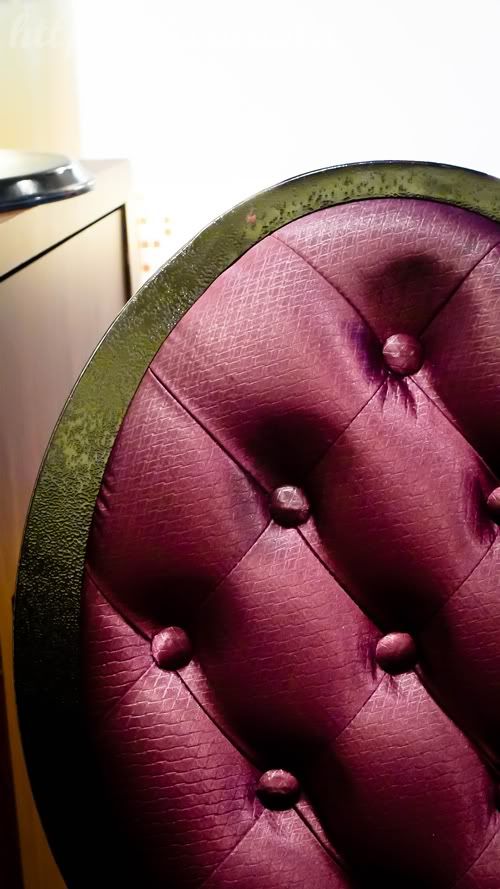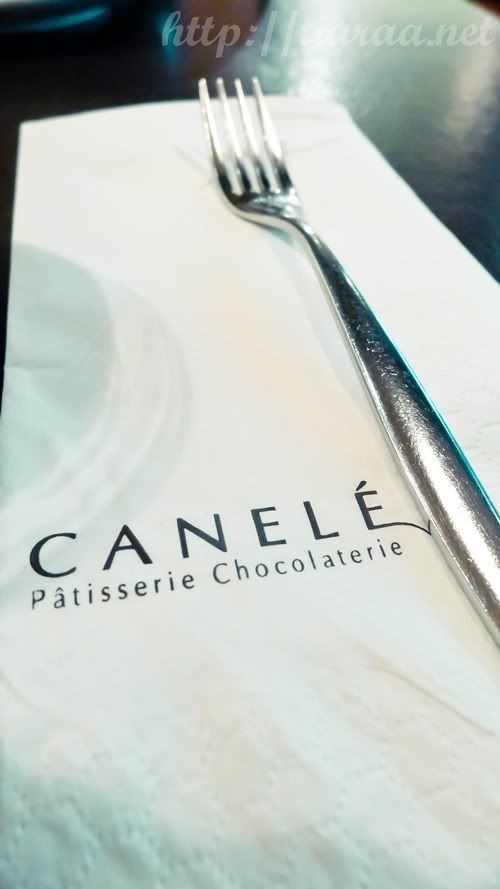 Canele is highly raved for their macarons and artisan cakes. Any girls will immediately melt once they received macarons from Canele from their other half! As you can see from the pictures, Canele is beautifully decorated with lots of pseudo macarons as it is part of their logo.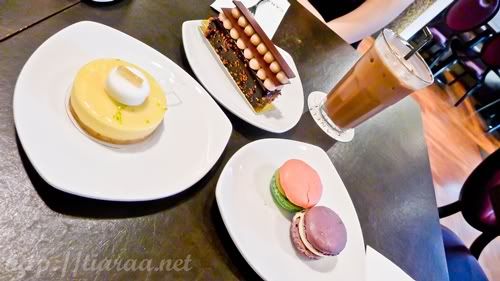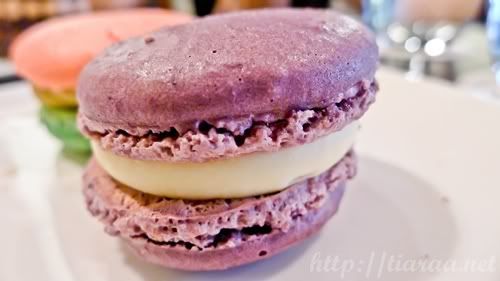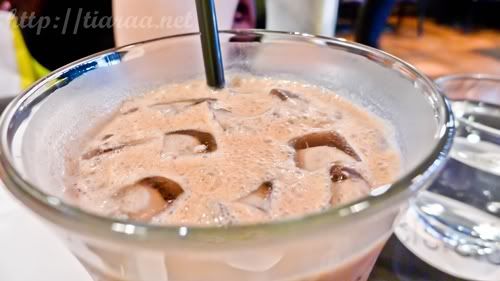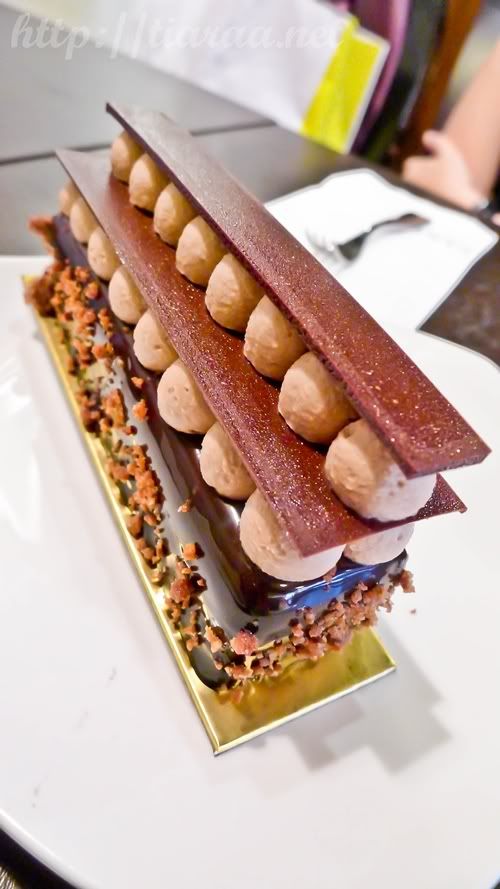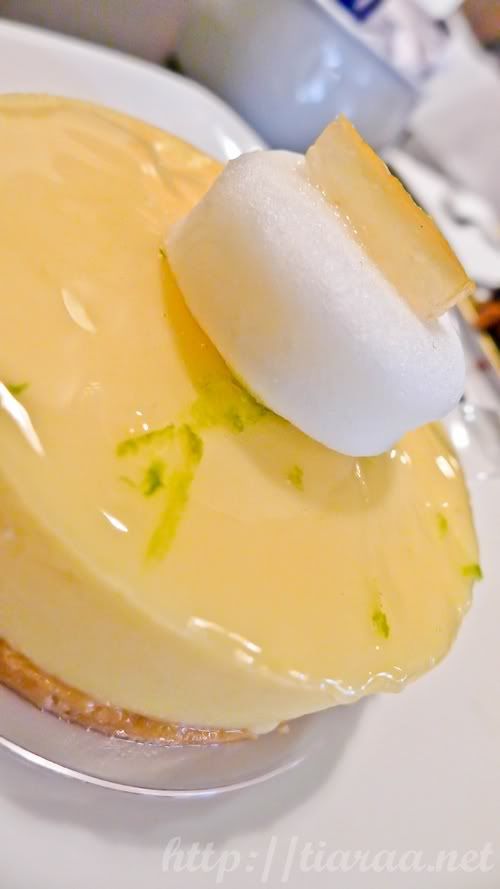 1st picture – The amount of stuff we ordered!
2nd – 4th pictures – I ordered 2 macaroons in total – The Blueberry Macaron (Purple Macaron) & the Pistachio Raspberry Macaron (Pink & Green Macaron). The Blueberry Macaron is stuffed with white chocolate cream with blueberry puree in between and the cream of the Pistachio Raspberry Macaron is a blend of pistachio and sweet raspberries. I did not have a very good impression of the macaron as it is too soft and brittle that it breaks so readily when I am holding it firmly. The cream in between the macaroons are also too rich and sweet that I felt that I was chewing of caster sugar. I could not taste the true fruit flavours of the macaroons.
Ratings of Bluberry Macaron: 2/5★
Ratings of Pistachio Raspberry Macaron: 2/5★
5th picture – Vivian had Iced Mocha for her drink once again – In her humble opinion, the mocha is average.
6th & 9th pictures – I decided to order the Tarte Citron (SGD$6.07) since the macaroons were too saccharine for my liking. Wrong move, the Tarte Citron was extremely tangy and not as refreshing as the ones served in other places. The Tarte Citron is a zesty lemon curd tart set on a crumbly sable base topped with lemon marshmallow. The marshmallow was really disgusting – Should not have touched it!
Ratings of Tarte Citron: 2.3/5★
7th & 8th pictures –  Vivian had Le Royale and this cake is definitely for the chocoholics as it is rich in chocolate – Vanini chocolate mousse layered between crispy chocolate praline and Gianduja cream surrounded by a wall of divine chocolate glaze and almonds. Le Royale costs SGD$7.48 but Vivian thought that it is really not worth the cost.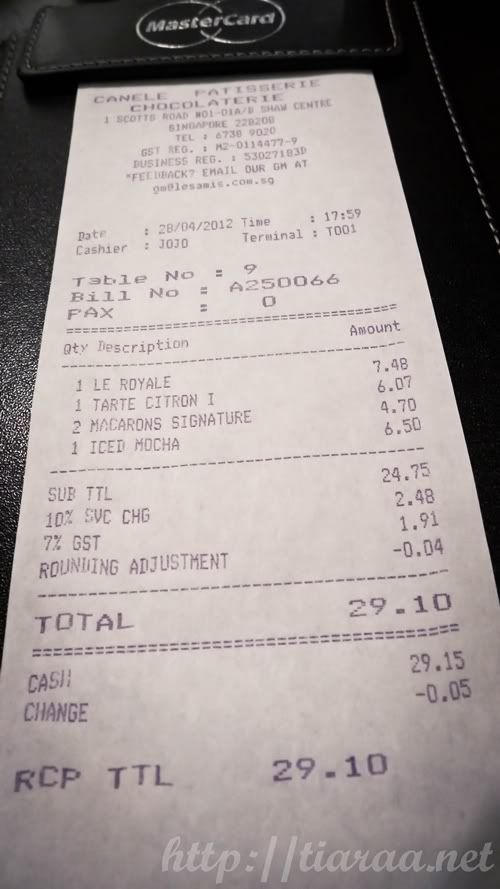 The total bill came up to SGD$29.10. We really found that the food served there is definitely not worth the amount we paid for.
CREDIT/NETS/CASH!
NEAREST MRT STATION: Orchard
OPENS DAILY:
Sun–Thu: 11am – 11pm
Fri–Sat: 11am – 1.00am

Ambiance: 8/10
Service: 7/10
Food (taste & appearance): 4.2/10
Value: 4/10
Total: 5.8/10★
It will take a lot of effort for us to pay Canele a second visit!
swisscheese*