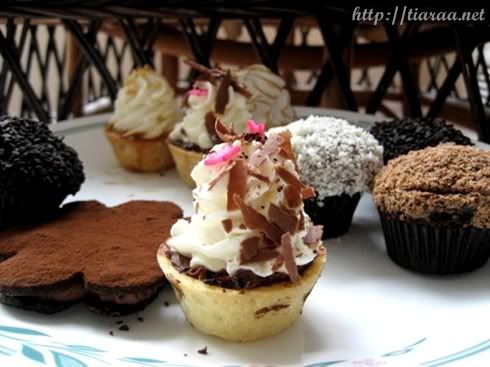 today, i have finally decided to let go of a feeling of dislike for a certain someone. too bad she, being her usual self has to critique on my trademark. seriously ? even if you are that great in your academics, your selfish, self-righteous, arrogant and little-miss-right personality put you down. laugh out loud, your comment on my trademark only makes yourself look so small
this totally suits the theme of mini cakes, tarts & other pastries but it's definitely not dedicated to you !

[EDITED] UPDATED ON 11TH OF NOV 2010
adonia tea house
2057 West 41st Ave.
Vancouver, BC V6M 1Y7
(604) 261-0049
since indulge living was selling vouchers for adonia full set high tea for half the price (CAN$12 instead of the usual CAN$25), so many of us from VCB decided to get it. we were planning to go there together but since adonia high tea is so small and there were so many of us, we decided to split into small groups. fae and i made a reservation for our high tea date 2 weeks before the day itself.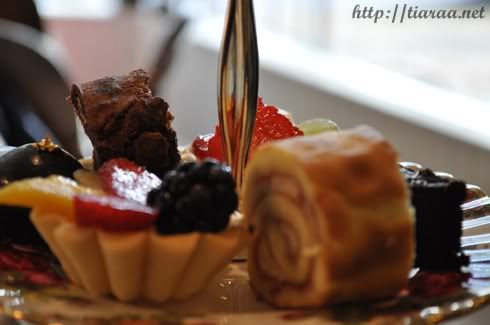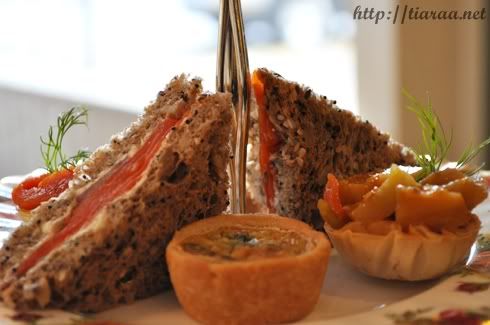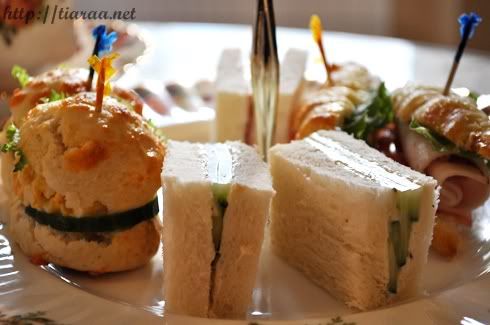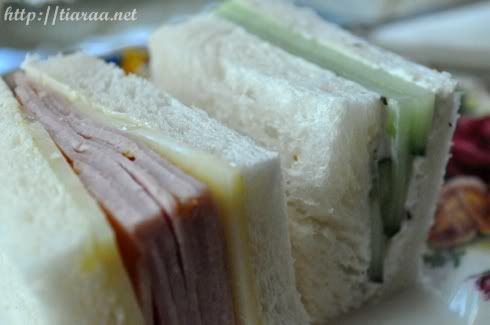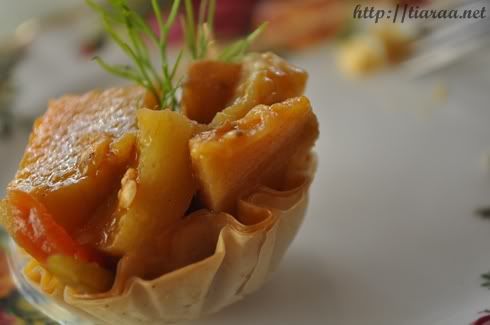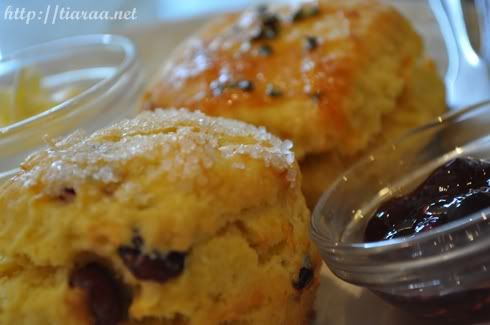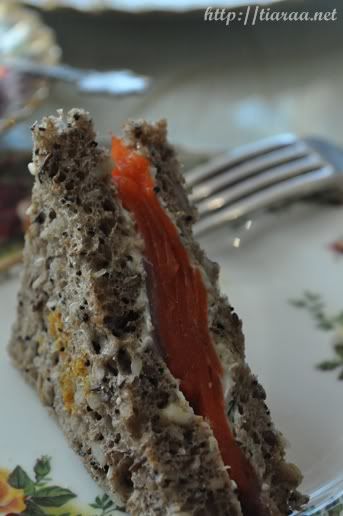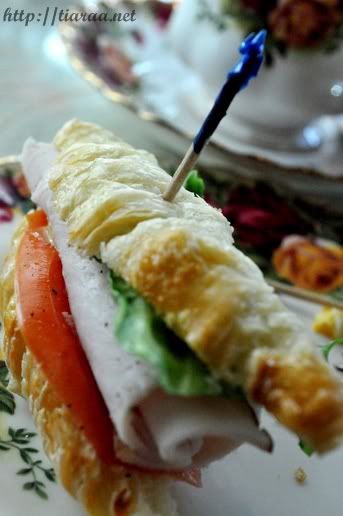 we came 15 minutes before the reserved time but the adorable japanese looking girl welcomed us anyways. we were asked to choose the tea we wanted and boy, there were a lot to choose from ! there were different categories of tea such as black teas, flavored teas, fruit teas, anti-aging teas and root teas. fae got the darjeeling black tea, which has a floral and astringent taste. i got the tiramisu venzia(sp?) flavored tea, which has a distinct taste and smell. i was disgusted by the scent and taste of it initially but as you drink more of it, i started to like it better.
when our 3-tiered tower was served, another server told us what each short cakes and pastries were. it was too fast that i couldn't digest what it was but we finished everything anyways. we started at the bottom tray, which consisted of savory sandwiches such as 2 ham and cheese sandwiches, 2 zucchini sandwiches, 2 turkey scones and 2 egg salad croissants.  the egg salad croissant is my favorite amongst the sandwiches at the bottom tray. the zucchini and ham and cheese sandwiches taste like the norm. the second tray consisted of 2 smoked salmon sandwiches, 2 tomato like tart and 2 quiches. the smoked salmon is really fresh and i'm amazed that it's even in the set ! the quiches were so flaky and palatable i wished there were more. the tomato like tart is really puke-worthy – worst of the entire set ! after we are done with the last two trays, we decided to indulge in the delicacies such as the swiss roll, fruit tarts, chocolate shortcake and brownie. unfortunately, there were only 2 fruit tarts and the rest of the miniature desserts had to be shared between us. the brownie and chocolate shortcake are too saccharine for our liking. we were so thankful that we were only served one each. the swiss roll is really dry but the filling is very appetizing. the fruit tarts consisted of fresh grapes and berries and sweet fillings. fae did not manage to take a bite of the scones. i ate the entire sugar-coated scones and could only afford to gobble up a quarter of the other scones due to it's dryness.
besides the vouchers, we had to pay a tip and tax of CAN$5 in total for both of us. this pretty much concludes our pleasant high tea experience at adonia tea house !
ratings: 3/5★
i would have to say secret garden beat adonia tea house HANDS DOWN !!

[/EDITED]
+ + + +
secret garden
5559 West Boulevard
Vancouver, BC V6M 3W6
(604) 261-3070
i got to know secret garden from mary in 2007 and that was the first time i ever had high tea in vancouver. the ambiance and settings are attractive and the high tea aren't very expensive like those in hotels. the aromas of the teas leaves us wanting more and the best part is it is refillable. they even sell cute notebooks, keychains and other miscellaneous items at the counter so do take a peek  !
the best thing i haven't talk about are the irresistible mini desserts they have there ! though it doesn't seem like there are many per serving but the desserts are so rich. it makes you full easily, especially with the help of the refillable tea. the prices are as follows:
1) premiere high tea – CAN$25.95 per adult, CAN$16.95 for children (8 or under)
i have yet to try this but it's on a three-tiered tray so i can't wait to try it soon !! reservations can be made before you head there.
2) sharing high tea – CAN$11.95 per person
this is perfect if you are there with many people.  it is served in a two-tiered tray. there are sweet desserts (1st picture) at the top of the two-tiered tray & scones (2nd picture) at the bottom of the two-tiered tray.
3) demi tea – CAN$12.95 per person

this is more of a savory set consisting of two miniature sweets, two miniature sandwiches, a
miniature scone, raspberry jam, devon cream and of course, all sets includes a teapot with your favorite scented tea.
i would have to say the miniature burger has fresh shrimps, which is absolutely exquisite. i love the mini burger the most out of all the mini savory pastries.
.
4) mini tea – CAN$11.95 per person

this tea set consist of three miniature sweets, one miniature scone,
raspberry jam, devon cream and needless to say, secret garden's tea.
both mini chocolate cakes are really rich and a tad too sweet but it is definitely worth the experience.  the lemon pastry is so tasty !!
i would have asked for more if i have the opportunity but oh well, the set itself is already very filling. trust me on that because i eat tonnes. so even though the set contains a small handful of mini pastries, it is really rich.
.
.
.
with that said, i would rate secret garden 3.5/5★ for their mini pastries & cakes.

+ + + +
2032 West 41st Avenue
Vancouver, BC V6M 1Y8
(604)264-9202
just hover over the pictures to see the names of all the mini cakes. i find these mini cakes way better than the ones in secret garden but of course you have to pay a more hefty price for better quality.
the mini cakes are CAN$2 each & CAN$22 per dozen
so imagine how much i paid for about 6 – 9 mini cakes ?
it's about CAN$12 & i eat each of it within a second. awwwww, all good things come to an end eh ?
so with what i've stated, i would rate sweet e's 4.5/5★. the only negative factor of the mini cakes is the price.
[EDITED] UPDATED ON 19TH APR 2011
on steph's belated birthday, i was contemplating between the vanilla mango cake and the vanilla raspberry but i reckon mango will be a better choice cos we are indonesians !! we love mangos !!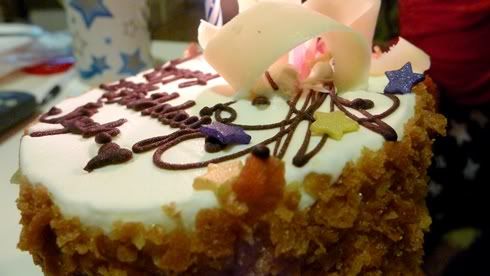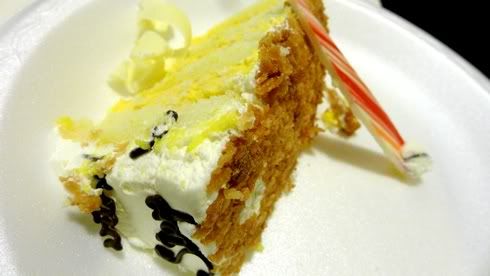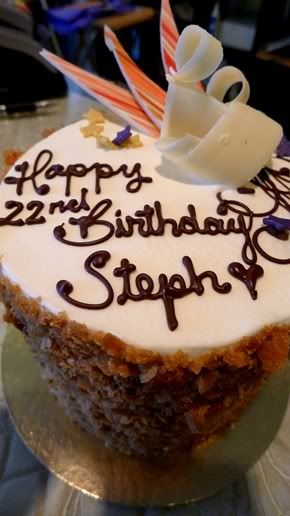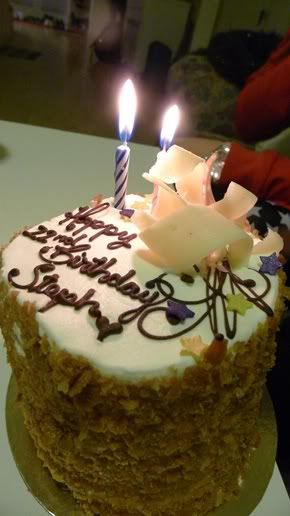 gigi was commenting on how cute the stars were !! she prefer steph's vanilla mango cake over her vanilla strawberry cake !
aldh, steph and gigi really enjoyed the cake. as for me, i found that the mango cake pretty fresh but not as fresh as marui bakery's mango cake. i like how they layered the sponge cake in between the layers of mango mousse so the cake would be light and not so sweet at the same time.
sweet e's never fails me !
ratings: 3.5/5★
[EDITED] UPDATED ON 20TH MAR 2011
it was tante yani's birthday and since she is in her 50s, i decided to order a 6″ flourless chocolate pecan (CAN$32) from sweet e's. flourless cake is something unusual that i will order. the owner of sweet e's is really nice though. i was arriving at the shop close to it's closing time, 5pm. i called at 4:40pm, asking if she could wait for me to arrive so that i can get the cake. even though she had an appointment at richmond at 5:30pm and with all the massive traffic at kerrisdale, she told me that she would wait for me if i was 5-10minutes late. fortunately, i arrived at 4:55pm so it's all good but her attentions made me wanna come back for more.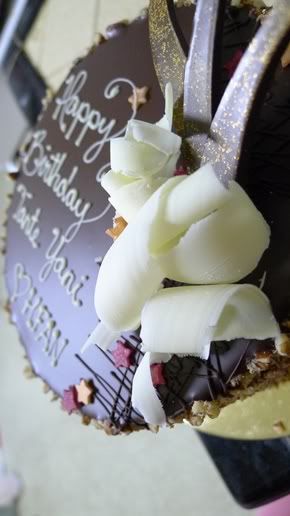 i handed the cake to dicky and did not attend tante yani's birthday as i was really lethargic from school and such so i got my review from mike. he stated that the flourless chocolate pcan cake is thick, concentrated and tasted like brownies. the chocolate is very dense as there is no flour in it and thus, it will not rise that much. he claims that taste wise, it's standard so he gave it a rating of 3.5/5★ [/EDITED]
[EDITED] UPDATED ON 16TH FEB 2011
on the 11th of feb, i called sweet e's during their opening hours at 10am and ordered a chocolate silk cake for anabel so that i can pick it up when i arrive.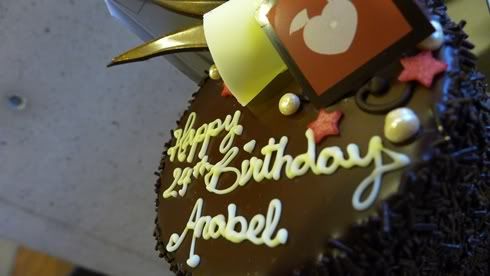 i really like how the store is always filled with the nutty aroma whenever i enter it. it's no wonder they always leave their doors close. i collected the cake immediately and made a payment of CAN$18 for the 4″ cake. surprised anabel at campus and boy, did she, steph, stella and liedia love it ! it is a dark chocolate sponge cake filled with dark chocolate silk and dark chocolate ganache. you know how chocolate cakes are usually very sweet ? well, the sweetness for cakes in sweet e's are really light and fine. it is really scrumptious that the girls wanted to go for seconds. no one that i know of ever complained about cakes from sweet e's except for it's price.
ratings: 4/5★
[/EDITED]
[EDITED] UPDATED ON 8TH FEB 2011
ordered a 4″ vanilla strawberry cake (CAN$18) 2 hours before collecting it a day before gigi's birthday. when i entered the store, boy was i consumed by the aroma of the cakes ! they renovated the store a little and they finally accept debit and credit cards ! previously, they only accepted cash. what a convenience to everyone, like finally !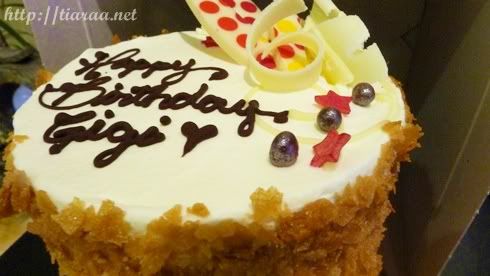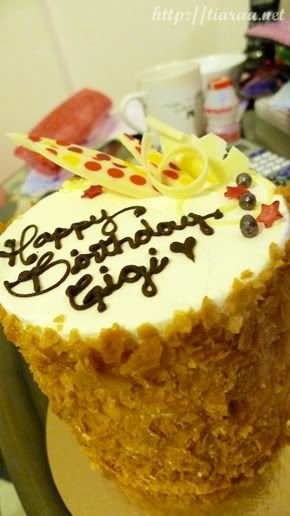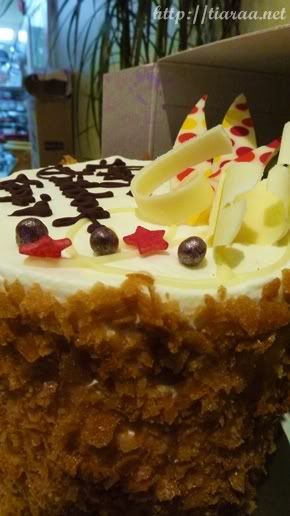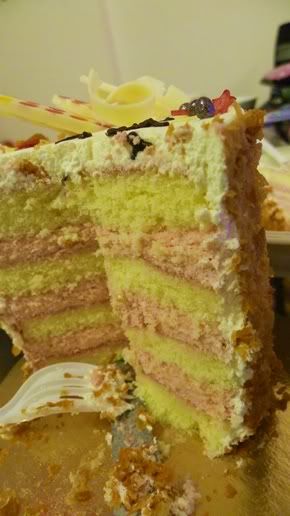 one thing i love about sweet e's are that their cakes are small in width but tall in terms of height. also, i love how they decorate the top layer of the cake with the miniature decorations. gigi, steph and peter love the cake and commented that it is good. i'm so thankful that i did not get the chocolate cake as gigi dislikes chocolates ! i found the cake rather spongy, light and not too sweet for my liking. this is one of the reasons why i always go back to sweet e's for more, despite the inconvenience and distance ! ratings: 3.5/5★
[/EDITED]
ANOTHER ENTRY OF SWEET E'S: PAVLOVAS [GOTTA LOVE THEM !]
+ + + +
T&T
metrotown & stadium

t&t maybe a supermarket but it's bakery is way better than superstore, safeway, save on food and costco.
there are many t&t locations but i frequent the ones at metrotown & stadium skytrain station.
i love the fresh slices of cakes at t&t but what i love most are their mini tarts. i forgot all about the price but it's definitely cheaper than sweet e's & secret garden.
hence, i'll rate it 2.5/5★ for the convenience & price.
how cool bakers create mini pastries, tarts and cakes to attract customers despite the hefty price ? i'll be back for more ^^

swisscheese*