I have heard many good reviews about the shibuya toast served at After You cafe in Bangkok but never got to try it. So when I went on a solo trip to Bangkok last August, I decided to try it with my roommate from my hostel.
After You 
Ground floor, Siam Paragon,
991, Rama 1 Rd., Pathum Wan,
Pathumwan, Bangkok 10330 Thailand
+66 (0) 26107659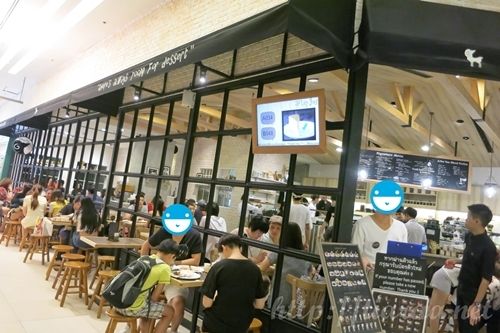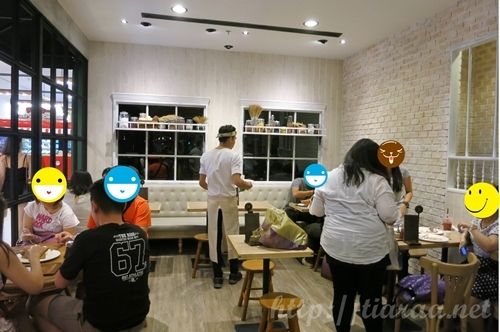 We were so full from our dinner at Rod Dee Dat so we decided to share the original Shibuya Honey Toast and got two beverages for ourselves. Diane decided to have the Royal Thai Milk Tea, while I got myself the Iced Matcha Latte. The food and beverages cost 175 baht (CAD$6.74 / SGD$6.85 / USD$4.88), 85 baht (CAD$3.27 / SGD$3.33 / USD$2.37) and 125 baht (CAD$4.81 / SGD$4.89 / USD$3.49). I have tried a few cafes such as White Flower Factory and Mr Jones Orphanage in Bangkok but the desserts served in those cafes disappointed me terribly. After You Cafe seems to be the only cafe that serves delicious desserts! The shibuya toast was baked perfectly, crispy on the outside and soft on the inside. What I love about After You is that they provide two scoops of ice-cream instead of what the other cafes are currently serving – Shibuya Toast with just a scoop of ice-cream. I honestly think that Shibuya toast should be served with two scoops of ice-cream. This is because the toast is too dry and needs the ice-cream for a nice texture combination for your palate. Another thing I enjoy about After You is the ice-cream does not melt easily. I have tried shibuya toasts and waffles topped with ice-cream in many cafes and the sad thing is the ice-cream melts easily. The classic honey toast has the right sweetness as well, which left me wanting more! Unfortunately, the beverages served at After You are too sweet for both Diane and I. I stopped drinking my matcha latte only after taking a sip – Definitely not my cup of tea!
Opens Daily from 10am-10pm
Nearest BTS Station: Siam
Payment Methods: CASH ONLY!

Ambiance: 6/10
Service: 6/10
Food (taste & appearance): 8/10
Value: 8.5/10
Total: 7.13/10★
A self-service cafe serving delectable Shibuya Honey Toast yet too sweet of a drink beverages.Moreover, the honey toast is two times cheaper than the ones served in Singapore. It may take a long time to be seated during peak hours so try to avoid those period.
After You
J avenue Soi Thonglor13,
Khlong Toei Nuea, Watthana,
Bangkok 10110 Thailand
+66 (0) 27129266

I went to Bangkok again in December last year but this time with Laurie. On my last day of the trip, Laurie fell sick so she could not join me for a manicure session. As I was rushing for my afternoon flight, I rushed the manicurist to finish up my nails for me quickly so that I can grab a bite at the After You cafe nearby before I depart from Bangkok. Since it was near Christmas, one corner of the cafe was selling Christmas cookies and packages for customer to take home as gifts as depicted in the first and second pictures.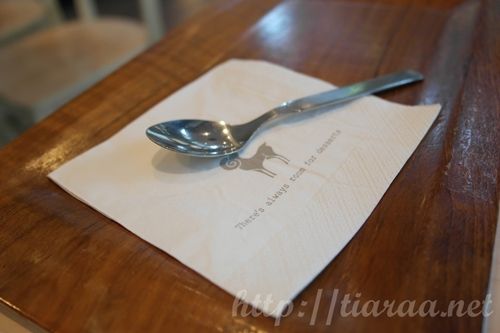 Although I was one of the first few customers, the shibuya toast will only be ready after 15 minutes since it is done freshly once requested by customers. As I had a flight to catch, I decided to order the Chocolate Mud Brownie for 155 baht (CAD$5.97 / SGD$6.06 / USD$4.32) instead. The brownie took about 10 minutes to bake  so when I ate it, the chocolate melted in my mouth. However, the ice-cream was melting too quickly and I felt that the chocolate was too dense for me without the ice-cream. A good attempt nevertheless!
Opens Daily from 9am-12am
Nearest BTS Station: Thong Lor
Payment Methods: CASH ONLY!

Ambiance: 7/10
Service: 6.5/10
Food (taste & appearance): 6.5/10
Value: 6/10
Total: 6.5/10★
I traveled a lot in 2015 but never got a chance to go back to Bangkok so I hope that I will be able to head to Bangkok in 2016 to try more of the different flavoured shibuya toasts at After You!