I just came back from Perth last Sunday and although I did not do any research on the delicious food places to conquer, I am so glad that Sabrina brought us to a famous neighborhood cafe on my fourth day at Perth when we completed our own program the first three days.
Harvest Espresso
629 Albany Hwy,
Victoria Park WA 6100, Australia
+61 8 9355 5884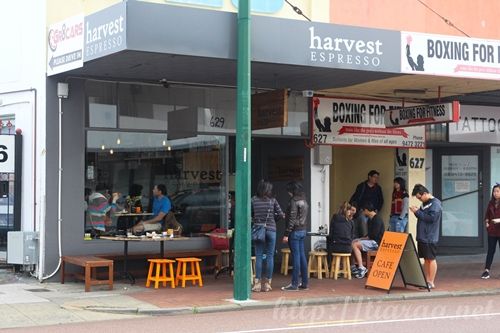 When we entered the cafe, we knew that we had to dine outside as there were only about 12 seats available inside the cafe. Thankfully, a group that was dining outside left just before we arrived so we managed to get a table for 4. The menu for the list of savory food covers only a page, thus there are not many choices. According to Sabrina, the menu changes every season so you will not feel bored having the same dishes every time you pay this cafe a visit. The servers are also very busy as they have a high turnover of customers since this place is always so crowded and there are not many tables to cater for the overwhelming responses. Before it started pouring at King's Park that day, the weather was perfect while we were dining outside as the sun was shining even though it was breezy.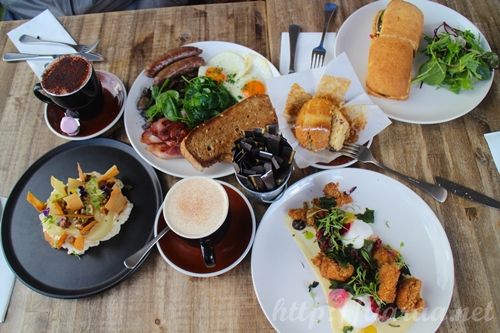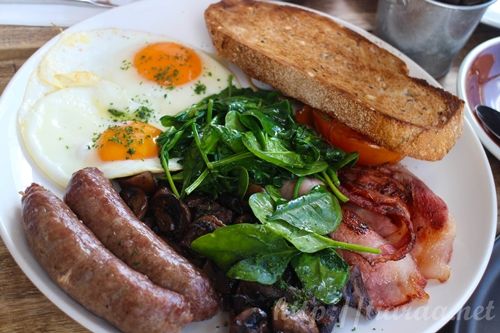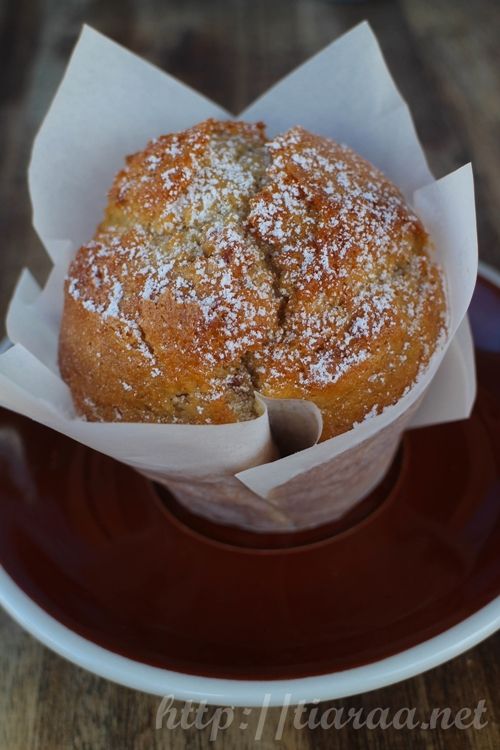 I only ate fruits at the hotel during the breakfast buffet so I was starving by the time I reach the cafe so I got myself a cup of Matcha Latte and the Crumbed Veal Sweetbreads (AUD$24.50) as depicted in the second and third pictures. Although I do not usually order sweet beverages, whenever there is matcha latte on the menu, I cannot resist it! However, I found the matcha latter served at Harvest Espresso to be on the sweet side. The Crumbed Veal Sweetbreads comprises of smoked garlic and sake kasu gel, two poached eggs and shaved rainbow beetroot topped with bread sauce. I really enjoyed the dish because firstly, I love my eggs poached and secondly, I love crispy and crumbly savory food. The combination of the yolk of the egg and the veal tastes absolutely heavenly! I could not ask for a better dish! Since my father loves the usual breakfast dish, he ordered the Full Harvest (AUD$24.50) shown in the forth picture, which consists of two sunny side up eggs, two free-range bacon, pork sausages, mushrooms, wilted spinach and tomatoes. I could not believe that he could finish the entire meal despite consuming a lot of food in the breakfast buffet that morning! This goes to show that he enjoyed his meal. Since Bella was full from breakfast at the hotel, she had another stomach that could possible cater to sweet dishes such as Ritz au Lait (AUD$18.50) as portrayed in the second last picture. This dish is basically chilled rice pudding that goes well with chamomile poached pears designed with praline, vanilla tuile and roasted white chocolate cremeux. I tried a little bit of it and it tastes rather refreshing but it feels like the taste is too overwhelming if you finish the entire dish. Sabrina also ordered a Blueberry Muffin for everyone to share, which I found rather average since I am not a fan of muffin. Sabrina was so sweet to treat all of us so four dishes, four cups of sweet beverages and one muffin came up to a total of AUD$108! I found the standard of living in Australia very high and the food in the cafes really cost a bomb! In cafes and restaurants at Singapore, I already found the price of food atrocious as the food in Canada and America served in cafes and restaurant cost way lower. However, the cost of dining out at Australia totally takes the cake!
Ratings for Matcha Latte: 6/10★
Ratings for Crumbed Veal Sweetbreads: 8.5/10★
Opens daily from 7am-4pm
Nearest Train Station: In between Victoria Park and Carlisle Station via Armadale Line or Thornlie Line
Payment Methods: CASH or CARDS
Ambiance: 8/10
Service: 6/10
Food (taste & appearance): 7.25/10
Value: 7/10
Total: 7.07/10★
So glad to at least conquer one brunch place at Perth as we were busy looking at scenic views during the rest of the days!