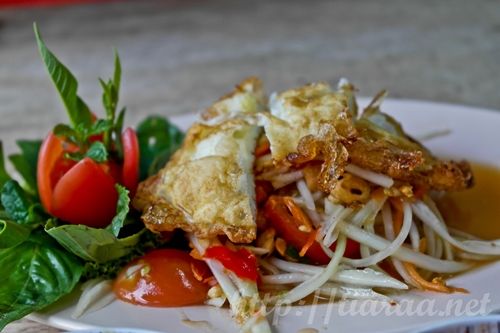 When I went to Bangkok for the weekend last month, Laurie allowed me to make all decisions for our meal choices. The most important things I like to do whenever I travel are the sightseeing and food aspect of the trip. I always never fail to research for good food places when I travel so I told Laurie that we will be having Isaan Thai food near Victory Monument.
ร้านอาหารอีสานร่มเย็น
ซอย ราชวิถี 9 ราชวิถี แขวง
ถนนพญาไท เขต ราชเทวี
Bangkok 10400, Thailand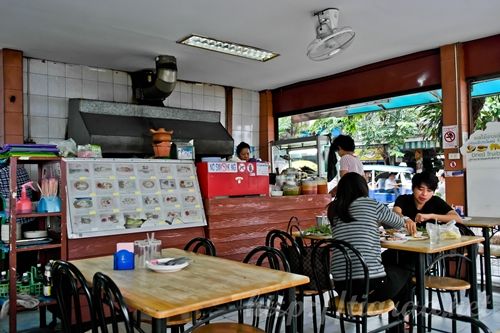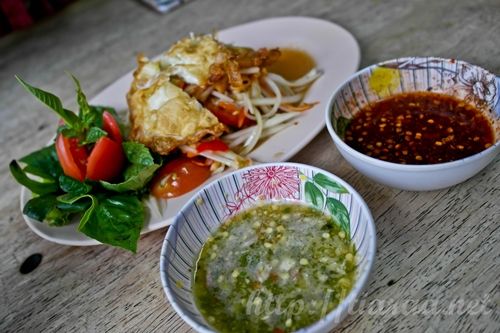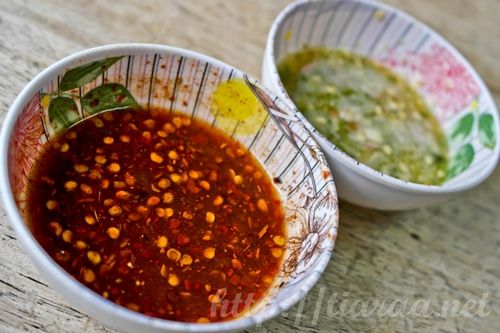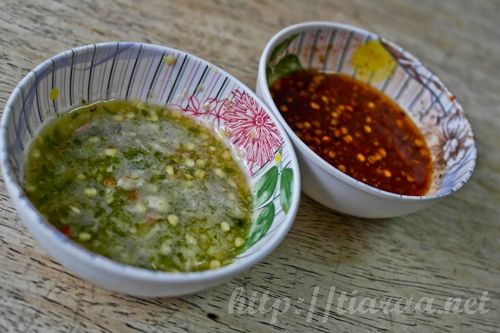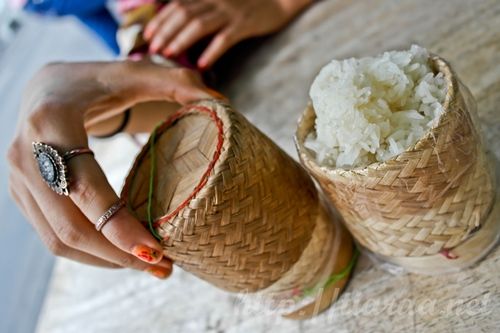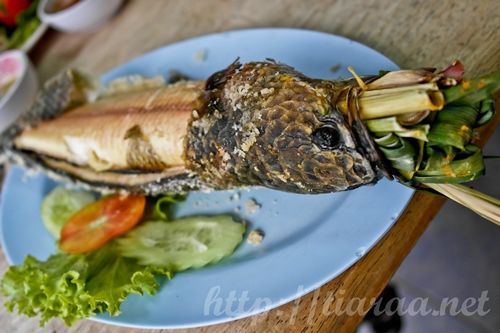 This outdoor dining place is located just behind Century Plaza, along Soi Rangnam. While looking for the place, I was looking for the exact Thai characters of the name but to no avail. After comparing the pictures from the website to the real place, I finally found the location with much help from the local people I have asked. The server was very patient when I pointed at the picture of the food from the website and asked him which was the it in the menu. So we ended up ordering everything from the second picture, which includes Papaya Salad with Fried Egg / ส้มตำไทย ไข่ดาว (3rd & 4th pictures), Sticky Rice / ข้าวเหนียว (7th picture), Catfish / ยำปลาดุกฟู (8th & 9th pictures), Baked Fish / ปลาเผา (10th & 11th pictures). It costs 60 baht, 10 baht per pax, 100 baht and 180 baht respectively, which results in a total of 360 baht / CAD$12.86 / USD$10.91 / SGD$14.53. It is inexpensive yet keeps you full and worth every penny. Although the papaya salad was very spicy, it is still edible and the fried egg made up for the spiciness. If you are afraid of the spice, you are also able to neutralize the taste with the dry sticky rice. There is a variety of papaya salad choices such as the usual papaya salad, one with seafood and one with egg. Since the catfish is deep-fried, thus it is crispy. Once the dish was mixed with the mango salad provided, moisture, spice and flavour were added to the dish and it was mouth-watering! I did not consume much of the baked fish because I was so bloated by the time I finished my share for the papaya salad and catfish. However, Laurie loves it so much that she was licking the plate clean. She even managed to finish half portion of my sticky rice. This was how much we love the food!
PAYMENT METHODS: CASH ONLY!
OPENS: 8AM-10PM
NEAREST BTS STATION: VICTORY MONUMENT
Ambiance: 6/10
Service: 8.5/10
Food (taste & appearance): 8/10
Value: 9/10
Total: 7.88/10★
This was the first time I had Isaan Thai food and definitely not my last. I am looking forward to more Thai cuisines to come in my upcoming trip to Phuket next weekend!