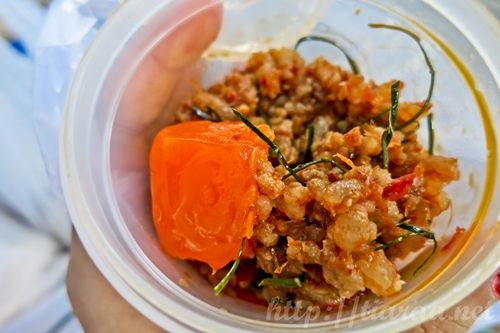 I am in the mood to write about my travels that took place recently so my apologies for jumping back and forth from last year's food adventures at Seoul to my food venture at Bangkok that took place two weeks back. So, I arrived at Bangkok at 9:50am on the 17th of August / Sunday two weeks back. However, after going through the slow immigration, getting an AIS SIM card, taking the airport rail link and BTS and checking into my hostel, I was only able to head out at around 1:20pm. Since it was the weekend, all I wanted to go was to the chatuchak weekend market and my food and shopping trail began there…
Chatuchak Weekend Market / Jatujak Market / ตลาดจตุจักร
จังหวัด กรุงเทพมหานคร

ROASTED PORK SKEWER / หมูปิ้ง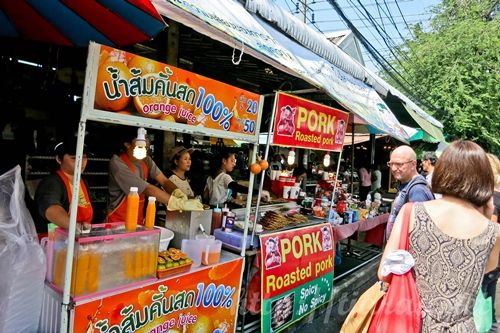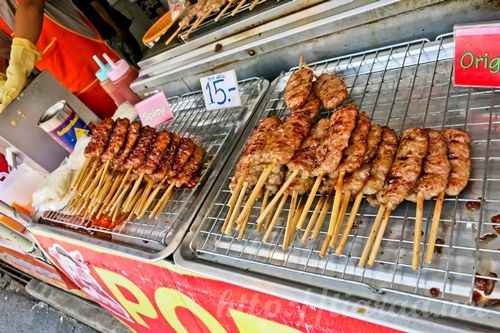 As I was staying right next to National Stadium, I went to Chatuchak Market via the BTS to Mochit Station and although it was my first time taking the public transport in Bangkok, I had no troubles finding the market at all! There are many entrances to the market but the closest entrance to Mochit BTS is the 3rd entrance. Although it was an outdoor market, the sun was shining so it was really HOT and stuffy! I wanted to sit at the outdoor dining areas to eat like the locals but I could not take the heat so I kept hiding in the shades or at the enclosed area but I could not find something that I wanted to try. I also wanted to dine at the semi-indoor diners, which has a little air conditioner in it but I felt that the Thai food served there has a fusion mix in it. In the end, I resorted to having some roasted pork skewer / หมูปิ้ง for a start as I was starving! These orgasmic goodies are first marinated in sweet soy sauce prior to being grilled on charcoal. There was fireworks in my mouth as I chewed the roasted pork – definitely tastes like heaven and it only costs 15 baht (USD$0.47 / CAD$0.51 / SGD$0.59). Cheap treats? YOU BET!
COCONUT / น้ำมะพร้าว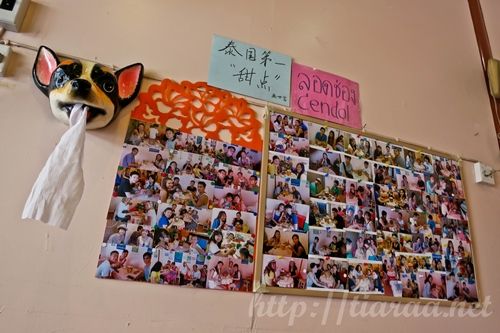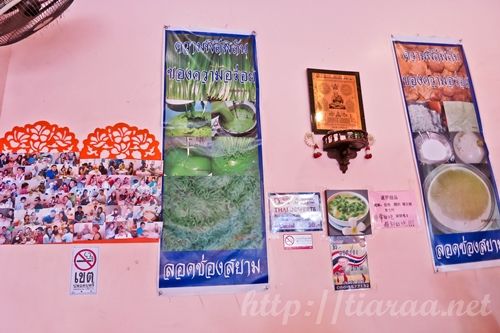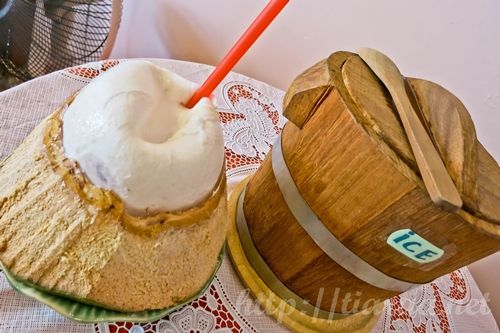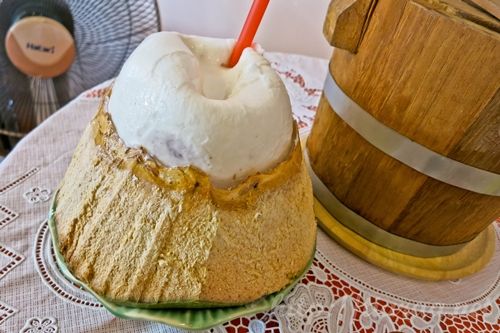 I was so tired after walking so much without buying anything as my back was aching and the sun had no mercy so I decided to sit in this tiny cafe to have my dosage of coconut water / น้ำมะพร้าว. This little cafe is located at address number 030, along Section 28. As depicted from the pictures, you can see that this coconut is quite unique from the other coconuts served at Bangkok. The top shell is removed from the coconut so it makes it easier to consume the coconut meat and drink the coconut water. Since it was a cafe and the top shell of the coconut is removed, obviously the price of the coconut is on the higher side. It costs 70 baht (USD$2.19 / CAD$2.38 / SGD$2.74) but boy, that coconut water is so refreshing to both my tired soul and thirsty self), which is in my opinion, worth every penny!
SHOPPING / แหล่งช้อปปิ้ง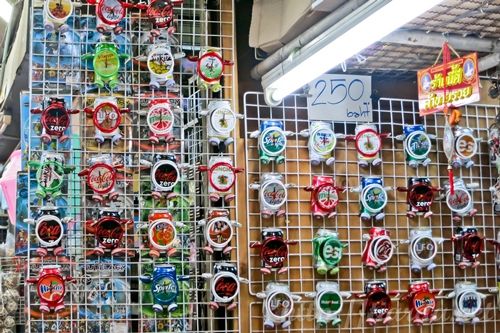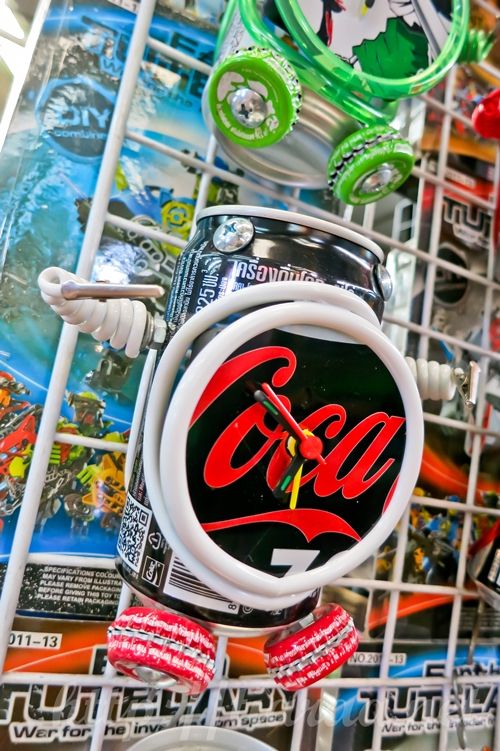 After feeling recharged from my refreshments and rest, I decided to shop a little!!  I saw a handful of unique items like the canned clock shown above. I wanted to buy some of it for novelty souvenirs but in the Chinese beliefs, it is not a good idea to give someone a clock as it symbolizes the end of life so I decided not to.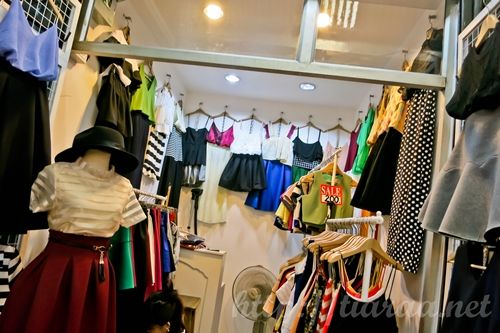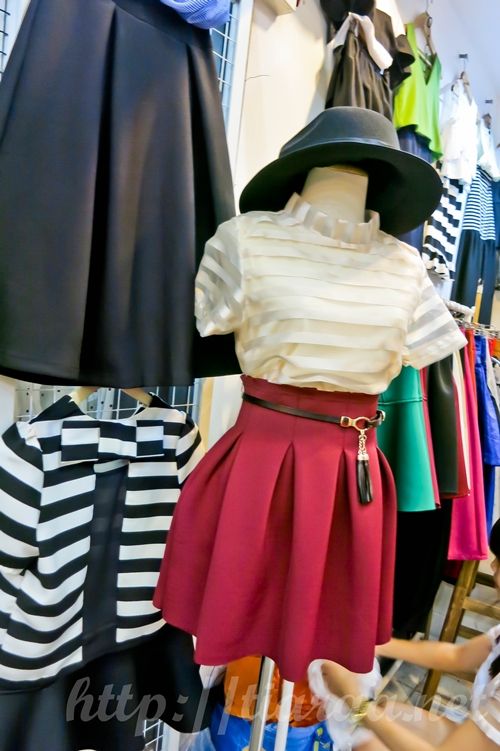 I was walking along Section 10 and chanced upon this clothing stall located at address number 201, soi 19/5. When I saw the clothes displayed at the mannequin, I knew that I had to buy it!! I asked for the price and the owner quoted me 350 baht (USD$10.95 / CAD$11.91 / SGD$13.68) each. So I bargained until it was 660 baht (USD$20.65 / CAD$22.47 / SGD$25.79) for both pieces. I am not someone who can cut the price very well so I just paid for it as each piece usually cost more than SGD$25 in Singapore so this is really a steal to me!! As a backpacker, I brought only 1 set of clothes to Bangkok so I just wore what I bought the very next day.
SPICES / เครื่องเทศ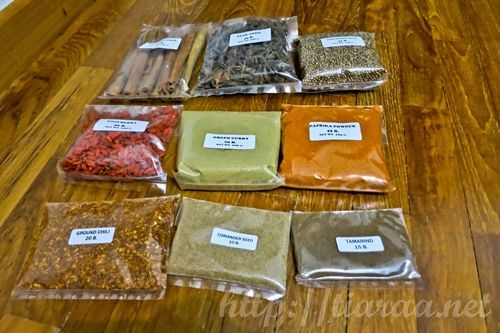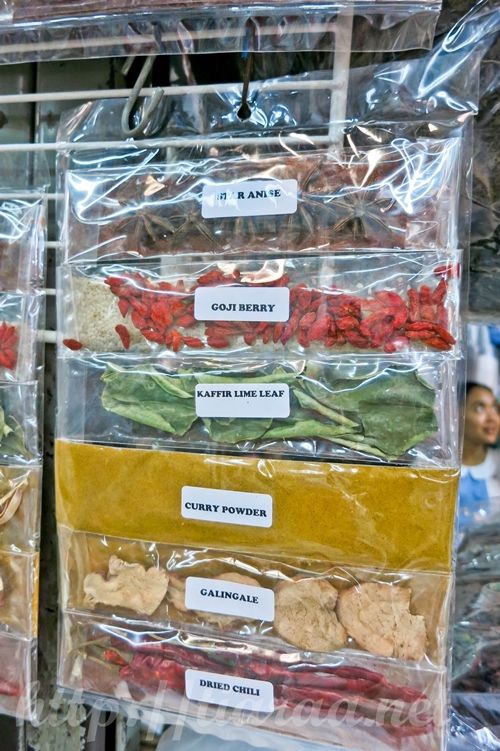 People usually come to Bangkok to buy clothes and I have to agree with that but I would love coming to Bangkok again to get the spices. Healthy ingredients and natural spices are VERY expensive in Singapore so I always try to get my stocks from the States. That explains why I was jubilant when I saw this stall selling spices located at Section 17, Address 367! 100g of cinnamon sticks of cost 20 baht, which is equivalent to USD$0.62, CAD$0.68 and SGD$0.72. In Singapore, it will be so expensive to buy just a small handful of cinnamon sticks. Furthermore, spices such as star anise is not always readily available in the local grocery stores at Singapore. After taking my pick on the spices, I spent a total of 295 baht (USD$9.23 / CAD$10.04 / SGD$11.53) for these 6 packets of spices – Cinnamon Sticks, Star Anise, Coriander Seed, Goji Berry, Green Curry Powder, Pakprika Powder, Ground Chili, a finer version of Coriander Seed and Tamarind.
SOUVENIRS / ของที่ระลึก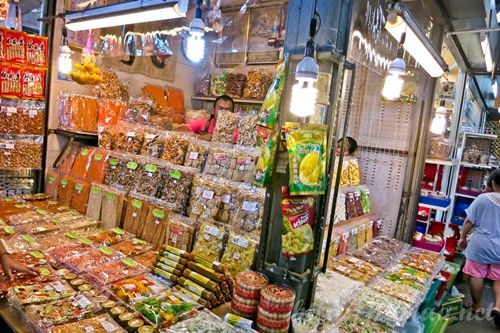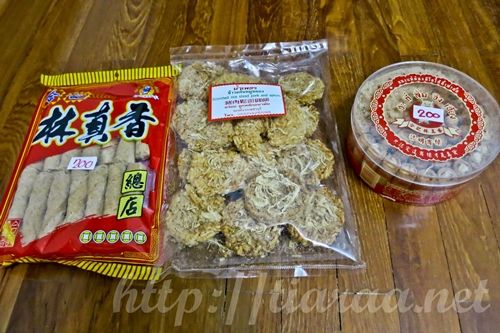 At Section 17 Soi 8/3, there are many stalls selling dried food to take home for souvenirs. When my colleagues went to Bangkok previously, they bought the round pork floss crackers (2nd goodie in the last picture) and pork floss egg roll (goodie in the round container) for us to share and it was finish very rapidly! I also got the ลิ้ม จิง เฮียง 林真香 pork cracker (aka dog shit as it looks just like it!) as I remember Joanne buying it in 2008 when we went to Bangkok together. However, my family did not like this and it is still not finish until now. As for the other two goodies, it was finish by the time I came back from my 4D3N Hong Kong trip. In total, I spent 500 baht (USD$15.65 / CAD$17.02 / SGD$19.54) here! I went to Chinatown / Yaowarat and saw piles of these delicious treats selling as well but I will elaborate on this another day!
PORK CHOP BUN / ซาลาเปาไส้หมูสับ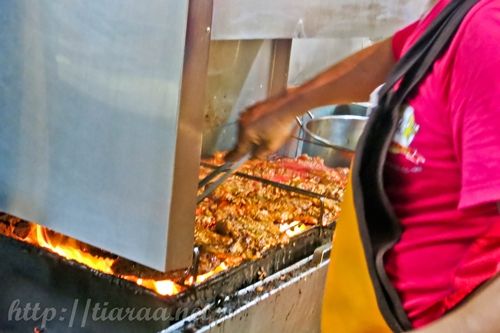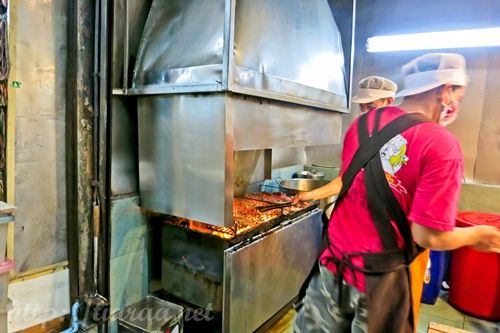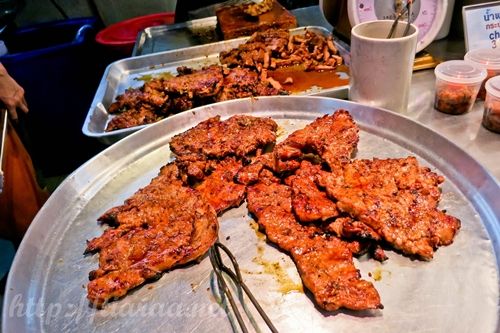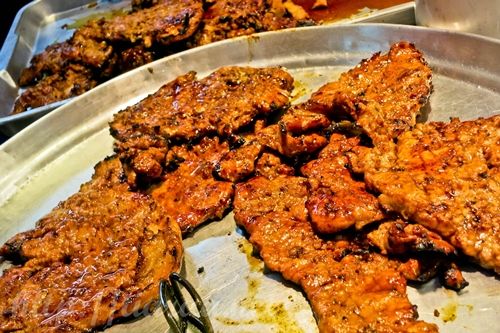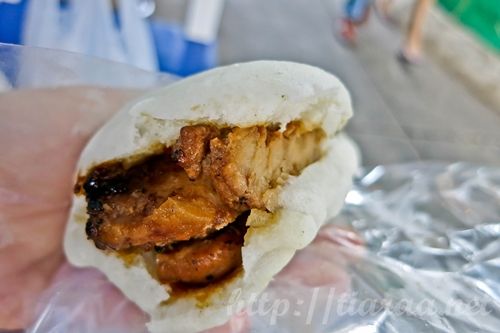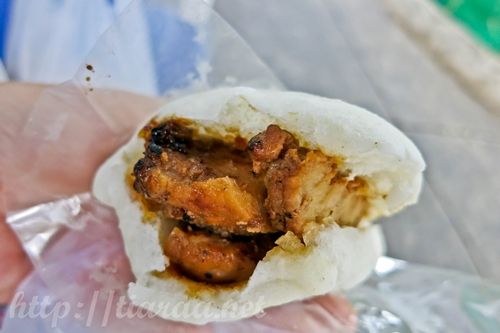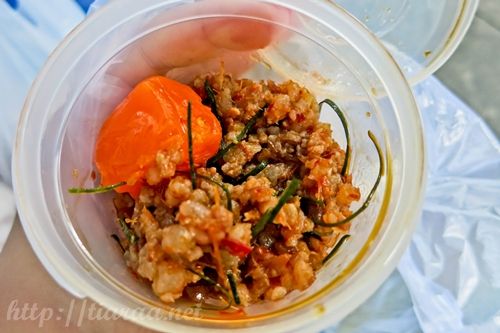 Since I was at Section 17, I knew that I had to get the highly raved Pork Chop Bun located at Section 22 Soi 4 so I went to hunt for it and I was so glad when I finally found it! I tried taking photos of the cook grilling the pork chop but it was seriously too hot and they were so busy so I had to take from a distance. There was no dining area there so I had to find seats near the main entrance and enjoy the pork chop bun under shelter as it started drizzling. No doubt, the pork chop was delicious but I am not a fan of meat. Still, a pretty good find though! I also got the Chilli Ginger Egg but I did not managed to consume it as I was rushing as I thought I was late for meeting  Benbenz at Asiatique. Both of these cost 50 (USD$1.57 / CAD$1.70 / SGD$1.95) and 30 baht (USD$0.94 / CAD$1.02 /SGD$1.17) respectively!
COCONUT ICE CREAM / ไอศกรีมกะทิ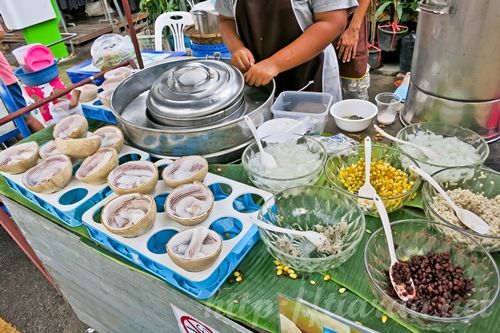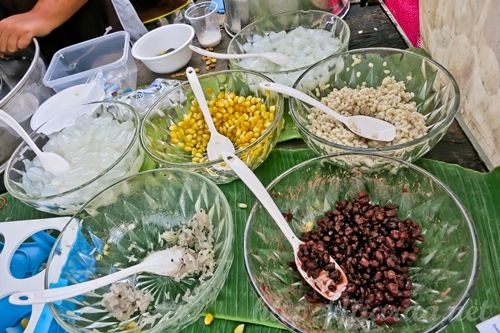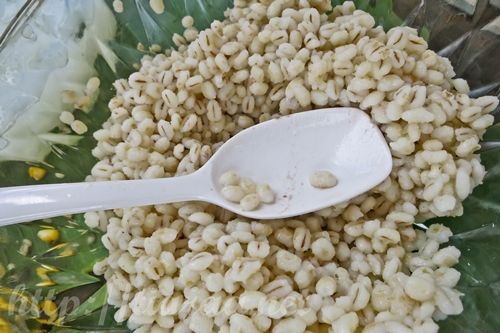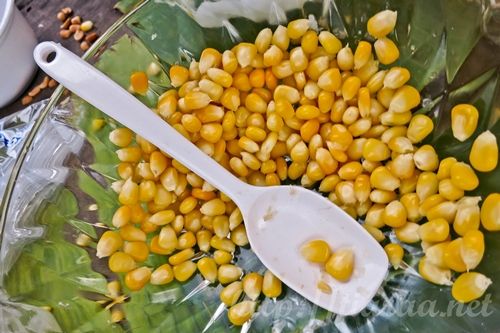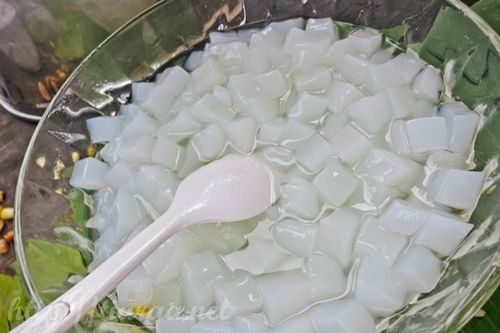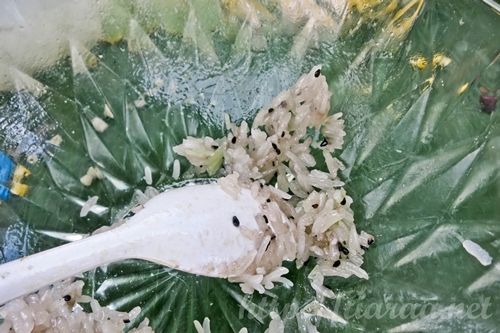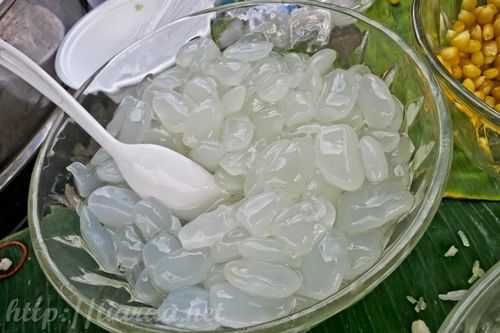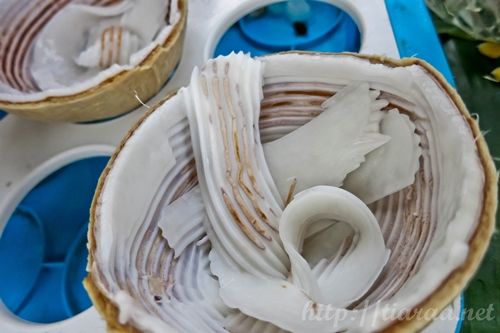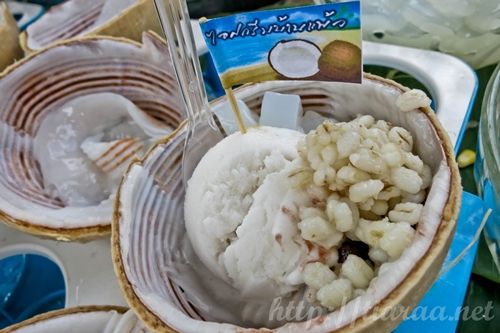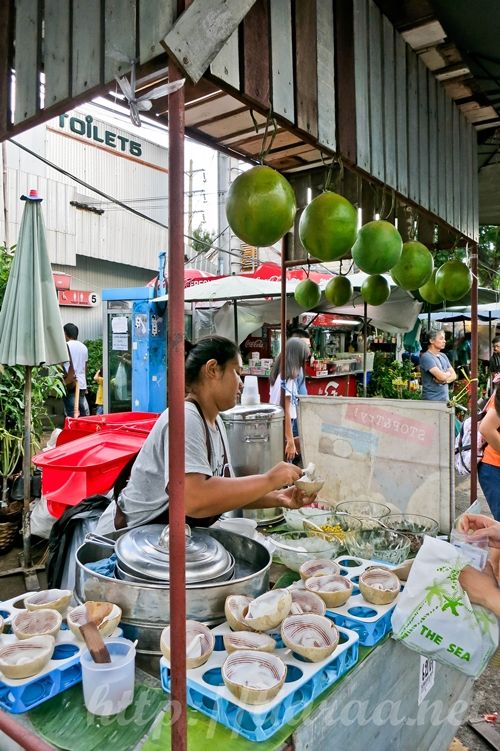 Singapore is an hour ahead of Bangkok but I totally forgot to change my clock to an hour earlier so I thought that I was late for my meeting with Benbenz. As I walked past the many stalls selling coconut ice-cream, I was contemplating if I should still go ahead and try the over-hyped coconut ice-cream that everyone is posting on instagram. I am not a true blue shopaholic so I was very lethargic carrying bags of my loots as well. However, I knew that I would regret it if I did not try this delicacy so I went to order one of it. Pardon me as I totally forgot how much I paid for this but it is roughly SGD$1 or less. I could choose 3 toppings to go along with the coconut ice-cream and coconut meat so I chose barley, red bean and nata de coco. Since I am a fan of all things sweet, this dessert was truly orgasmic but I wish I could sit, relax and eat it on my own pace instead of holding bags of loots and struggling to finish this.
PAYMENT METHODS: CASH ONLY!
NEAREST STATION: MOCHIT STATION VIA BTS (Entrance 3)
KAMPHAENGPETCH STATION VIA MRT (MAIN ENTRANCE)
Ambiance: 7/10
Service: 7/10
Value: 7.5/10
Total: 7.17/10★
Although I only had 4 hours to complete my first solo trip to Chatchuchak weekend market, it was already an accomplishment to me. I was excited to see what chatchuchak has to offer since I have not been here for 6 years and yes, it did not disappoint! I enjoyed the food, shopping and people watching. The people selling and serving you are also very polite and friendly and they never fail to wear a smile on their faces. As the saying goes, welcome to the LAND OF SMILES!