fae, dennis & i headed to the generation church conference at redmond, washingston last weekend. i am so thankful that they have done their research on some of the restaurants around the area so i just had to sit in the car and follow since 1) i cannot drive 2) i do not know the places in america very well 3) i don't have a good sense of direction. after about 2 hours drive from vancouver to redmond, we decided to have lunch at malay satay hut, which is recommended by joanne.

malay satay hut
15230, 24th St NE,
Redmond, WA 98052
(425)564-0888

View Larger Map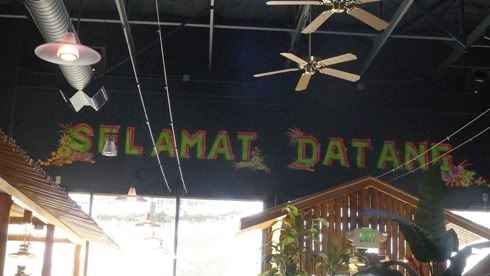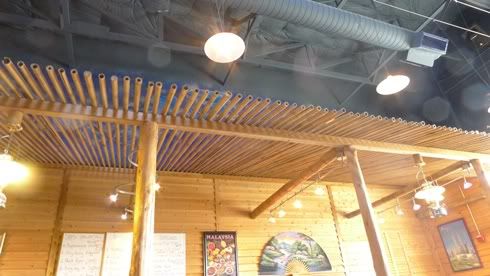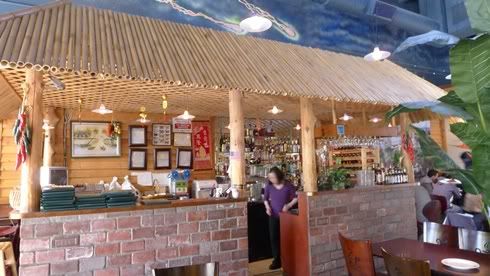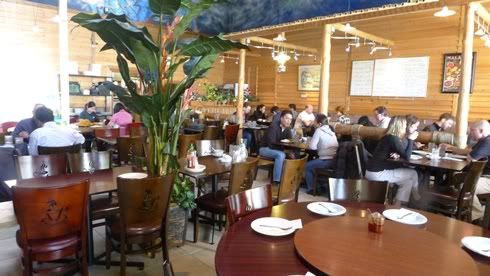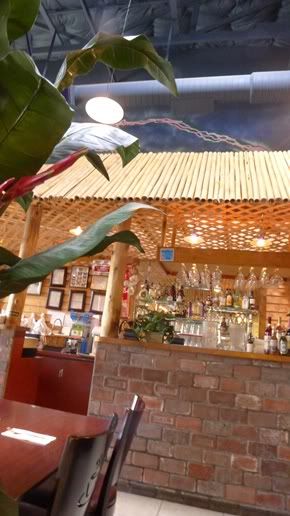 i found the exterior settings of the malay satay hut just another store next door but i was amazed by the interior. it gave a malaysian ambiance with the decorations of the trees and "kampong" (village) look. i was very fascinated by it. however, the service is a HUGE thumbs down. the server is too impolite and always leave immediately after giving her response. i wanted to order " bobo chacha " but the server gave us the bill without asking if we wanted to order desserts. also, when i asked if bobo chacha was available, she responded with a straight no and walked away. then, i also asked if they had another dessert i was looking for and i got the same response.
1st pic – seafood scramble egg chow fun: US$9.95
i am amazed that this is one of the most authentic malaysian dishes i have tried across north america. the chow fun tastes exactly like the ho fun i usually consume in singapore. for starters, chow fun is pan fried rice noodles in egg gravy top with shrimp, scallops, squids and veges. to be honest, i am a fan of dishes topped with egg gravy so this dish is highly recommended !
ratings: 4/5★
2nd pic – kang kung belanchan: US$12.95
as for the kang kung belanchan, it is HUGE in terms of portion. i reckon that the minimum number of people able to share the rice and kang kung belanchan is 4. 3 of us had to force ourselves to finish the food up. the kang kung is not as spicy as i expect though but the standard is exactly like tamarind hill malaysian cuisine.
ratings: 3/5★
3rd pic – pulut hitam: US$2.75
as girls often have second stomachs for desserts, i made a solo order of pulut hitam while dennis and fae surrendered anymore food intake. pulut hitam is made of black sticky rice, served with coconut cream. it tastes best when served hot. other than the fact that it is a tad too sweet, the pulut hitam tastes yummy.
ratings: 2.8/5★
the food costs a total of US$29.87 but we gave about US$34, considering how bad the service was.
ACCEPTS CASH/CREDIT CARD/DEBIT CARD

ambiance: 9.5/10
service: 4.5/10
food (taste & appearance): 6.53/10
value: 7.5/10
total: 7.01/10★
in conclusion, this is one authentic restaurant in the states that you should definitely visit !!

swisscheese*