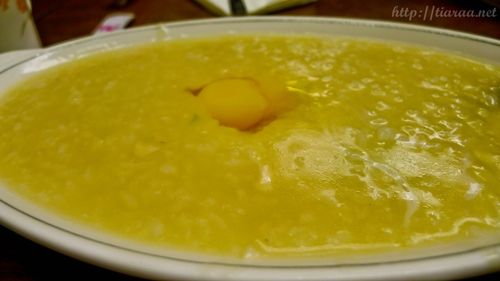 My relatives and I went to Disneyland the entire day on December 20th 2012 but even after past midnight, my uncle and cousin from USC wanted to have supper so they brought us to Mountain Cafe located at Koreantown.
Mountain Cafe
3064 W 8th St,
Los Angeles, CA 90005, United States
+1 213-487-7615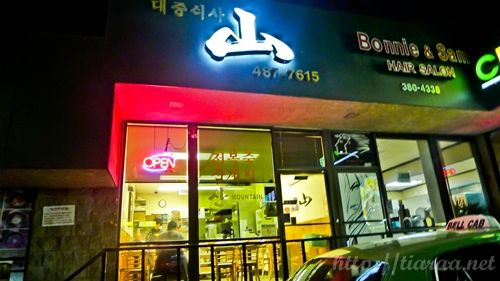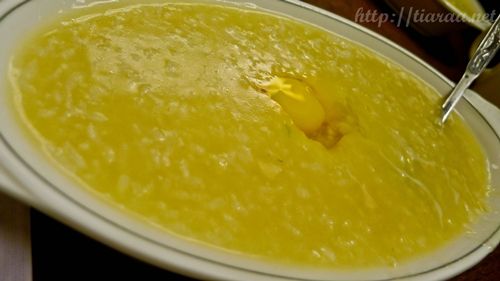 Mountain Cafe looks like a humble Korean home that serves delicious food. Do not expect the restaurant to be glamorous and fancy and do not wish for excellent service too. Just head here for the food. It was also my first time trying the Abalone Chowder as I never had Korean porridge before. The Abalone Chowder had abalone with rice chowder topped with egg. It is a mouthwatering and healthy supper, I would say!! You have to add salt, soy sauce or pepper if you want more taste but I love it just the way it is. The dish also comes with 4 complementary sides namely kimchi, soy sauce simmered beef, daikon kimchi and sweet shredded radish but I did not take a picture of it. You can consume the sides with the porridge to add more tastes and flavor to it as well.The chowder dish costs USD$7.85 and this seems reasonable as the dish is filling for one person and you get to enjoy consuming the Korean traditional dish too.
PAYMENT METHODS: CASH/DEBIT/CREDIT

Ambiance: 6/10
Service: 6/10
Food (Taste & Appearance): 8/10
Value: 7.5/10
Total: 6.88/10★
Sometimes, simplicity says it best! You do not need to dine at fabulous restaurants all the time as there are great finds and hidden gems around. YOU JUST GOT TO FIND IT! Anyway, Mountain Cafe is a great and casual place to cure your hangovers, consume healthily if you happen to pull an all-nighter and for comfort food.

Tags: abalone chowder
Highlights
Network
swiss@tiaraa.net
Swiss Tiara Sumarli
Create Your Badge
Food & Travels
Meta