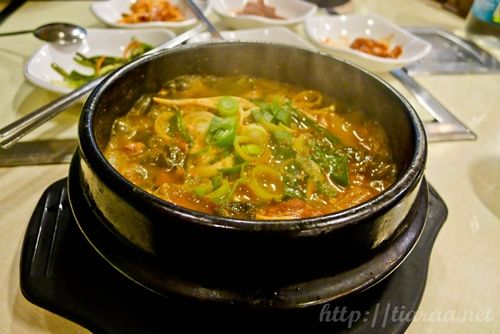 Pardon for a week of hiatus as I just conquered my first week of work filled with intensive training and will be going on for about a month! This entry will be about the supper that Vivian and I had after our crazy midnight shopping at Dongdaemun on day 3 of our Korean trip last January.
삼오정
서울 중구 을지로6가 18-53
02-2275-2322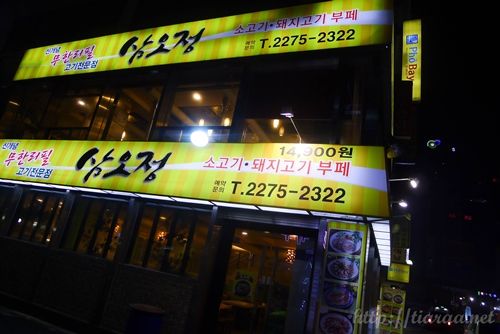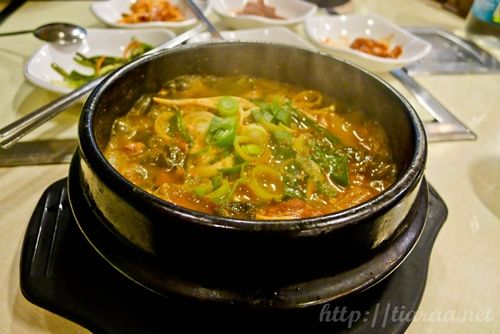 We were starving by the time we finish shopping but although it was 2am in the morning, many restaurants are still open serving Korean dishes. I am not sure if it is due to the cold weather but we fell into temptation and decided to dine in despite the lateness. We bumped into 삼오정 along the way and was too lazy to be picky about restaurants and just entered this restaurant. The server did not have much communication with us due to the language barrier. We just pointed to the food pictures that appealed to us. As usual, the bibimbap lover (Vivian) ordered the Dolsot Bibimbap. As for me, I love having soup dishes when it is cold outside so I got the Haejungguk. The Dolsot Bibimbap is basically rice and mixed vegetables in a hot stone pot while the Haejungguk comprises of spicy hot beef and vegetables soup with rice and side dishes. It was overall a standard Korean meal at Seoul but to people who comes to Korea from Singapore, it is simply delicious! The Dolsot Bibimbap and Haejungguk cost 6,000 won (~ CAD$6.23 / USD$5.56 / SGD$7.07) each  - pretty reasonable for an authentic dish and such a huge portion!
PAYMENT METHODS: CASH/CREDIT
OPENS 24/7
Nearest Station: Dongdaemun
Ambiance: 6/10
Service: 5/10
Food (Taste & Appearance): 6.5/10
Value: 7/10
Total: 6.13/10★
It was an average experience dining at 삼오정 with a pretty decent meal for supper at Dongdaemun!