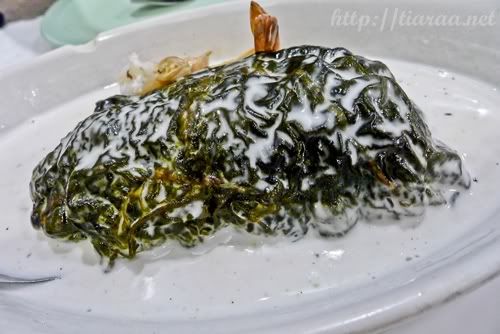 One day after having lunch with Audrey (Part 2′s post) at Pinpin, Vivi wanted to dine with me at Pinpin as well! This is because I was packing my luggage for my flight past midnight and she wanted to see me for the last time! It was freezing and pouring very heavily that day so I was very touched that Vivi made the effort to come all the way close to my house to have lunch with me. Since I was doing last minute packing, Vivi decided to order the meals first as she could stay for only 45 minutes.
Pinpin
6113 Fraser St
Vancouver, BC V5W2Z9
(604) 322-3086

View Larger Map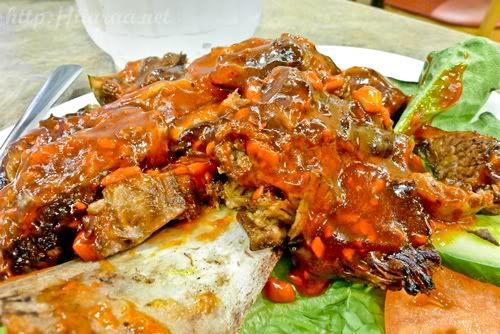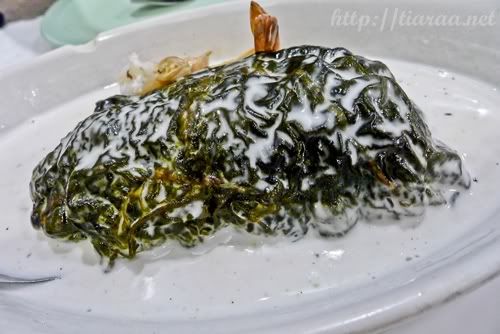 Since Vivi and I had lots to catch up and we had to rush after lunch, I did not have the time to ask Vivi  the name of the item she ordered in the first picture! It is basically pork ribs in sweet and sour sauce and topped with a tinge of pepper. The item was served in large serving size and definitely worth the try as I enjoyed the dish a lot! Vivi also ordered garlic rice for us to consume with the food ordered. She kept feeding me fat by putting a lot of food on my plate, what a sweetie she is! However, my sister cooked lunch for me an hour back so I could not finish all the dishes on our table.
As for the the dish in the second picture, it is the Pinangat Na Laing which I picked when I arrived at the restaurant. It is a very unique dish that costs CAD$8.95! Definitely a rocks your socks dish based on how it's made. Ground pork is cooked in coconut milk and wrapped with taro leaves. The dish is then topped up with shrimps. Everything about the dish was perfect except for the fact that it was quite salty that day. What a bummer!
Rating: 3/5★
Vivi was one crazy friend that packed all the food nicely for me to bring home because we could not finish our meals. In addition to that, she snatched the bill from me and wanted to treat me as a farewell gift!! I will definitely not forget that thoughtful girl!
ACCEPTS CASH/CREDIT CARD/DEBIT CARD
OPEN UNTIL 9PM
CLOSEST SKYTRAIN STATION: MAIN STREET
BUS: 8 
Ambiance: 7.5/10
Service: 6/10
Food (taste & appearance): 6/10
Value: 8.5/10
Total: 7/10★
In conclusion, I have been to Pinpin countless times and I am never disappointed!

swisscheese*