another long overdue entry so correct me if i made any mistakes.
after our long day trip at victoria, we decided to head back to the ferry. we have already planned to dine somewhere close to the ferry station. however, we could not find the place. christina and i were sleeping so we only got up when the guys decided to eat at the closest restaurant instead – med grill royal oak

med grill royal oak
4512 West Saanich Road
Victoria, BC V8Z 3G3
(250) 727-3444

View Larger Map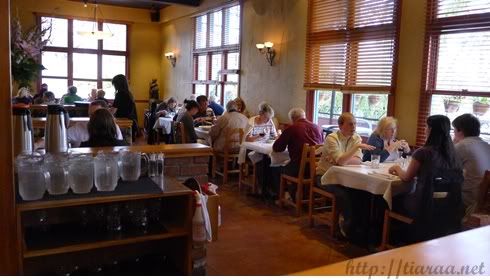 the exterior of the place looked fine. there were plenty of parking spaces. we were surprised to see that majority of the restaurant was filled with senior citizens. the restaurant was really spacious  and big though ! there are lots of tables to cater to many customers. the picture above is just 1/8th of the tables available. the server was genuinely friendly. she cared to explain any dish we needed clarifications with and she even gave us the best recommendations for appetizers – poutine !
APPETIZER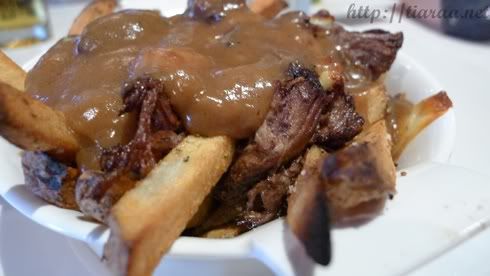 oscar and kenny wanted to order beef short rib poutine (CAN$9) because they were starving from the long drive. the poutine is made from kennebec fries and is stuffed with pulled beef short rib, cheesecurds and demi glace. demi glace is a mix of espagnole sauce and beef. the poutine is so orgasmic that it literally MELTS in your mouth ! kenny and oscar couldn't stop eating this !
ratings: 4.5/5★
ANTIPASTO
i have lost my notes of the food in the restaurants so i kind of forgot how this tasted like. i got an idea that the ball like figure tasted like tuna topped with a sauce and placed on a chip, surrounded with salad. the yellow sauce tasted like egg yolk, which i really crave for at times.
INSALATA & ZUPPA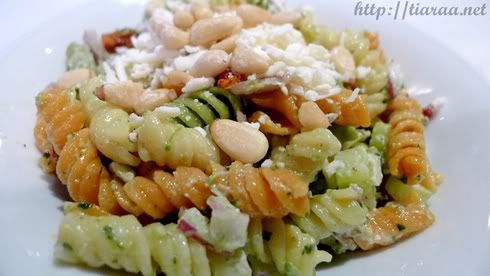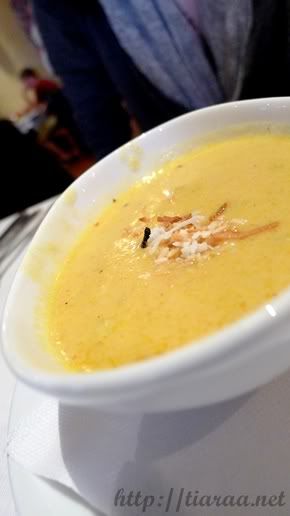 1st picture – one of my friends had strawberry spinach salad, which was part of the insalata and zuppa section. it consisted of baby spinach with dijon balsamic vinaigrette topped with strawberries, goat cheese and toasted almonds. it was my second favorite side dish as the strawberries and almonds made the salad taste so good !
ratings: 3.5/5★
2nd picture – again, i didn't like my meal that day. i had the fusilli pasta salad, which comprised of sun-dried tomatoes, sweet red onions, red and yellow bell peppers with fusilli pasta in creamy basil pesto dressing, garnished with feta cheese and pine nuts. the salad was not to my liking so i was practically forcing myself to consume the meal.
ratings: 2/5★
3rd picture - another friend had the tuscan zuppa, which was gratifying !! it is especially good if you consume it with spinach or bread ! the soup is creamy and thick, which are factors i really fancy in soups. too bad, it wasn't my dish but clara's !
ratings: 5/5★
PRIMO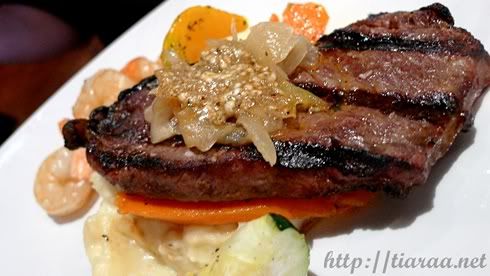 1st picture – 3 of my friends had the 6 oz new york steak, which was char grilled and finished with wild mushrooms, goat cheese and roasted whipped potatoes. they added butter poached tiger prawns for an additional CAN$2.97. i have forgotten the taste of the steak as i only took a bite of it and the taste was not distinct. however, oscar and the rest love it !
2nd picture - i ordered the creamy chicken manicotti as it is cream based and baked, which is something i always look out for in food. it has manicotti noodles stuffed with roasted chicken, sun dried tomatoes, confit shallots, fresh basil and feta cheese. it also has additional bacon, leak cream sauce, mozzarella cheese and italian parsley after baking. i just realized i had pasta like food the entire day at victoria, total madness ! i found the food mediocre but for the package, it is worth it. it was too much for me so i brought my food to go.
ratings: 2.5/5★
DOLCE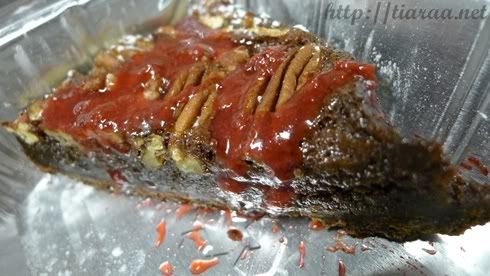 we were talking too much while dining that we forgot all about the time. we had to rush to catch the last ferry so we took all our desserts to go. we had a choice between chocolate pecan tart and lemon and raspberry panna cotta but since we had to pack it to go, the server could only pack the tart to go. the chocolate pecan tart was topped with chantilly cream. the chocolate portion was not appetizing for me as it is too moist and did not have the proper mouthful. i like how the pecan and chantilly cream blend with the pecan tart though.
ratings: 2.8/5★
THE BILL
we were rushing so i could not snap a shot of the bill. however, each of us had the tuscan table 4 course dinner, which consist of an antipasto, an insulata and zuppa, a primo and a dolce. each tuscan table 4 course dinner costs us CAN$17.99 each. as for the poutine, it costs us CAN$9. so the total bill came up to CAN$98.95 without tax.
ACCEPTS CASH/DEBIT/CREDIT

ambiance: 7/10
service: 9.5/10
food (taste & appearance): 6.77/10
value: 6.5/10
total: 7.44/10★
in conclusion, this restaurant is good for casual dine outs and drinking !

swisscheese*