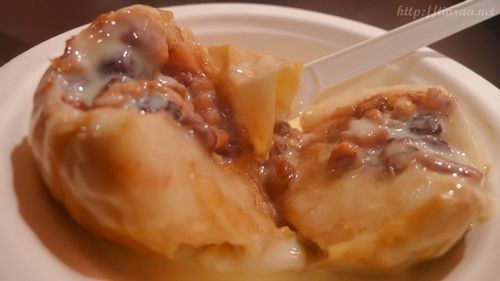 It is a little surprising looking at the title and going "did she type the wrong year"? Well, the answer is NO. I know I have been a little outdated typing entries about food eaten a year ago but the past couple of months have been hectic. I have been in Los Angeles the past couple of months doing some heavy duty and it was too intense for me to even open my laptop. Things are much better now so am catching up with my entries. Since the festive holiday is around the corner and Vancouver Christmas Market 2013 just recently reopened, this entry comes in a timely manner.
Vancouver Christmas Market
650 Hamilton St,
Vancouver, BC V6B 2P1, Canada
+1 604-561-7597

View Larger Map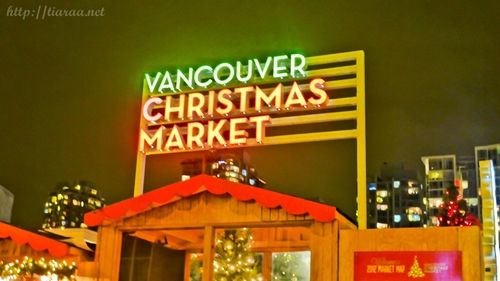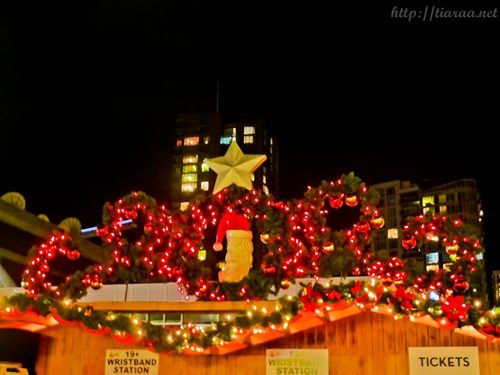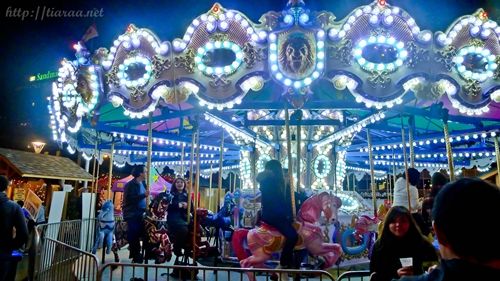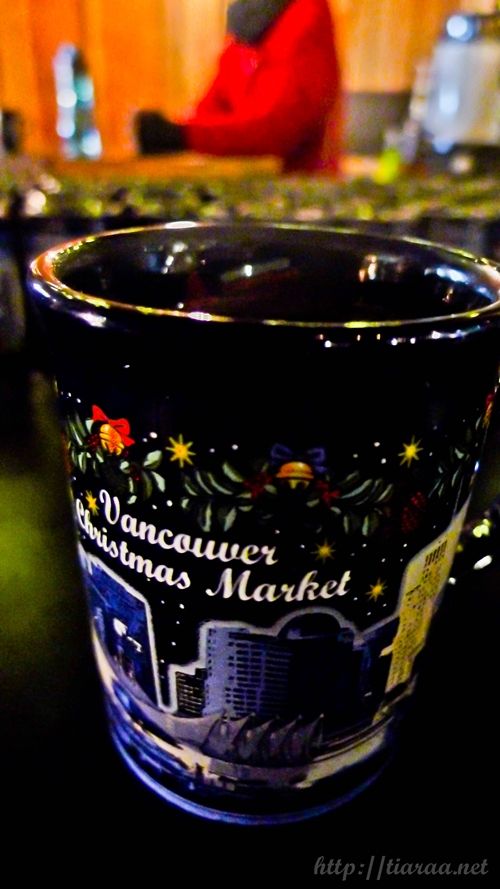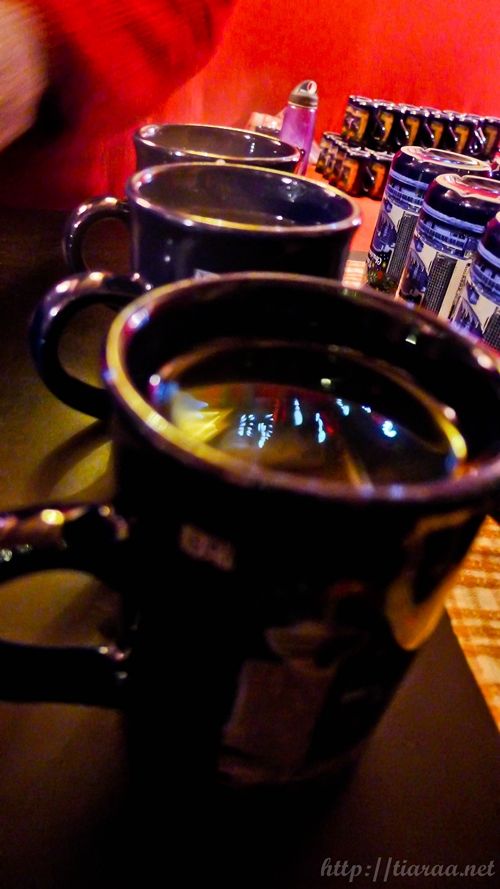 Janet bought coupons from some deal website and the coupons included entrance (1st & 2nd pictures) for two pax, free carousel ride (3rd & 4th pictures), free hot apple cider and free mug (5th & 6th pictures) that comes with the apple cider. I decided to call the other foodies (Holly, Venessa, Dennis, Tania & Steven) along to the Christmas Market. We also met with Fae, Jane, Yongky, Ashish, Tante Afung and a few others and walked with them for a bit before we parted ways to try the different food that are selling there. The Christmas Market felt very magical because of the beautiful lighting, songs playing and just people like us wearing santa hats or reindeer hairbands. Holly, Venessa and I were crazy enough to ride on the carousel laughing away like kids. Good times like this will never make me forget the Vancouver Christmas Market! The Hot Apple Cider we had warms up our soul during the cold winter night last year. The spiciness of the apple cider helps to warm us inside out as well! It is no biggie but definitely needed to help with the Christmas atmosphere and for us to embrace the freezing cold night with the warm mug on our hands.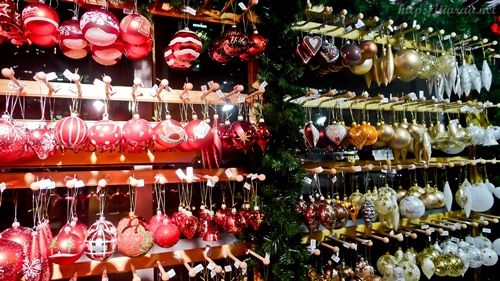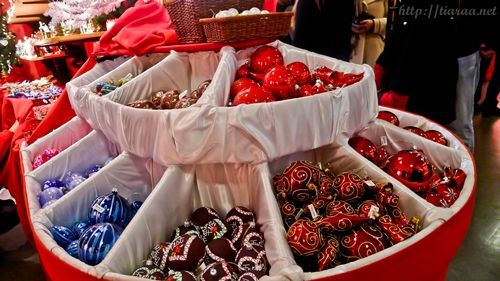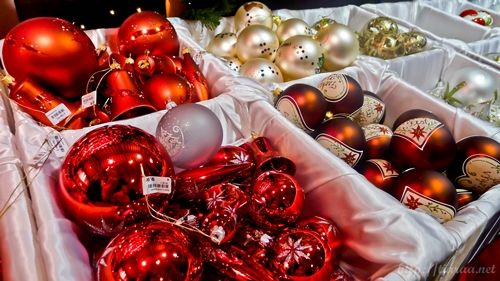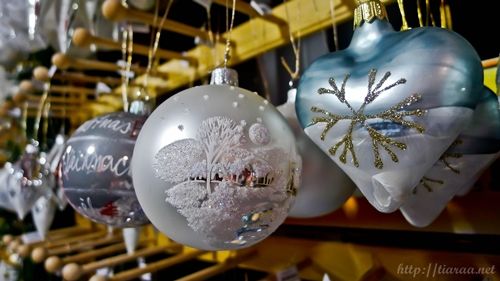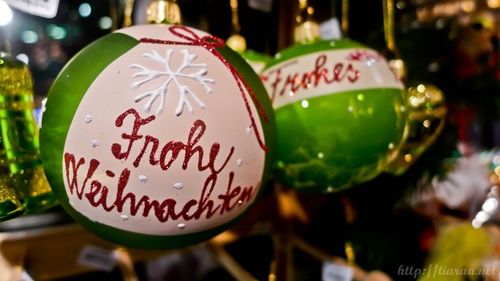 The Christmas Market originated from Germany so there were nutcracker figurines, which I did not take photos of but took photo with. Many Christmas delicate ornaments, candles, toys and figures are sold as well. As you can see from the second last picture above, one of the Christmas ornaments had the word "Frohe Weinachten" decorated on it. In German, Fronhe Weinachten basically means Jolly Christmas! I really felt like I was in Germany due to the atmosphere, German servers and sellers and not to forget, the delicious German food that I will be talking about in the next section…
1) DAS WAFFELHAUS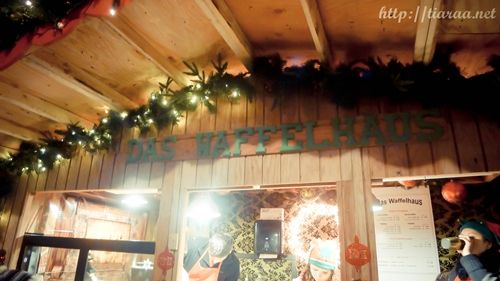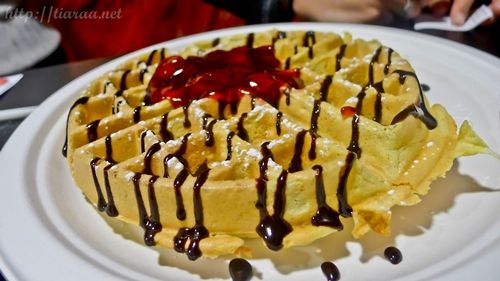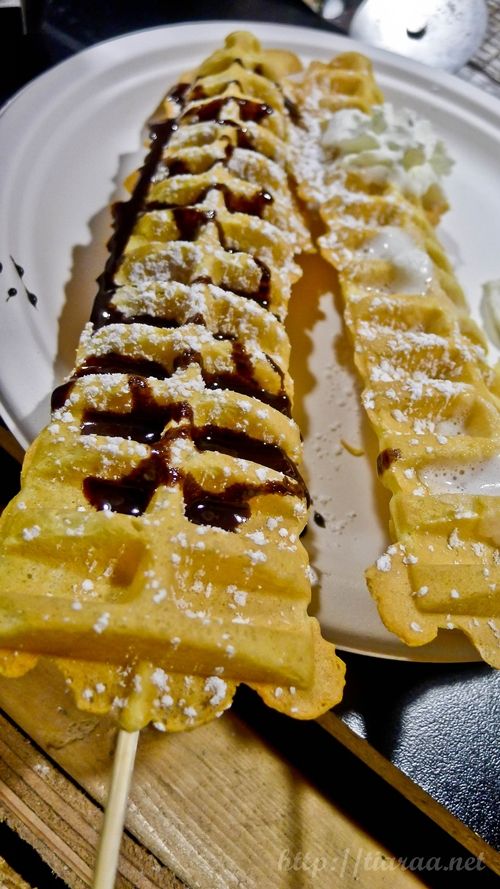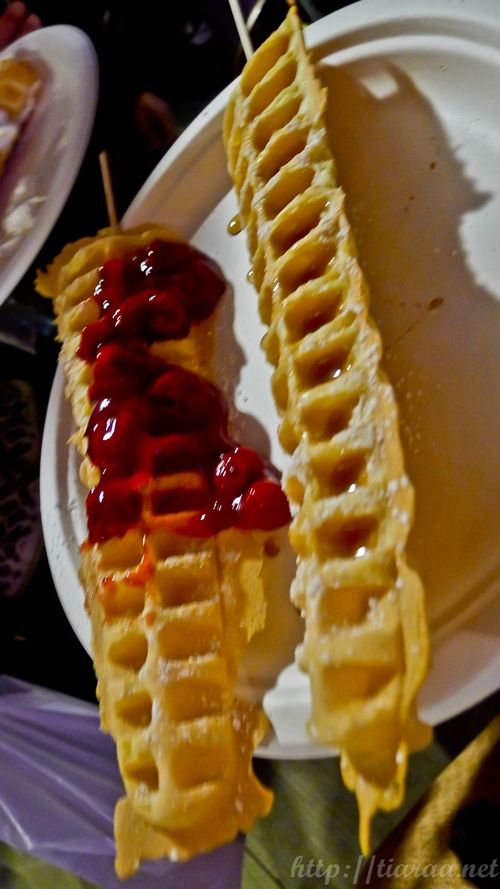 Waffles are one of my favorite food for desserts or brunch so I knew I had to get it even with just smelling the aroma of it from a distance. The picture of the round regular waffle is just a sample of what the store is selling but since there were a variety of it, we ordered four waffle sticks with different toppings namely chocolate sauce, whipped cream, strawberry sauce and maple syrup. All four waffles were also sprinkled with icing sugar. It all taste very fresh, warm and delectable but my ultimate favorite was the waffle with maple syrup topping.
2) Farmhouse Cheese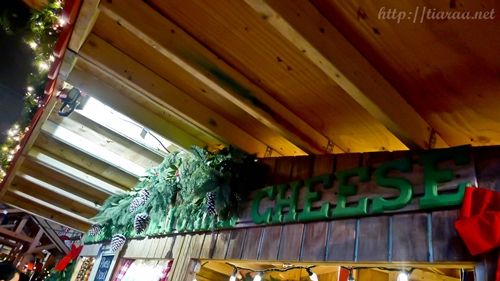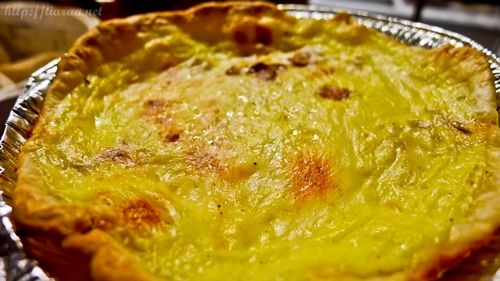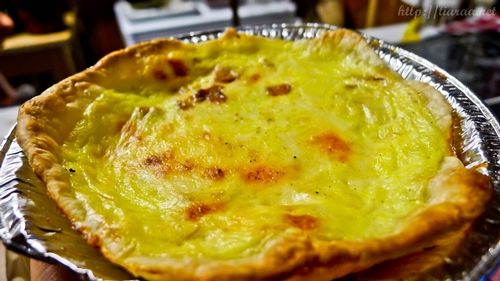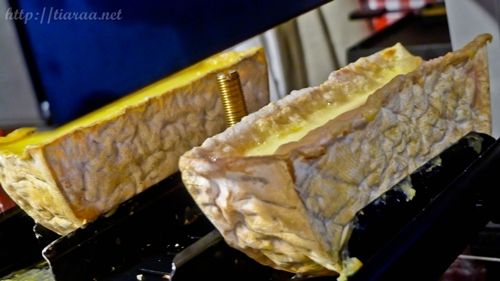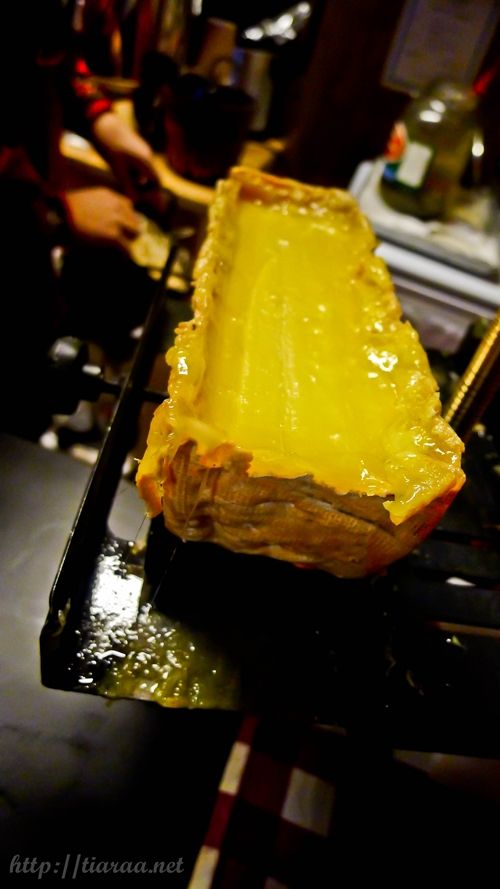 We shared both the Savoury Cheese Tart (3rd & 4th pictures) and Swiss Raclette (5th picture). If you noticed the last two pictures, the photos depict how the bread is filled with fresh and hot cheese. The Savoury Cheese Tart is a traditional Swiss style tart with onions and bacon. It tastes good ONLY when served hot. I really enjoy the tart's taste and texture too! As for the Swiss Raclette, it was simply orgasmic! Along with the Farmhouse pepperoni, organic potatoes and pickles, the Farmhouse Alpine Gold Cheese melts in your mouth. Pickles usually have a distinct taste but with the saturation of the cheese, I could not taste it. Both dishes cost CAD$8 each, which is quite expensive for a small serving size but it was the experience that counts.
3) DAS APFELHAUS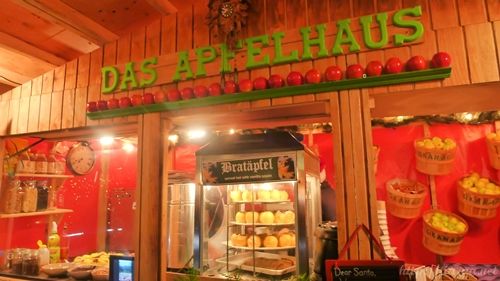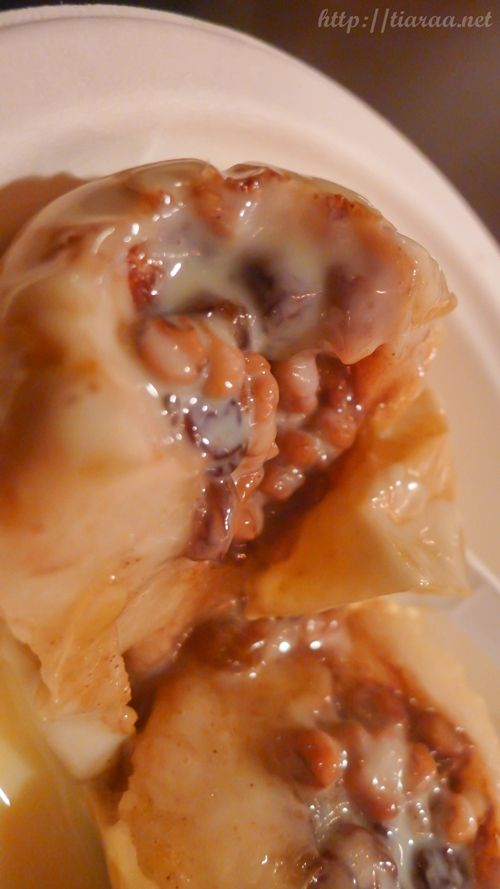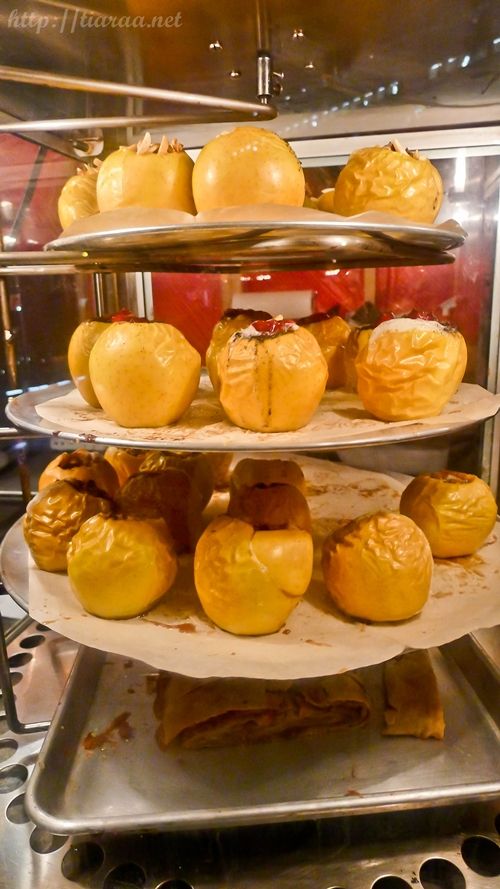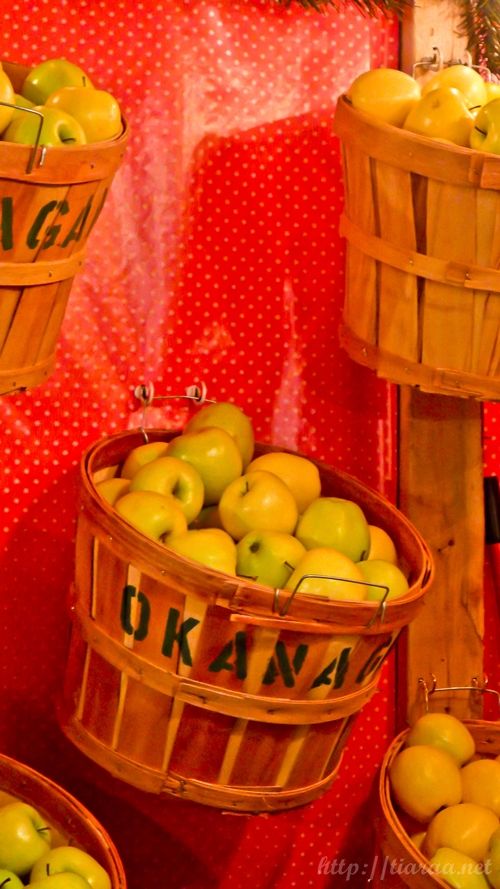 My next best dish at the market is the Classic Bratapfel, which is German-style baked apples, served with hot vanilla sauce, brown sugar, cinnamon, raisins and walnuts. You know those chocolate coated apples selling at Rocky Mountain? I would NEVER finish that piece of apple but the Bratapfel is a gratifying delicacy that I will stuff myself silly with! The dessert costs CAD$5.13. Yet another ripped off to some people but to us, it is worth the experience!
4) HURRICANE POTATO FRIES
At Richmond Night Market, you usually see long lineups of people buying the hurricane potato fries. However, I was surprised to see it selling at the Christmas Market too! We had the cinnamon sugar and the chili toppings and each stick costs CAD$4.46. When the food is THAT toothsome, it is worth the wait and money! Even though this is totally NOT a German dish, we were glad to have it at the Christmas Market as it fits the night market atmosphere.
In conclusion, I am glad that I finally get to go to the Christmas Market before I left Vancouver for good!