gigi and i were too busy to surprise steph on her birthday itself so we decided to have a birthday dinner with her and aldh as well. aldh suggested transylvania flavor as he had a CAN$40 groupon for it so we went for it since it is not the usual kind of food we would usually go for.

transylvania flavor
2120 West Broadway
Vancouver, BC V6K 2C8
(604) 730-0880

View Larger Map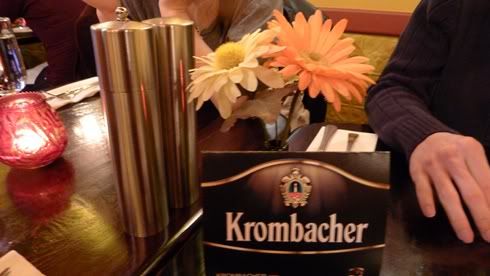 the place is pretty neat but i really dislike how the owner told me that they could not allow us to cut the cake in the restaurant because they have their own desserts. she was really mean and rude. however, another young lady serving us is really nice even though we only ordered a knight platter and two appertizers. she was also very patient when i gave her the wrong credit card.
STARTERS
1st pic – we had the chicken a la sibiu (CAN$20.95), which is grilled marinated chicken flamed with brandy. the chicken, onions, garlic, gnocchi are filled with lots of grainy mustard cream sauce and are hidden below the HUGE wild mushroom. the mushroom is succulent and fresh. however, the gnocchi is too thick or maybe i'm not used to it's taste. the chicken is delicious when complemented with the mustard cream and other spices but not with the gnocchi.
ratings: 2.8/5★
2nd pic – the cheese bites (CAN$12) consisted of four breaded, pan fried provolone cheese bites. the cheese melted in my mouth and it was so addictive. however, i did not put any rose sauce for the cheese bites as i am not used to western sauces.
ratings: 3.5/5★
KNIGHTS PLATTER – CAN$48
4 of us were so surprised when we were served with the knights platter. it was HUGE ! i think our entire meals were enough to feed 5-6 people, how scary ! it consisted of …
2nd picture – perogies filled with yam and topped with sour cream and gouda cheese. it was one of the best dish in the platter because of the delicious fillings and crispy coatings. i like it better than the perogies filled with potatoes as it is less starchy and sweeter in comparison.
ratings: 3/5★
3rd picture – i like how tender it was but the meatballs tasted weird. i guess our taste buds were not used to the taste of the meatballs. it must be some spices in the tomato sauce.
ratings: 2.5/5★
however, the distinct taste does not taste as bad as the sausages (5th picture).
ratings: 2/5★
4th picture – the schnitzel is breaded and pan-fried. i did not like it as much as the others as i found it rather dry, huge thumbs down !
ratings: 2.8/5★
6th picture – the cabbage rolls tasted exactly like dumplings !! this is the best dish out of the rest of the platter. this is basically because my tastebuds is so familiar with it. how funny seriously ! it's not that i don't like trying other kinds of food. i love indian, filipino and jamaican food but european and ethiopian food are not my cup of tea.
ratings: 4.5/5★
THE BILL
we were given free swiss chocolates – that's the best part !!
the original bill was CAN$90.66 but with the help of aldh's groupon, it became CAN$50.66. we decided to give CAN$60 in total, resulting in each person paying CAN$15 each.
ACCEPTS CASH/CREDIT CARD/DEBIT CARD

ambiance: 6.5/10
service: 7/10
food (taste & appearance): 6.03/10
value: 5/10
total: 6.13/10★
in conclusion, this is definitely a restaurant with unique flavor. everyone should try it even if you might not like it in the end !

swisscheese*